Cranberry Lemon Almond Muffins
I asked on my Facebook page what people were wanting to see for my 5 Days of …. Eggs won out but I did get votes for muffins and smoothies too, so I did a few muffins, a few smoothies and 5 Days of Eggs coming soon.
I had asked Amber our daughter what she would like for a muffin and she picked Blueberry Muffins, this one was my pick. I love the sweet tart flavor of cranberries and this recipe has the added flavors of lemon and almonds. Oh so good!!!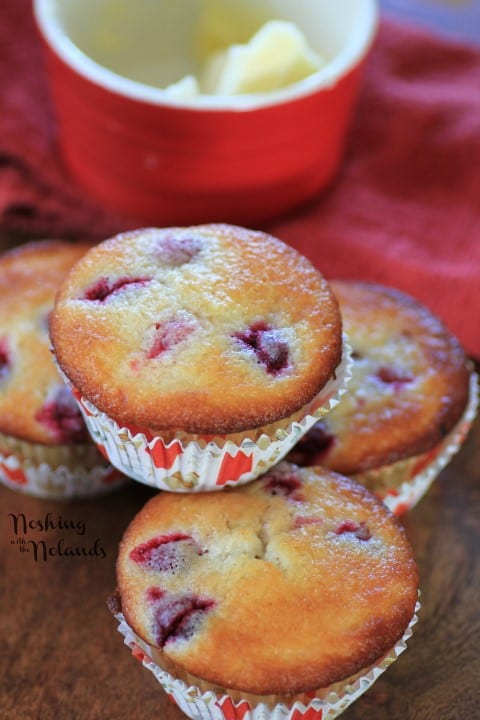 I didn't adjust much from this recipe that I found at All Recipes.com, the ingredients are the same, I did up the cranberries a bit and then the sugar. I did change the method up though as to how I make muffins.
These muffins turned out to be great, loving this flavor combination of the cranberries, lemon and almonds. They are tender and moist and delicious!!
Here is a peak inside. Amber loved these just as much as her blueberry muffins!!!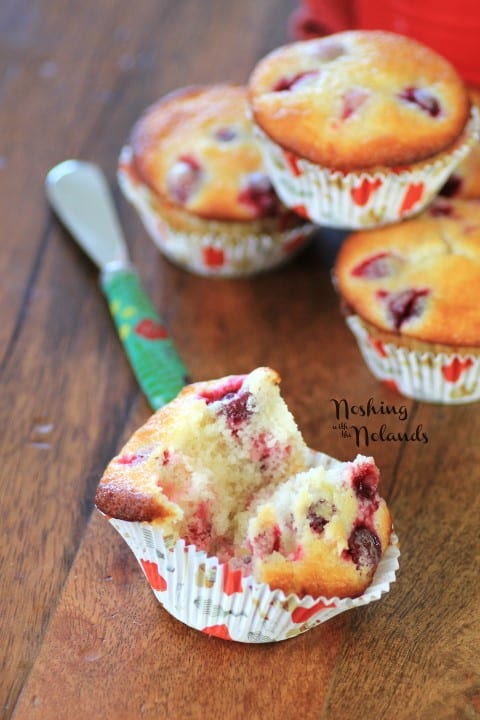 Cranberry Lemon Almond Muffins
A moist and tender muffin awaits you with the sweet tartness of cranberries and lemon.
Ingredients
2 cups flour
1½ cup sugar
1 Tbsp. baking powder
½ tsp. salt
¼ cup lemon juice
¾ cup milk
2 eggs
½ cup canola
1½ cups cranberries fresh or frozen
⅓ cup slivered almonds
Instructions
Preheat oven to 400F. Line 15 muffin cups with paper liners.
Whisk together flour, baking soda and salt in a medium bowl and set aside. In the bowl of a stand up mixer with a paddle attachment. Cream together oil and sugar. Beat in eggs until smooth. Mix milk and lemon juice together, it will curdle but don't worry. Now alternately add the milk mixture and the flour until all is combined. Fold in the nuts and cranberries.
Fill the muffin liners to almost full. Bake for 18-20 min. until nicely browned and the tops bounce back when lightly touched. Cool for 5 min. and then remove from pan to completely cool on a cooling rack.
Recipe adapted from All Recipes.com
Try this easy muffin recipe, I hope you will love it as much as we did!!Enjoy!!