Croque Monsieur
I am working with Armstrong Cheese today to bring you an amazing Croque Monsieur, one of my absolute favorite things in life is cheese!! Can never get enough, we always have cheese in our house, sliced, strings, blocks, grated. Cheese is so versatile and can be used in so many dishes to bring them to life. An easy vegetarian dish can have the bonus of a sprinkling of cheese to make it pop! Ooey gooey dishes with loads of cheese are always comforting and a family favorite. The classic Croque Monsieur is something that I have indulged in but have never made at home. It is so easy and you can make many at one time to feed a crowd. A simple mornay sauce is all that is needed to bring this sandwich to a new level.
Also come and enter the giveaway for $50 prize pack from Armstrong Cheese!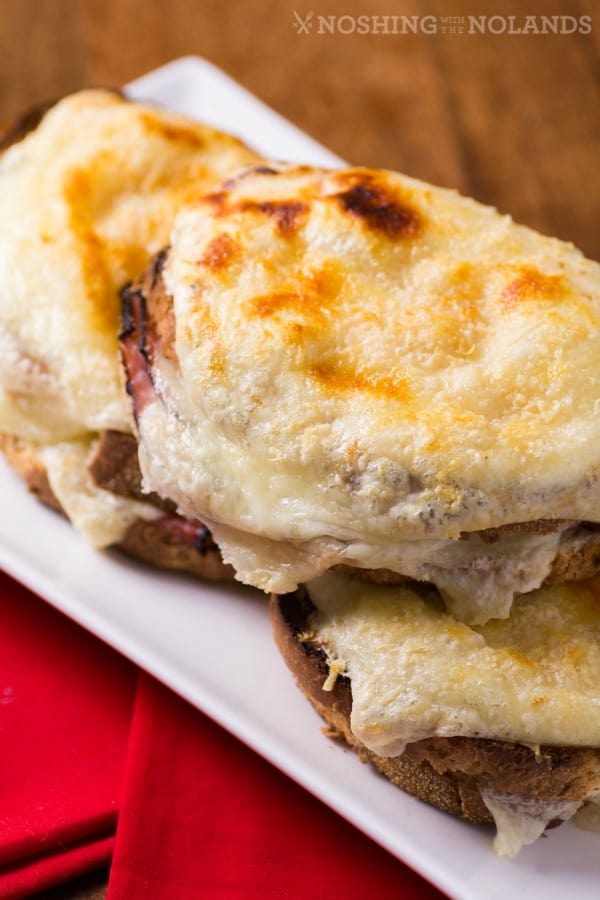 I choose to work with their wonderful cheese slices and in particular the Swiss for this wonderfully cheesy and decadent Croque Monsieur. What does Croque Monsieur mean, well translated it means a bite of a man and I am in love with this man, sorry hubby! The name originates back to Paris in 1910 and was seen on menus at that time. It has since become popular the world over. It is in loosely a fried or baked ham and cheese sandwich but that is really only where it starts.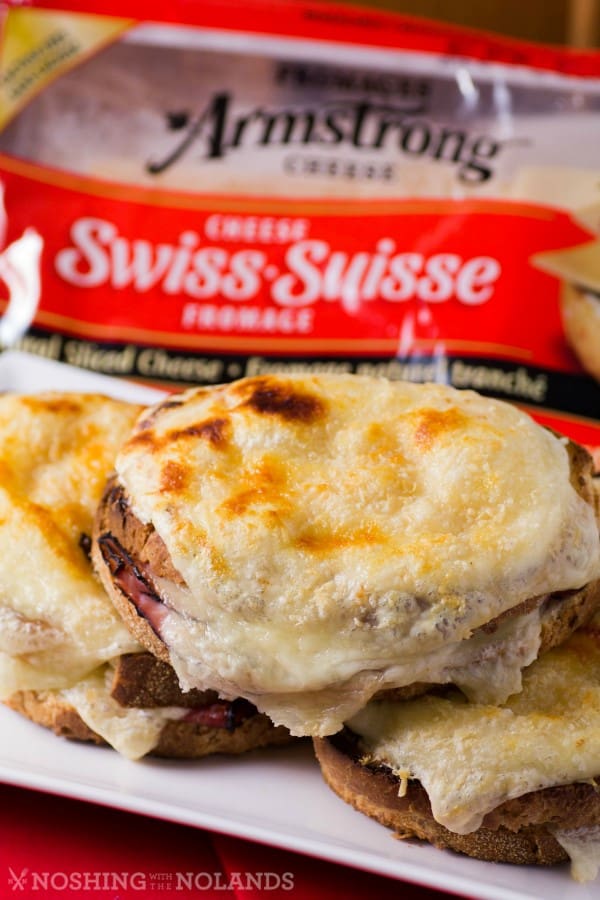 This lush sandwich is made easy with already sliced Swiss cheese from Armstrong and made extra ooey and gooey with a slice in the middle and a slice on top! Once you have tried this sandwich no plain grilled cheese will be enough ever again!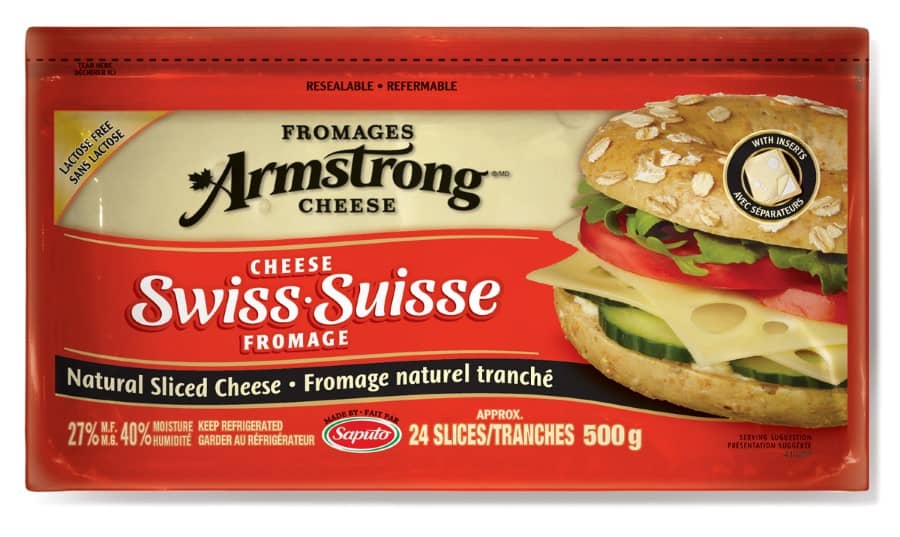 I love that Armstrong has these large packs of cheese, the slices are great for breakfast, lunch and dinner for so many dishes and make sandwich making an absolute breeze! Their packages are easily resealable to keep the freshness and look they are lactose free too!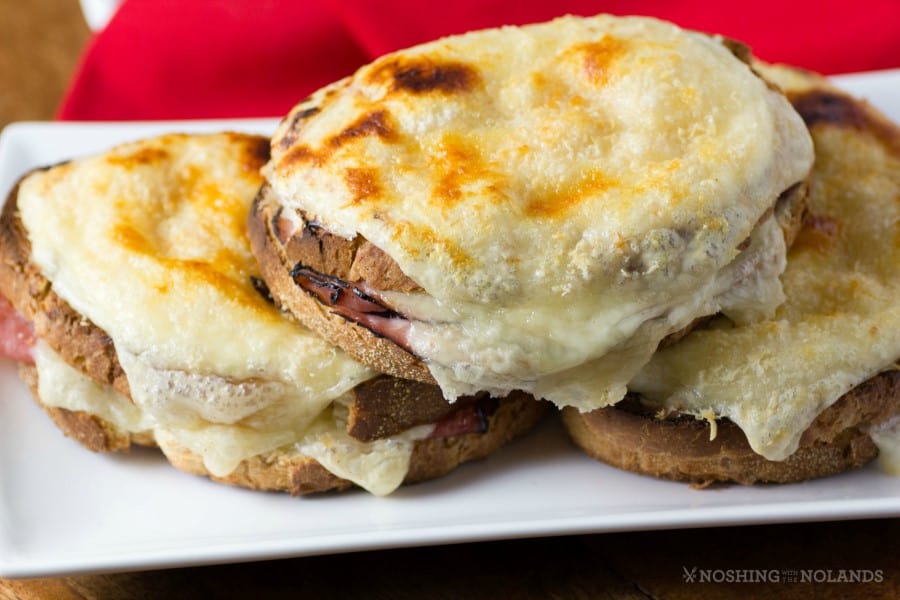 Use good quality products and your end result will always be fabulous. Armstrong cheese can help you easily make wonderful comfort foods for your family like this divine Croque Monsieur.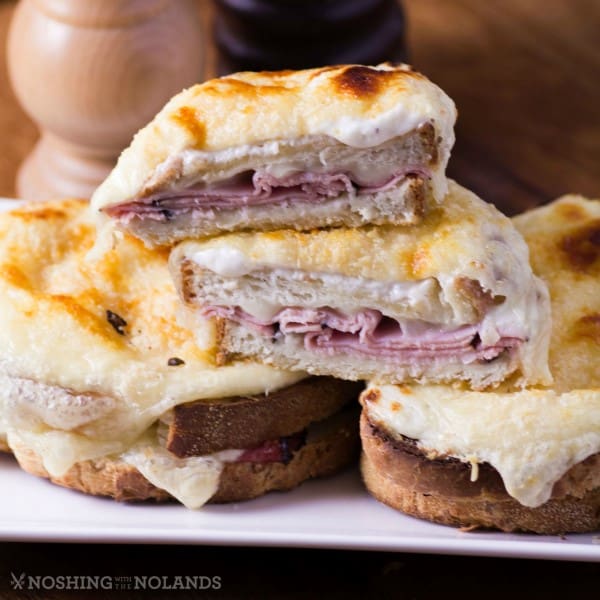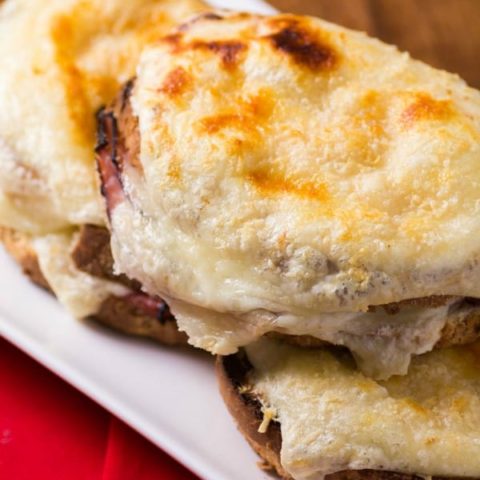 Croque Monsieur
Yield: 5 sandwiches
Prep Time: 10 minutes
Cook Time: 20 minutes
Total Time: 30 minutes
A decadent but easy sandwich that can be made for a crowd using wonderful Canadian Armstrong cheese.
Ingredients
Mornay Sauce
1 1/2 Tbsp. butter
1 1/2 Tbsp. flour
1 1/2 cups whole milk or half and half cream
1/2 cup finely grated Parmesan cheese
Pinch of freshly grated nutmeg
Pinch of cayenne pepper
Fresh grating pepper and salt to taste
Sandwich
Butter for the bread
10 slices good quality artisan bread
10 slices of good quality ham
10 slices Armstrong Swiss cheese
1/3 cup Parmesan cheese, finely grated
Instructions
To make the mornay sauce, melt the butter in a medium saucepan over medium heat. Add the flour, cook stirring until pale golden color about 2 min. Slowly whisk in cream or milk. Continue to whisk and increase heat to medium-high until the mixture begins to boil. Remove from heat add the cheese, nutmeg and cayenne. Stir well. Adjust seasoning with salt and pepper to taste.
Preheat broiler. For the sandwiches, spread out 10 slices of bread on a rimmed cookie sheet and butter each slice. Broil until golden brown, watch very closely they don't burn, rotate pan halfway through for even cooking. Remove from oven. Turn oven to 450F. Turn bread over and top 5 slices of bread with two slices of ham and one slice of Armstrong Swiss cheese. Top with the other slice of bread, golden side up. Press down slightly. Spread about 2 Tbsp. of the mornay sauce thinning out towards the side but cover the break completely or it will burn. Top with the second slice of Armstrong Swiss and a sprinkling of Parmesan cheeese. Bake sandiwches until the cheese is melted, about 10 min. Run under the broiler to get slightly browned. Serve hot!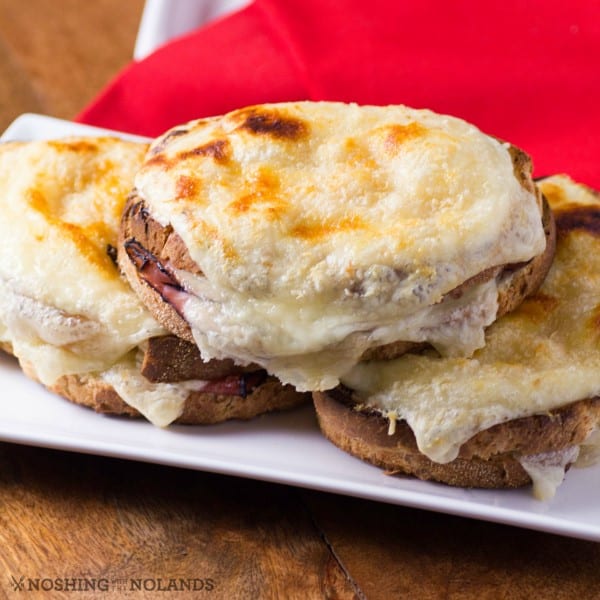 Now, come and enter to win this amazing giveaway from Armstrong Cheese for a $50 prize pack. Giveaway open to Canadian residents. The contest is open until April 28, 2016 at 12:00 am. At that time a random winner will be chosen. The winner has 48 hours to respond by email or another winner will be chosen. Good luck everyone!