Overnight Oatmeal Jars
I am here with you today with Veggemo again. A fantastic product that is so easy to work with, we are loving the recipes that are coming out of our kitchen using Veggemo. The first one we made was Creamy Vegan Moorish Spiced Roasted Carrot Soup, a gorgeously delicious soup with loads of flavor and the creaminess comes from Veggemo non-dairy beverage. Today I have for you Overnight Oatmeal Jars, these are all the rage and I see why. What an easy fix to make the night before, for a super grab and go breakfast the next day. The perfect little jar of goodness to take to the gym, office, or for a afternoon snack too. It is ready and waiting for your kids when they get home from school. Our daughterr happily gobbled one down as she is always starving when she enters the door!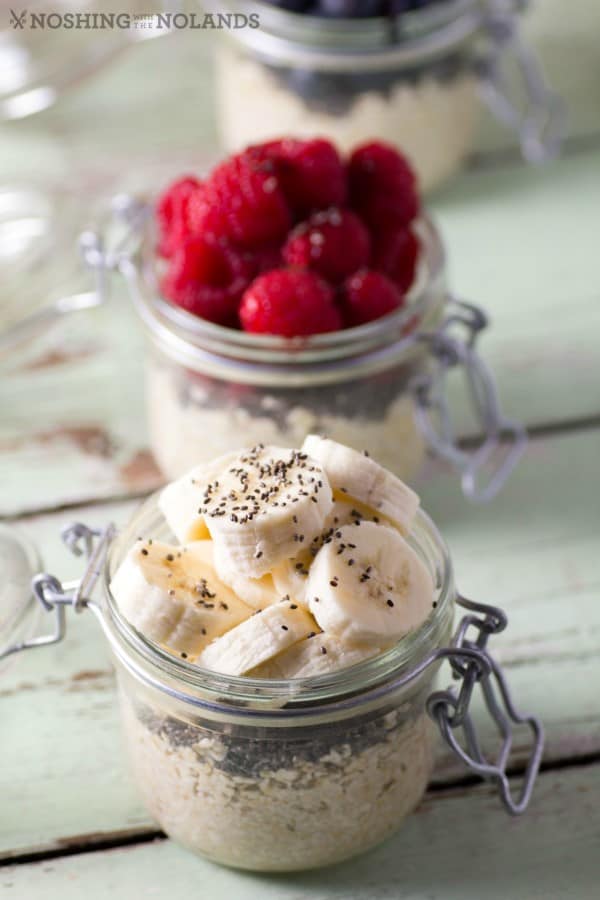 I am so in love with these little jars!! I made a bigger one but was unable to finish it. If you do want a bigger jar, just layer and double the recipe. Put in oatmeal, Veggemo, chia seeds and then repeat and top with your favorite fruit. I found this size just perfect for me and the rib sticking oatmeal with the chia and wonderful Veggemo lasts with you all morning long.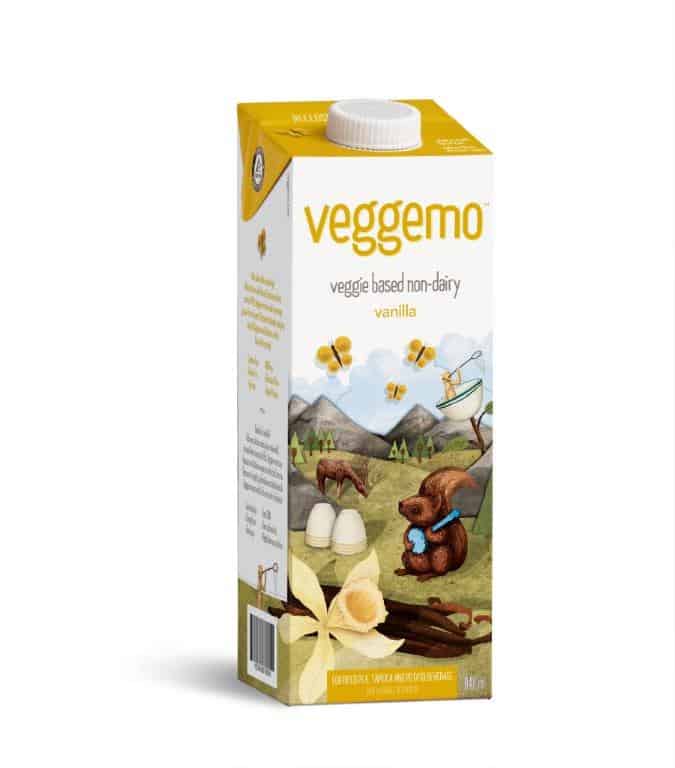 Veggemo comes in three flavors, original, sweetened and vanilla. I choose the vanilla for this recipe to give the oats that added flavor. What is Veggemo you ask? Well, as I have already said it is a non-dairy beverage but it is made from veggies. It has an amazingly appealing flavor unlike some of the other non-dairy beverages that are out there. It can be drank just like a glass of milk and I have enjoyed all three of the flavors just like that. The vanilla might be my favorite with it's wonderful addition of three different vanillas. The ingredients are simple, peas, tapioca and potatoes. It is also vegan, soy free, non GMO, gluten free, cholesterol free and Kosher.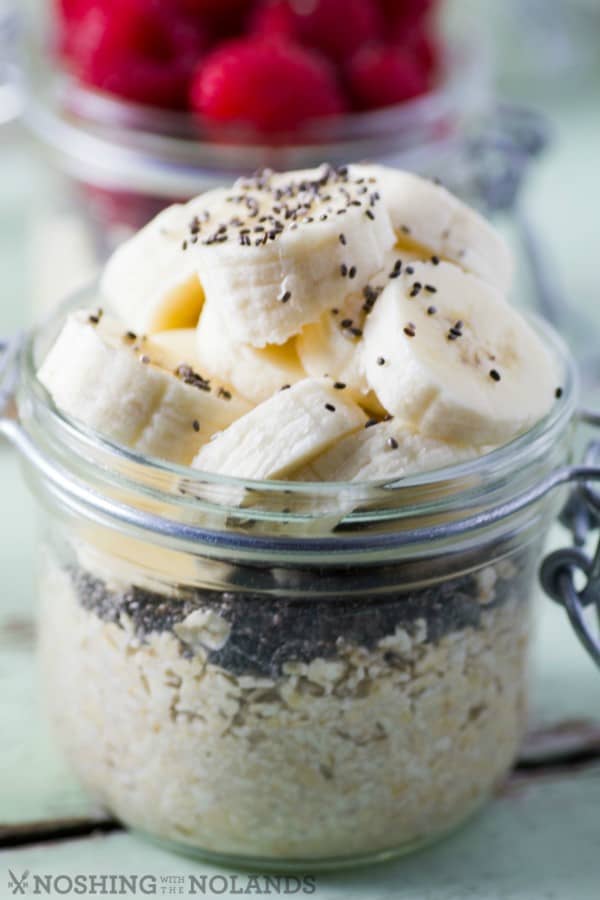 The oats are perfect with the addition of Veggemo. I was skeptical about this whole dish having never tried overnight oats before but after this experience I will be making them again and again. They are so versatile, you can add other ingredients to these little jars too, like peanut butter, nuts, seeds etc. I had the honey at the ready to use with this but found I didn't need the additional sweetness at all and it was nice to keep it vegan too.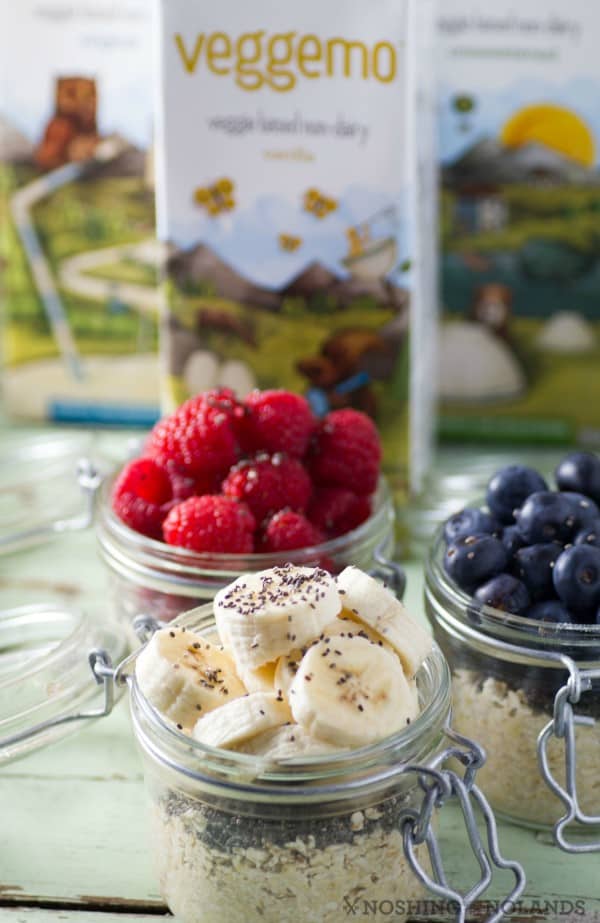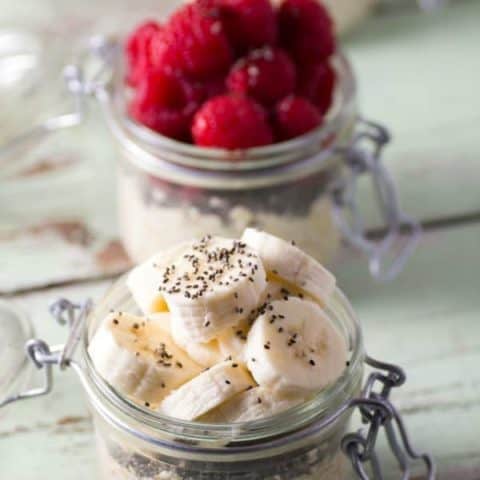 Overnight Oatmeal Jars
Yield: 1
Prep Time: 5 minutes
Total Time: 5 minutes
A simple vegan grab and go breakfast is ready for you with these easy Veggemo Overnight Oatmeal Jars.
Ingredients
1/2 cup oats
1/3 cup + 1 Tbsp. Veggemo Vanilla
Pinch of salt
1 tsp. chia seeds and more for sprinking on top
Your choice of fresh fruit, raspeberries, bananas, blueberries etc.
Instructions
Place the oatmeal in a small jar or container, sprinkle with a pinch of salt. Pour on the Veggemo and top with chia seeds. Add your favorite fruit with a sprinkle of chia on top. Close jar or container and let rest overnight or for several hours. Eat them cold from the fridge.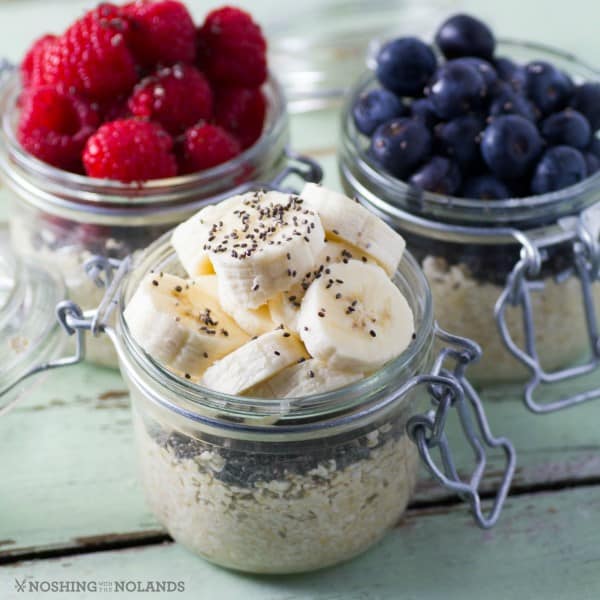 Again here is the delightful soup I made with the original Veggemo, Creamy Vegan Moorish Spiced Roasted Carrot Soup. It was scrumptious!