Mother's Day is just around the corner! What better way to celebrate mom than with a gorgeous brunch. I love when the main is easy to make and something that can be made ahead of time always helps. Crepes are also a great way to celebrate Canadian Grade A Eggs. Egg, Ham and Cheese Stuffed Crepes are the perfect Mother's Day brunch main. The crepes themselves can be made up to 3 days ahead of time wrapped well in foil or plastic wrap. You just need to bring them to room temperature before stuffing.
The filling is simple, scrambled eggs, ham and cheese. After the crepes are stuffed they can be layered in a casserole and refrigerated until ready to bake. All you need to go along with them is a nice green or fruit salad. To finish off the meal a delightful Brunch Lemon Bundt would have mom smiling from ear to ear.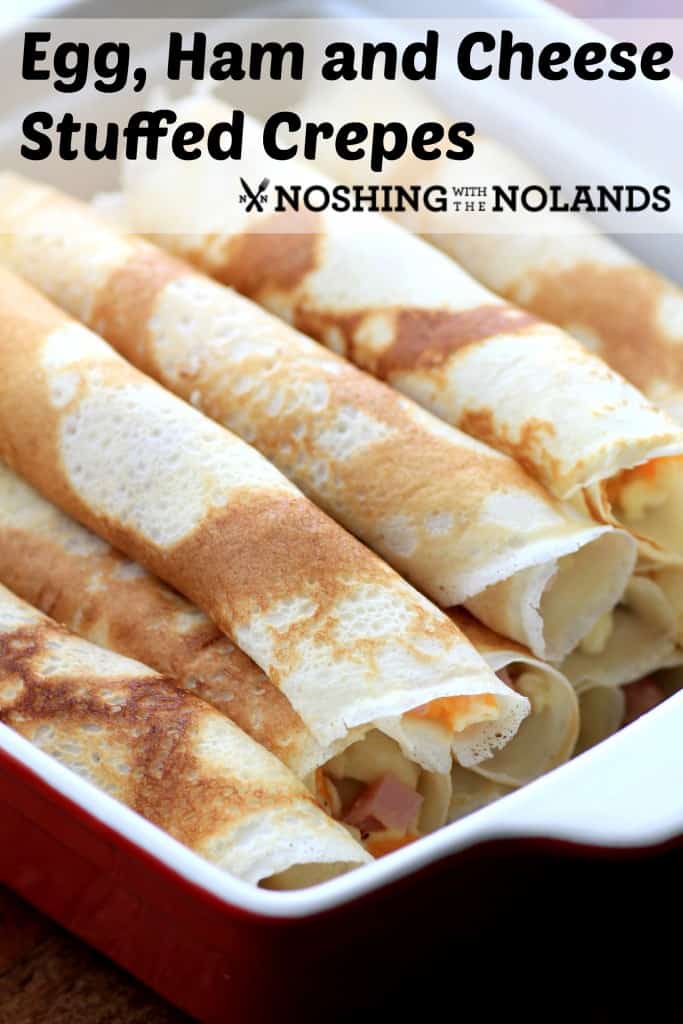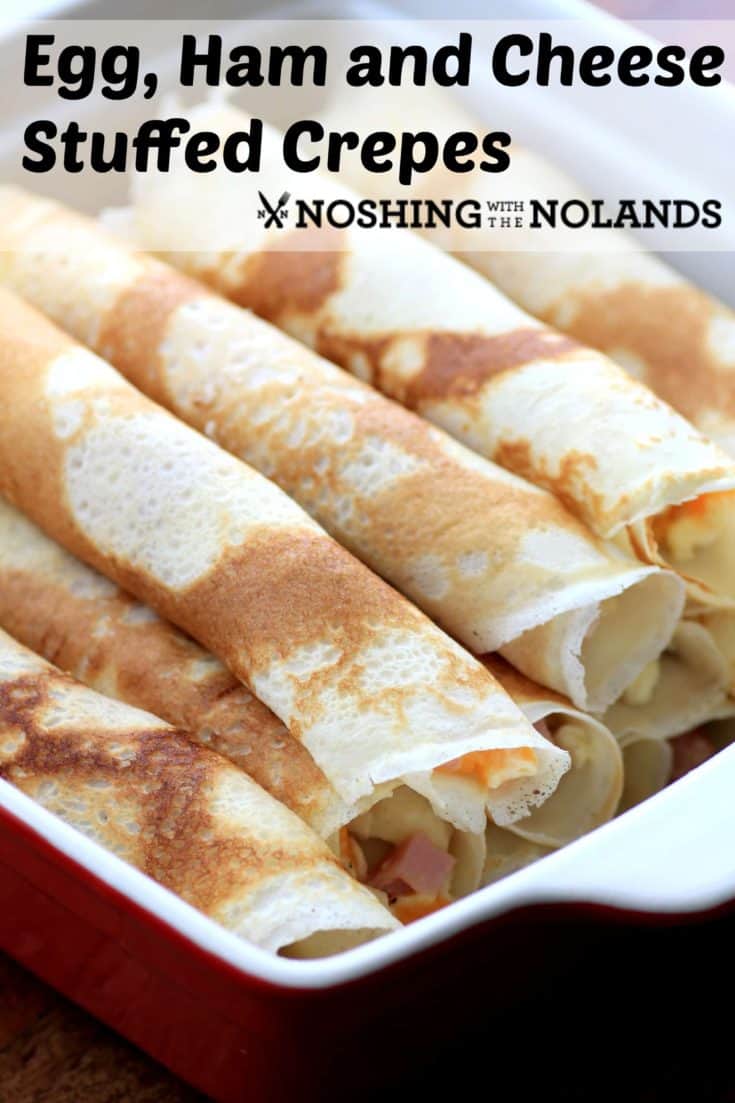 I love crepes for Mother's Day, they seem extra special but they are so easy to make. Crepes Lorraine was what I shared last year for Mother's Day, and it is one of my all time favorite brunch recipes.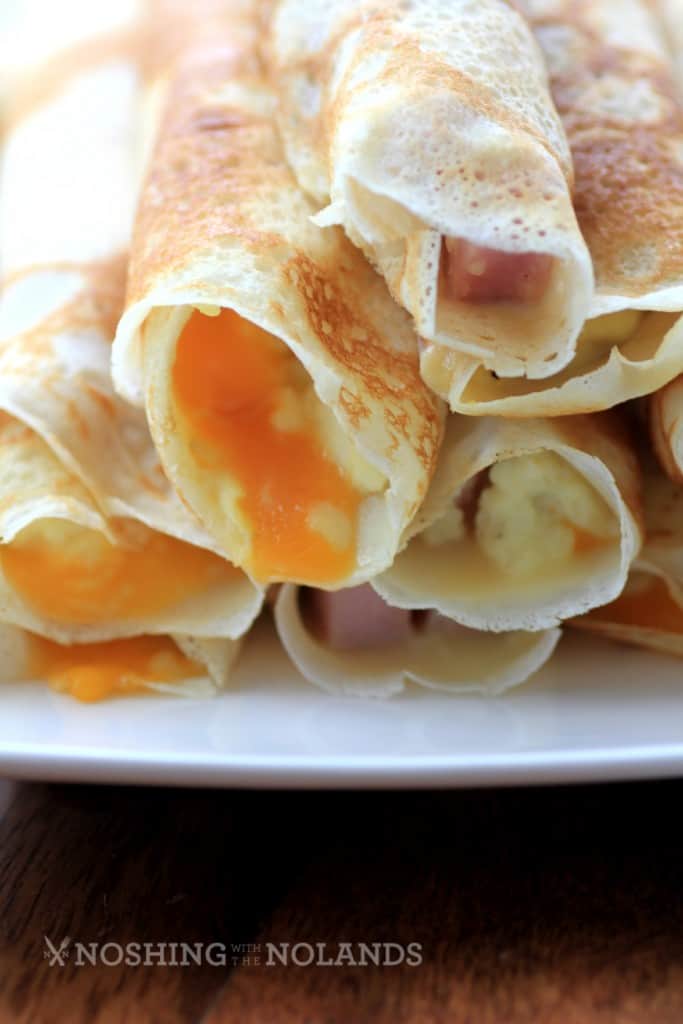 We adore eggs here in this household! Do you know where your eggs come from? Your gorgeous fresh eggs are farmed using conventional, enriched, free run, free range and organic methods. Egg Farmers of Canada operate under a supply management. We are lucky to receive some of the best eggs in the world for quality, freshness and food safety. All the eggs we buy are from hens that are free from being given steroids and hormones. Good information to know, and you can find out more at Eggs.ca.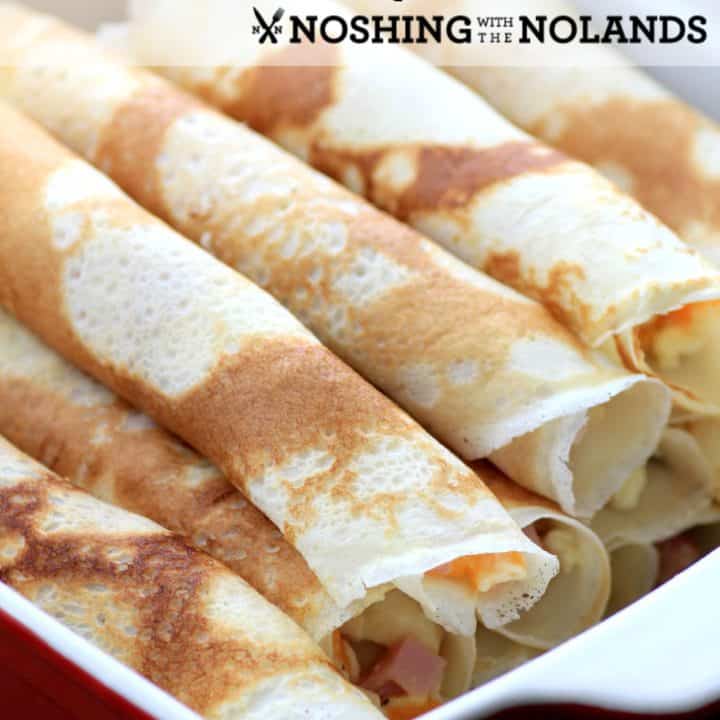 Egg, Ham and Cheese Stuffed Crepes
An easy make ahead brunch main, celebrating eggs!
Ingredients
Crepes
1 cup flour
2 eggs
¼ tsp. salt
1½ cups milk
1 Tbsp. cooking oil
Butter for the pan
Filling
6 eggs
1/4 cup milk
Salt and pepper to taste
Cooking spray
1 cup thick cut ham, small diced
1 cup cheddar cheese, small diced
Instructions
For the crepes, mix together the flour, milk, eggs, oil and salt, and whisk well. Heat a lightly greased (with the butter) 6" crepe pan. Remove from heat and spoon about 2 Tbsp. of batter into the pan while lifting and tilting the skillet to spread evenly. Return to heat and brown one side only. To remove invert pan onto a plate. Butter the pan in between crepes with a scant amount of butter.
Crepes can be made up to 3 days ahead of time, wrapped well with foil or plastic wrap and refrigerated.
For the filling. Whisk the eggs with the milk, salt and pepper. Spray a medium sized skilled with cooking spray and heat over medium high heat. Add the eggs and lower the heat to medium low. Gently stir eggs while cooking. When almost set add the ham and remove from heat. Let cool slightly and then add the cheese. Divide the filling among the crepes and roll up, placing in a greased baking dish. Store in the refrigerator for a few hours until ready to heat and serve.
Bake in a 350 min. for 20-25 min. or until heated through.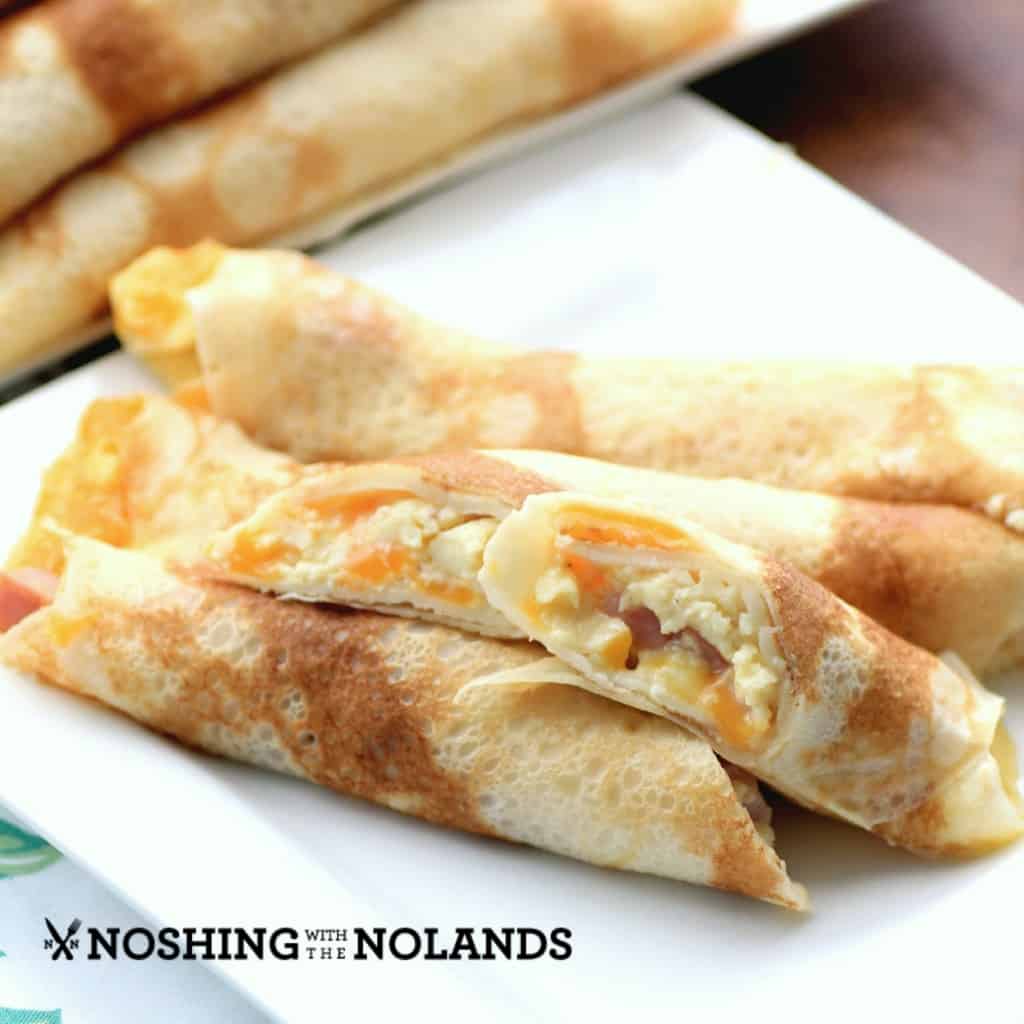 I would love for you to follow along with Egg Farmers of Canada on their Facebook, Twitter, and Pinterest accounts.