How to Season a Cast Iron Pan is some good knowledge to have when needed. Cast Iron pans are amazing for cooking a variety of meals, but they often need to be seasoned before use. Some newer cast iron pans (like those from *Lodge) come pre-seasoned. But if you've found one at a yard sale or thrift shop or had one handed down to you, it will need to be seasoned before use.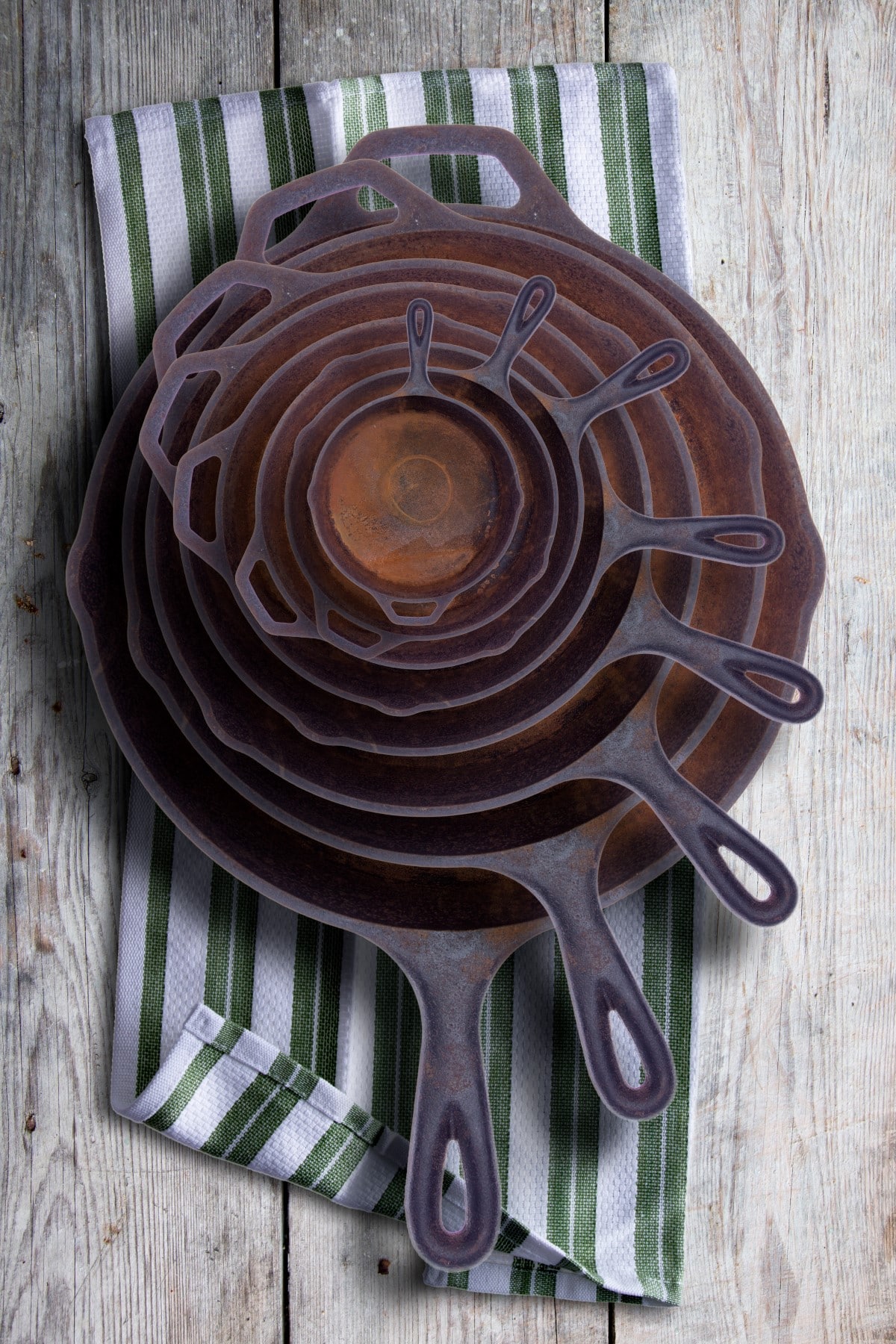 Cast iron pans are very versatile – they can go from stovetop to oven to barbeque without ever needing to transfer the food. You can use cast iron cookware for everything from making pancakes to searing steak. The way they hold heat is great for a lot of cooking methods. A cast iron pan is just that – a big hunk of iron cast into the shape of cookware. The problem is that iron is very prone to rust and that food sticks to it very easily.
Enter the role of seasoning. First, let's define what seasoning is – it's not sprinkling herbs or spices into your pan like when you season a soup. Seasoning cast iron means cooking a thin layer of fat (in most cases oil, but some people swear by melted shortening) into the pan over and over until it creates a black, non-stick surface. Cooks love cast iron because if seasoned properly, nothing will stick to it.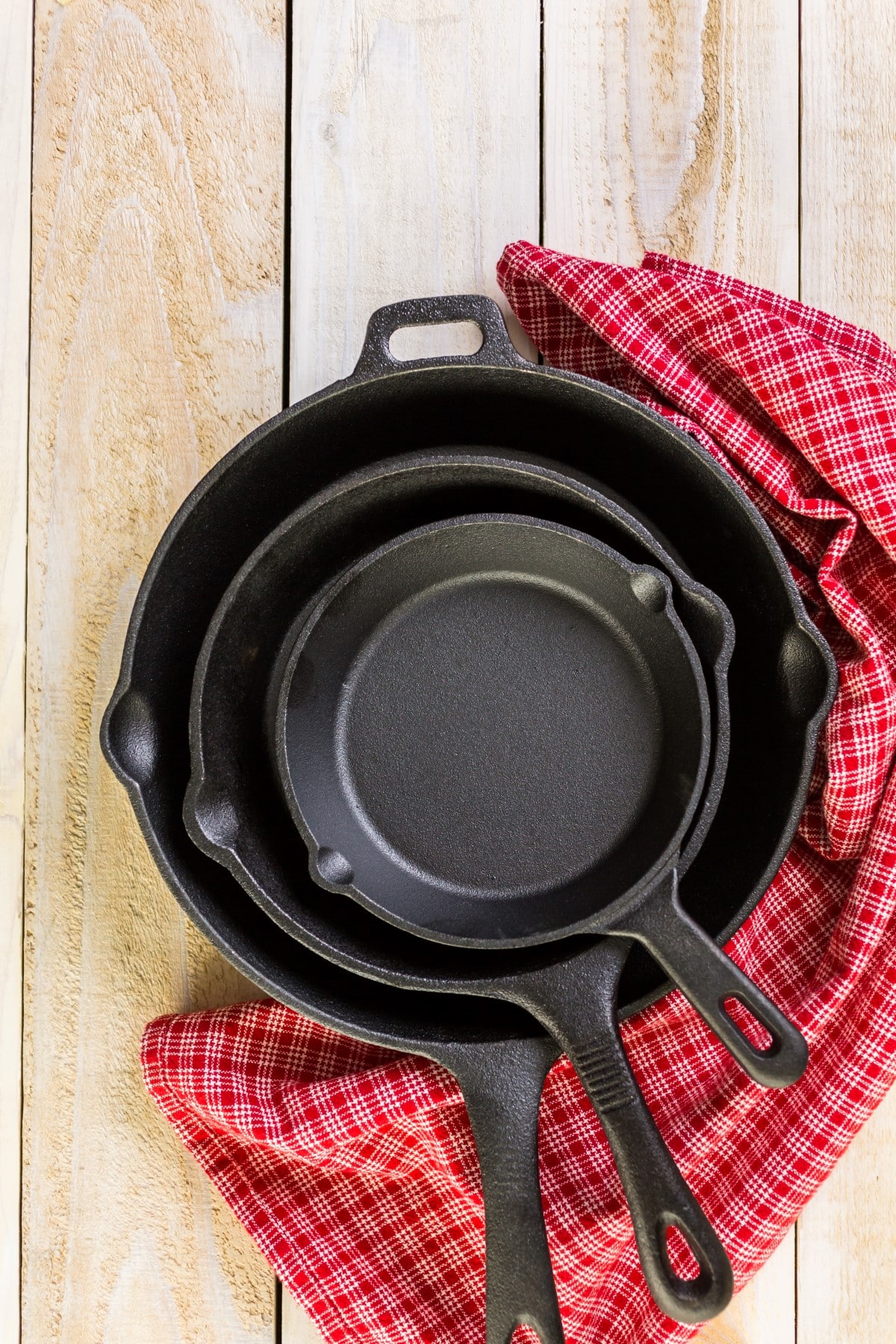 How many times should you season a cast iron pan?
As mentioned in the introduction, some newer cast iron skillets and cookware come pre-seasoned. But anything you pick up from a thrift store, flea market, garage sale, or handed down from a family member should be re-seasoned. There are no rules for how often you should re-season a cast iron pan. When food starts sticking, you see rust, or the color is more grey than black, it needs to be seasoned again.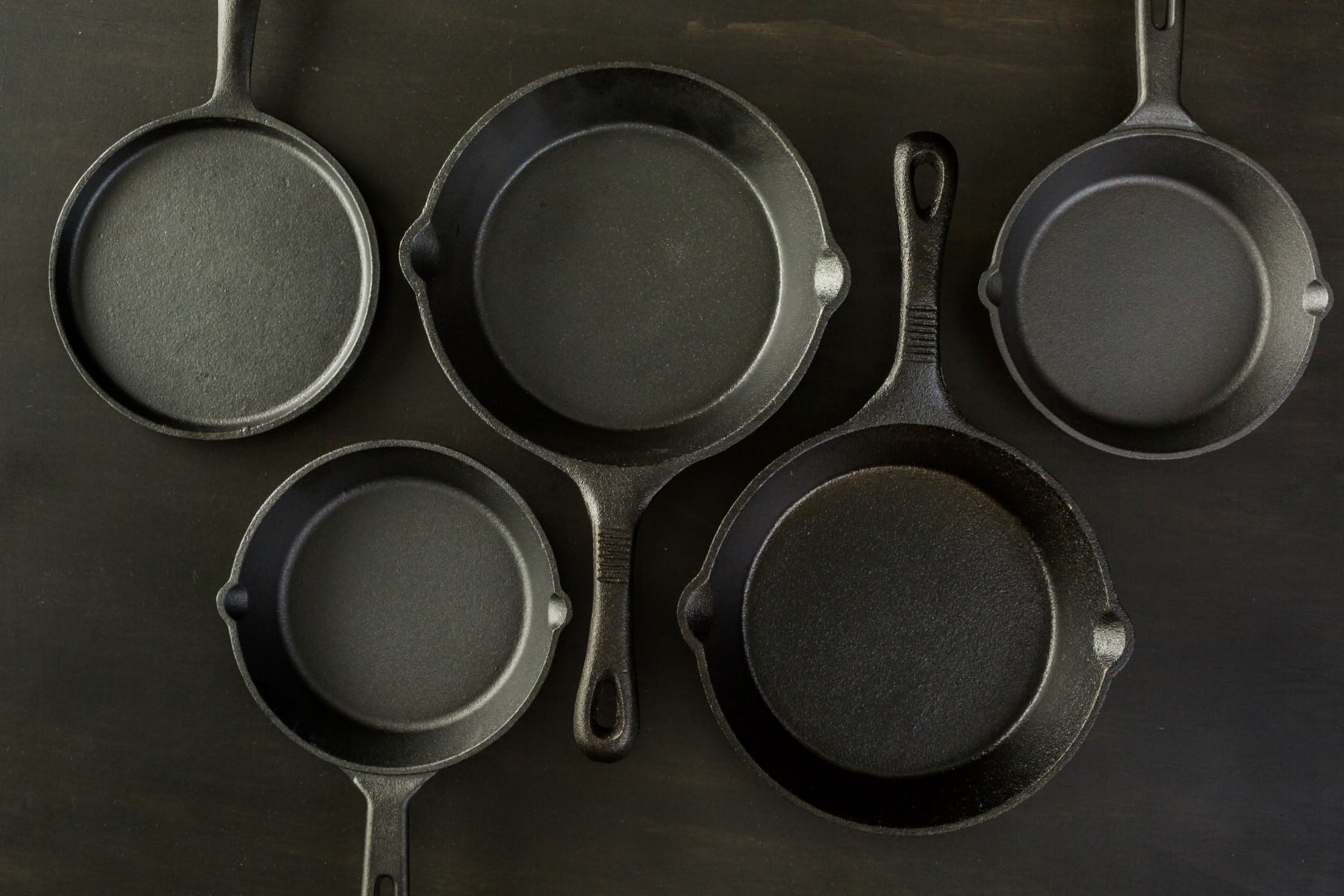 What is the Best Way to Season a Cast Iron Pan?
There are people out there who make seasoning cast iron seem like a mystical process that only the pros should be doing. It scares a lot of new cooks away from cast iron. The truth is, it isn't hard to season cast iron.
Soak and Scrub
Put the cast iron pan in a sink of warm water with mild detergent. Then, use an abrasive pad (scrubber) or brush to get all the rust and baked-on food particles off. If you use steel wool, be forewarned that you'll be stripping the pan completely. Sometimes, it's necessary (like when it's covered in rust), but it will make re-seasoning it harder. Once the pan is clean, rinse it thoroughly.
Dry Completely
This should be done in 2 stages – first, use a kitchen towel to dry the pan. Then, put it on the stove on medium to evaporate the residual moisture. Cast iron retains moisture below the surface, so heating for 5 minutes is the only way to get it fully dry.
Oil it Up
What is the best oil to season a cast iron skillet? Use a neutral oil, such as vegetable oil, and drop a teaspoon into the center of the pan. Then rub with a paper towel until it's absorbed into the pan. Do this on all sides of the pan, including the handle. The goal is to buff a thin layer of oil into all parts of the pan. If it feels greasy, keep buffing!
Heat It
Preheat your oven to 450°F and bake your pan for between 45 minutes and an hour. If you use an oil other than vegetable oil, you may need to have a higher oven temperature. The goal of heating the pan up is to cause polymerization, which occurs just past the oil's smoke point.
Let it Rest
After it's done cooking, leave your cast iron skillet to cool in the oven for about 20 minutes. Do not open the door! Then, put on oven mitts and remove it carefully. (the pan will still be hot).
Repeat
If the pan needs to be stripped, it can take multiple rounds of seasoning. Rub more oil and put it in the oven for about 30 minutes for subsequent rounds. A badly neglected pan can take 5 rounds of seasoning to build up enough to be nonstick.
Let it Cool
After the last round of seasoning, let the pan cool completely before putting it away.
Use it Regularly
Every time you cook with fat or oil in your cast iron pan, you're adding seasoning. A well-used pan will not need to be seasoned again unless you do something to remove the seasoning, like using harsh abrasives or strong detergents when cleaning it.
Seasoning cast iron pans can be a little time-consuming, but it isn't a difficult task. The ease with which you can cook even the stickiest foods with a well-seasoned cast iron pan more than makes it worth the effort!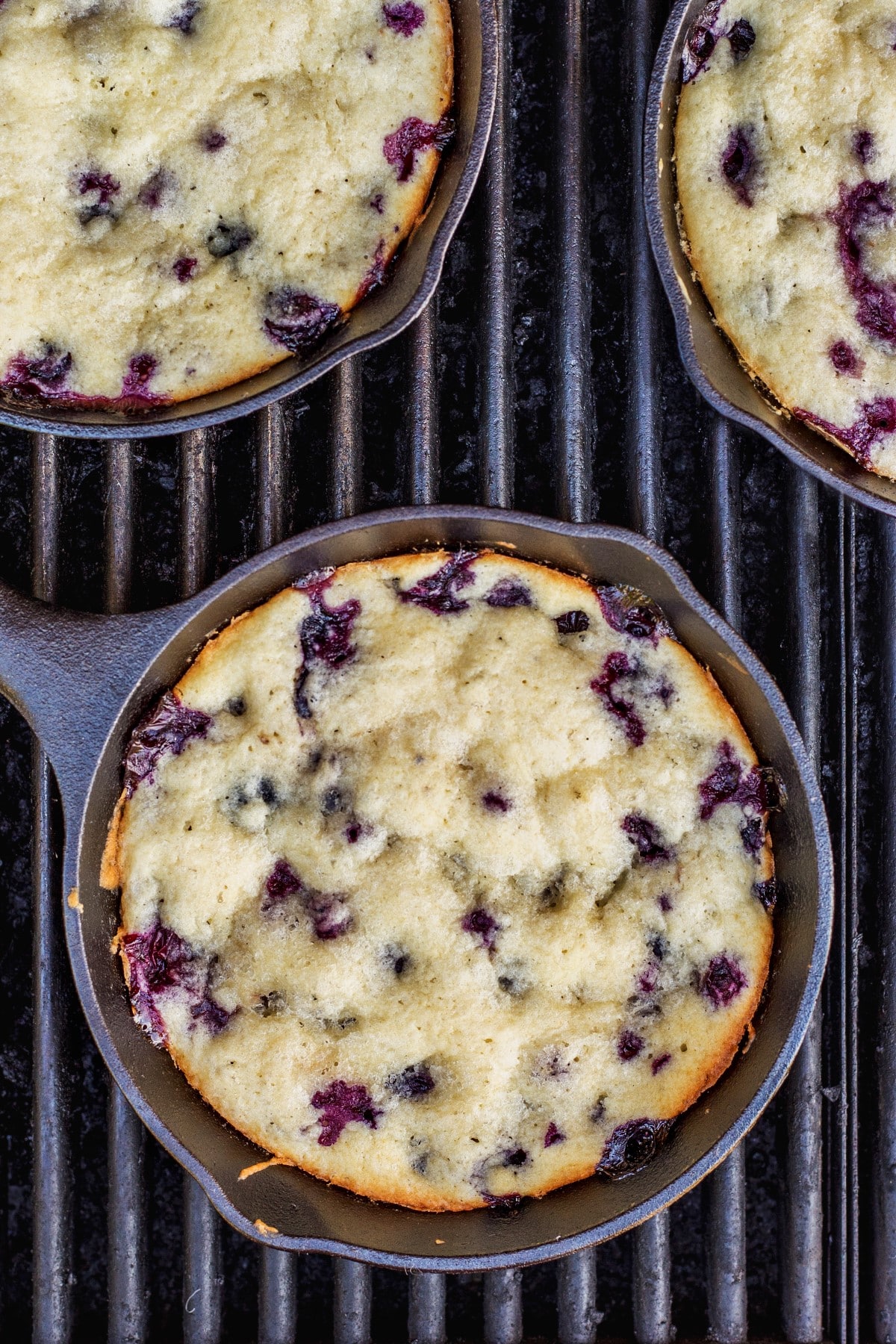 As mentioned, your cast iron works great on your BBQ, too, just like with these BBQ Lemon Blueberry Buttermilk Cakes.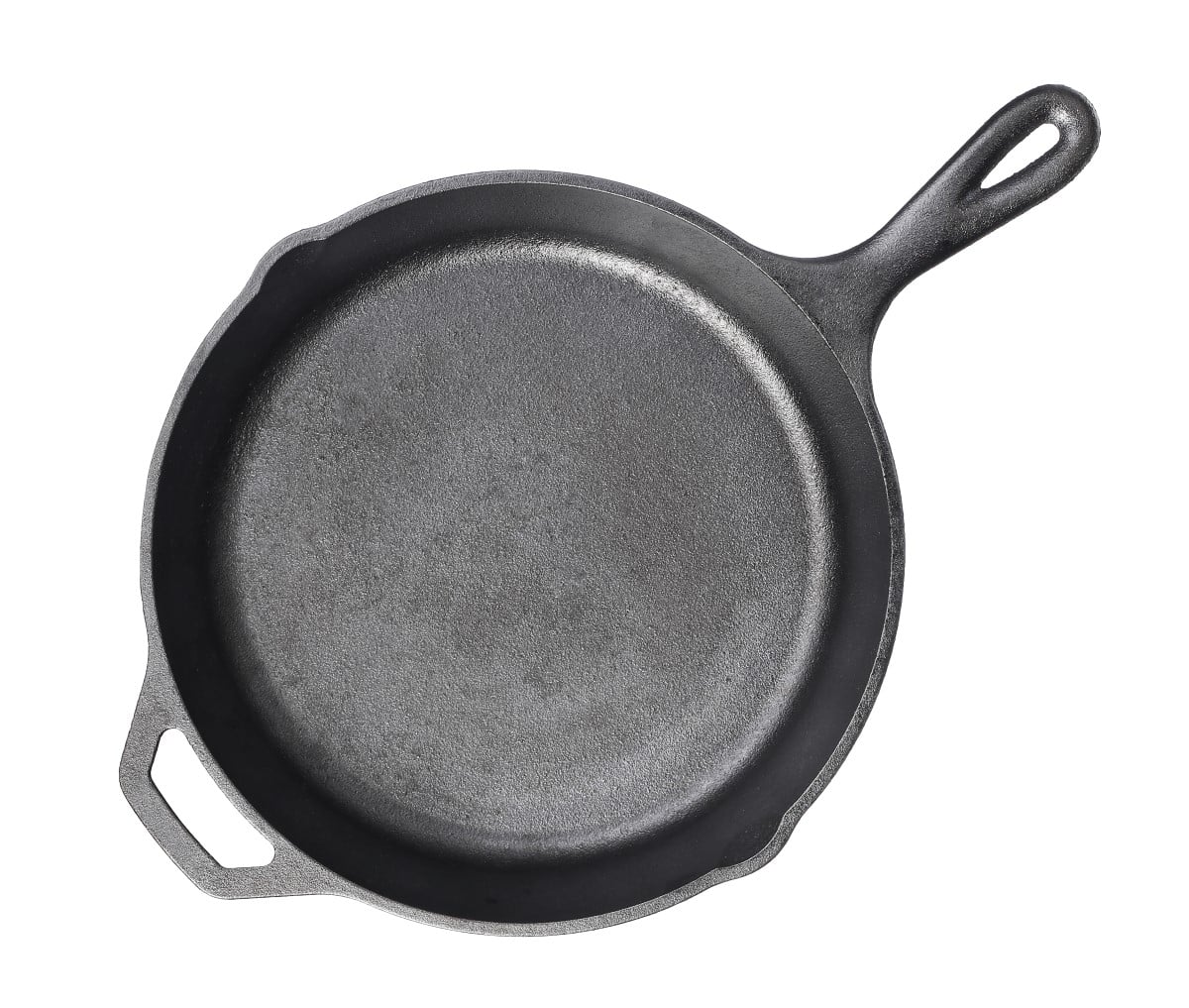 WANT SOME GREAT CAST IRON RECIPES TO TRY?
We love using our cast iron pans in the kitchen as well as on the BBQ. Here are some of our favorite recipes.