I have a great cookbook for you today, Bob's Red Mill Everyday Gluten-Free Cookbook by Camilla V. Saulsbury. From this cookbook I selected Lemony Shrimp Asparagus and Quinoa Stir Fry. A perfect spring meal that is not only delicious but easy. I adore the flavor of lemon in the spring in so many recipes. It is like a rebirth of the senses after having stews and soups and lots of wintery hardy meals. Quinoa is also one of our favorite grains to cook with. This recipe brings everything together for me, including asparagus which is so wonderfully fresh in the spring also.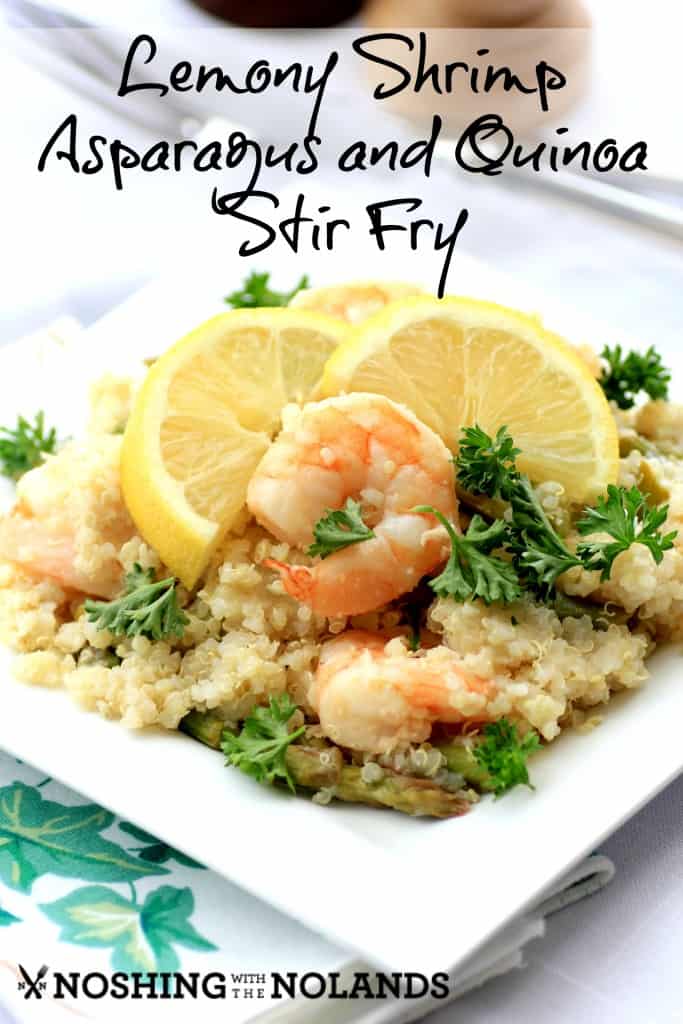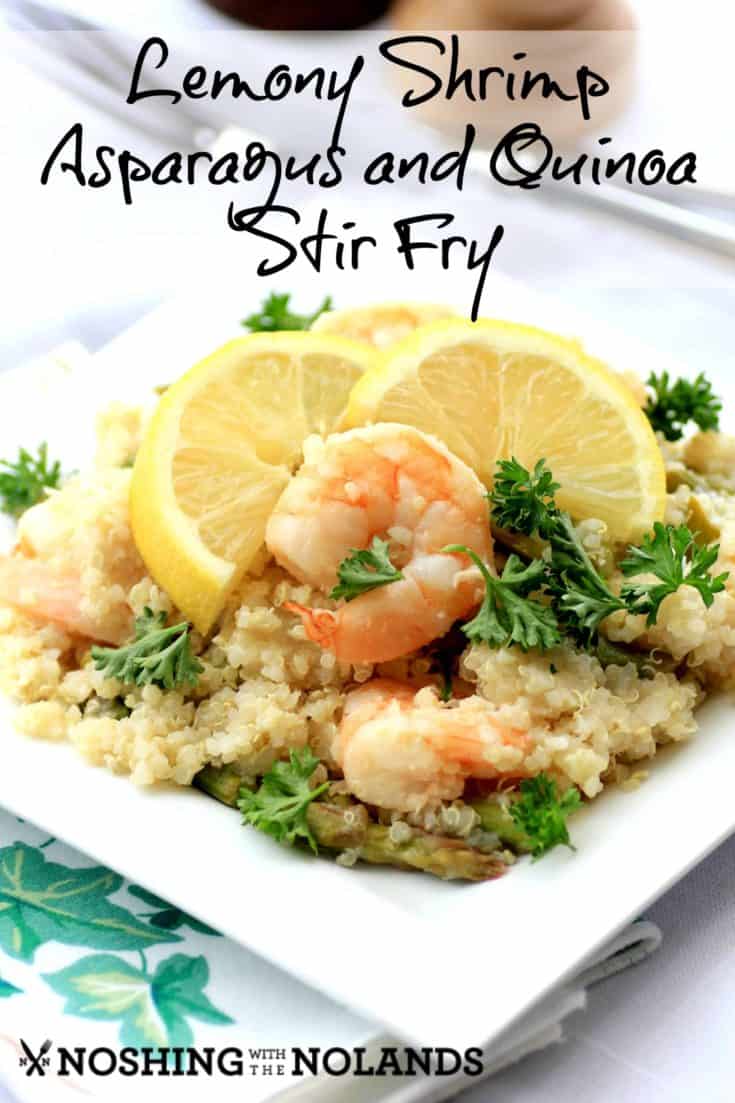 For over 30 years Bob's Red Mill has been committed to bringing the best in gluten-free flours, cereals, baking mixes and grains. More and more people are seeking ways to cut back on gluten or completely eliminate it from their diet. This cookbook showcases breadth, depth and versatility of Bob's Red Mill's gluten free grains. In changing to a gluten free diet it is important to not eliminate all grains but to embrace the grains that are naturally gluten free. Camilla the author writes, "You can have your cake and eat it too when you go gluten-free; but make it naturally gluten free ancient grains."
Quinoa, that is in this recipe, is classified as a super-food by nutritionists and a "super-crop" by the United Nations. It is considered one of the best sources of protein in the vegetable kingdom. The first few chapters in the cookbook explain all the different grains and for me, demystified some of them. I love trying new recipes and adding in new wonderful grains into our diet.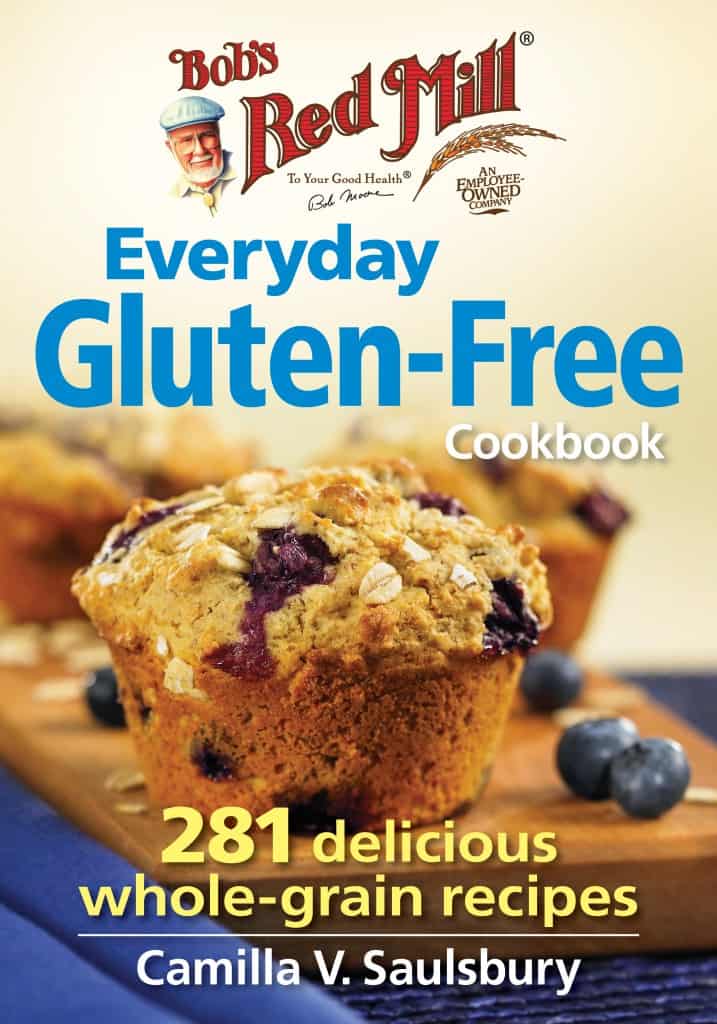 Camilla V. Saulsbury is an award-winning and bestselling author. She has created 281 recipes that show the health benefits of a gluten-free diet. Her recipes are creative and delicious and can be enjoyed throughout the day, with satisfying breakfasts to evening dinners. Recipes like Whole-Grain Pancake and Waffle Mix, Sweet Potato and Pecan Breakfast Cookies, Miso Mushroom and Buckwheat Soup, Coconut Pineapple and Basmati Rice Salad, and Sesame Ginger Pork with Millet Slaw and Flourless Fudge Brownies to name only a few.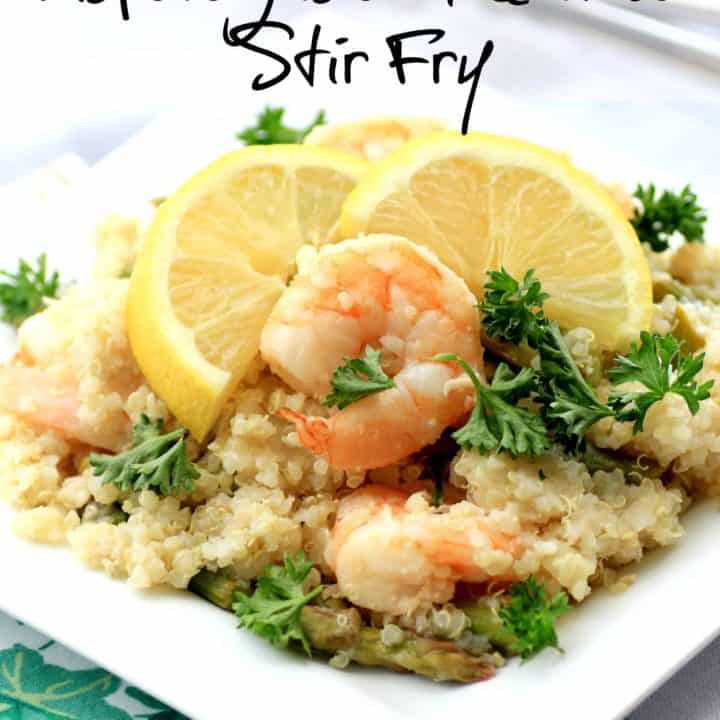 Lemony Shrimp Asparagus and Quinoa Stir Fry
Plump-sweet shrimp, tender-crisp asparagus and nutty quinoa together make one heck of a trio.
Ingredients
1 tbsp minced garlic 15 mL
1 tsp cornstarch 5 mL
1 tbsp olive oil 15 mL
1 tsp finely grated lemon zest 5 mL
3 tbsp freshly squeezed lemon juice 45 mL
12 oz asparagus, trimmed and cut into 375 g
1-inch (2.5 cm) pieces
12 oz fresh or thawed frozen medium-large 375 g
shrimp, peeled and deveined
1⁄4 cup dry white wine 60 mL
2 cups cooked quinoa (see page 15), chilled 500 mL
Instructions
In a small bowl, whisk together garlic, cornstarch, oil, lemon zest and lemon juice.
In a large skillet, heat garlic mixture over medium-high heat until bubbling. Add asparagus and cook, stirring, for 2 minutes or until slightly softened.
Add shrimp and wine; cook, stirring, for 2 to 3 minutes or until shrimp are pink, firm and opaque.
Add quinoa and cook, stirring, for 2 to 3 minutes to heat through and blend the flavors. Serve immediately.
Tips
Make the quinoa a day ahead and chill it; when dinnertime arrives the next day, this dish will come together in a matter of minutes.
Chilling the quinoa before stir-frying helps to keep it from clumping and sticking to the pan.
Cooked amaranth, millet, long-grain brown rice or sorghum, chilled, can be used in place of the quinoa.
Courtesy of
Bob's Red Mill Everyday Gluten-Free Cookbook
by Camilla V Saulsbury, 2015 ©
www.robertrose.ca
Reprinted with publisher permission. Available where books are sold.