Rainy night and I love waking up to that smell and sight in the morning. The rain makes everything so fresh and green. I was tired of continuously watering my new perennials and happy that they got a good drink from the sky!! The vegetable garden and raspberry/strawberry patch are doing well. I am also loving the handiness of my upstairs herb garden to enjoy at a close reach. We look back today at July of last year and these yummy little Black Forest Surprise desserts caught my eye again so I thought I would bring these back for a second look.
This post was a cookbook review I did last July when I made these very easy desserts in a jar. I love doing something like this and prior to my making an actual Black Forest Cake this was as close as hubby got to the real thing, which is his favorite dessert!! Black Forest Surprise is a wonderfully easy and delicious dessert!!
I think the best part is that they are at the ready for you when want to serve them, already done in a single serving size. What could be easier than that for summer desserts!!
Everything from pies and cakes, to pudding and cobblers can be made in jars!!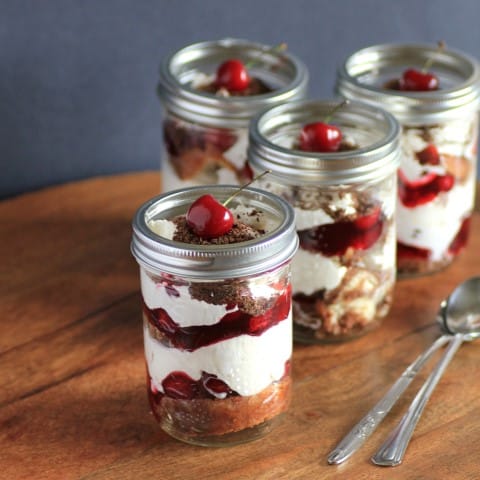 Do enjoy this Mouth Watering Mondays Black Forest Surprise, click HERE for the recipe!!