The holidays are fast approaching and there are many recipes to think of. I love a nice breakfast on Christmas morning or over the holidays but don't want to be standing there forever making it. Overnight French Toast has been a favorite of ours for years and was originally shared by a friend of mine, Joan. It makes two big pans, enough to feed a crowd. Also, try our Stuffed French Toast for a luscious addition to your breakfast table.
So when cousins, aunts, uncles, sisters, brothers, children, grandparents or other relatives and friends are staying with you or pop over, you can wake up and feed a crowd. Eggs are such an easy way to stretch your holiday entertaining. The eggs that I buy are always fresh, high-quality and locally produced by Canadian egg farmers and easily obtained at my local store.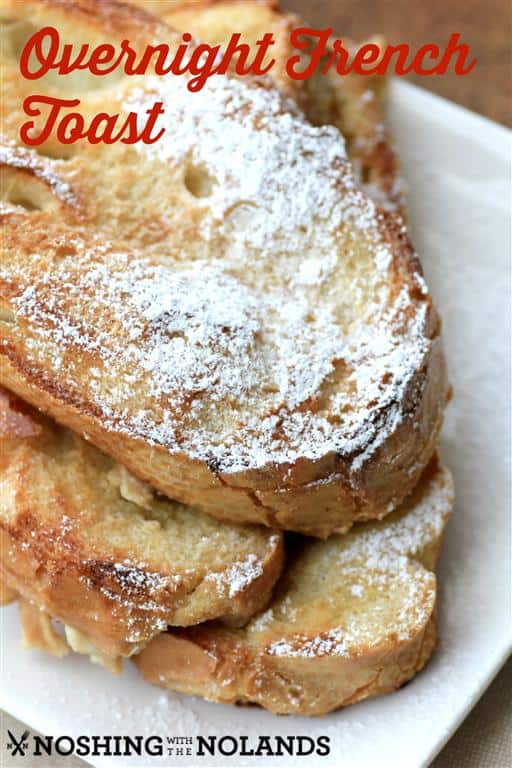 I adore this recipe as the bottom and sides are crispy and delicious while the middles are soft and eggy. The perfect french toast in my mind. Served with a big fresh fruit salad and maybe some ham or bacon you have a festive feast for everyone, young and old to love.
Eggs are so versatile and can be used in so many ways over the holidays! Think deviled eggs for appetizers, frittatas for a quick and delicious dinner, a gorgeous cheesecake for dessert. Visit Eggs.ca for loads of fantastic recipes to help you through the holidays. Connect on Twitter, Facebook and Pinterest too to follow along!! You will love all the Eggmazing goodness!!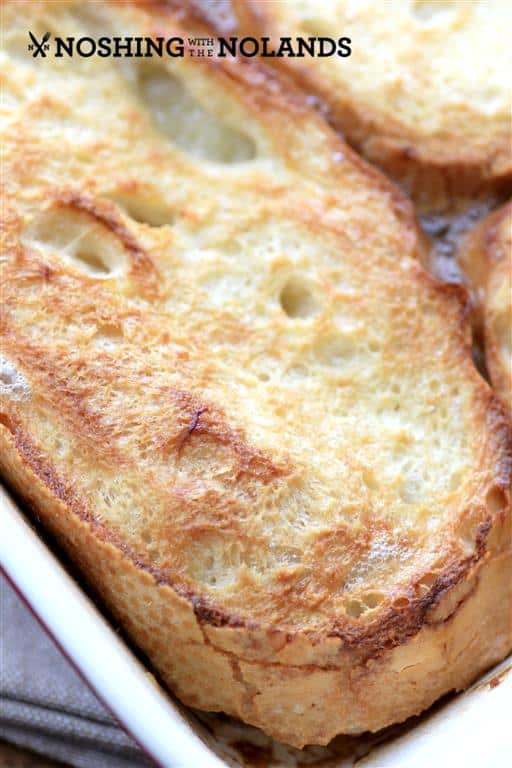 Fresh and hot out of the oven, still bubbling away!! This recipe will save you loads of time and everyone will be thrilled to have a delicious hot breakfast or brunch!! Did you know that Holiday treats and meals made with Canadian eggs take on a special meaning. Under supply management, the eggs you buy at the store are among the best in the world for quality and freshness, and are locally produced. We are very blessed to have that so accessible to us.
Over the holidays our fridge is full of eggs, we buy them a minimum of 18 eggs at a time. With all the wonderful holiday baking that we share, eggs are in almost every cookie, brownie, square or cupcake. Eggs are essential for all your baking and cooking during Holiday season – from the meringue on your pie to the stuffing in your turkey. Every time you reach for eggs this holiday season you're supporting Canadian farmers. That's definitely something to celebrate!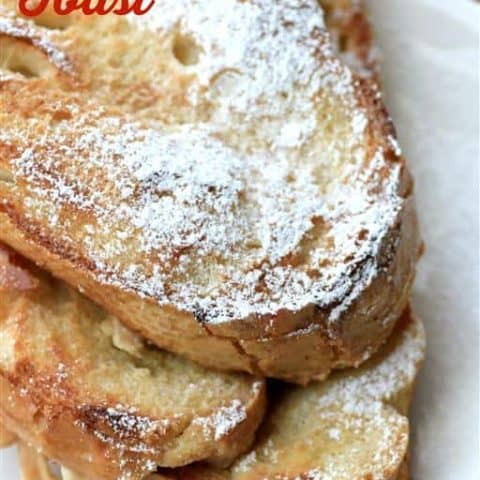 Overnight French Toast #CanadianEggs
Yield: 6-8
Prep Time: 10 minutes
Cook Time: 50 minutes
Total Time: 1 hour
A easy oven baked French toast that will save you loads of time for any holiday breakfast or brunch.
Ingredients
1 large French loaf, sliced into 1" slices
8 large eggs
3 cups 2% milk
2 Tbsp. sugar
1 tsp. salt
1 Tbsp. vanilla
1/3 cup melted butter
Icing sugar for garnish
maple syrup
Instructions
Generously butter two 9x13" pans. Place bread into the baking dishes in a single layer.
In a large bowl whisk together the eggs, milk, sugar, salt and vanilla. Pour over the bread and cover with plastic wrap or foil and refrigerate overnight.
When ready to serve. Remove the pans from the fridge and heat the oven to 350F. Drizzle the melted butter over the bread, coating evenly. Bake for 45-50min. until the bread is puffy and lightly browned. Remove from the oven and let stand for 5 min. Serve with a dusting of icing sugar or maple syrup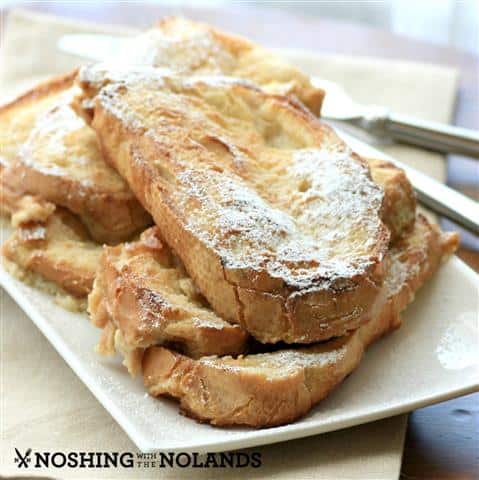 That is not all folks we have another Eggciting Giveaway for you!! You are being spoiled with great giveaways from #CanadianEggs!!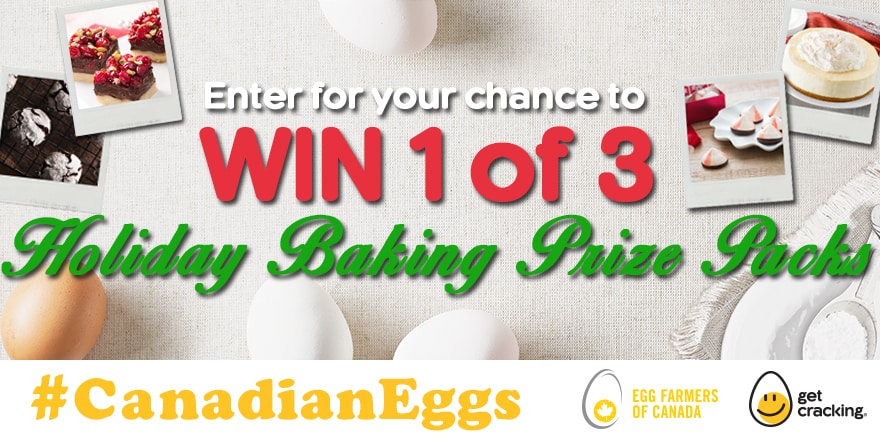 Prizes are valued at $1000!! Giveaway is open to Canadian residents, 18+ excluding Quebec. Ends December 22nd, 2014 11:59pmEST.
Grand Prize: $469.96 Value
● KitchenAid® Artisan Stand Mixer $349.99
● Paderno 5-pc. EcoGreen Bakeware Set $53.99
● Paderno 4-pc. Mixing Bowls with Lids $41.99
● Josien Broeren 12-pc. Appetizer Set $23.99
2nd Prize: $209.96 Value
● Dualit® Hand Mixer $89.99● Paderno 5-pc. EcoGreen Bakeware Set $53.99
● Paderno 4-pc. Mixing Bowls with Lids $41.99
● Josien Broeren 12-pc. Appetizer Set $23.99
3rd Prize: $119.97 Value
● Paderno 5-pc. EcoGreen Bakeware Set $53.99
● Paderno 4-pc. Mixing Bowls with Lids $41.99
● Josien Broeren 12-pc. Appetizer Set $23.99
Disclosure: I am participating in the Egg Farmers of Canada campaign
managed by SJ Consulting. I received compensation in exchange for my
participation in this campaign. The opinions on this blog are my own