Potatoes Dauphinoise #LeCreuset
There really aren't words to describe how utterly thrilled I am to work with Le Creuset Canada. I have for many years drooled over their product. I have longingly gazed at it from a far. Gently touched it, caressed it. Am I going over board? No, I don't think so when I am talking about Le Creuset and their products. I wanted to make for you hopefully something that lives up to this line of cookware, Potatoes Dauphinoise.
This recipe is like a scalloped potato but it takes it to a whole new level with cream, garlic and gruyere cheese. A rich and comforting casserole perfect for the holiday season.
Le Creuset now have a gorgeous and I mean gorgeous store over at Chinook mall, in Calgary. I have been in it so many times just to look, just to drool, just to hope that I would and could own something one day. My day has arrived!!
I got in touch with Le Creuset to see if they would let me test drive a casserole dish, something that I was in desperate need of. I have casserole dishes but they now have seen a better day. Chips, missing lids, ones with flowers that I no longer think are attractive. So I was over the moon thrilled to receive this stunning Cherry Oval Casserole with Lid.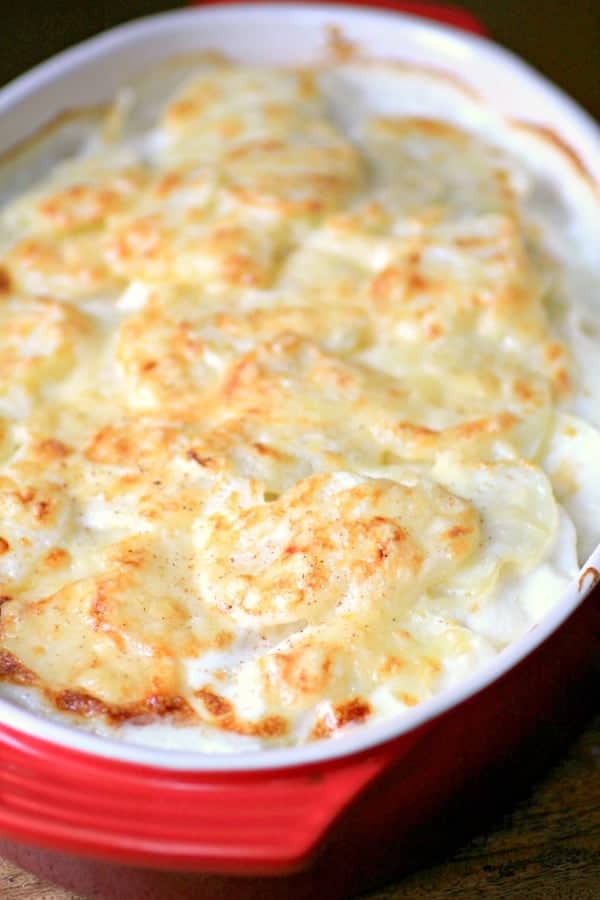 Helpful Items for This Recipe
This post contains affiliate links.
Gorgeous Le Creuset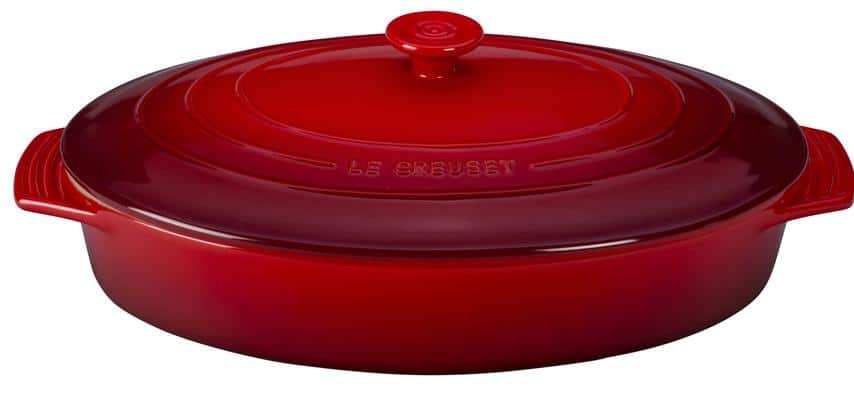 As I said I wanted to make something very special for my first time in this gorgeous casserole. Ken said to make something French, I thought, yes perfect, Potatoes Dauphinoise immediately came to mind.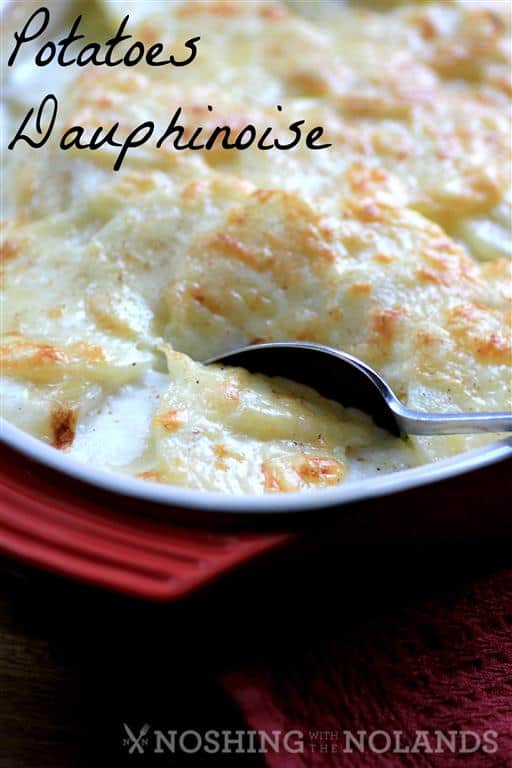 Luscious creamy potatoes, steeped in garlic and thyme cream and then baked with gruyere. Simple yet so elegant!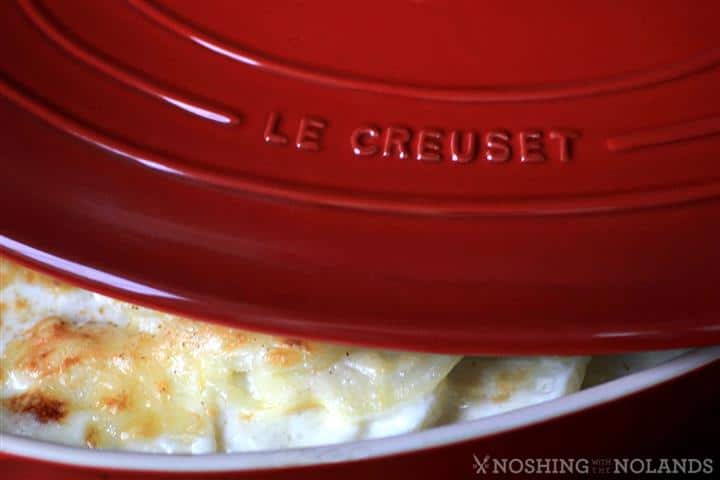 Look at that gorgeous casserole dish with the scrumptious potatoes inside. Treat yourself or the ones you love to Le Creuset this holiday season. It is a lifetime investment. Something you can treasure forever!!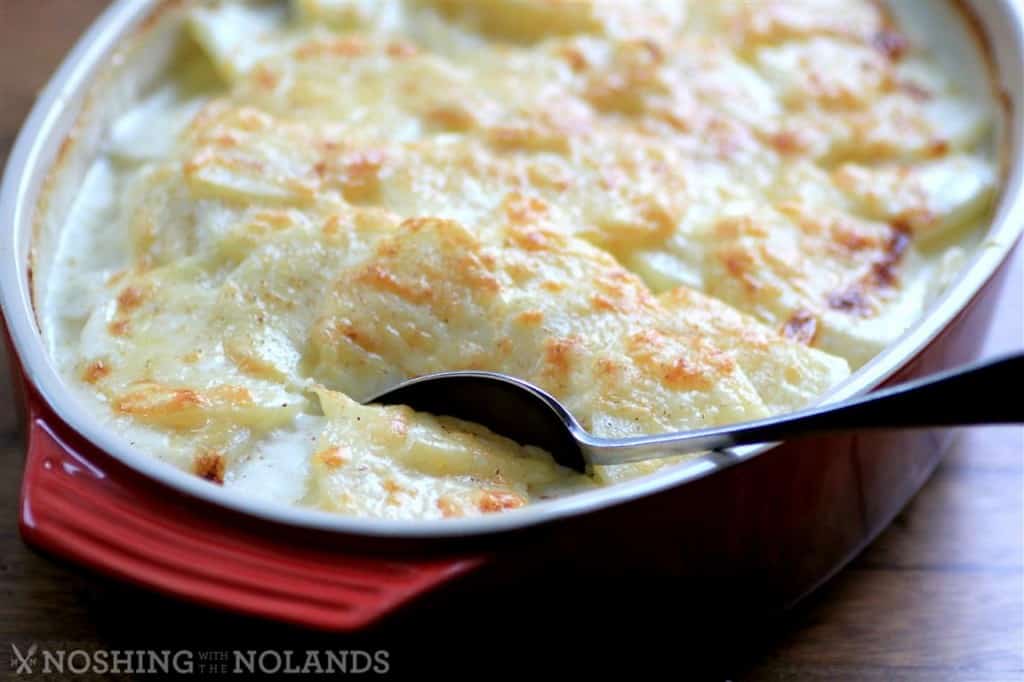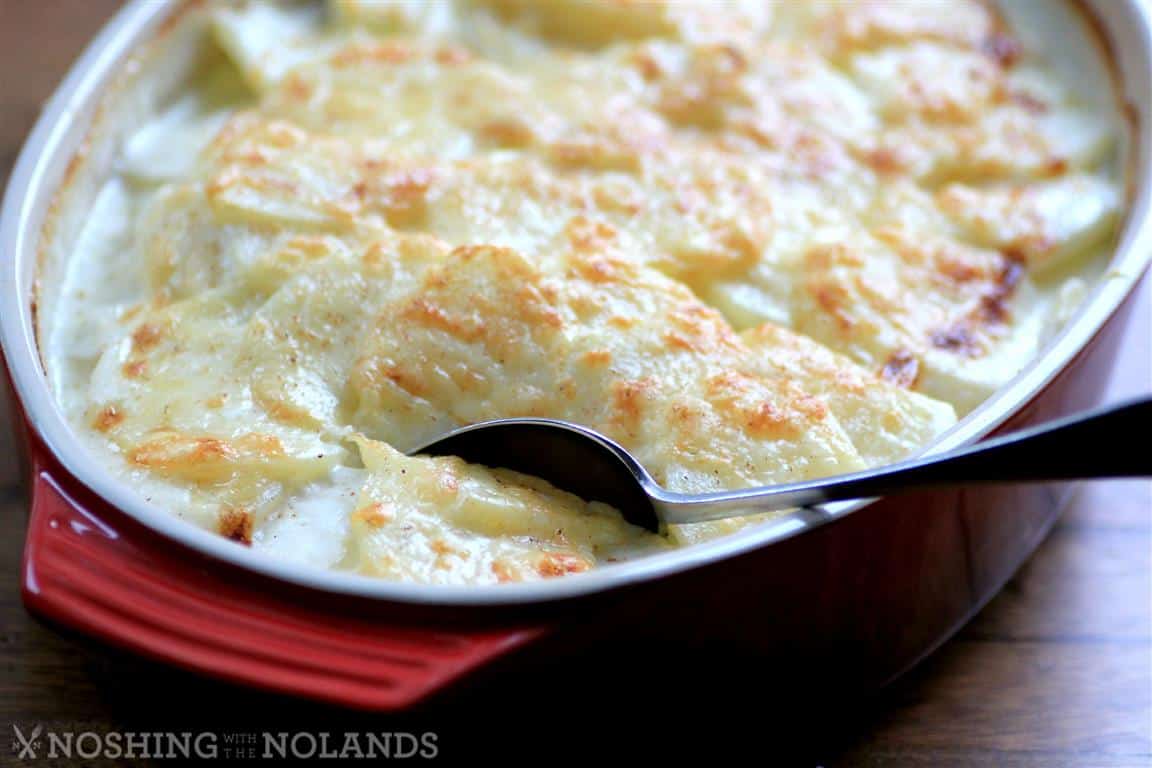 The casserole size is 3.5 L and will hold a lot of deliciousness for any holiday table. It comes in cherry as shown or flame, soleil, palm, caribbean, marseille, dune and truffle for colors.
I love them all but my favorite is the traditional and cheery cherry!! Their stoneware is an All-In-One Dish that you can bake, serve, slice and store in!! I love that it has a lid and you can just pop it into the fridge with leftovers.
Try these potatoes for your holiday table and you will get rave reviews!!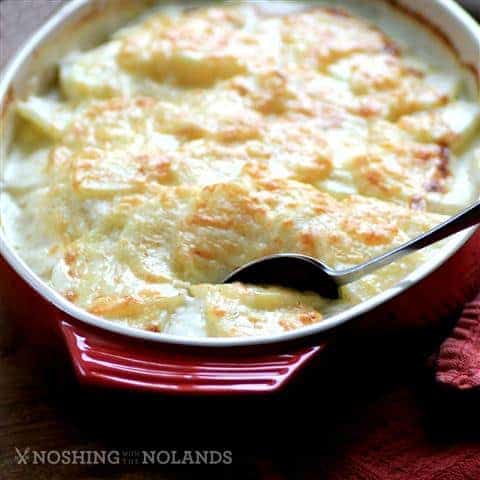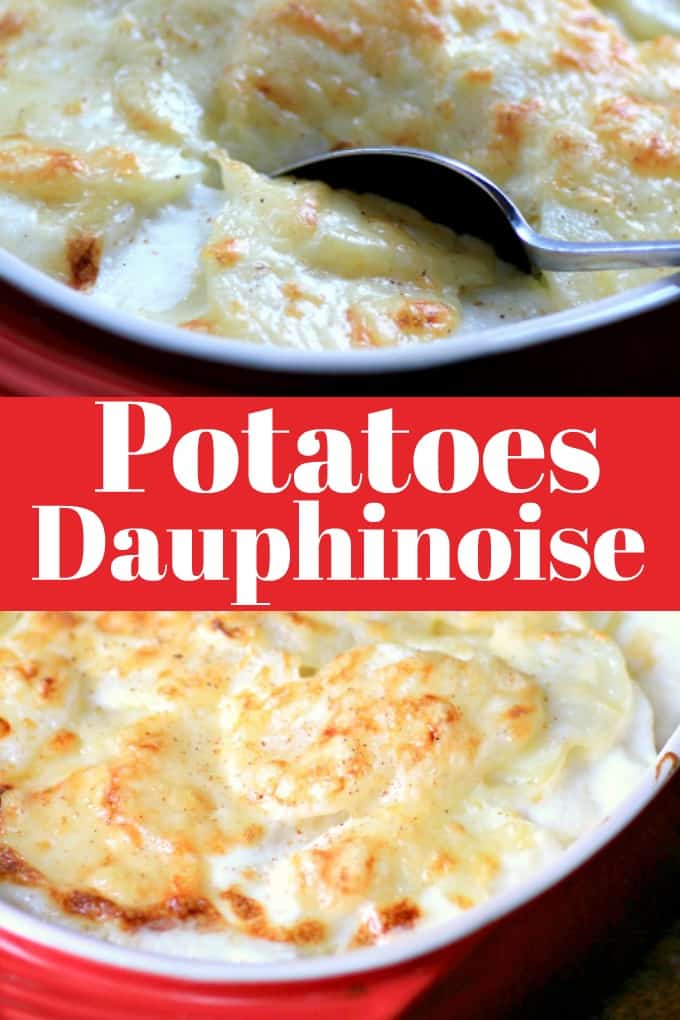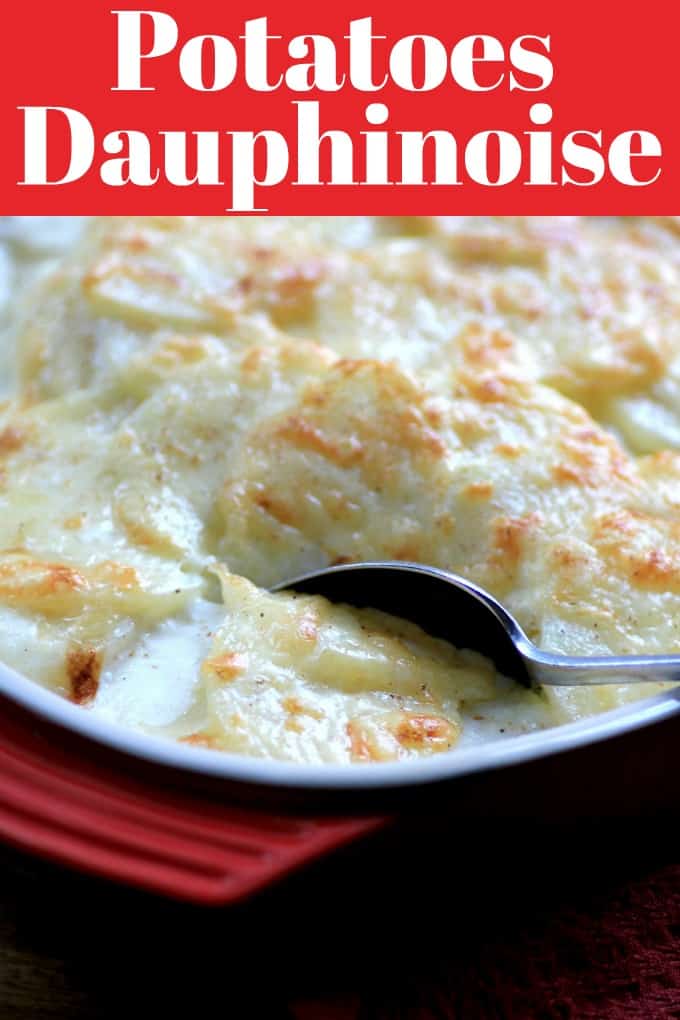 Potatoes Dauphinoise Recipe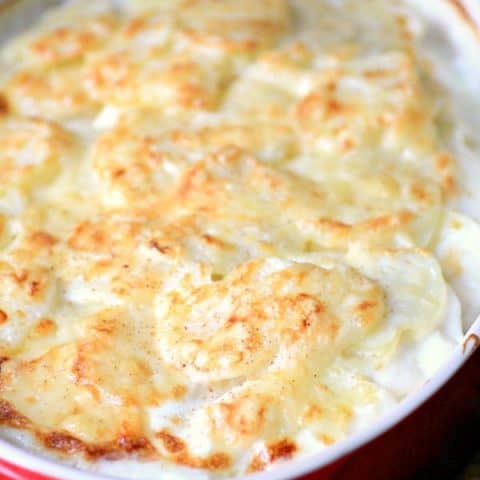 Potatoes Dauphinoise #LeCreuset
Yield: 8-10
Prep Time: 30 minutes
Cook Time: 35 minutes
Total Time: 1 hour 5 minutes
Potatoes Dauphinoise is a creamy and luscious potato side dish that is perfect for the holiday season.
Ingredients
2 cups heavy cream
2 cups homogenized milk
4 garlic cloves, smashed but still whole
3 bunches thyme
8 large potatoes, thinly sliced with a mandoline
2 cups Gruyere cheese, grated
Salt and white pepper to taste
Nutmeg for top, freshly grated
Instructions
Place the potatoes in a large saucepan and add the cream and milk. Gently stir to make sure the potatoes are covered wth the cream mixture. Submerse the thyme and garlic, keep an eye on the garlic as you will be removing them later.
Bring to a simmer and cook gently for 5 min. or until just cooked, but not falling apart. Preheat oven to 375F. Remove the thyme and garlic from the milk and discard.
Butter a large casserole dish. Remove half of the potatoes with a slotted spoon and place in the casserole dish. Generously salt and lightly pepper. Scatter 1 cup of the gruyere on the potatoes. Pour half the cream mixture on the potatoes. Top with the remaining potatoes, generously salt and lightly pepper again. Pour on the remaining cream mixture. Top with the remaining cheese. Bake for 30 min. or until lightly browned and bubbly. Freshly grate nutmeg on top and serve.
Recommended Products
As an Amazon Associate and member of other affiliate programs, I earn from qualifying purchases.
Nutrition Information:
Yield: 10
Serving Size: 1
Amount Per Serving:
Calories: 512
Total Fat: 26g
Saturated Fat: 16g
Trans Fat: 1g
Unsaturated Fat: 8g
Cholesterol: 84mg
Sodium: 292mg
Carbohydrates: 55g
Fiber: 5g
Sugar: 4g
Protein: 16g