Roasted Pumpkin Seeds
I received three gorgeous organic pumpkins from my girlfriend's garden. One was given as a gift and the other two served me very well as nice decorations for photos and for Halloween decor.
Then it was hmmm, what do I do with them now. We didn't have time for carving them this year, so I saw that my girlfriend Marie whom I received them from roasts hers and puts the pulp in the freezer for later use, what a great idea!!! So off I went to do just that. Thanks again Marie for your gorgeous pumpkins!!!
In the first pumpkin I had big gorgeous seeds so instantly I wanted to cook some Roasted Pumpkin Seeds. This is so very easy and with a little forward thinking they turn out too crispy, salty, and delicious.
Ken and Amber loved them. The secret is to brine them overnight. They may not look super crispy but trust me they were!! Crunch, crunch, crunch they were gone in no time.
I hope you try this with leftover pumpkins that you might have lying around after Thanksgiving. ENJOY!!!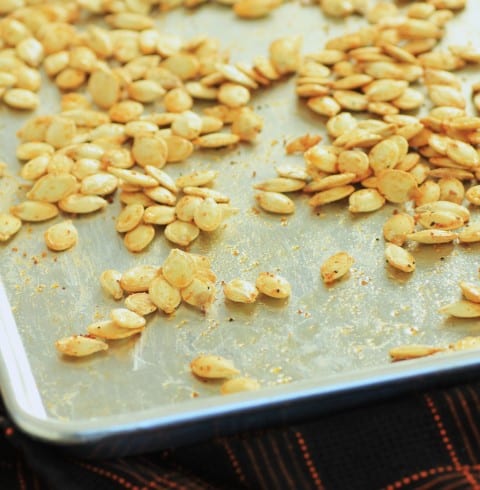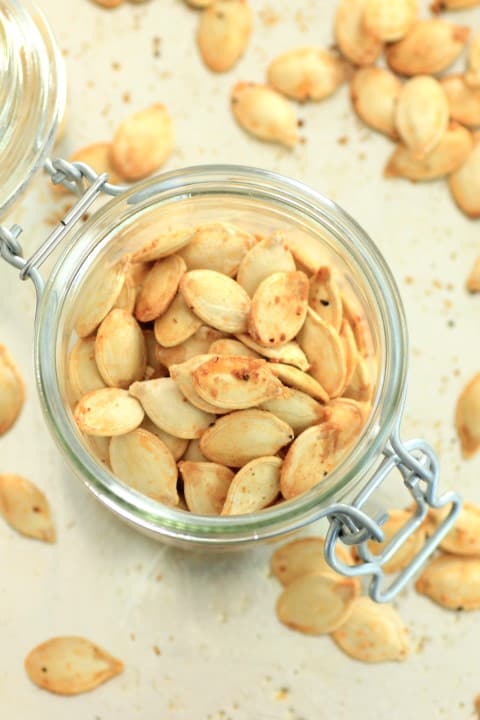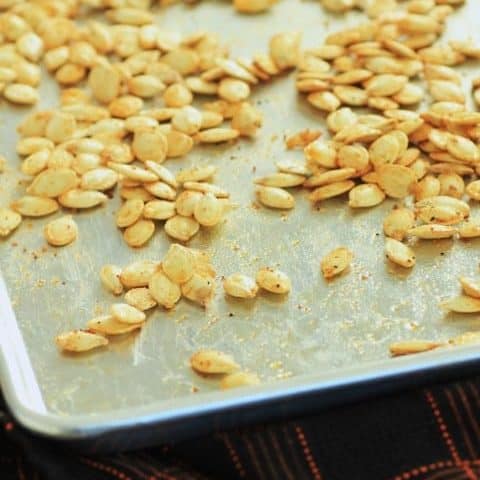 Roasted Pumpkin Seeds
Yield: 4 Servings
Prep Time: 5 minutes
Cook Time: 20 minutes
Total Time: 25 minutes
Crispy, salty and delicious pumpkin seeds
Ingredients
Kosher salt
Pumpkin seeds, rinsed in a sieve
Seasoning salt
Garlic powder
Olive oil
Instructions
This recipe is not an exact science as the number of pumpkin seeds will vary greatly from pumpkin to pumpkin.
For the amount I did in the pictures I used 1 Tbsp. Kosher salt in a medium bowl filled with water, stir to dissolve. Place cleaned pumpkin seeds in the bowl and let sit overnight.
Drain seeds and dry well on a tea towel. They will stick but don't worry with a brush of your hand they come right off. Place them on large baking sheets and drizzle with 1-2 Tbsp. olive oil.
Season to taste with garlic powder and seasoning salt. Don't forget they will be salty from the brine too! Roast in a 325F oven for 10 minutes.
Toss and then return to the oven for another 10 min. You don't want them too brown as they will taste burnt. The color that you see in the photos offers a crisp and perfectly done pumpkin seed.
Let cool on a tray and then store in a jar or container.
Nutrition Information:
Yield: 4
Serving Size: 1
Amount Per Serving:
Calories: 104
Total Fat: 6g
Saturated Fat: 1g
Trans Fat: 0g
Unsaturated Fat: 5g
Cholesterol: 0mg
Sodium: 244mg
Carbohydrates: 9g
Fiber: 3g
Sugar: 0g
Protein: 3g
Recipe calculation was provided by Nutritionix and is estimation only. If you need nutritional calculations for medical reasons, please use a source that you trust.