Slow Cooker Apple Crisp
I am just jived about my slow cooker this winter, so many fabulous recipes have come out of it recently. I thought that dessert could be the next one.
I have bags of apples frozen in my freezer from when my girlfriend Marie brought me a huge bag back in the fall. Nothing I love better than a good apple crisp. This was lovely warm right out of the crock pot. So super easy with my all ready peeled and sliced frozen apples too.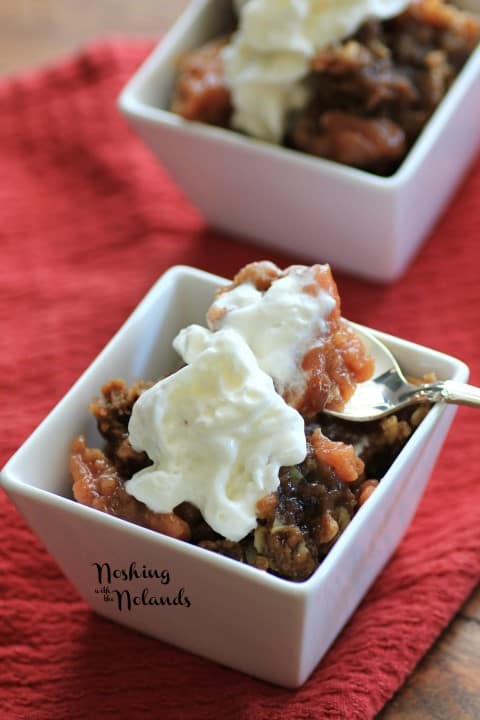 I tweaked my already great recipe for apple crisp and loaded it all into the slow cooker. The flavor was rich, sweet and decadent. Everything an apple crisp should be. The topping was still crunchy too just like if it was baked in the oven.
With a little whipped cream or vanilla ice cream, you have an amazing dessert!!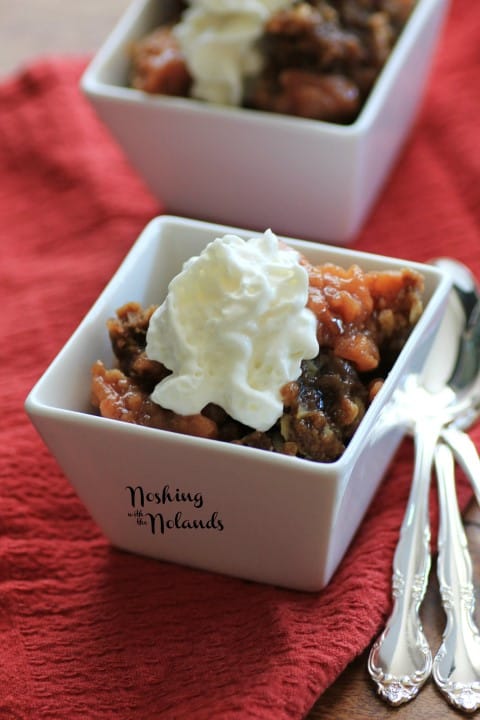 Slow Cooker Apple Crisp
Slow cooked apples, oats and cinnamon with a hint of orange.
Ingredients
⅓ cup white sugar
1 tsp. cinnamon
pinch nutmeg
1 Tbsp. cornstarch
½ tsp. ginger
1 tsp. dried granulated orange peel (optional)
5 cups apples, peeled and sliced
Juice of ½ lemon
Topping
1 cup brown sugar
¾ cup flour
½ cup oats
½ cup butter
Instructions
Mix the topping ingredients together, cutting the butter in. Set aside.
Whisk together the white sugar, cinnamon, nutmeg, cornstarch, ginger, and granulated orange peel. Toss with the apples. Put the apples into the slow cooker. Pour in juice of ½ lemon.
Place topping ingredients on apples. Cover and cook for 4 hours on low.