This Spicy Hearty Tortilla Soup is one of our all-time favorites. It is from Joan Lunden's Healthy Cooking, a cookbook that I had back in the 1990s then somehow misplaced and actually purchased again for this great recipe. As much as I love the convenience of the Internet I still love cookbooks.
There is nothing better than going through a cookbook and studying the recipes and drooling over the pictures. I know that people who aren't foodies still love going through a nice book. We all have to eat, don't we?
I love the heat of this soup, not too hot but full of flavor!! I have had tortilla soup in Mexico and it is usually thinner than this one and a starter but this is nice and thick and a full meal. Amber, of course, loves the little baked tortilla strips. Yummy!!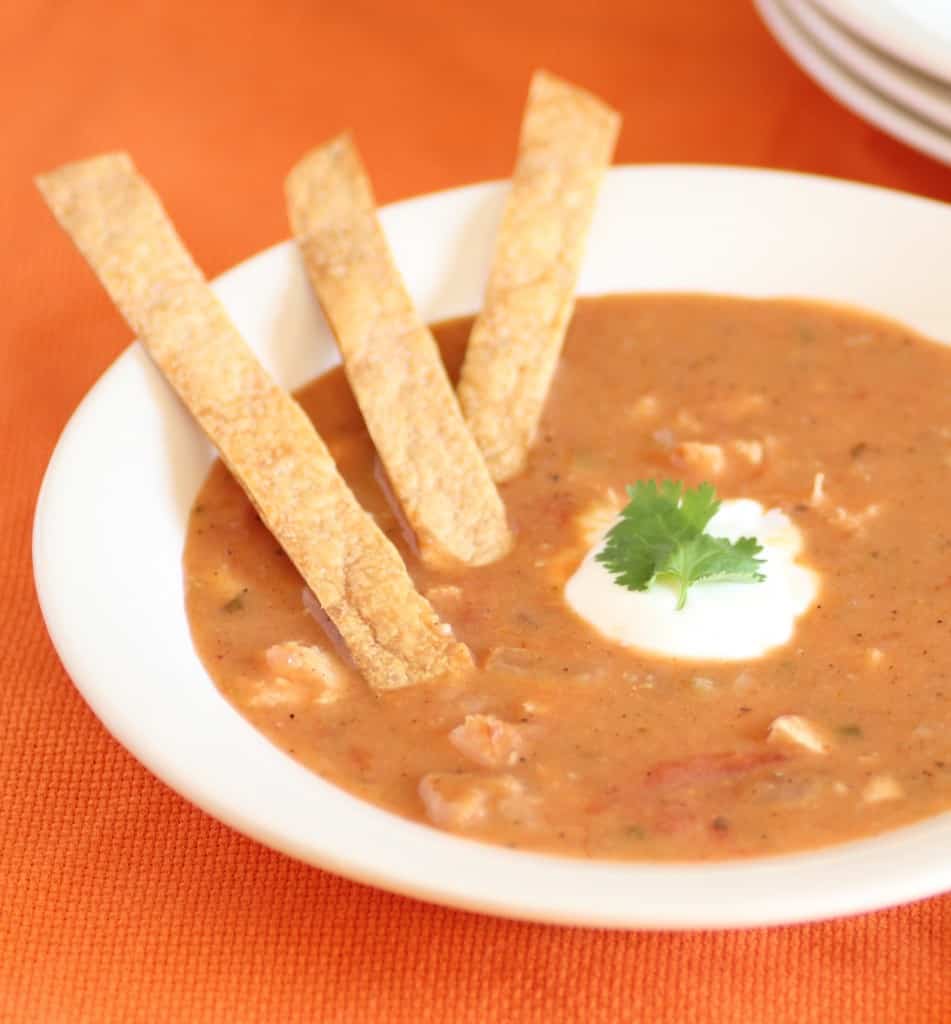 Thick and rich and spicy is this tortilla soup but oh so good for you!!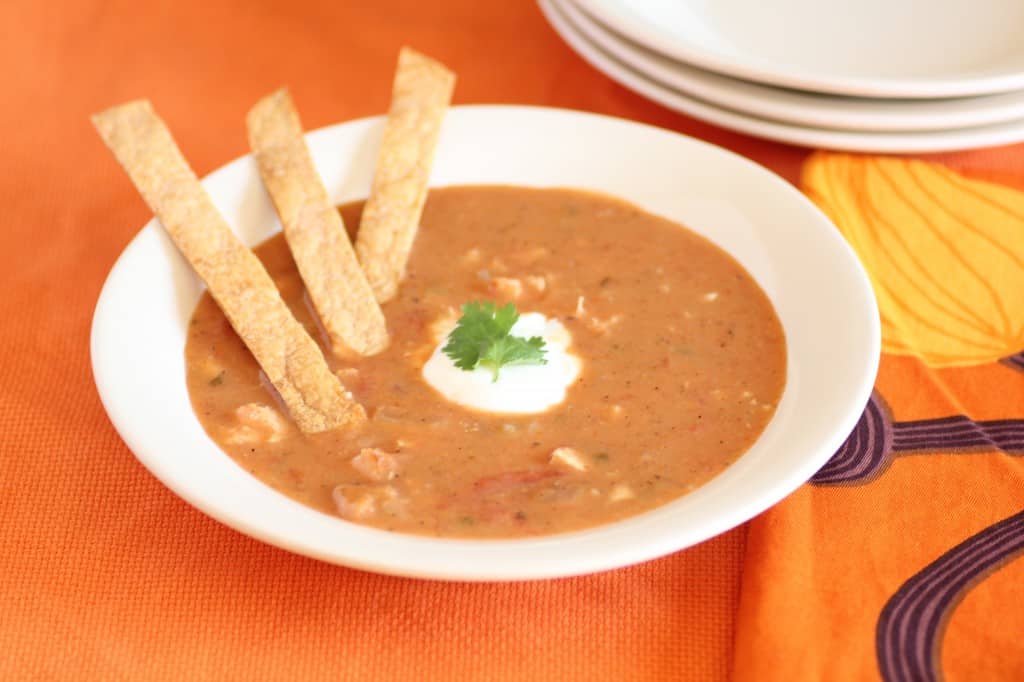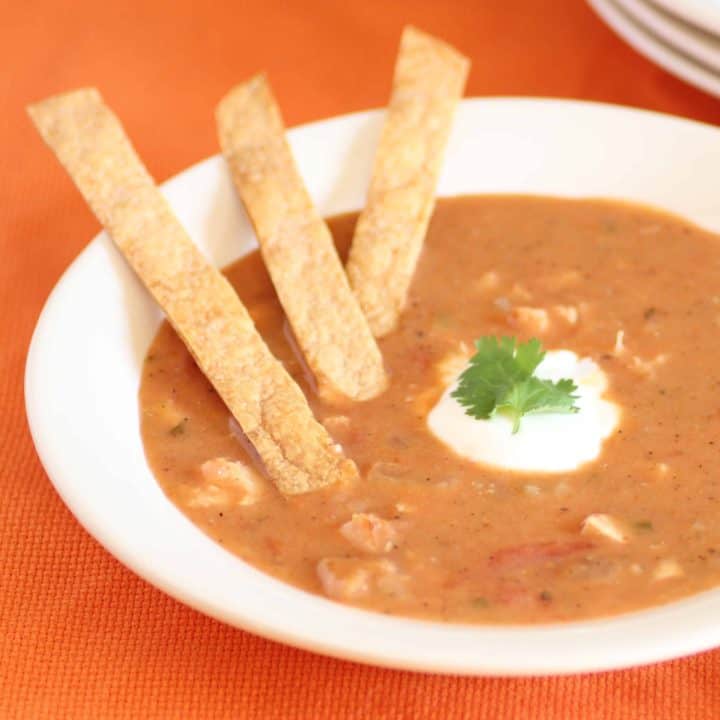 Spicy HeartyTortilla Soup
Yield: 6 Servings
Prep Time: 10 minutes
Cook Time: 40 minutes
Total Time: 50 minutes
A delicious hearty soup that is a full meal!!
Ingredients
1 medium onion, chopped
2 cloves garlic, minced
2 Tbsp. canola oil
4 oz. can green chilies
15 oz. can Italian style stewed tomatoes, chopped
4 cups chicken broth
1 tsp. lemon pepper
2 tsp. Worcestershire sauce
1 tsp. chili powder
1 tsp. cumin
1/2 tsp. hot sauce
4 Tbsp. flour
1/2 cup water
1 lb. boneless, skinless chicken thighs, cut into small cubes
1/3 cup low fat sour cream, plus more for garnish
Salt and pepper to taste
Cilantro for garnish
4 flour tortillas, cut into 1/2 inch strips
Cooking oil spray
Instructions
In a large pot saute the onions and garlic in the canola oil until translucent. Add the chilies, tomatoes, broth, lemon pepper, Worcestershire, spices, and hot sauce. Simmer for 20 min. If you don't want to chop the tomatoes throw them in whole and after simmering for 20 min. quickly run a hand blend through the soup to cut them up.
Meanwhile preheat oven to 400F. Spray a baking sheet lightly with the cooking oil spray. Arrange tortilla strips onto the baking sheet and lightly spray them with the cooking spray. Bake 10 min. or until lightly browned. Sprinkle lightly with salt. Set aside.
In a small bowl combine the flour and water and whisk into the soup. Bring back up to a boil and simmer for 5 min. Add the chicken and simmer for 5 min. longer or until just cooked through. Stir in the sour cream and adjust seasoning with salt and pepper.
Serve with a dollop of sour cream and garnish with cilantro and the tortilla strips.
Nutrition Information:
Yield: 6
Serving Size: 1
Amount Per Serving:
Calories: 380
Total Fat: 18g
Saturated Fat: 4g
Trans Fat: 0g
Unsaturated Fat: 13g
Cholesterol: 100mg
Sodium: 1390mg
Carbohydrates: 32g
Fiber: 3g
Sugar: 4g
Protein: 25g
Recipe calculation was provided by Nutritionix and is estimation only. If you need nutritional calculations for medical reasons, please use a source that you trust
Adapted from Joan Lunden's Healthy Cooking