This easy Apple Dump Cake recipe is so amazingly simple to prepare but tastes like you spent all day baking in the kitchen! Apples and cinnamon pair together so perfectly together for any fall dessert. You can have this delicious apple dessert baked and ready in under an hour. It's all the apple pie flavor you want, but now you don't have to make the pie pastry!
If you love fall-flavored desserts, here are a couple of other wonderful autumnal recipes for you to try. Here is a beautiful Bavarian Apple Torte, or for a more traditional fall taste, try this amazing Pumpkin Slab Pie or Apple Fritter Bread – Easy Quick Bread for another winner!
Also, try two of our other dump cake recipes, our Rhubarb Dump Cake is a hot recipe and very, very popular, but we also have the amazing Cherry Pineapple Dump Cake too.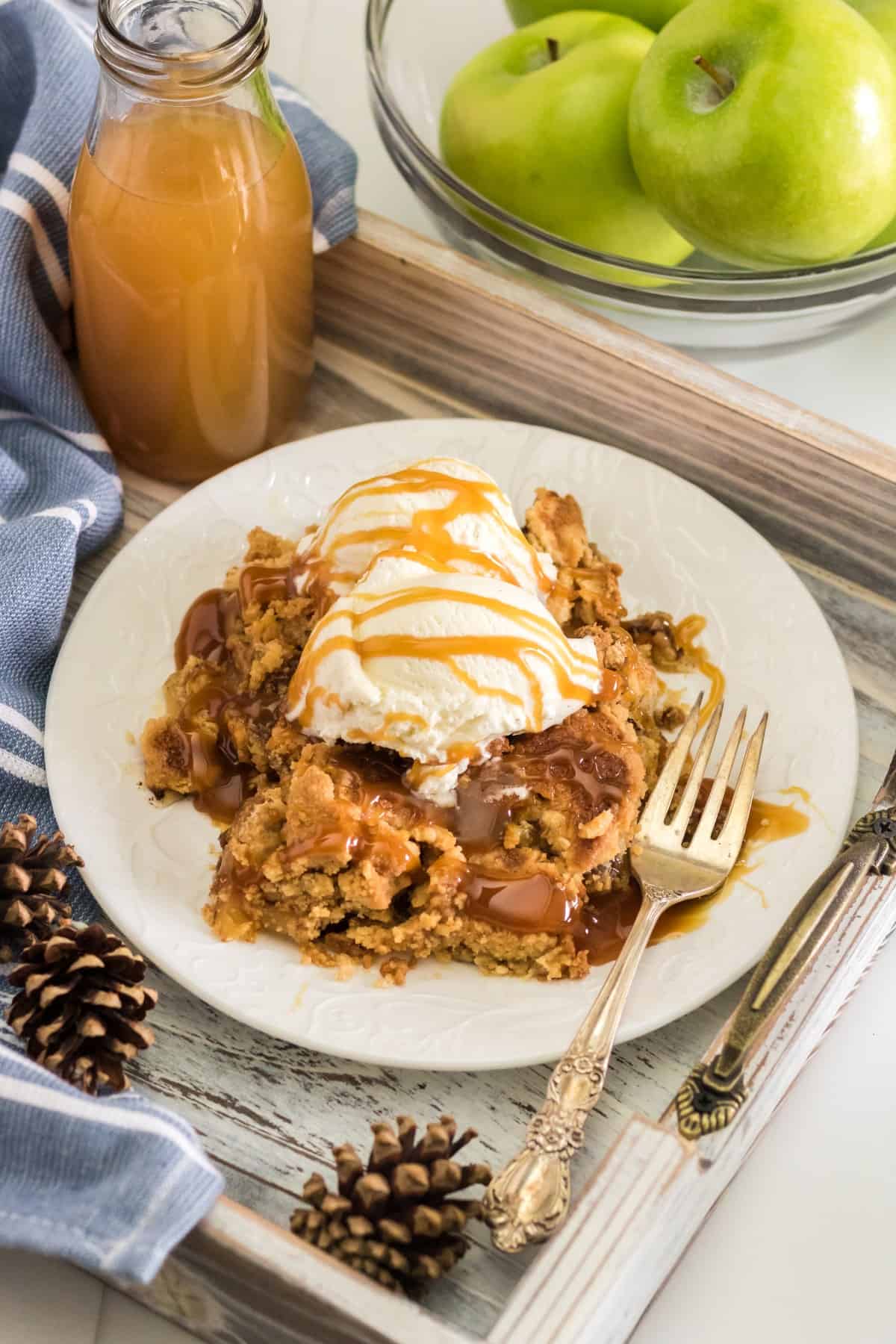 HELPFUL ITEMS FOR THIS RECIPE
This post contains affiliate links. As an Amazon Associate, I earn a small portion from qualifying purchases at no extra charge for you.
What Goes into Apple Dump Cake?
Yes, only 5 ingredients in this easy apple dump cake recipe! That's one of the things that make this dessert so fantastic. The other, of course, is that it tastes great too!
Using apple pie filling instead of the hassle of fresh apples and having to core, peel, and slice makes this recipe infinitely easier too. Don't get me wrong, I love fresh apples in dessert too, but sometimes you just don't have the time or ability to give the effort for a more complicated dessert recipe.
Ingredients
Canned apple pie filling
Brown sugar
Cinnamon
Boxed yellow cake mix (or cake of choice)
Butter
How Do You Make Apple Dump Cake?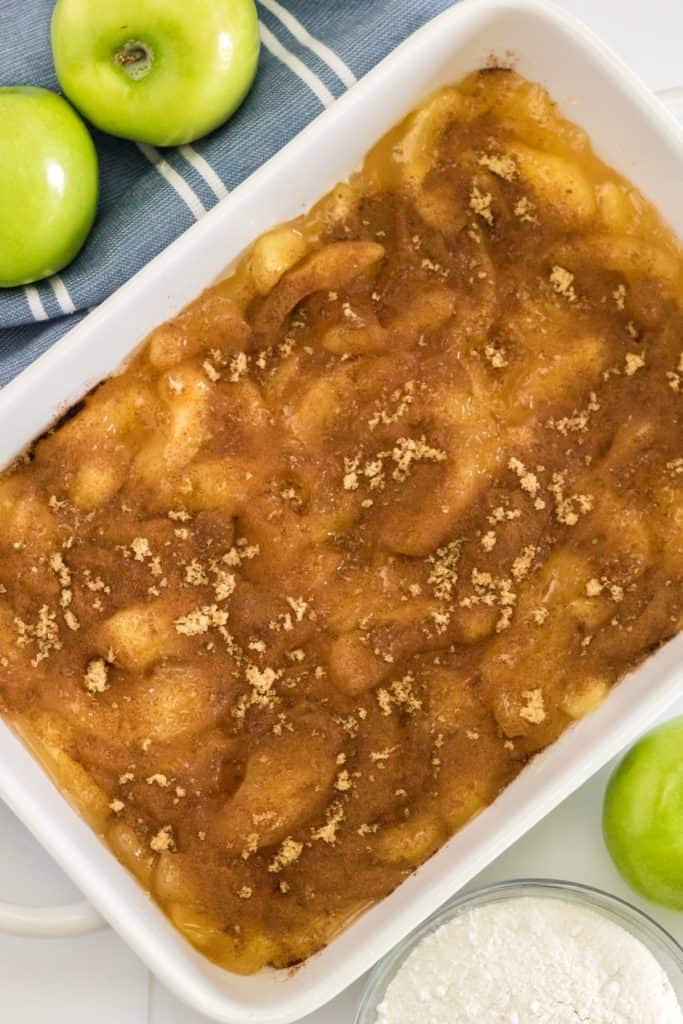 This recipe really only takes minutes to prep. First, You need to preheat the oven to 350 degrees F. Next, grease a 9×13 baking dish with butter or cooking spray and spread the canned apple pie filling over the entire pan.
Evenly sprinkle the brown sugar and cinnamon over the top of the apples. Next, pour the dry cake mix over the top of the apples, cinnamon, and brown sugar. Gently spread it evenly so as to completely cover the apple filling.
Next, over the cake mix, top with butter. Make sure that you have pats of butter evenly distributed over the surface of the pan. You can put pats of butter on top or pour melted butter over the top. Either way works, and the results are amazing.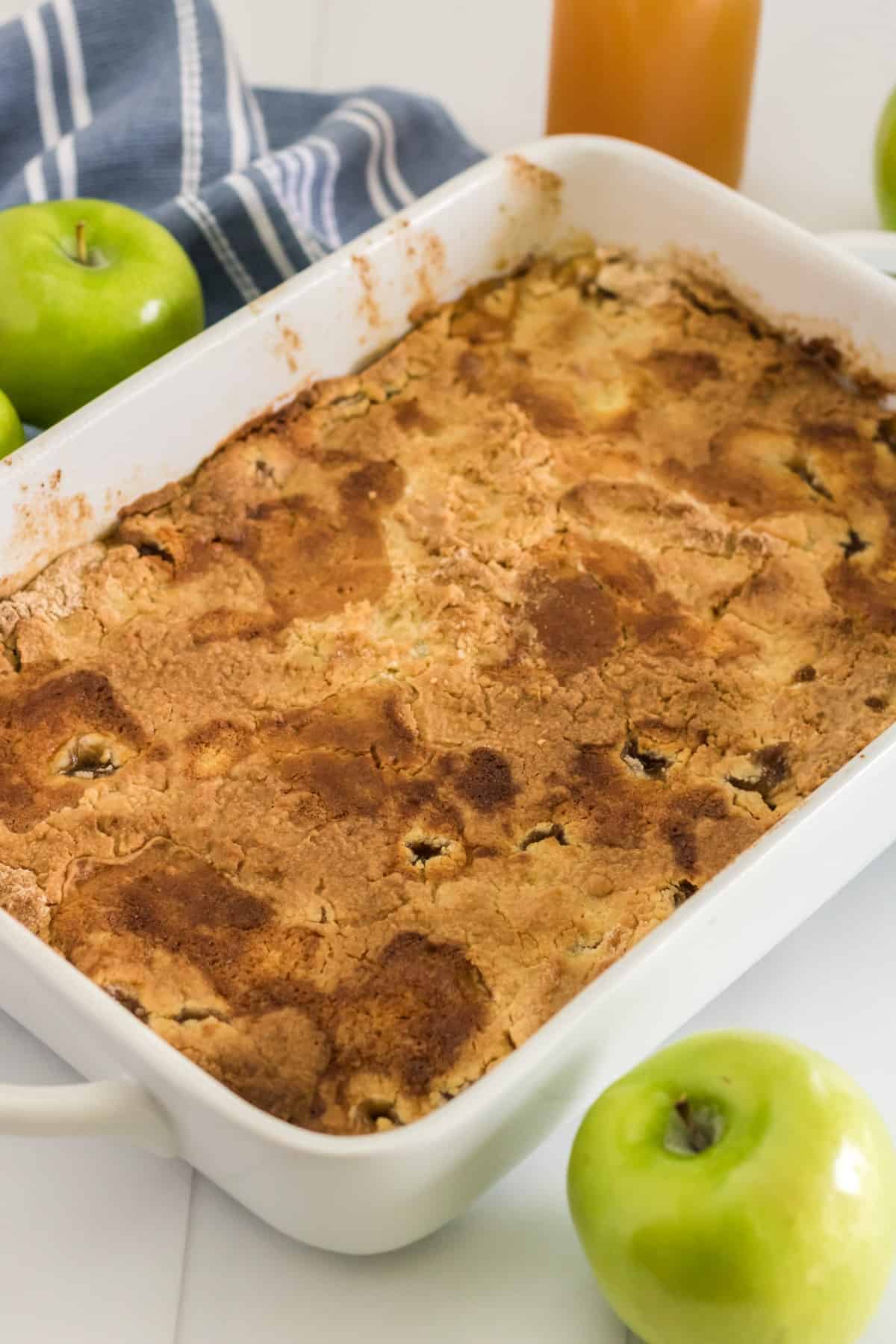 Place the pan in the preheated oven and bake for 40 – 50 minutes. The top layer of the dump cake should be a nice golden brown color.
You should allow the cake to cool slightly before serving. It goes great with a scoop of vanilla ice cream on top of the cake or some whipped cream. You can even drizzle a little bit of caramel sauce over the top of the ice cream and cake. You know, just to make it even a little more decadent! Also, our homemade Pumpkin Caramel Sauce would be divine over this apple dump cake. It is very easy to make too!
Why Do They Call It Dump Cake?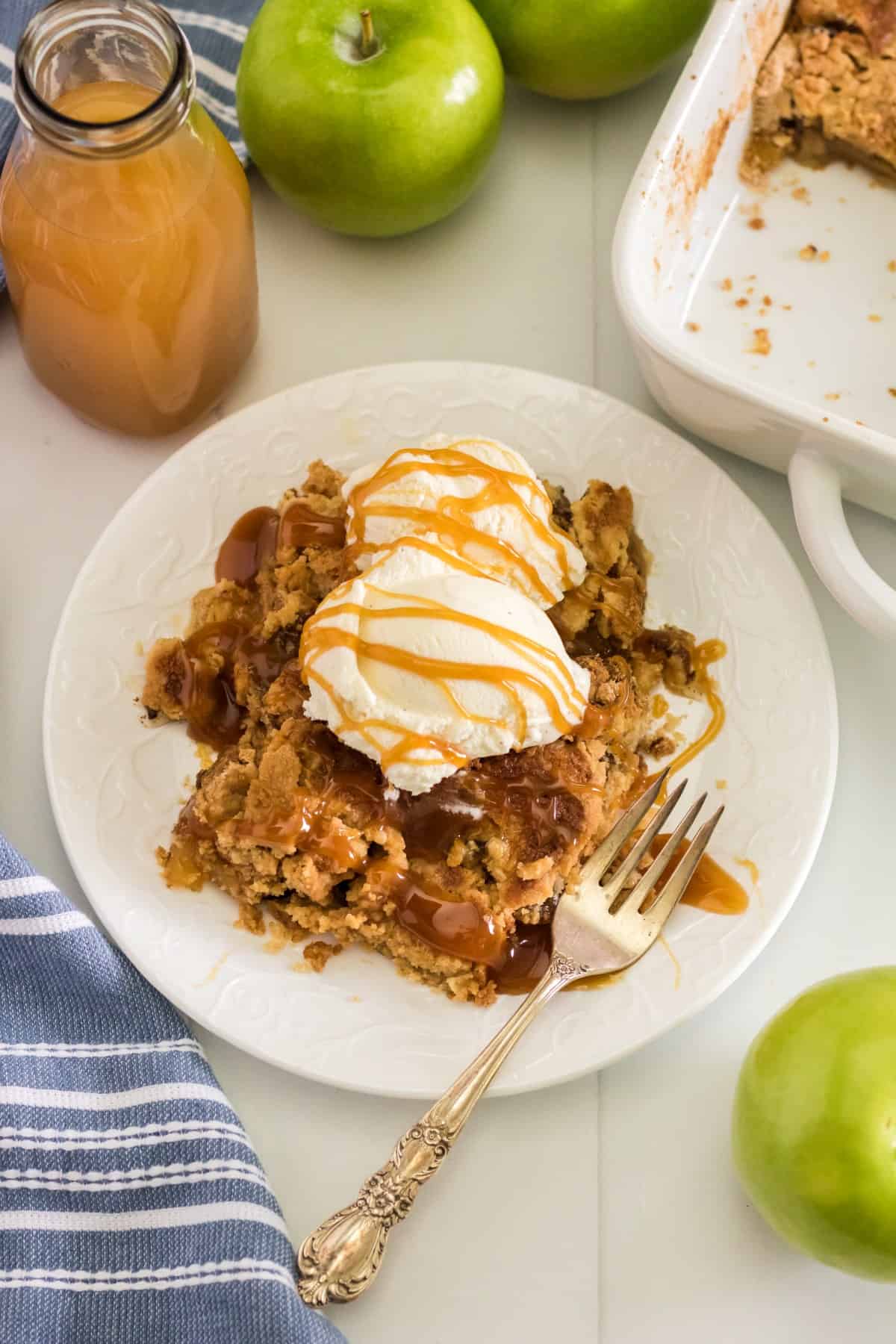 As the name implies, when you are making this cake, you pretty much "dump" all the ingredients into your baking pan and put it in the oven to bake. Unlike other types of cakes, there is no mixing or beating the batter before you bake it.
This easy recipe is one that you can make on really short notice but still serves up as a perfectly delicious dessert for family, friends, or unexpected guests!
Does Apple Dump Cake Need to be Refrigerated?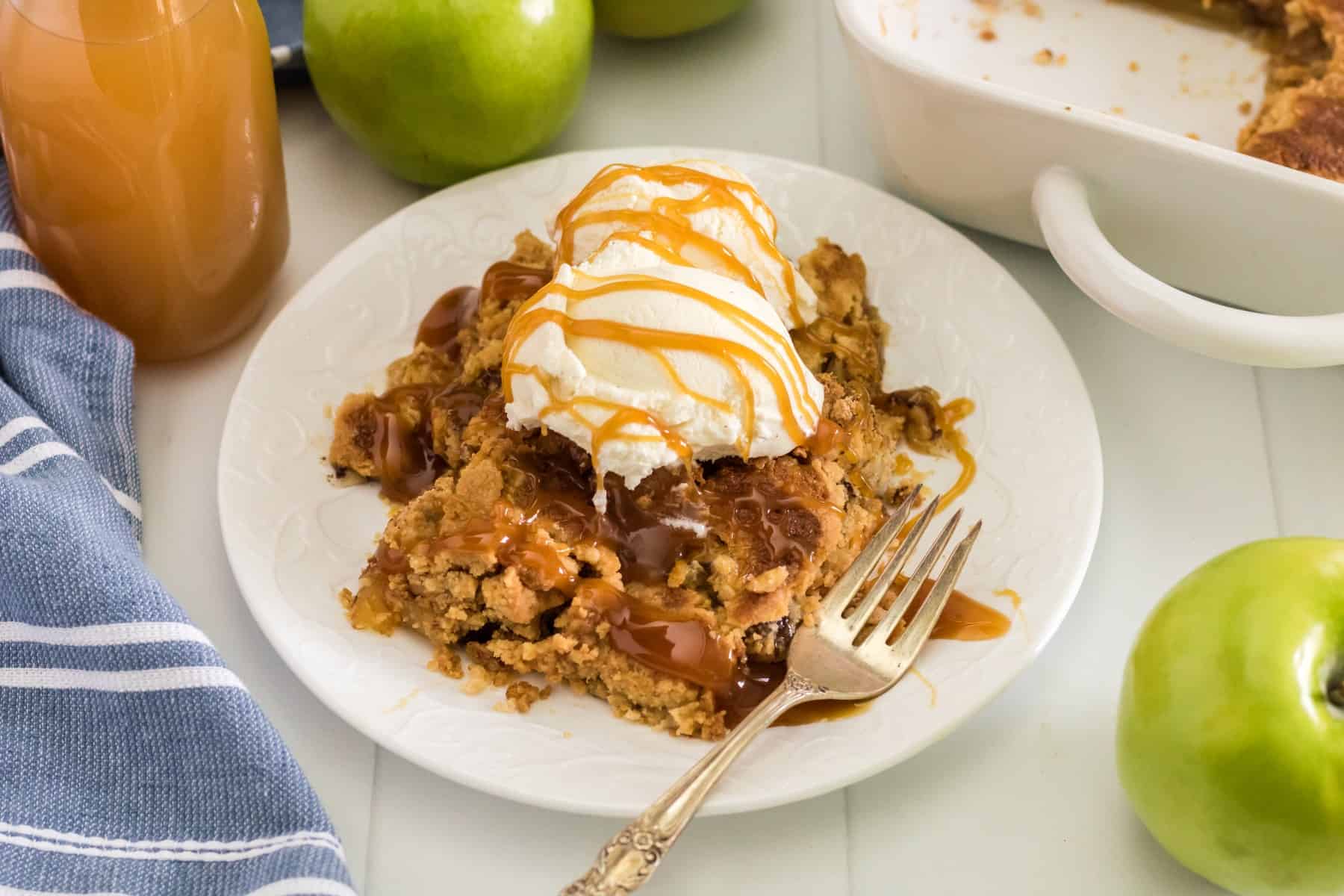 Does apple dump cake have to be refrigerated? The answer is no; it will stay fresh on your counter for one to two days. But to extend the life of your apple dump cake or your leftovers, refrigerating will keep it for three or four days.
In either case, make sure the dump cake is properly wrapped with plastic wrap or foil or both. You can reheat the cake in the oven if need be or in portions quickly in the microwave.
Can Apple Dump Cake be Frozen?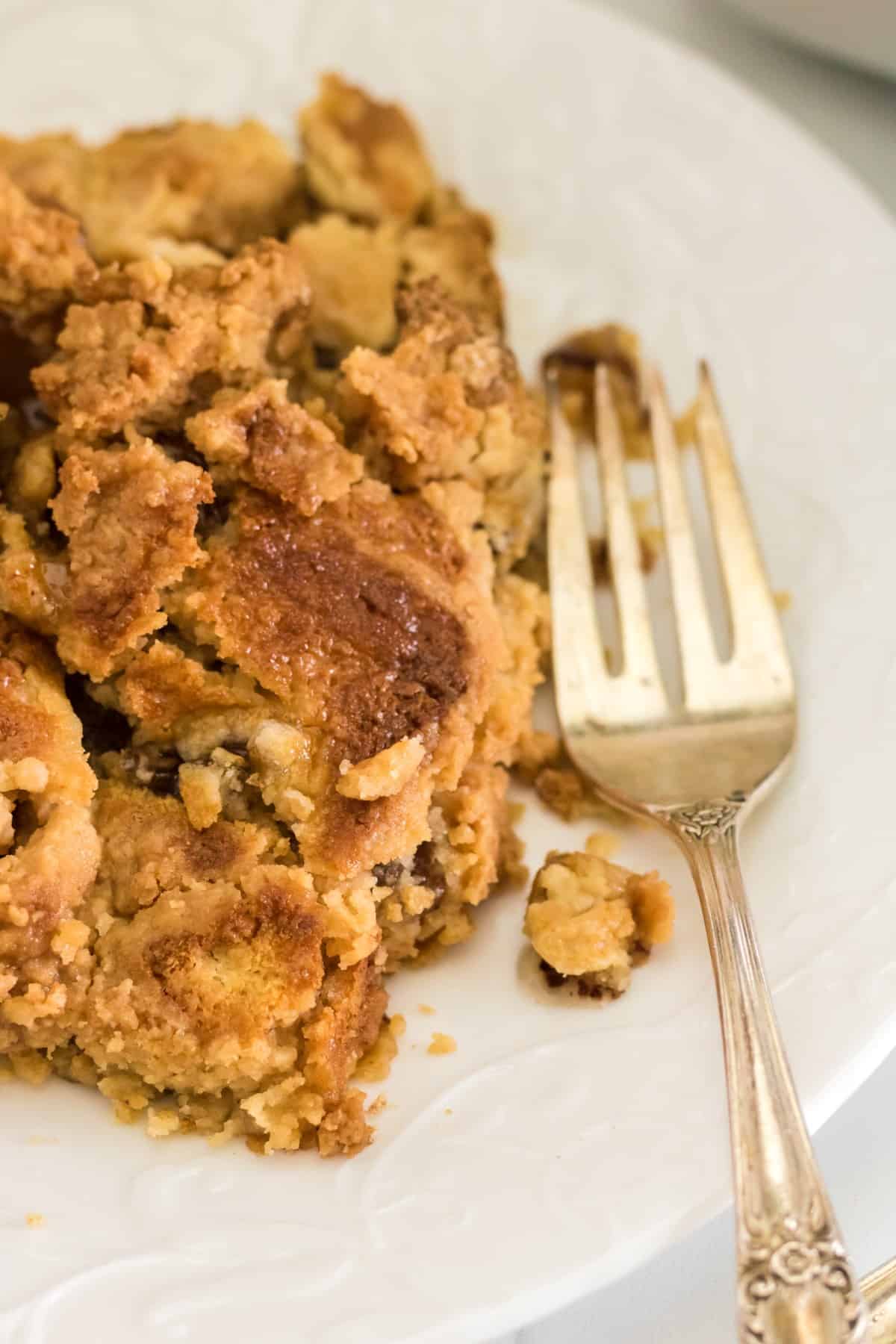 Can you freeze the dump cake? Yes, you sure can! Make sure to wrap it well, and you can freeze a whole cake or leftovers easily for up to 3 months.
Thaw when you remove it from the freezer. Then reheat the apple dump cake in a 350F oven until warm but not scalding hot.
What is the Difference Between a Dump Cake and a Cobbler?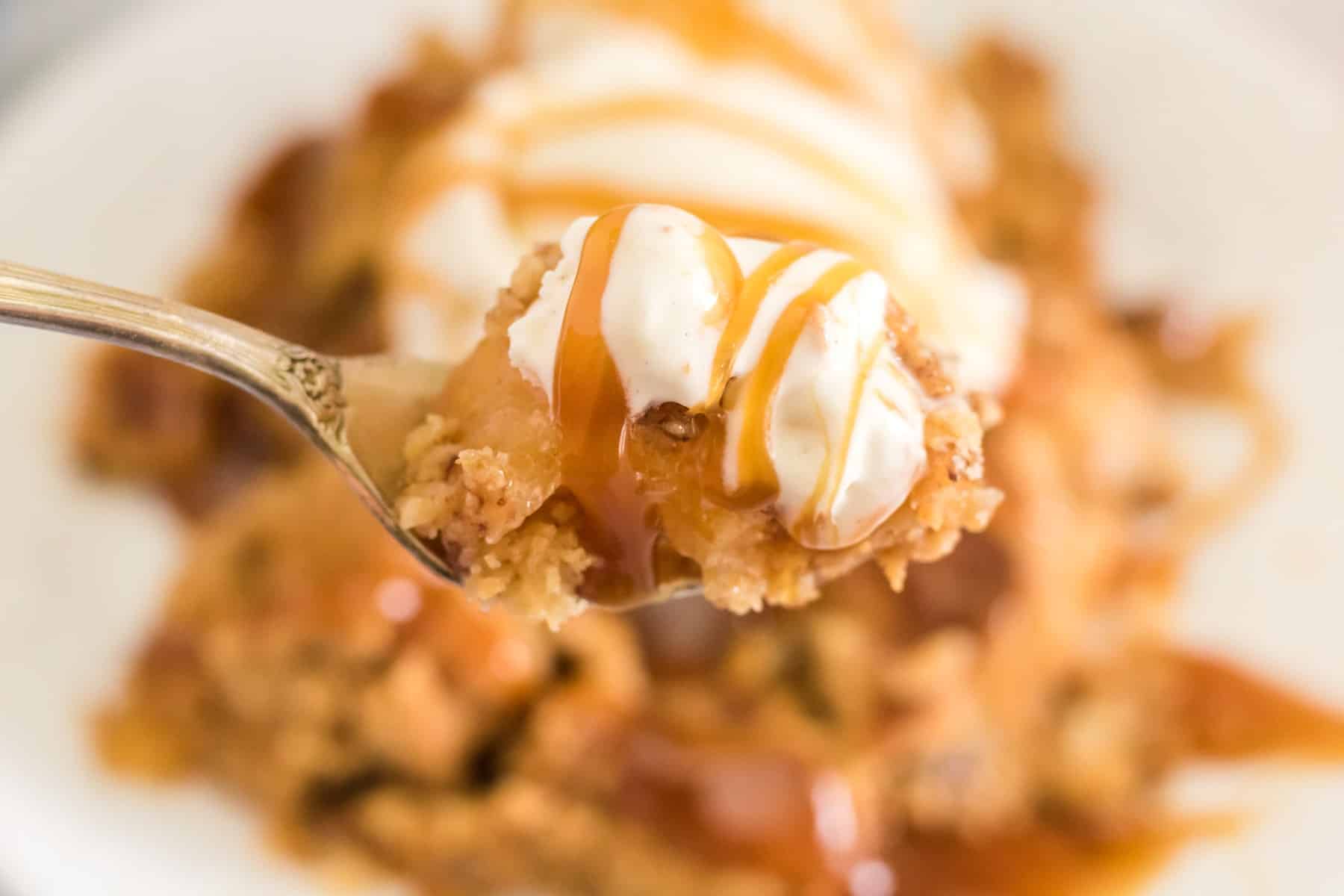 What is the difference between a dump cake and a cobbler? Really a cobbler and a dump cake are quite similar. Both have a fruit filling, and both are topped with a type of crust or cake-like batter.
A cobbler can be baked or made in a slow cooker, but a dump cake is usually baked in the oven. A cobbler can be made with a pre-made mix of Bisquick, and a dump cake usually is made with a cake mix. So there are some similarities and some differences between these two desserts. In the end, both are very good, and both are easy desserts to make too. We love making our Strawberry Rhubarb Cobbler as much as we enjoy making our Rhubarb Dump Cake.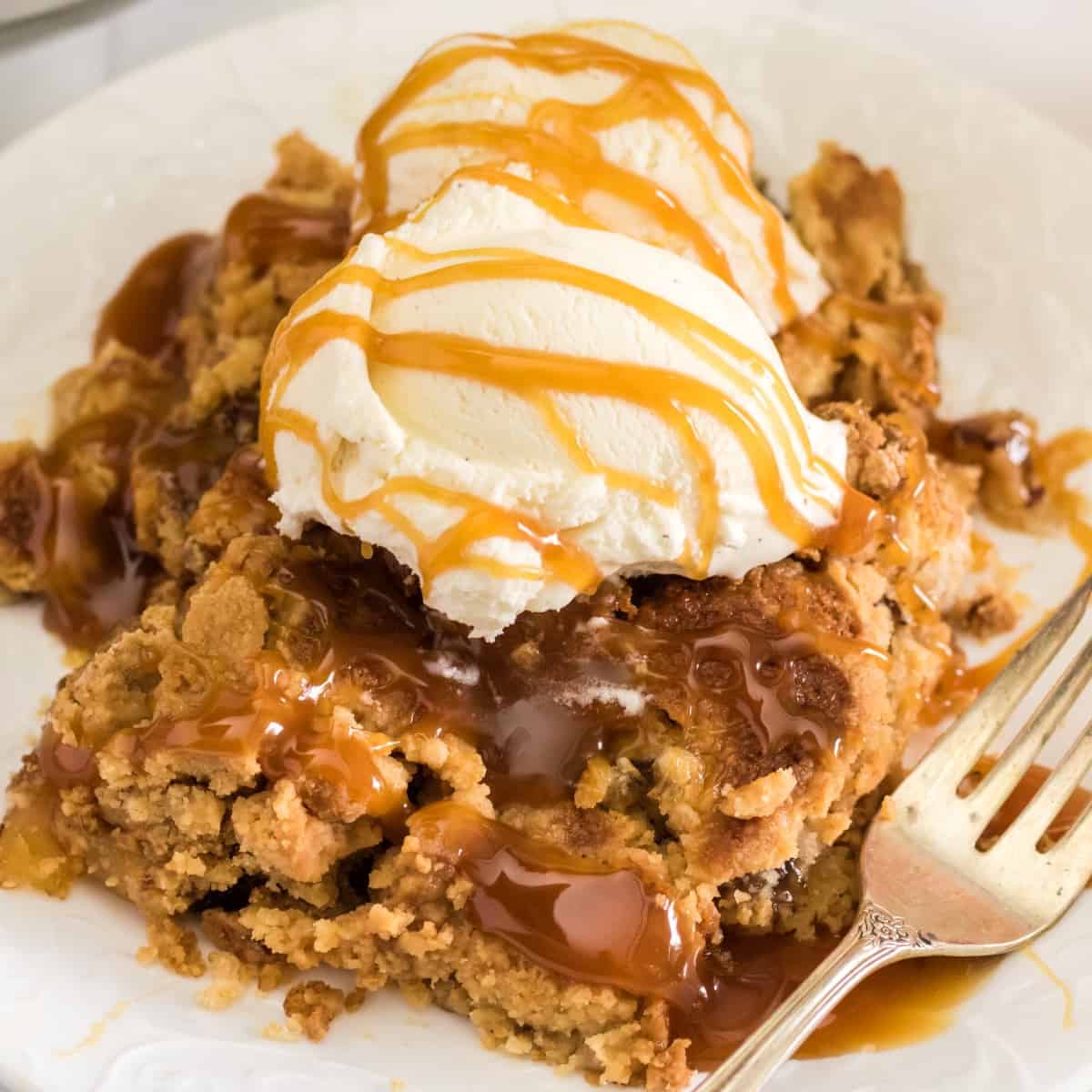 Pin it HERE!!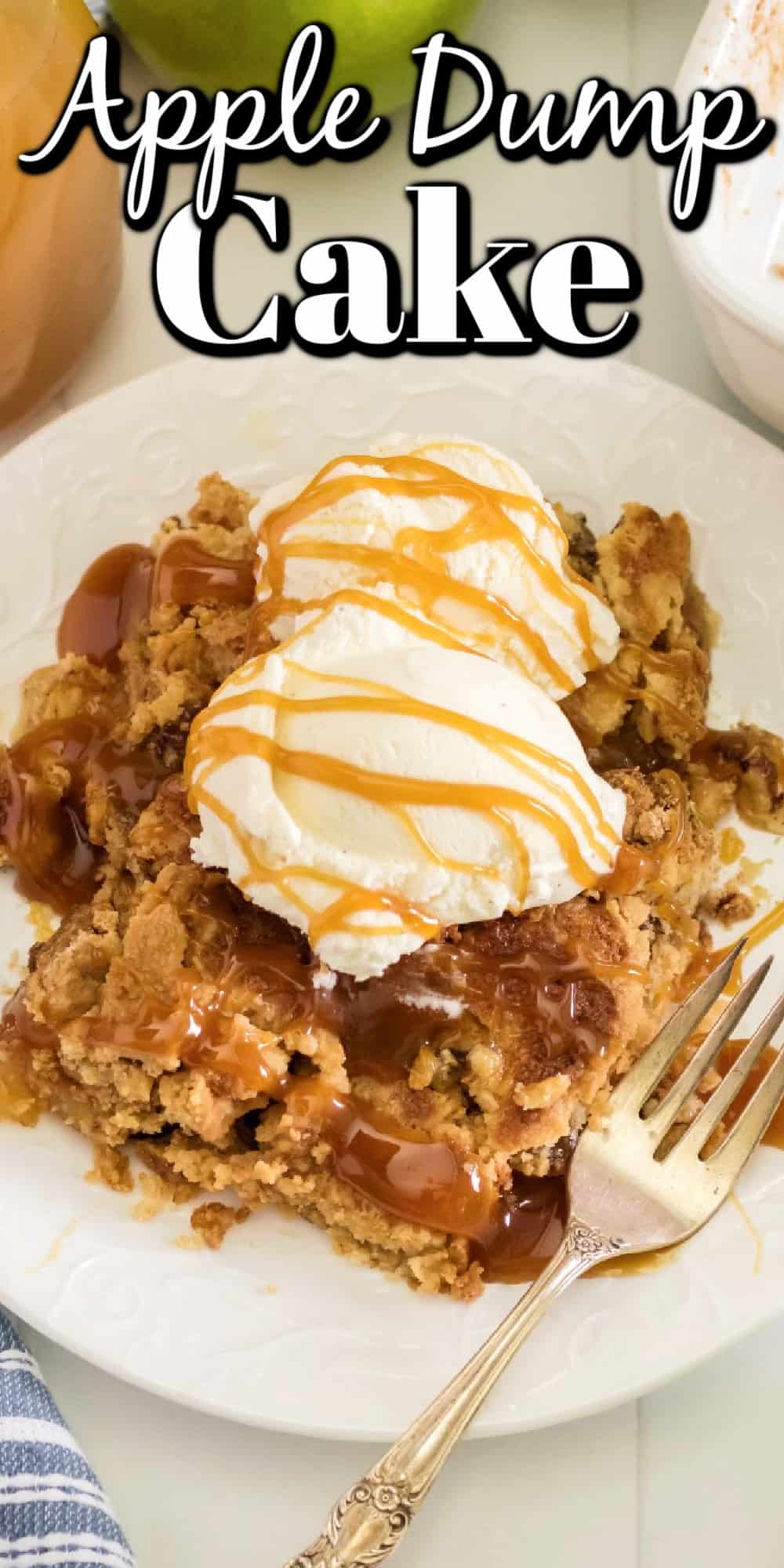 Pin it HERE!!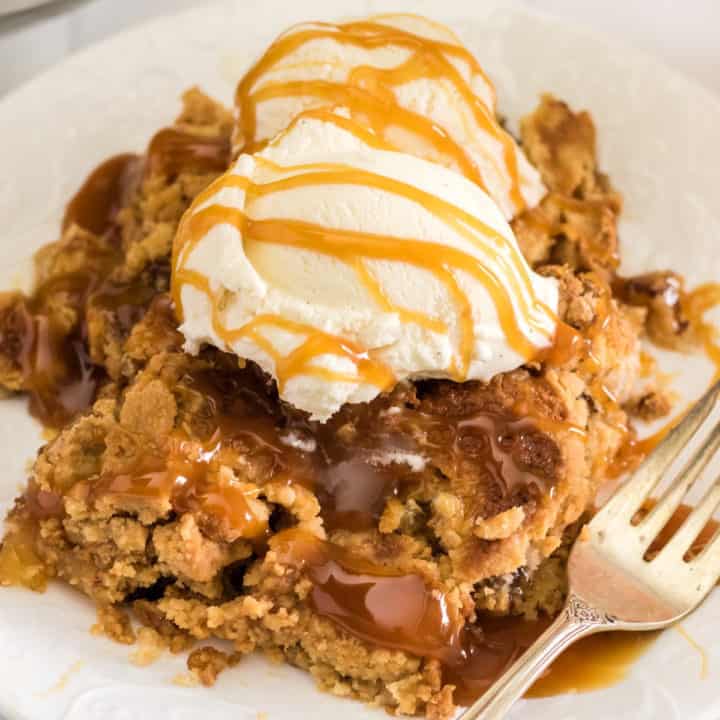 Easy Apple Dump Cake
Yield: 8 Servings
Prep Time: 5 minutes
Cook Time: 50 minutes
Total Time: 55 minutes
This Easy Apple Dump Cake is quick to prepare with only 5 ingredients, but it tastes like you spent all day in the kitchen! Delicious topped with ice cream and caramel, you will want to make this often.
Ingredients
2 - 20 ounce cans apple pie filling
2 tablespoons brown sugar
1 teaspoon cinnamon
1 package vanilla or white cake mix
10-12 tablespoons butter
Optional toppings: vanilla ice cream or whipped cream and caramel sauce
Instructions
Preheat the oven to 350 degrees F.
Grease a 9x13 inch baking pan. Spread apple pie filling evenly in the pan.
Evenly spread the brown sugar and cinnamon over the top of the apple pie filling.
Pour the cake mix over the top of the apple pie filling and spread evenly.
Place tablespoons of butter on top of the cake mix, distributing them out evenly.
Place the baking pan in the preheated oven and bake for 45-50 minutes or until the top layer is golden.
Garnish with vanilla ice cream, or whipped cream, and caramel sauce, or your preferred toppings.
Notes
You can place the butter pads over the cake mix, or you can melt the butter and pour it over the cake mix. Ensure you have an even distribution.
Recommended Products
As an Amazon Associate and member of other affiliate programs, I earn from qualifying purchases.
Nutrition Information:
Yield: 8
Serving Size: 1
Amount Per Serving:
Calories: 330
Total Fat: 19g
Saturated Fat: 11g
Trans Fat: 1g
Unsaturated Fat: 6g
Cholesterol: 46mg
Sodium: 234mg
Carbohydrates: 42g
Fiber: 2g
Sugar: 35g
Protein: 1g
Recipe calculation was provided by Nutritionix and is estimation only. If you need nutritional calculations for medical reasons, please use a source that you trust.