Ken's Hand Pies
Ken's Hand Pies were created when Ken was wanting to make a little pie of some sort so I told him to try to make a hand pie. I have been seeing these lots of places with umpteen different fillings from sweet to savory. These little hand pies he made me were so very good. Here is a use for the other half of the dough leftover from the blueberry pie.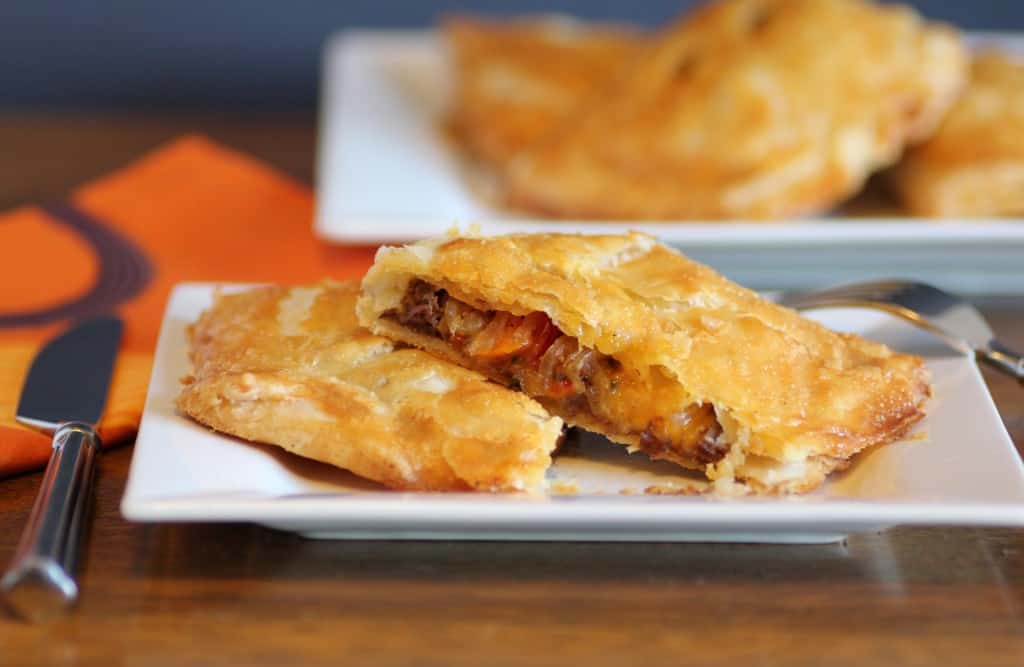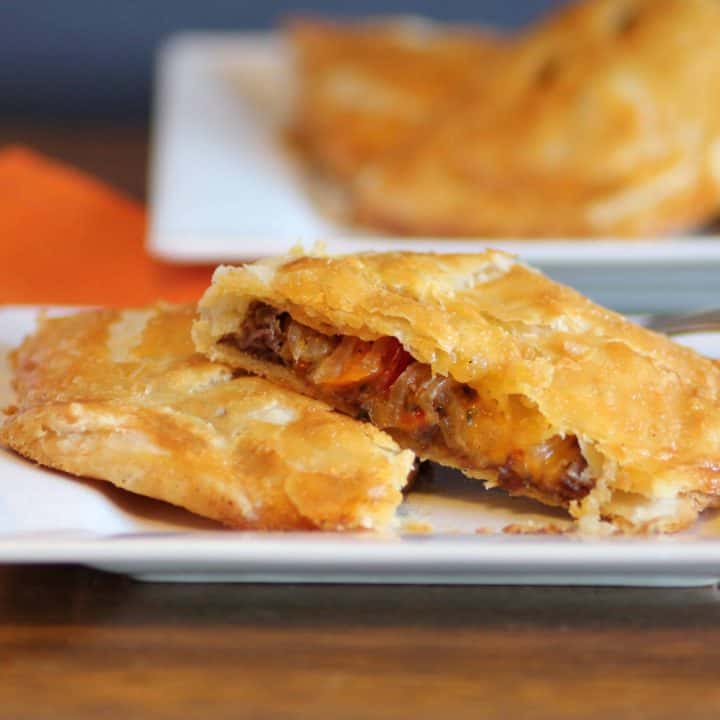 Ken's Hand Pies
Yield: 8 pies
Prep Time: 15 minutes
Cook Time: 1 hour
Inactive Time: 1 hour
Total Time: 2 hours 15 minutes
Ingredients
1 1/2 red peppers, finely diced
1 1/2 orange peppers, finely diced
1 1/2 onions, sliced thinly
3 shallots, very thinly sliced
Salt and pepper to taste
2 Tbsp. canola oil
1 Tbsp. fresh thyme, minced
300 grams thinly sliced roast beef, cut into strips
1 cup sharp shredded cheddar cheese
1 egg
1/2 of the dough recipe
Pie Dough
1 lb. lard
2 Tbsp. vinegar
1 egg
1 cup water
4-5 cups flour
Instructions
In a small bowl add egg and stir with a fork. Stir in vinegar and then water. In a separate bowl add the lard and 4 cups flour. Cut the lard into small pieces using a pastry cutter. Add the liquid and continue to cut the lard into the mixture adding more flour as needed. Do not over work. Stop when the dough comes together into a sticky ball. Divide into half and wrap in cello. Place in refrigerator for 30 min. to 1 hour. If only using 1/2 the dough put other half into the freezer for later use. Thaw in the refrigerator when you want to use it later.
Preheat oven to 400F. Into a medium fry pan add oil and heat. Add peppers, onions and shallots. Saute on medium low until onion is translucent and peppers are softened. Salt and pepper to taste. Transfer to a large bowl and cool slightly. Add the thyme, roast beef and cheddar cheese.
Roll out dough to 1/4 to 1/8" thick and make 10" rectangles. Place the filling on half of the dough. Dividing the filling evenly among the pies. You should get approx. 12 pies. Fold over and seal with water. Slice a couple of vents per pie. Mix egg with 1 tsp. water and whisk. Brush lightly on each pie. Place on lightly sprayed baking sheets. Bake for 22-28 min. until golden brown. Let cool slightly before serving as the inner filling will be very hot. Serve with a nice crisp salad.
Nutrition Information:
Yield: 8
Serving Size: 1
Amount Per Serving:
Calories: 2021
Total Fat: 82g
Saturated Fat: 31g
Trans Fat: 0g
Unsaturated Fat: 45g
Cholesterol: 133mg
Sodium: 653mg
Carbohydrates: 269g
Fiber: 11g
Sugar: 5g
Protein: 46g
Recipe calculation was provided by Nutritionix and is estimation only. If you need nutritional calculations for medical reasons, please use a source that you trust