Sweet Potato Corn Bread
I have a gorgeous cookbook for you today. Filled with tons of pictures, you know the kind that makes you drool page after page!! I choose Sweet Potato Corn Bread from The New Southern Table by Brys Stephens is one of those cookbooks. Bright, lively, colorful photos, one after another fill the pages!!!
The New Southern Table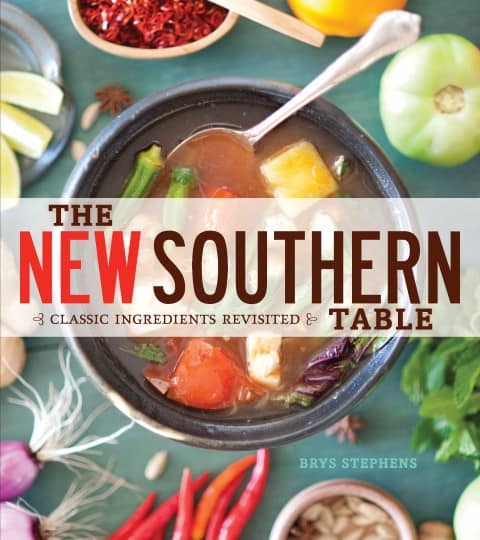 This is a book that you can immerse yourself into!! Celebrate the food and culture of the deep South!! Wonderful fresh and local ingredients make up beloved Southern recipes. Okra, peaches, pecans and collard green just to name a few.
When I flipped through this cookbook I could have made anyone of the delicious recipes that seemed to leap off the page at me. Recipes like Roasted Okra with olive oil, lemon and sea salt, or Caribbean-infused Coconut Hoppin' John or Herb Grilled Bison with Fig Chutney (love bison) or Sweet Potato Gratin. Well, I did pick a Sweet Potato Corn Bread recipe!! One that my whole family adored and was perfect with Best Damn Chili Ever!!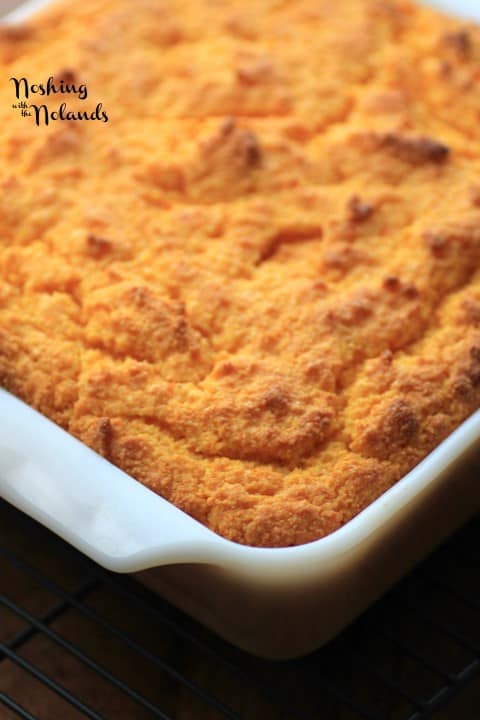 The color of this cornbread was amazing and it tasted like heaven, moist, rich and everything a great corn bread should be. I adore sweet potatoes so this recipe was a must try!!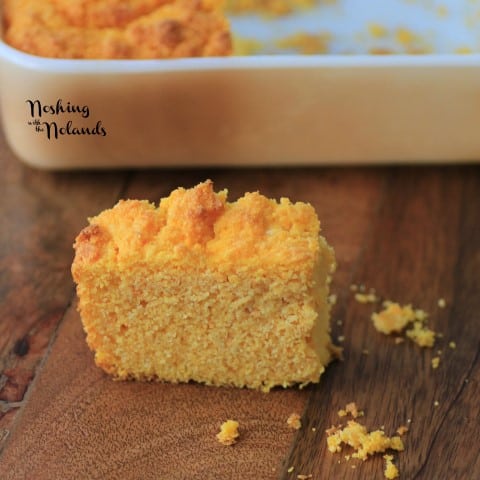 About the Author
The cookbook has easy to follow instructions and is divided into 14 chapters, highlighting all the wonderful Southern ingredients. Chapters with recipes on corn, sweet potatoes, rice, collard greens and many more.
The author Brys Stephens is a writer, consultant, and photographer. Brys has written for Bon Appetit, Garden and Gun and Charleston Magazine. He resides in Charleston, South Carolina and was a former restaurant critic at the Charleston City Paper. He also has a website www.CookThink.com.
The author writes about this recipe:
This is one of my favorite takes on traditional corn bread. Sweet potato purée, when mixed in with cornmeal, adds a nice depth of flavor and nutritional integrity and a beautiful bright orange color. This is the base recipe, but the variations are endless: Try adding diced hot chiles, fresh herbs such as rosemary or chives, or grated aged cheese, or substituting sour cream or crème fraîche in place of the yogurt.
Sweet Potato Corn Bread Recipe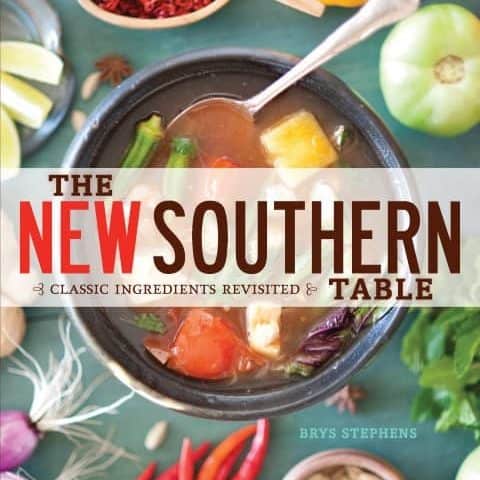 Sweet Potato Corn Bread
A classic cornbread with the addition of healthy wonderful sweet potatoes!!
Ingredients
1 pound (455 g) orange-fleshed sweet potato (about 1 large)
Unsalted butter for preparing thebaking pan
4 eggs
1 cup (235 ml) buttermilk
1 teaspoon (2 g) lemon zest
½ cup (115 g) full-fat plain yogurt
2 1/3 cups (322 g) finely ground cornmeal
1 cup (125 g) all-purpose flour
1 tablespoon (11 g) baking powder
½ teaspoon baking soda
2 teaspoons (12 g) fine salt or table salt
2 teaspoons (9 g) granulated sugar
¼ teaspoon ground ginger
¼ teaspoon cayenne pepper
10 tablespoons (143 g) cold unsalted butter, diced
Instructions
Preheat oven to 375°F (190°C, or gas mark 5). Pierce the sweet potato all over with a fork and bake directly on the middle rack of the oven for about 1 hour, or until tender all the way through. Alternatively, cook the sweet potato in a microwave on high, turning over once, about 10 minutes, or until tender. Let the sweet potato cool slightly, then peel and purée either with a potato ricer or masher. You'll need 1 cup (255 g) of purée.
Butter a 9 x 9 x 2-inch (23 x 23 x 5 cm), or similar size, baking pan. In a large bowl, whisk together the 1 cup (255 g) puréed sweet potatoes, eggs, buttermilk, yogurt, and lemon zest. Place the cornmeal, flour, baking powder, baking soda, salt, sugar, ginger, and cayenne pepper in a food processor, and pulse until combined. Add the butter to the food processor, and pulse until the mixture resembles coarse meal.
Add this cornmeal mixture to the sweet potato mixture, stir until just combined, and pour into the prepared baking pan. Bake 35 to 45 minutes, or until the corn bread is golden brown on top and a paring knife inserted into center comes out clean. Let cool slightly before serving.