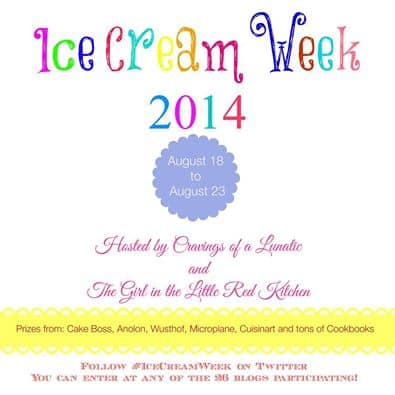 Here is our second recipe for you for #IceCreamWeek, delicious Apple Cinnamon Ice Cream. I wasn't actually sure how I was going to make this one. Did I want a thin swirl, it all incorporated together, chunky??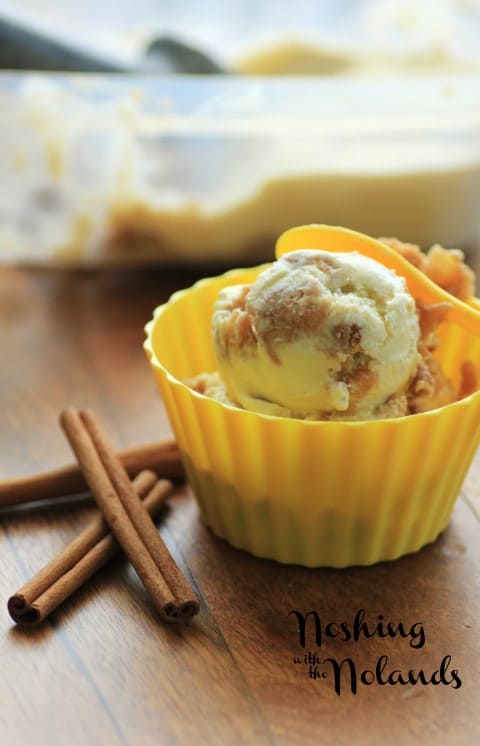 Hmmm, I had to think!! I thought about a recipe I had done before for cinnamon apples that you serve with ham, chicken or pork. I thought I would incorporate that into a vanilla ice cream and that is what I did!!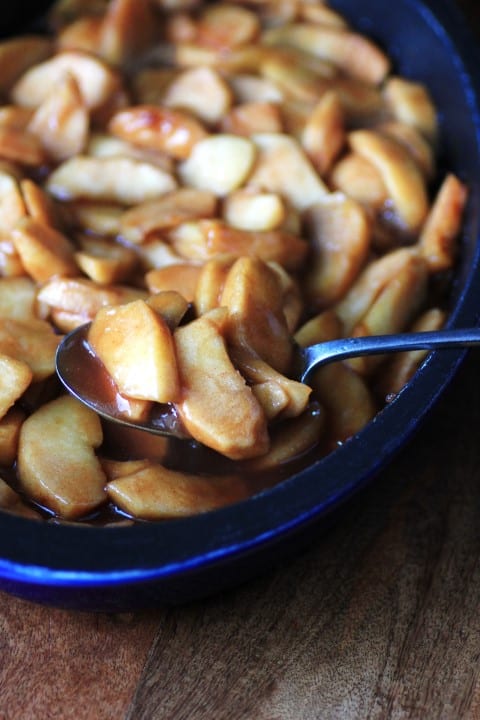 Rich, creamy and fun is what this ice cream is all about!! I love the combination of apple and cinnamon together and so does our daughter. This was her second pick for our #IceCreamWeek and I had to agree with her that it was a great idea!!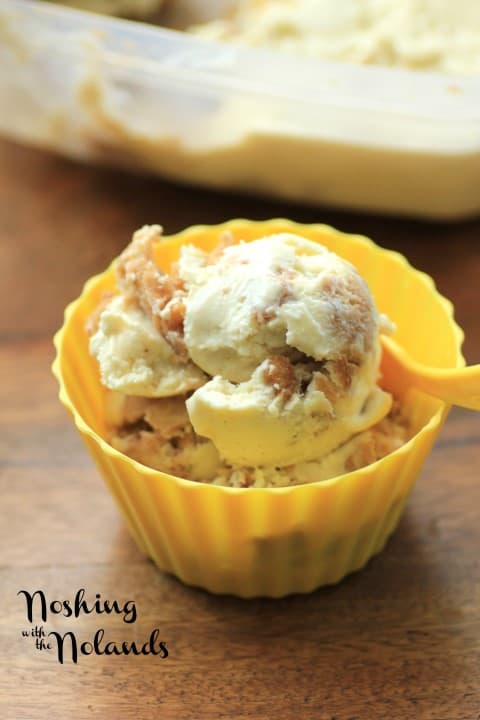 Chunky and full of fall flavors. Apple Cinnamon ice cream is a great ice cream to enjoy in the up coming season. I wanted to call this ice cream, cinnamon apple pie ice cream but I omitted making the crust part. I guess if you had it in a cone or waffle cone that could constitute for the crust!! But in a cute little bowl is how I served it!!

Apple Cinnamon Ice Cream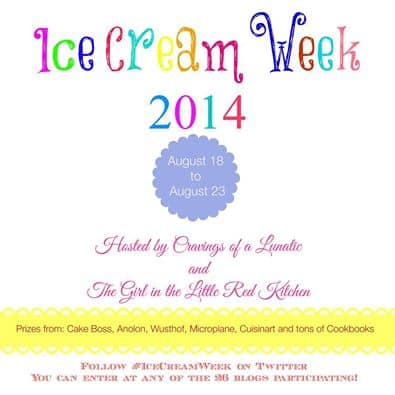 Apple Cinnamon Ice Cream #IceCreamWeek
A delicious ice cream with gorgeous fall flavors of cinnamon and apples
Ingredients
Apple Swirl
2 Granny Smith apples, small diced
1/2 cup water
1 Tbsp. corn starch
1 tsp. good quality cinnamon
1/2 cup brown sugar
pinch of salt
1 Tbsp. butter
Vanilla Ice Cream
1 1/2 cups whole milk
1 1/2 cups heavy cream
2 Tbsp. vanilla spiced sugar (or one vanilla bean scraped mixed with 2 Tbsp. sugar)
6 large egg yolks
1/2 cup sugar
Instructions
In a heavy bottom pot add the milk, 1 cup cream and the 2 Tbsp. of vanilla spiced sugar. Cook until bubbles form around the edge about 5 min.
Meanwhile whisk the egg yolks with the remaining sugar and 1/2 cup cream. Remove the milk from the burner and whisk in about 1/2 cup of the hot mixture into the egg mixture. Slowly pour the egg mixture into the hot milk mixture while whisking. Return the pot to a medium heat and stir with a wooden spoon. Do not let the mixture boil. Stir constantly until it is thick enough to coat the back of a spoon, about 4-6 min. Strain through a fine mesh sieve into a bowl. Discard vanilla bean if using.
Place the bowl in a larger bowl filled with ice. Stir occasionally until cool. Cover with plastic wrap directly on the top to prevent a skin. Refrigerate 3-24 hours.
While the custard chills make the apples. Place the apples in a heavy bottomed pot. Mix the water and cornstarch together and add to the pot along with the brown sugar, cornstarch and salt. Slowly simmer the apples until tender stirring very often for about 20 min. The mixture should be thick and gooey with chunks of apples still not a sauce. Let cool. Mash apples slightly if desired. Let cool completely in the fridge.
Pour the mixture into an ice cream maker and follow manufacturer's directions. Layer the apples and ice cream in a container. I did a total of 4 layers. Freeze until firm, at least 3 hours.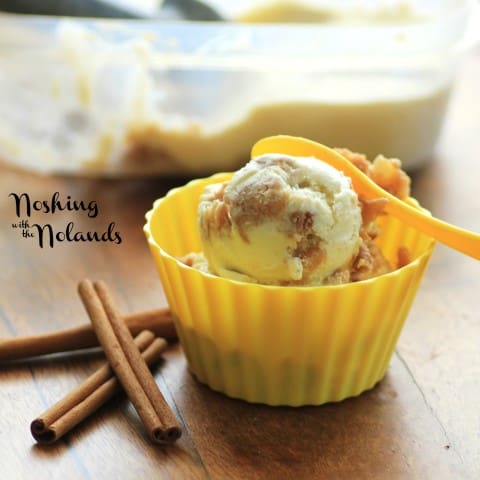 Welcome to Day 3 of Ice Cream Week 2014! This year the event is hosted by Kim of Cravings of a Lunatic and Susan of The Girl in the Little Red Kitchen. We have teamed up with 25 amazing bloggers to treat you to tons of amazing ice cream recipes. Ice Cream Week is shaping up to be the best week ever!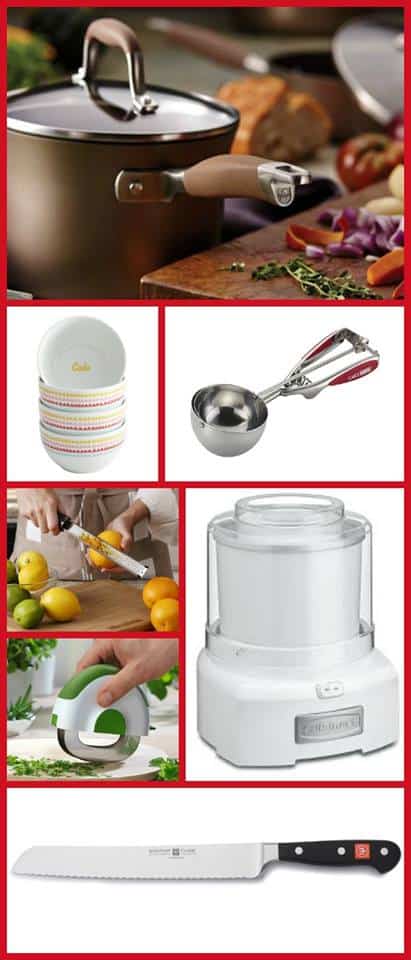 Our sponsors for the event have provided us with some great prizes. A huge thanks to Cake Boss, Anolon, Microplane, WÜSTHOF, Page Street Publishing andQuarry Spoon. Kim of Cravings of a Lunatic and Susan of The Girl in the Little Red Kitchen have tossed in a bonus prize of a Cuisinart Ice Cream Maker because they think everyone should own one!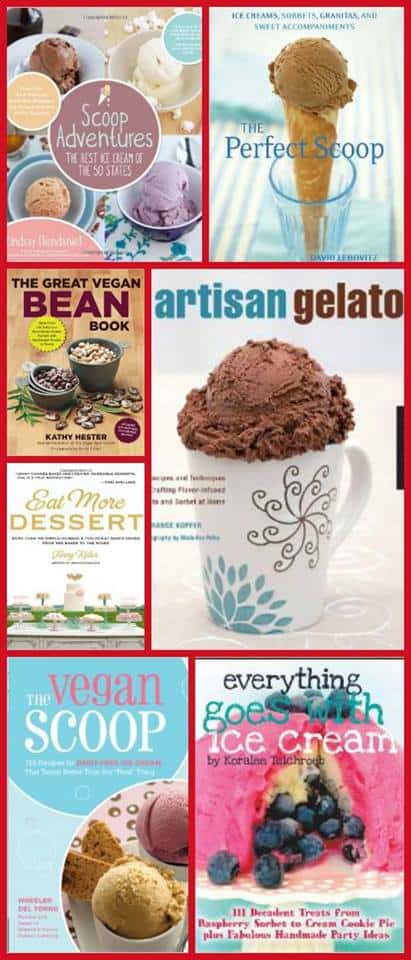 Here's what is up for grabs, One Winner Takes All:
1 Cuisinart Ice Cream Machine in White
One Cake Boss Mechanical Ice Cream Scoop with Red Silicone grips
One Cake Boss 4Pc Ice Cream Bowl Set, Icing Pattern
One Anolon Advanced Bronze 2 Qt Covered Straining Saucepan with Pour Spout
One Microplane Herb and Salad Chopper
One Microplane Premium Classic Grater in White
One WUSTHOF CLASSIC 9-inch Double Serrated Bread Knife
One Copy of the Cookbook Making Artisan Gelato by Torrance Kopfer
One Copy of the Cookbook Everything Goes with Ice Cream by Koralee Teichroeb
One Copy of the Cookbook Vegan Scoop by Wheeler del Torro
One Copy of the Cookbook The Great Vegan Bean Book by Kathy Hester
One Copy of the Cookbook Eat More Dessert by Jenny Kellar
One Copy of the Cookbook The Perfect Scoop by David Lebovitz
One Copy of the Cookbook Scoop Adventures by Lindsay Clendaniel
Here are all the delicious ice creams for today!!! Come and see them all!!
Here are some of my delicious ice creams from the past, hope you enjoy them!!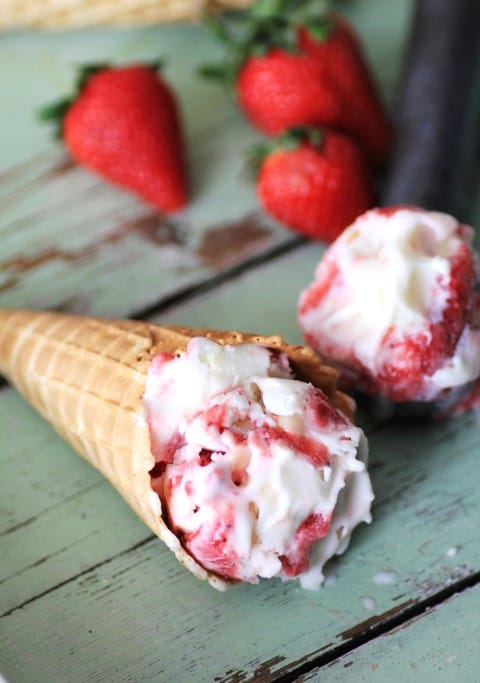 This one is amazing and is from our guest blogger and author of Scoop Adventures. I was lucky enough to review her ice cream cookbook and made this amazing Le'Lemon Berry Ice Cream. You have a chance to win her gorgeous cookbook in our giveaway!!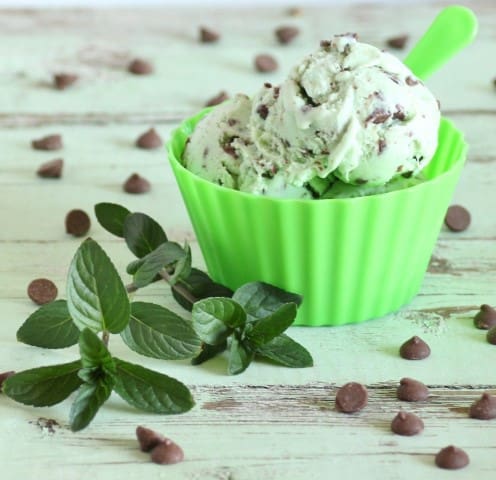 My daughter's favorite ice cream, Mint Chocolate Chip. I have revamped this recipe into something else that you will see later this week!!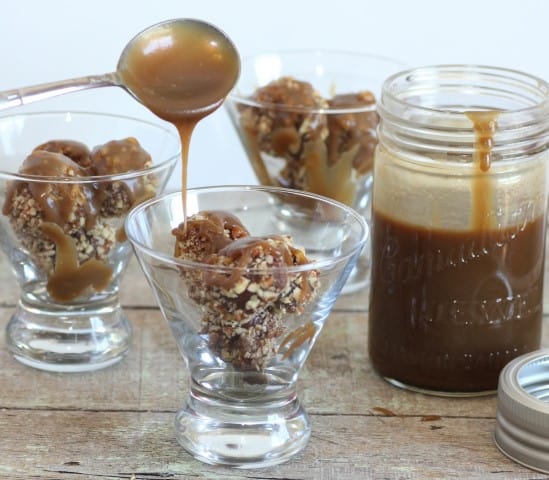 You can't get much more decadent than Chocolate Ice Cream Pecan Balls with Salted Caramel Sauce. Loved everything about this ice cream dessert!!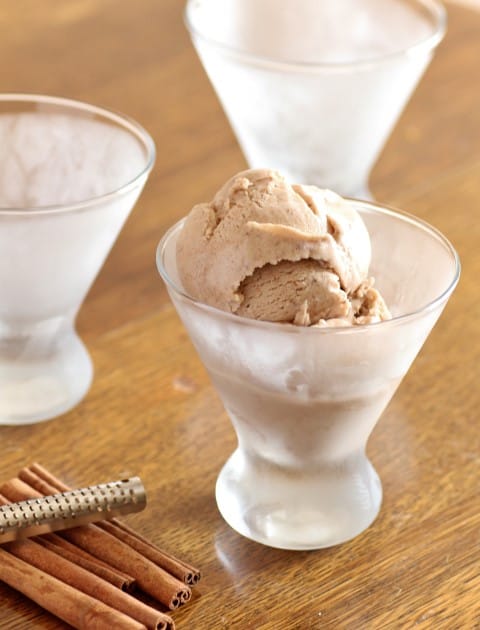 This is one of my favorite ice cream when it is made with a really good quality cinnamon. I have made Cinnamon Ice Cream many times to rave reviews!!
Special Guest for the Week is Lindsay Clendaniel of the blog, Scoop Adventures. We're very excited to have her join us. Lindsay is the author of Scoop Adventures which is chock full of ice cream goodness.
The Ice Cream Week Giveaway is open to U.S. and Canada. It closes at midnight on 31st. It's ONE WINNER TAKES ALL!