This recipe for Buttermilk Pork Chops with Lemon Caper Sauce from the new cookbook Best of Bridge Sunday Suppers is amazing. A showstopper of a meal for the family to gather round the Sunday supper table.
Pork chops are not something we cook a lot of for some reason but when I find a great recipe like this we devour them. I think pork chops can easily be dried out but marinating them first in buttermilk not only tenderizes them but keeps them juicy while cooking! Also, see our post for What are Capers? Or our Apple Pork Chops for a great fall dinner.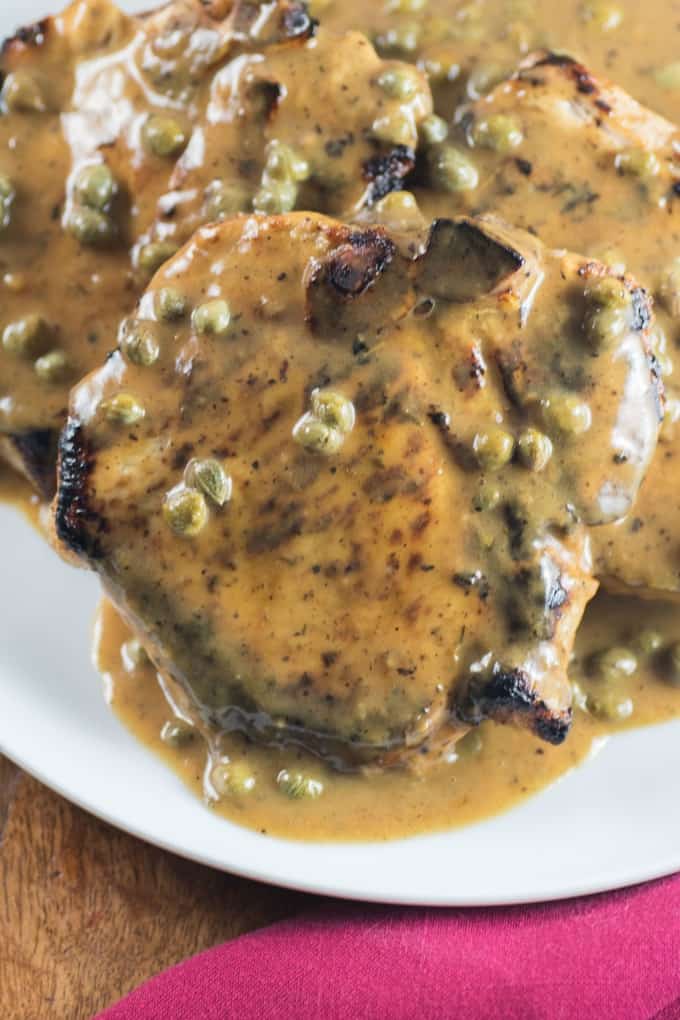 The delicious buttery lemony caper sauce goes fabulously with these pork chops. They are first crisped up in a frying pan and then finished off in the oven.
The chops are elegant enough for a dinner party or wonderful just for family on a Sunday night! It is sometimes wonderful to take your time and prepare a lovely meal for your family and friends to enjoy on a Sunday.
Best of Bridge Sunday Suppers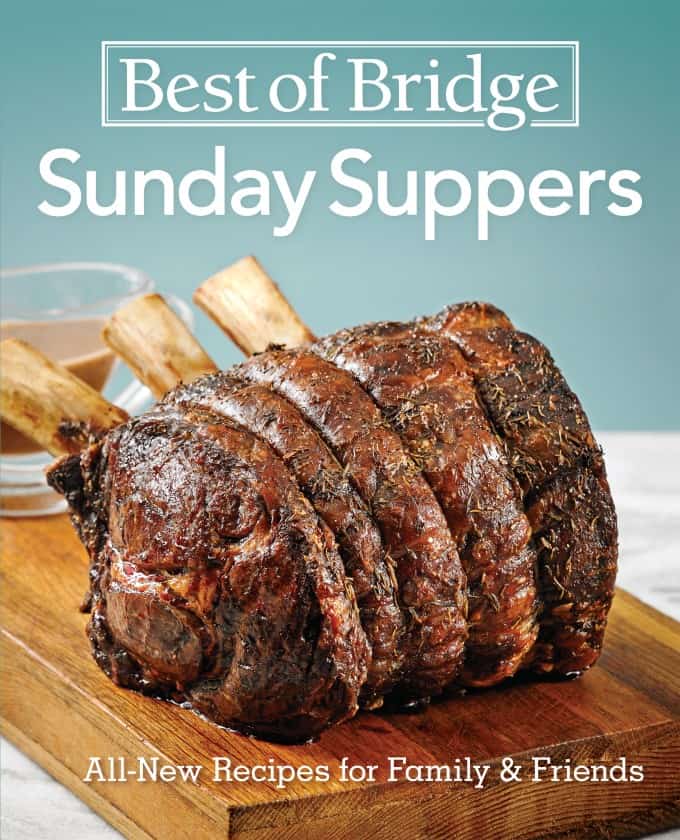 Best of Bridge cookbook series are fantastic tried and true recipes that I have made so many times. I think I have almost all of the cookbooks!!
Best of Bridge is Canada's most iconic brand and began 40 years ago. A group of 8 female friends who played bridge together started making these cookbooks that now have 5 million copies in print.
The ladies that are behind the cookbook now are Elizabeth Chorney-Booth, Sue Duncan and Julie Van Rosendaal, all locally here in Calgary. All three of them grew up enjoying Best of Bridge recipes. They continue with the philosophy of offering "simple recipes with gourmet results".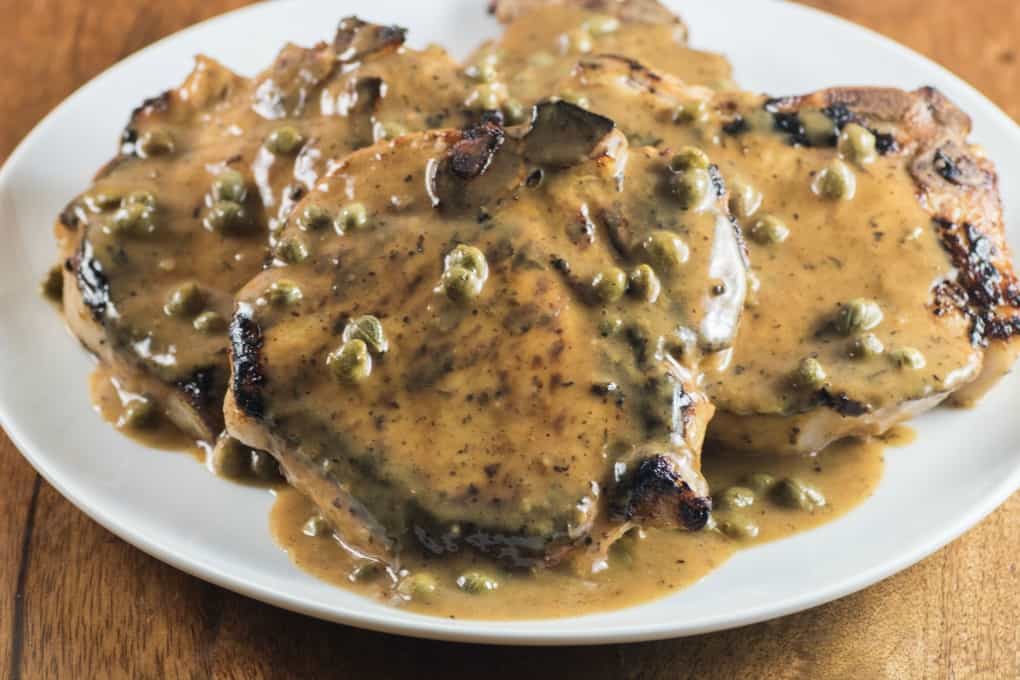 This recipe though is not complicated or difficult by any means. It is just a bit more special than you might have Monday to Friday. This is cozy, comfort food that you can have all year round!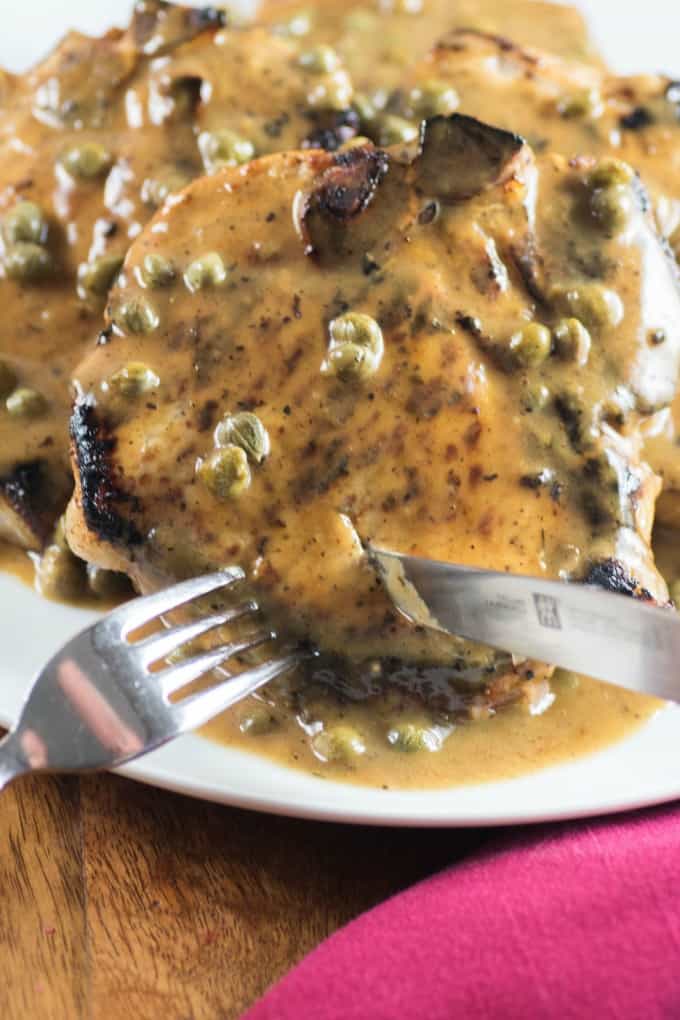 The book contains recipes for salads, soups, big roasts, meaty mains, on the grill, stews and braises, casseroles, savory pies, pizzas and pastas, sides, homemade breads, sauces and condiments, and also desserts.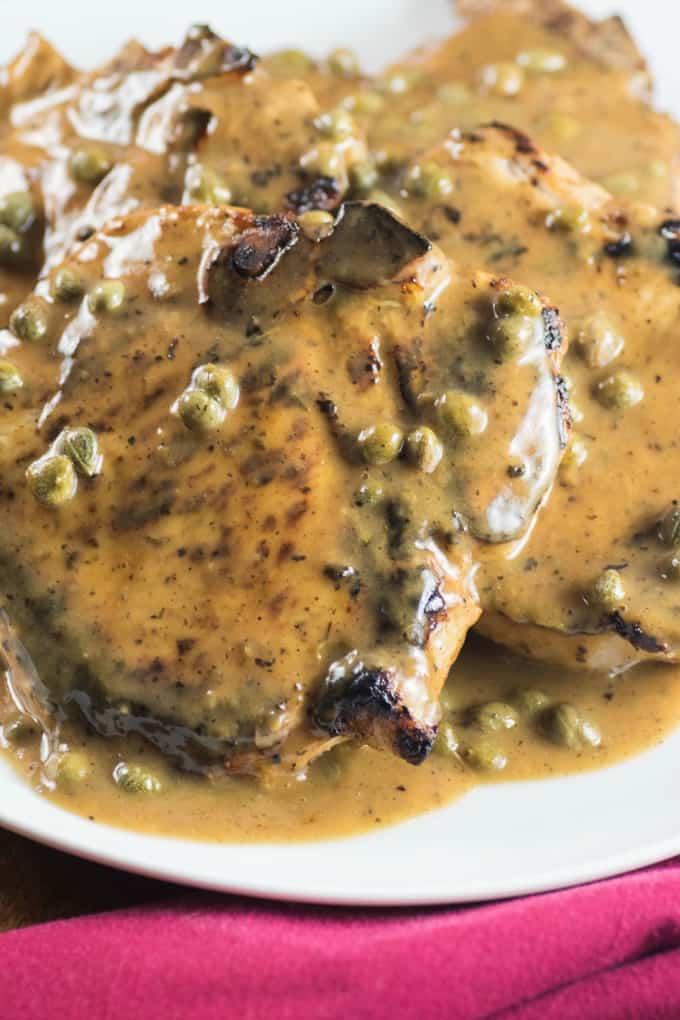 Presenting these gorgeous pork chops to the Sunday supper table will instantly get the conversation going and people diving in!! That is what Sunday suppers are all about in sharing time with family and friends.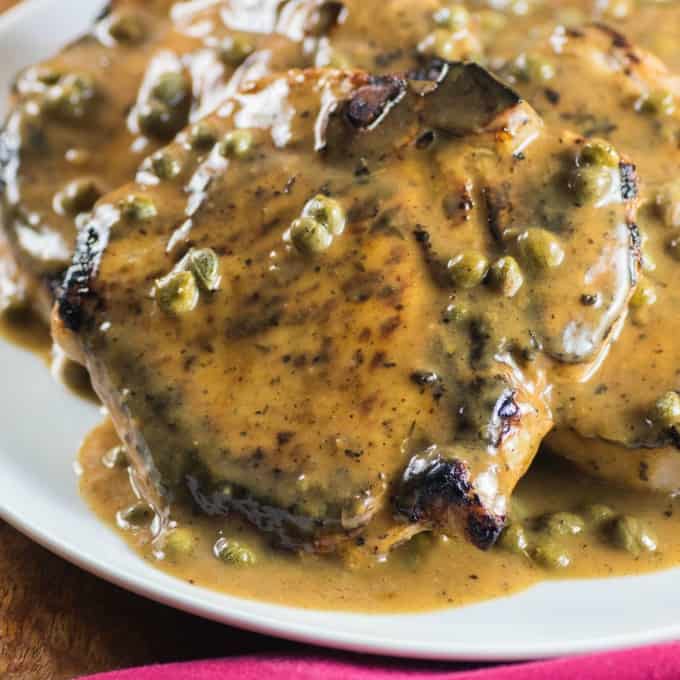 I have reviewed other Best of Bridge cookbooks like the Best of Bridge Home Preserving which I shared with you the popular recipe of Red and Green Pepper Jelly.
Also, Best of Bridge Home Cooking with a Spiced Roasted Cauliflower that is a blockbuster of a recipe.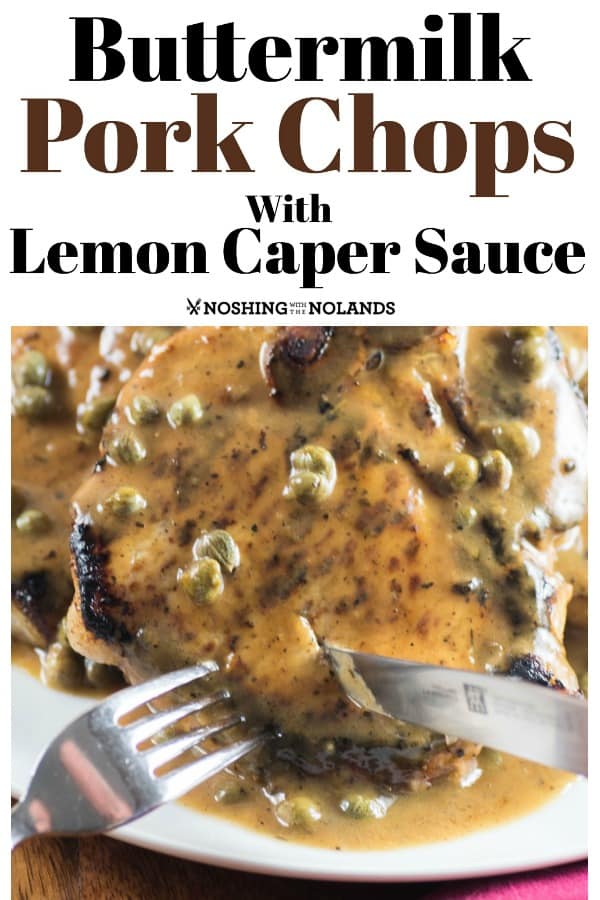 The Recipe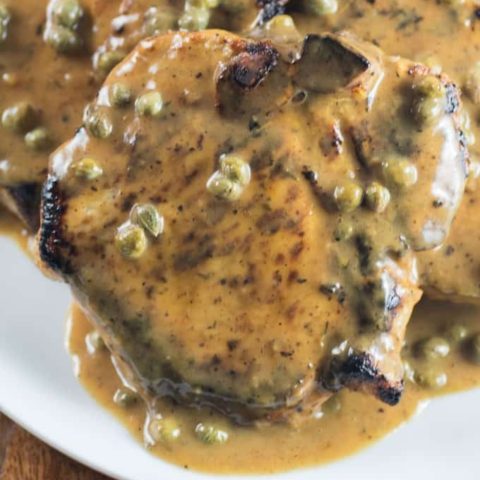 Buttermilk Pork Chops with Lemon Caper Sauce
Yield: 4
Prep Time: 15 minutes
Cook Time: 30 minutes
Total Time: 45 minutes
Soaking pork chops in buttermilk breaks down the meat and makes it extra-moist and flavorful. The caper pan sauce makes them Sunday supper–worthy. Serve with your choice of vegetables.
Ingredients
4 1-inch (2.5 cm) thick center-cut bone-in pork chops (see tip) 4
2 cups buttermilk 500 mL
Salt and black pepper to taste
Vegetable oil
2 tbsp butter 30 mL
1 tbsp all-purpose flour 15 mL
1⁄2 tsp dried thyme 2 mL
1 cup ready-to-use chicken broth 250 mL
2 tbsp lemon juice 30 mL
2 tsp dry white wine 10 mL
2 tbsp drained capers 30 mL
Instructions
Put the pork chops in a baking dish or a sealable plastic bag. Pour in buttermilk so that the chops are completely covered. Season with salt and pepper. Cover or seal and refrigerate for 4 hours or overnight.
Preheat oven to 425°F (220°C). Remove chops from buttermilk and pat dry. Discard buttermilk. In a large skillet, heat a drizzle of oil over high heat. Working in batches as necessary, cook pork until golden on both sides, adding more oil as needed between batches. Transfer chops to a baking dish and bake for 15 to 20 minutes or until just a hint of pink remains inside. Let rest for 5 minutes.
Meanwhile, in the same skillet you used to cook the pork (leave any fat or browned bits in there), melt butter over medium heat. Whisk in flour and cook, whisking, for 3 minutes. Stir in thyme, stock, lemon juice and wine; bring to a boil. Add capers, reduce heat and simmer for 5 minutes. Serve with pork chops.
Serves 4.
Tip: The thickness of the pork chops will greatly affect the cooking time. If your chops are thinner than 1 inch (2.5 cm), keep an eye on them to make sure they don't overcook and dry out; thicker chops may require a longer cooking time.
Recipe credit:
Courtesy of Best of Bridge Sunday Suppers by Best of Bridge © 2017 www.bestofbridge.com Available where books are sold.
Image credit: Matt Johannsson, Reflector Inc.
Author bios:
ELIZABETH CHORNEY-BOOTH is a blogger and food writer with over 15 years of professional writing under her belt. SUE DUNCAN grew up cooking and eating at every opportunity with her best friend, Julie. JULIE VAN ROSENDAAL is a regular CBC radio food columnist, food writer and editor.
The three of them grew up enjoying Bridge recipes. They are the authors of Best of Bridge Sunday Suppers, Best of Bridge Home Cooking and Best of Bridge The Family Slow Cooker.