Chocolate No-Bake Cookies are the easiest and most delicious cookies that don't require an oven! Rich chocolate and creamy peanut butter combine for a melt-in-your-mouth cookie that takes less than 30 minutes to whip up. A perfect, classic treat for summer or any time you need a super quick chocolate fix.
Want more easy No-Bake recipes? Try our No-Bake Peanut Butter Jam Thumbprint Cookies and our fun Nutella Clusters.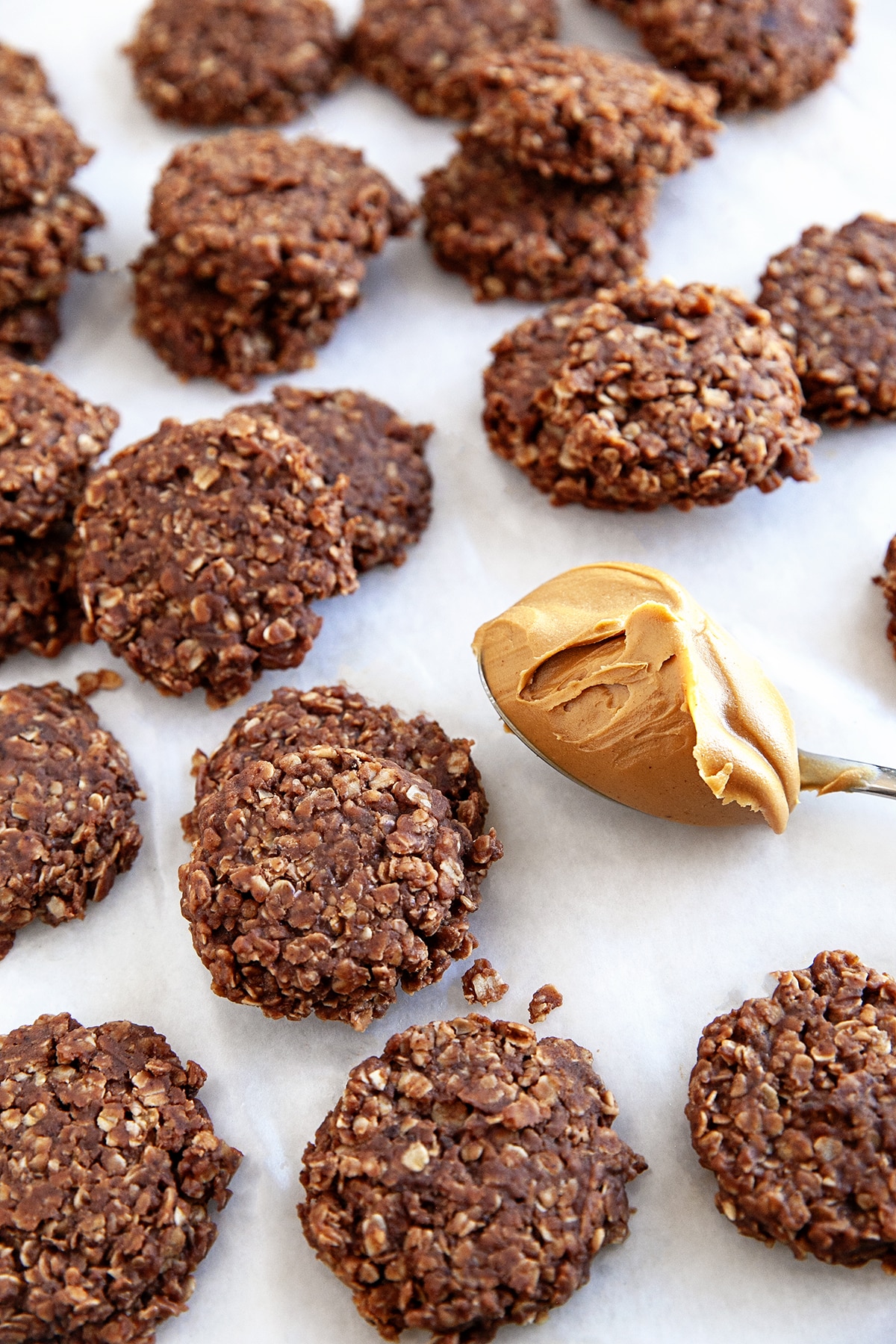 Chocolate No-Bake Cookies are one of the first recipes I learned how to make on my own when I was a kid. I probably made no bake cookies nearly every week for many years! Now, when I taste a Chocolate No-Bake Cookie, I'm instantly transported back to the easy-peasy days of childhood.
Best of all, I still have my old childhood recipe memorized and can whip up a chocolate peanut butter treat in next to no time! I'm so happy to share this nostalgic recipe with you, and I hope you love it as much as I do.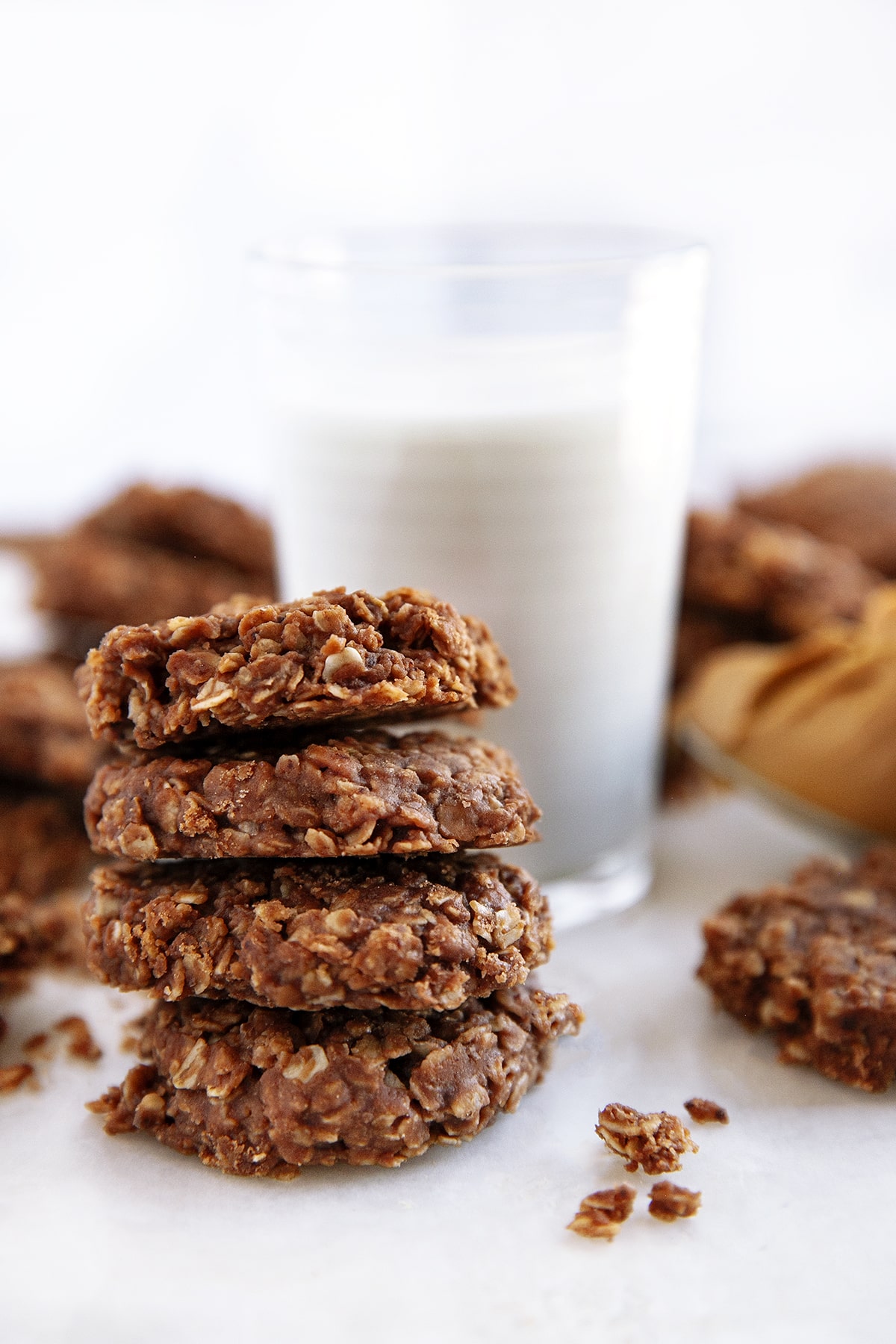 What is in Chocolate No Bake Cookies?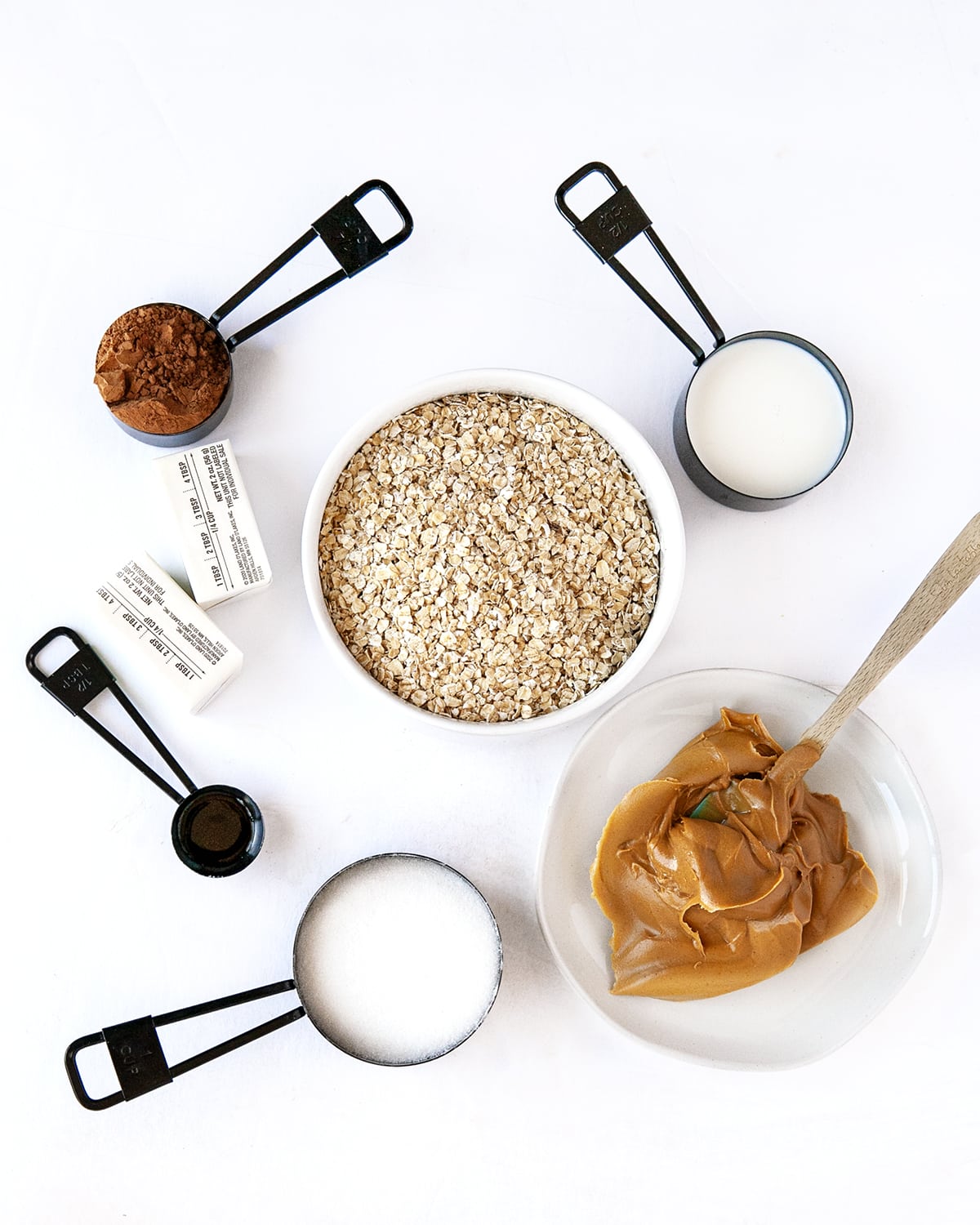 To make this Chocolate No-Bake Cookie recipe, you only need seven ingredients, and they're probably ingredients you normally have on hand! So let's whip up a batch!
Ingredients
Quick Oats – Make sure you get Quick Cooking Oats and not Old Fashioned Oats. Quick Oats absorb the liquid faster and help the cookies harden. If you use the wrong oats, the cookies won't be set properly.
Sugar – Use white granulated sugar for the best results.
Peanut Butter – You can use smooth or crunchy peanut butter, but I recommend using a more processed Peanut Butter (like JIF) instead of natural nut butter so that the cookies aren't crumbly.
Butter – Use salted butter for the best flavor.
Unsweetened Cocoa Powder – This adds all the delicious chocolate flavor!
Milk – You can use whole milk or 2%, both will work.
Vanilla Extract – Don't skip the teaspoon of vanilla because it really enhances the flavor of the cookies.
How to Make Chocolate No-Bake Cookies
Classic Chocolate No-Bake Cookies are made entirely on the stovetop and can even be made all in one pan! (I dirtied an extra dish for the sake of the photos here, but I normally just make everything in one large saucepan.)
To begin, combine the butter, sugar, cocoa powder, and milk in a large saucepan over medium heat. Melt the butter and bring the mixture to a rolling boil. Let it boil for 90 seconds – this is important because if it does not boil long enough, the cookies will not harden.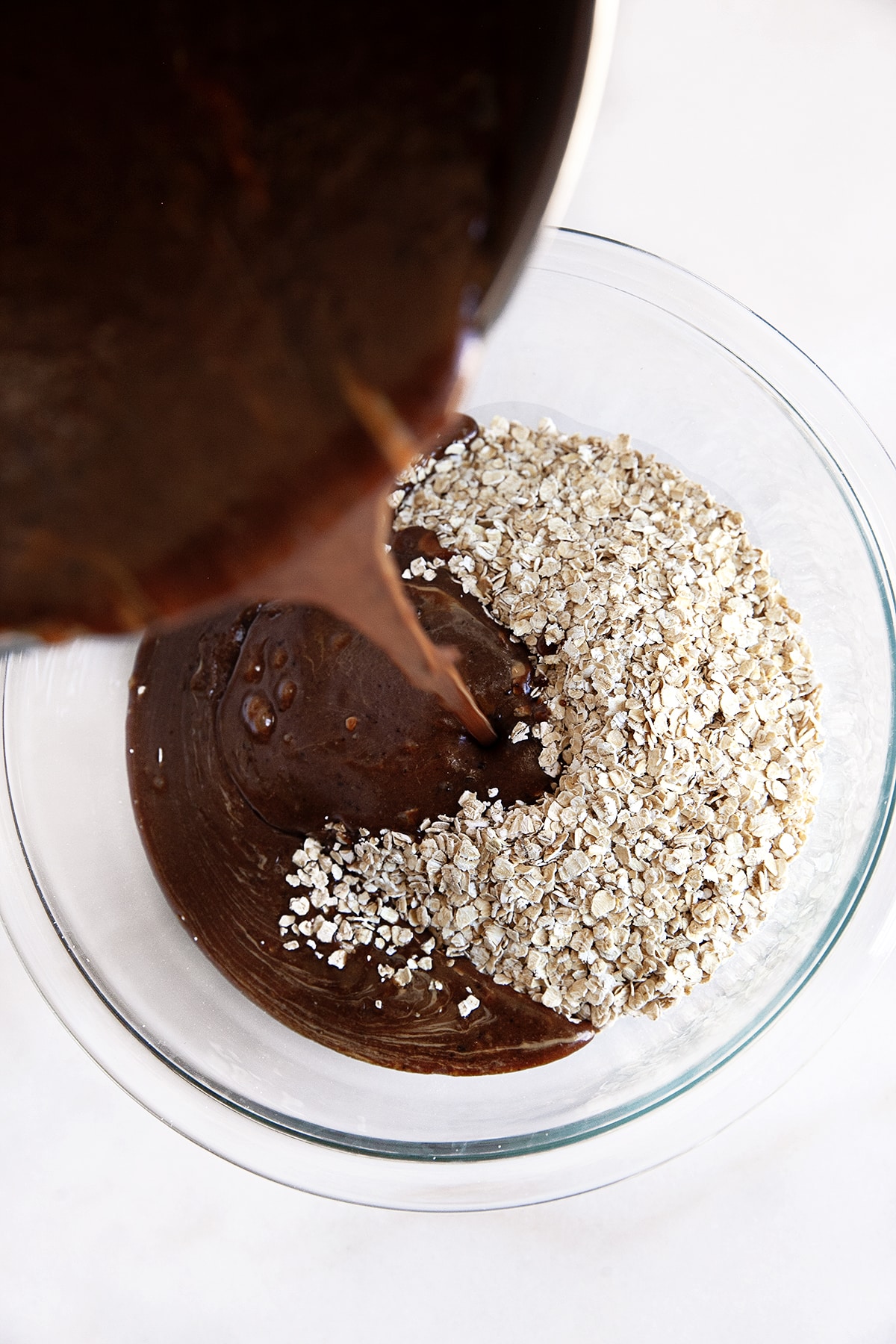 Next, remove from heat and stir in the Peanut Butter and vanilla extract, and mix until smooth. Add the Quick Oats and stir until all the oats are evenly covered in the melted cocoa mixture.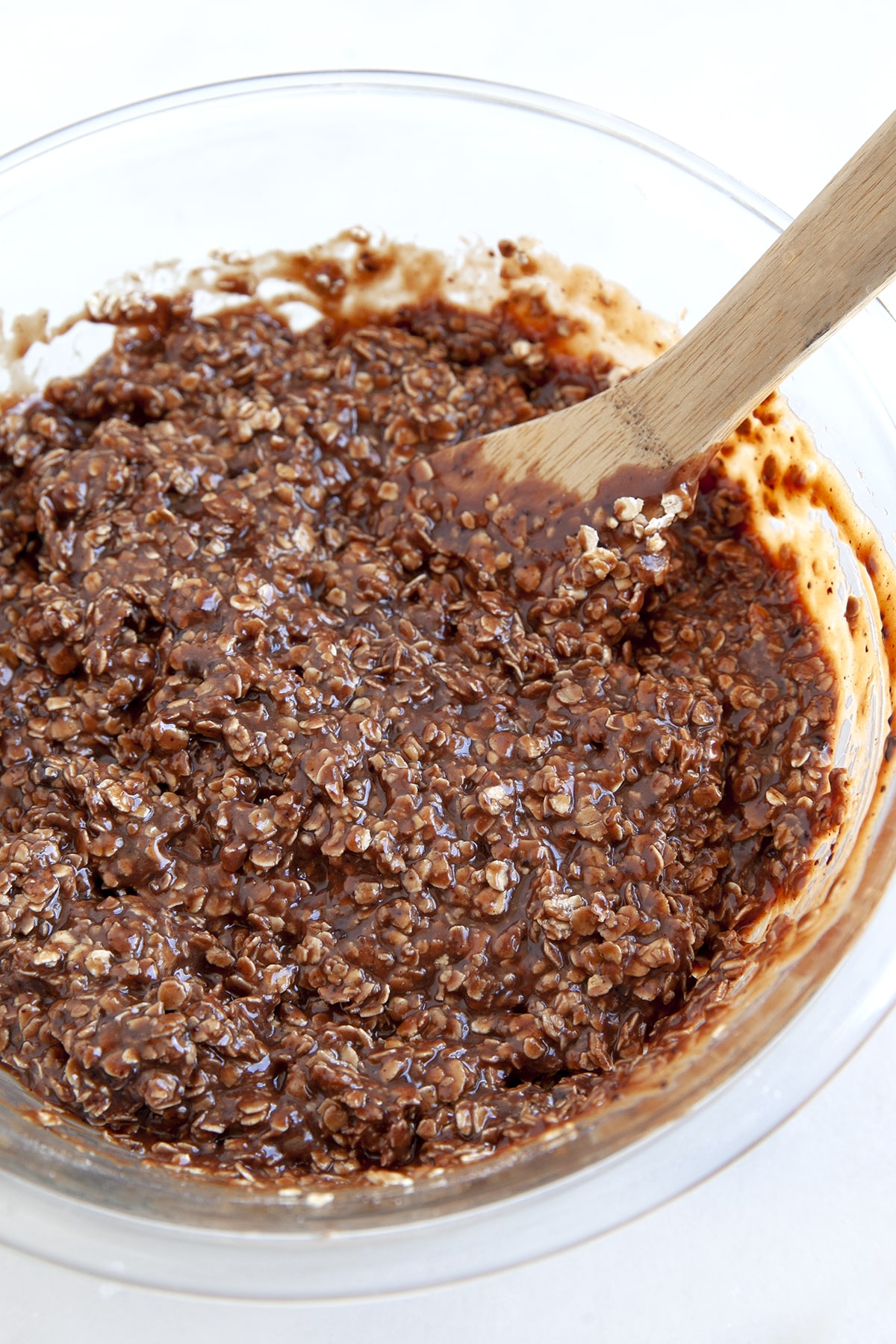 Once it's all mixed, use a medium cookie scoop (about 1.5 tablespoons) and drop the cookie scoops onto wax paper or parchment paper.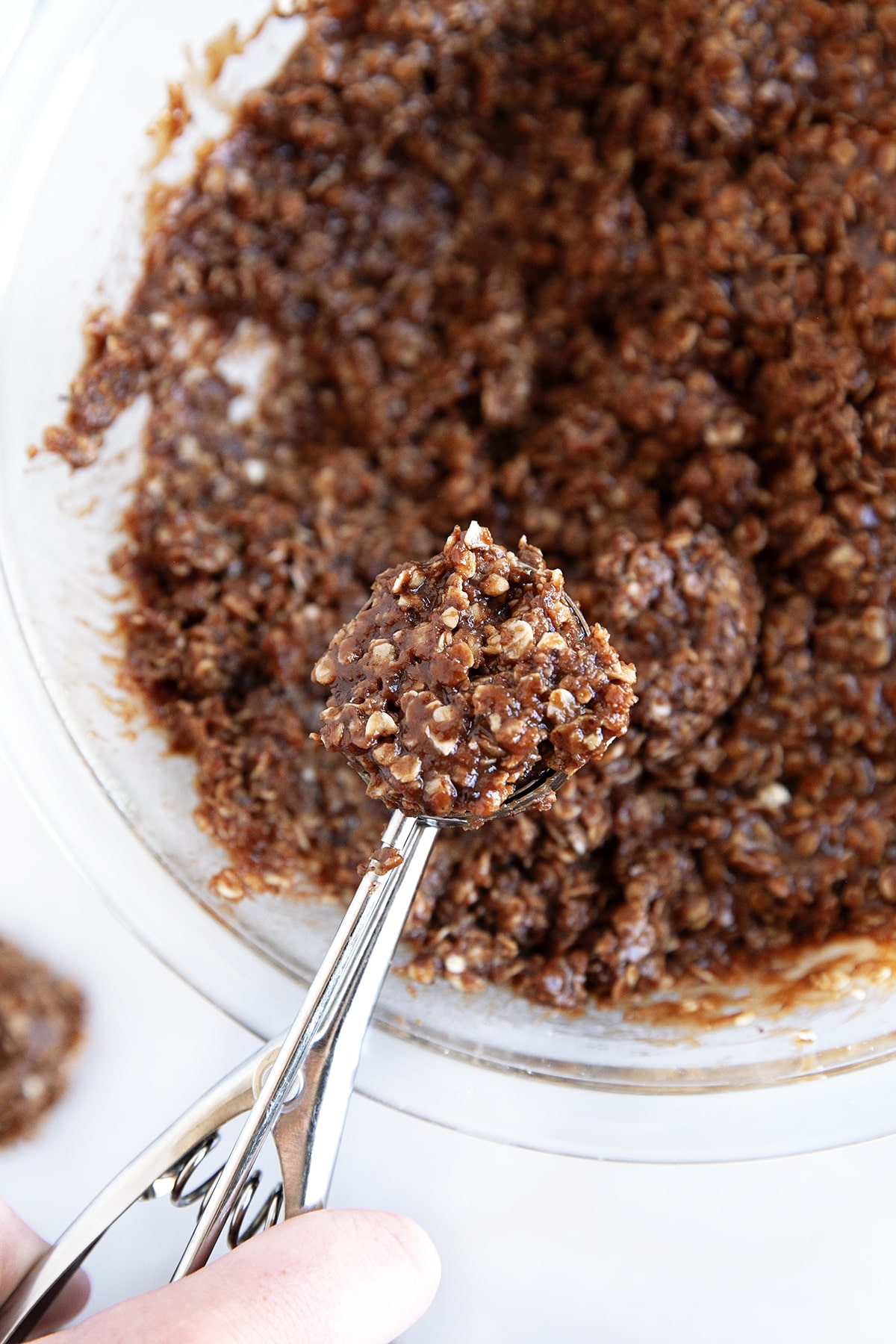 You can leave the cookies in mounds, or you can gently flatten them into a thick disc shape using the bottom of a glass cup or jar. Let the cookies rest at room temperature until they harden up (about 15 minutes).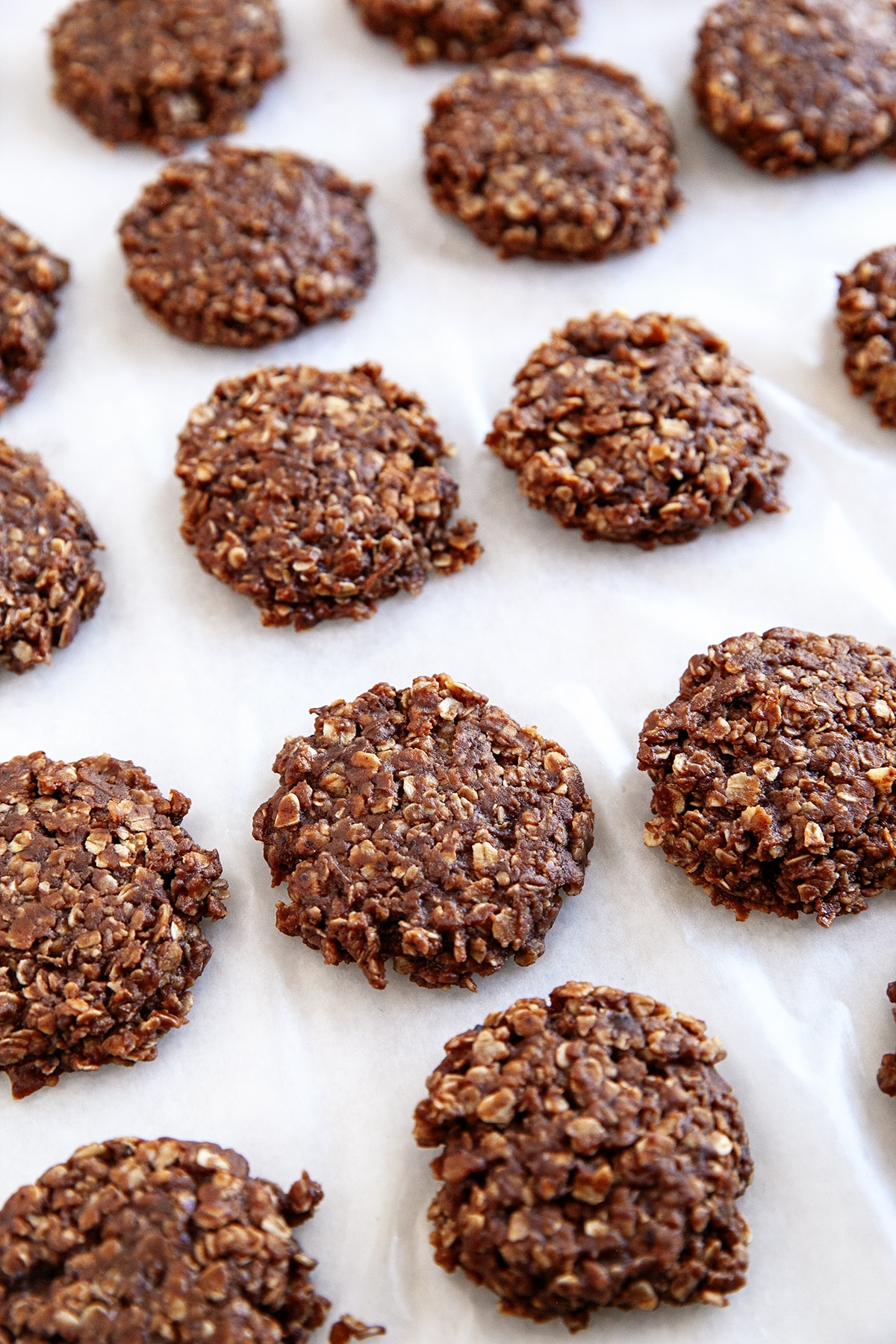 You'll likely want to eat at least a few right away, and I don't blame you one bit. But you can store them in an air-tight container in the refrigerator for up to three days.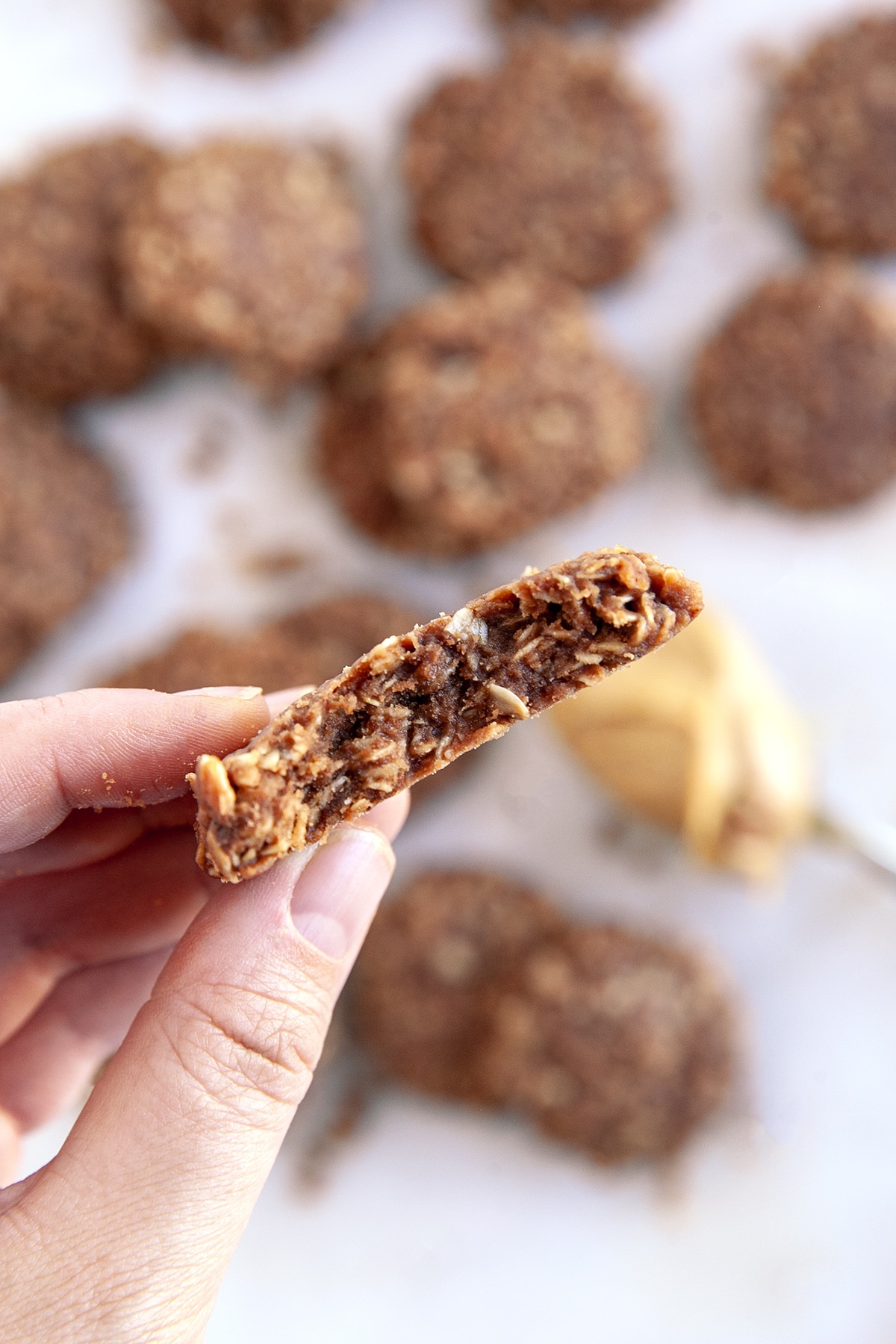 Why do my Chocolate No Bake Cookies not harden?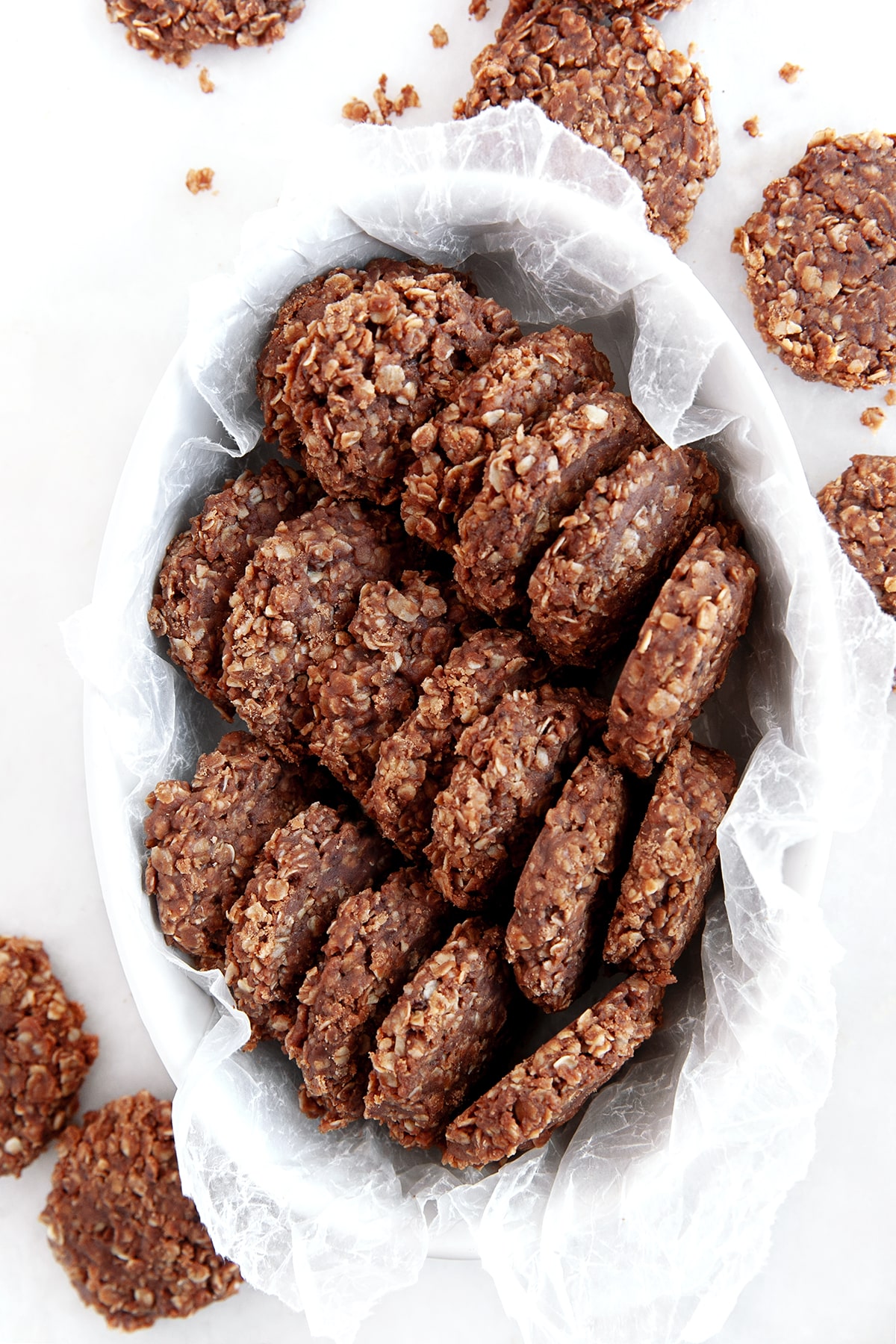 See our pro tips below!
Recipe Pro Tips!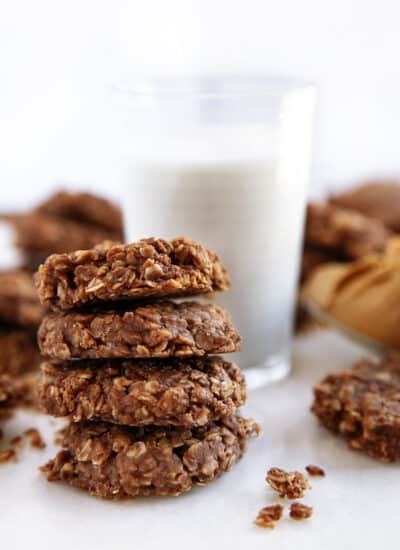 If your Chocolate No Bake Cookies aren't hardening and are still sticky after 20 to 30 minutes, here are some things to troubleshoot:
Make sure you're using Quick Oats. Any other type of oats won't work, and the cookies will not harden.
Be sure to boil the butter and sugar mixture for 90 seconds (set a timer!) at a rolling boil. If they don't boil long enough, the sugar won't cook properly, and the cookies won't harden.
Can I freeze these no-bake cookies?
Yes, absolutely. I would recommend freezing them on a baking sheet first so that they are not touching and then transferring them to an air-tight container or zipped storage bag.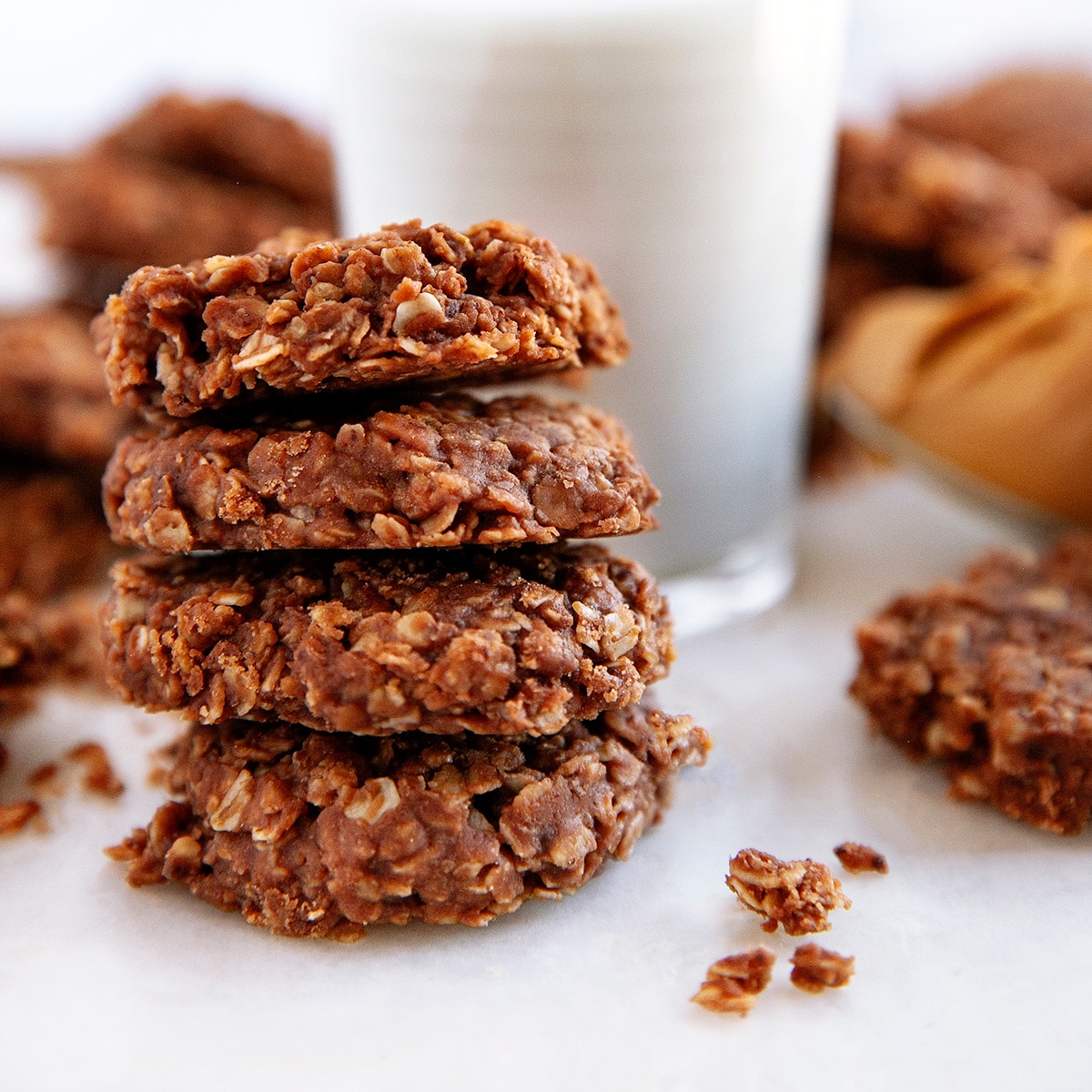 WANT MORE GREAT COOKIE RECIPES?
Try some of our favorite cookies for year-round enjoyment, from breakfast to snacks to dessert.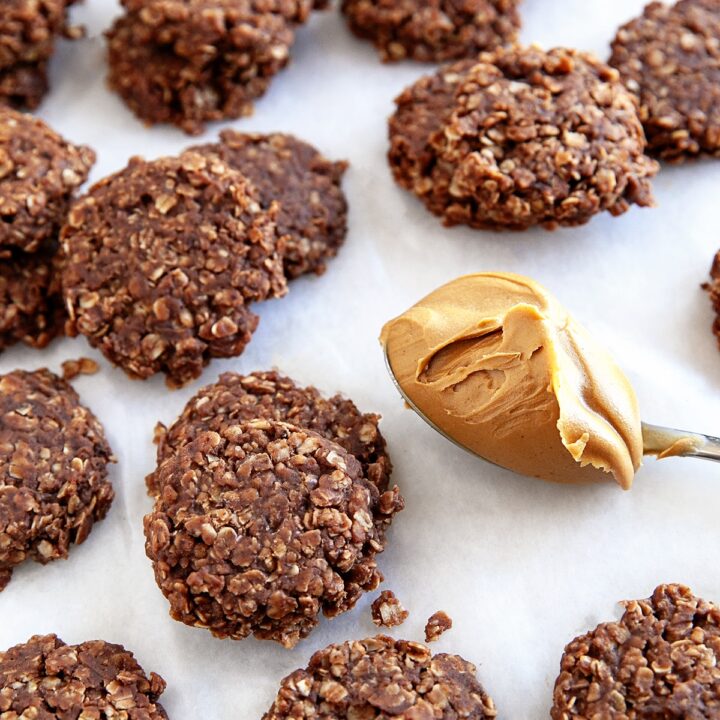 Chocolate No-Bake Cookies
Yield: 24 cookies
Prep Time: 15 minutes
Additional Time: 15 minutes
Total Time: 30 minutes
These Chocolate No-Bake Cookies are the perfect summer cookie or a fast cookie for any time. Their chocolate peanut butter flavors are a hit with everyone.
Ingredients
2 cups granulated sugar
1/2 cup milk
1/4 cup unsweetened cocoa powder
1/2 cup salted butter
1/2 cup peanut butter (like JIF)
1 teaspoon vanilla extract
3 cups quick oats
Instructions
Line a cookie sheet or large cutting board with wax paper. Set aside.
In a large saucepan, combine the sugar, milk, cocoa powder, and butter. Stirring often, bring to a boil over medium heat. Let the mixture boil at a full, rolling boil for 90 seconds (be sure to set a timer!)
Remove from heat and stir in the peanut butter and vanilla extract until smooth. Add the oats and stir well to combine.
Using a medium cookie scoop (about 1.5 tablespoons), drop cookies onto prepared parchment or wax paper. You can flatten them into a thick disc shape using the bottom of a glass or leave them in mounds.
Allow the cookies to set before serving. They are normally hardened within 15 to 20 minutes.
Notes
See the post for more tips and tricks.
Nutrition Information:
Yield: 24
Serving Size: 2
Amount Per Serving:
Calories: 168
Total Fat: 7g
Saturated Fat: 3g
Trans Fat: 0g
Unsaturated Fat: 3g
Cholesterol: 11mg
Sodium: 81mg
Carbohydrates: 24g
Fiber: 1g
Sugar: 17g
Protein: 3g
Recipe calculation was provided by Nutritionix and is estimation only. If you need nutritional calculations for medical reasons, please use a source that you trust.