Creamer Potatoes Stuffed with Egg Salad
Disclosure: I was compensated for this post by The Little Potato Company. All opinions and experiences are my own.
I love cooking with Little potatoes from The Little Potato Company. Today I bring you another great recipe for Creamer Potatoes Stuffed with Egg Salad. We are huge lovers of potato salad in this family but for game day you don't want a bowl of potato salad per se!!
So, I made a change and made potato salad in a perfect bite-size portion to enjoy while you are watching the game. Cool eh? The family raved over these perfect poppable morsels loving one after another.
They are so easy to make, actually Amber joined in to make these. Lots of her favorite ingredients here! She loves a Creamer potato in all of our Little potato recipes.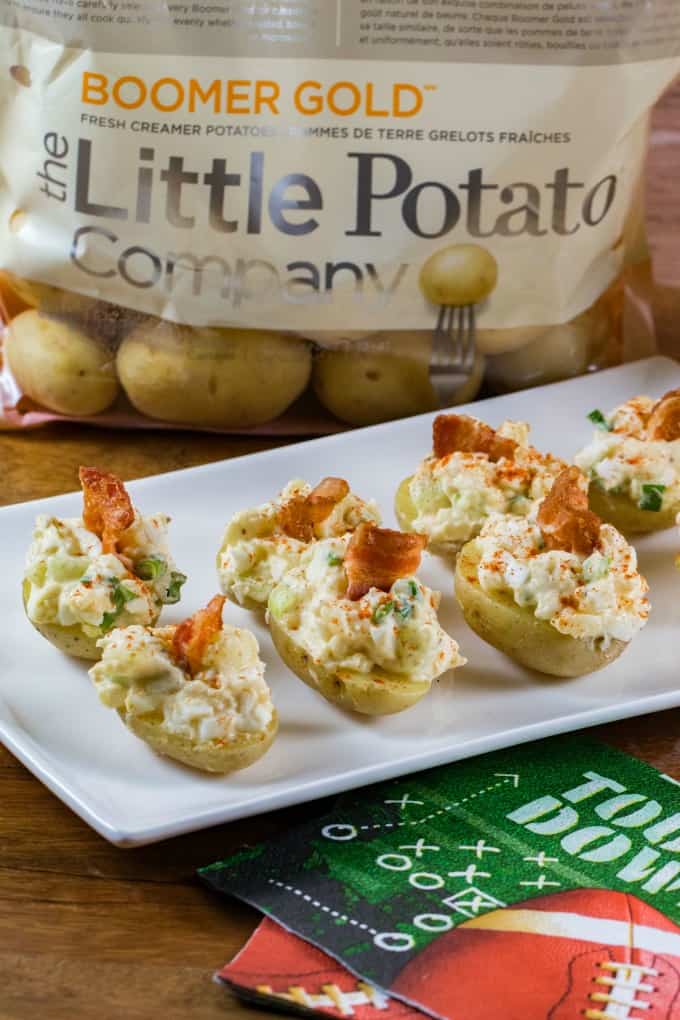 Aren't they fun? And a lovely piece of perfectly crisp bacon on top finishes the bite! You can make these up ahead of time and bring them with you for game day as they are completely portable.
Do you have a deviled egg dish? They can be served in one of those too but they do stand freely on their own also.
What are Creamer potatoes?
Fiddling with peeling and cutting the potatoes is hard work when you can use these perfectly shaped Creamer potatoes.
Creamer potatoes are Little potatoes, they are bred to be little just like cherry tomatoes are meant to be small. The lovely thing about them is that they come pre-washed and don't require any peeling.
Those two aspects right there are huge time savers. They are basically ready to roll for you in so many recipes. Another great advantage of Creamer potatoes is that they are consistently sized.
This helps for even cooking but also makes for a great presentation when serving up Creamer Potatoes Stuffed with Egg Salad.
How to Prep Creamer Potatoes
For this recipe, you need to make little boats out of the potatoes. I have a grapefruit spoon that makes fast work of this. If you don't have that a knife or a thin spoon will work also.
You just need to scoop out a little divot from the potatoes, not much as you can mound the egg salad on top! Don't throw away those potatoes just add them into your egg salad mixture. It is a perfect combination of eggs and potatoes then together.
How to Cook Creamer Potatoes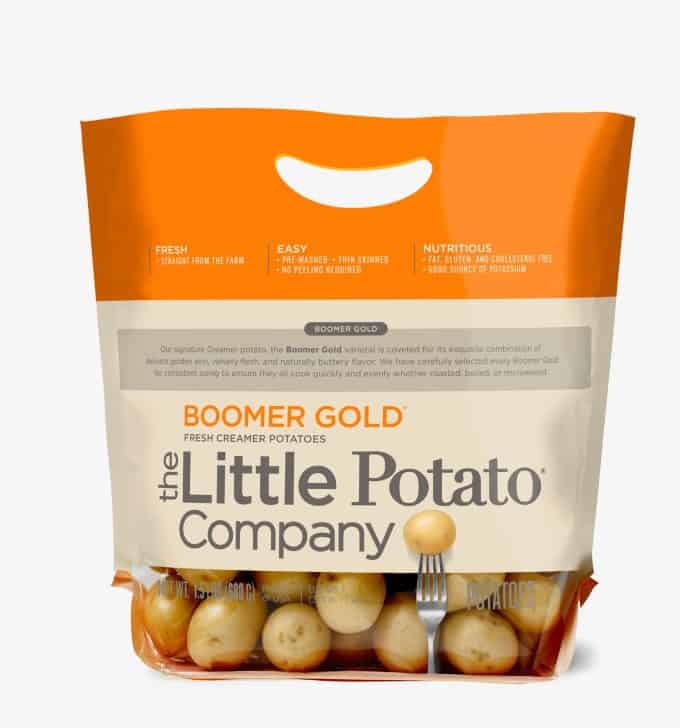 The Creamer potatoes are so easy to work with as they come pre-washed and there is no need to peel the potatoes, thanks to the naturally thin-skin, it's delicious.
Boiling them takes only 15minutes. Want them done faster? In the microwave, they only require 5 minutes.
One of my favorites and they are so easy are roasted potatoes. They are done to perfection in 30 minutes. Having a BBQ? You can cook up Little potatoes on your BBQ in foil packs in 30 minutes.
Any way you cook The Little Potato Company's Creamer potatoes they make an easy and delicious side dish in no time.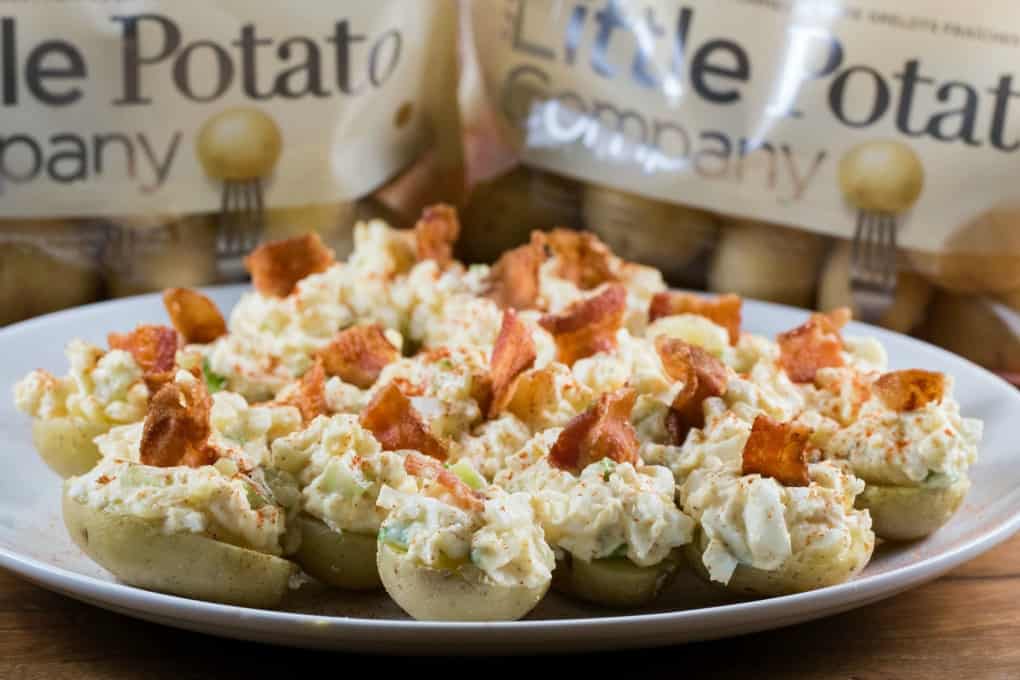 For this recipe, we simply boiled them in salty water. This recipe has a lot going for in flavor and texture. There is a nice crunch in the egg salad from the celery and green onion and crispness from the bacon.
Then the creamy egg salad goes with the Boomer Gold Little potatoes delicate golden skin, velvety flesh, and naturally buttery flavor to perfection, a marriage made in heaven.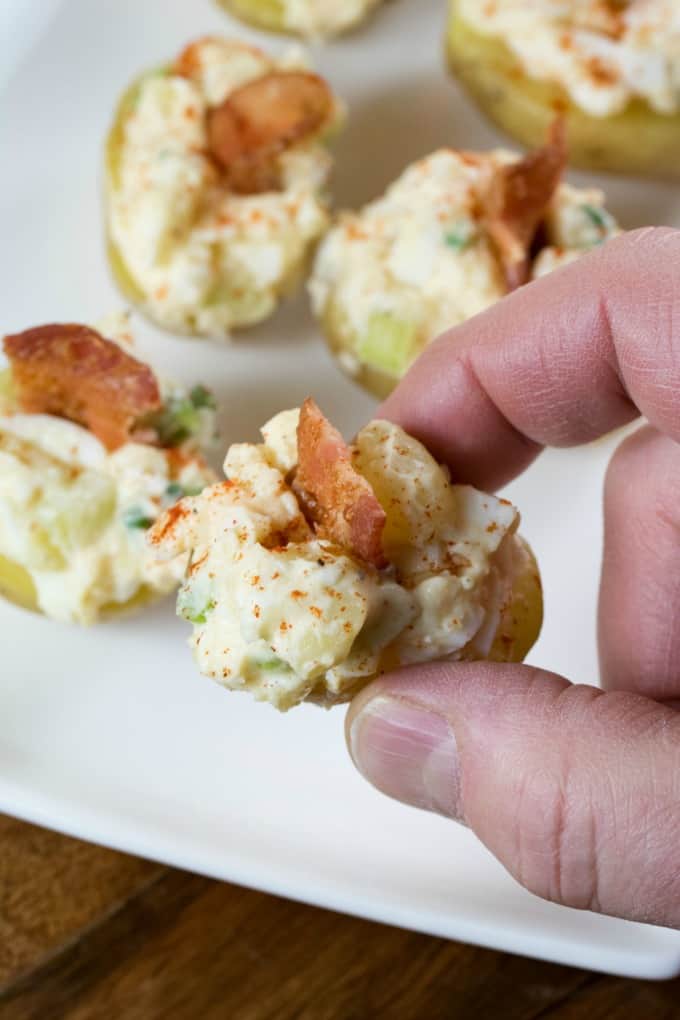 Pass the plate around and grab one of these scrumptious little appetizers. Everyone really loves potato salad so you know these are going to be a hit!
They are great to make ahead of time and just serve when the game starts. Grab another tray of them later and you will have the same reaction of everyone gobbling them down.
How to Make Stuffed Potatoes with Egg Salad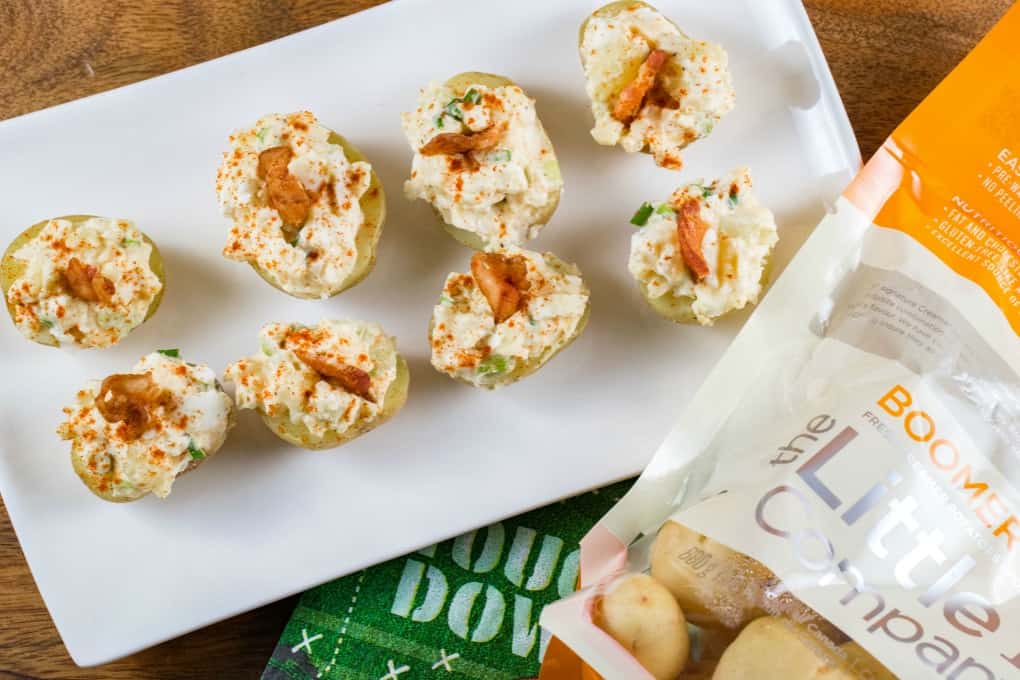 Making this recipe is as easy as boiling potatoes and making egg salad. Pretty basic things to make yet so delicious together.
After you boil and prep the potatoes as above a simple mixture of hard-boiled eggs, finely chopped green onion, finely chopped celery, mayonnaise, salt, and pepper are mixed together.
The leftover over little divots of potatoes are added in and all is mixed together. Then the egg salad is mounded on the potatoes and a little crisp piece of bacon is added. Just before serving sprinkle with paprika.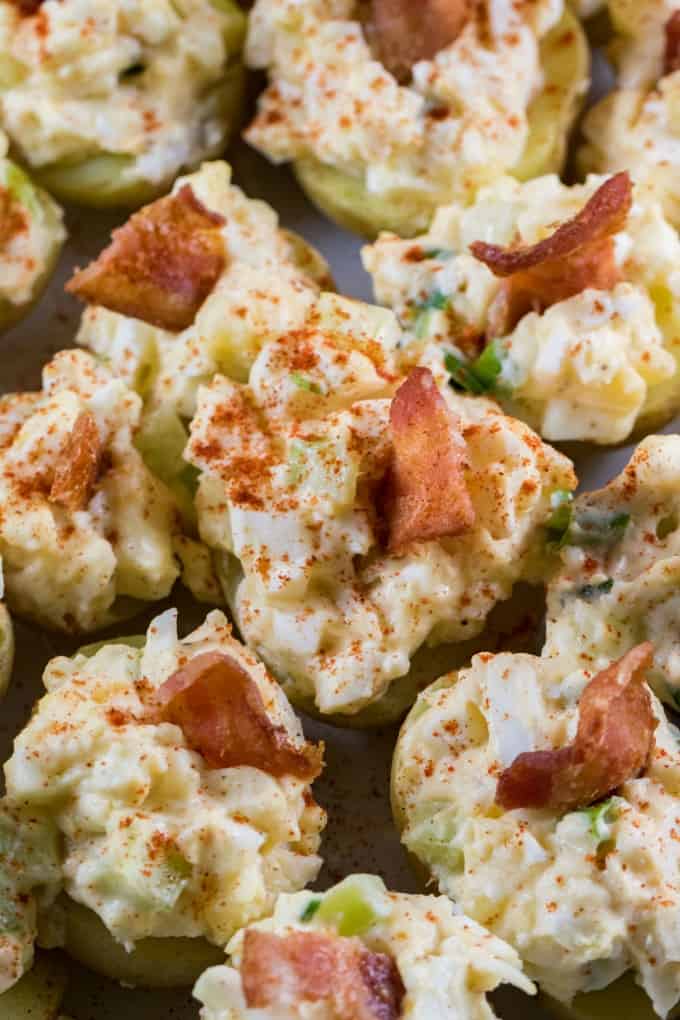 A lovely closeup of this gorgeous appetizer. Don't just keep them for game day but any gathering. They would be perfect on a picnic to great hors d'oeuvres for the holidays!
They go from casual dining to elegant easily as everyone loves eggs and potatoes.
Little Potatoes for the Win!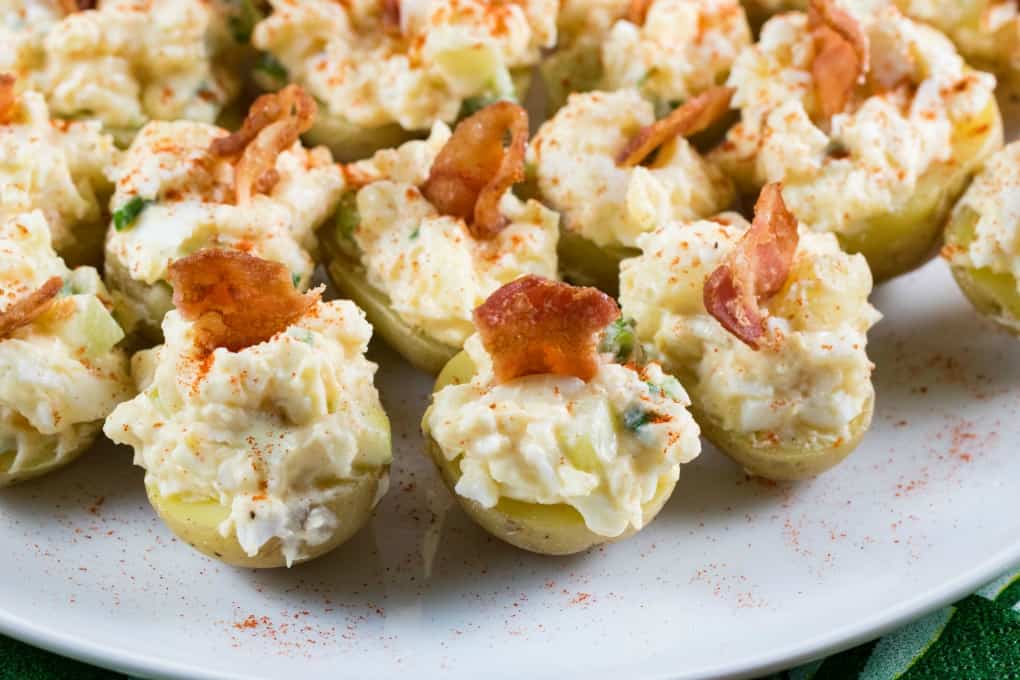 Little potatoes are a good source of potassium too and come in fun colorful varietals. There are many benefits to using The Little Potato Company's Creamer potatoes.
They have only 90 calories per serving and are loaded with potassium, fiber, and Vitamin C. They are fat, cholesterol, sodium and gluten-free making them a very healthy vegetable.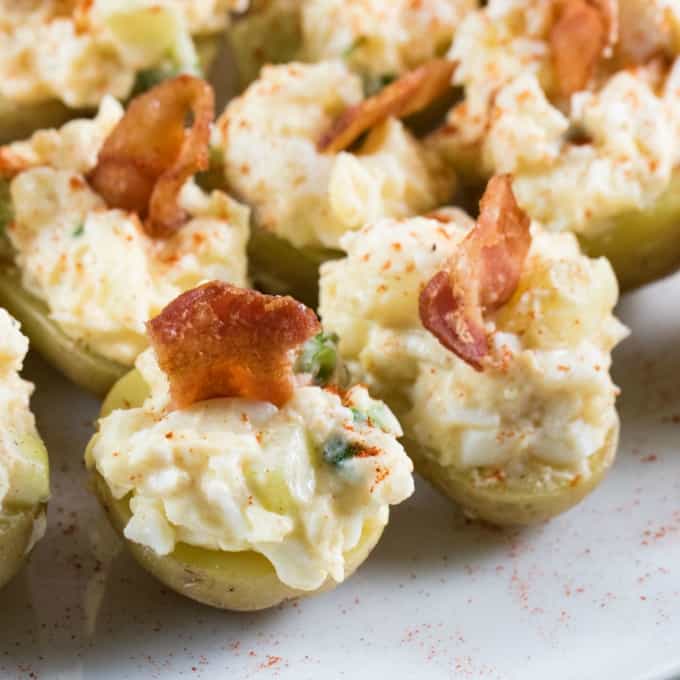 More great recipes using Little potatoes.
Steak and Little Potato Foil Packs
Little Potato Camp Fire Home Fries
Besides loads of Little potato recipes right here on Noshing with The Nolands you can find more excellent recipes like this one just by visiting the Little Potato Company's recipe section.
Put a keyword in the search and you are off to finding loads of amazing recipes.
Pin it HERE!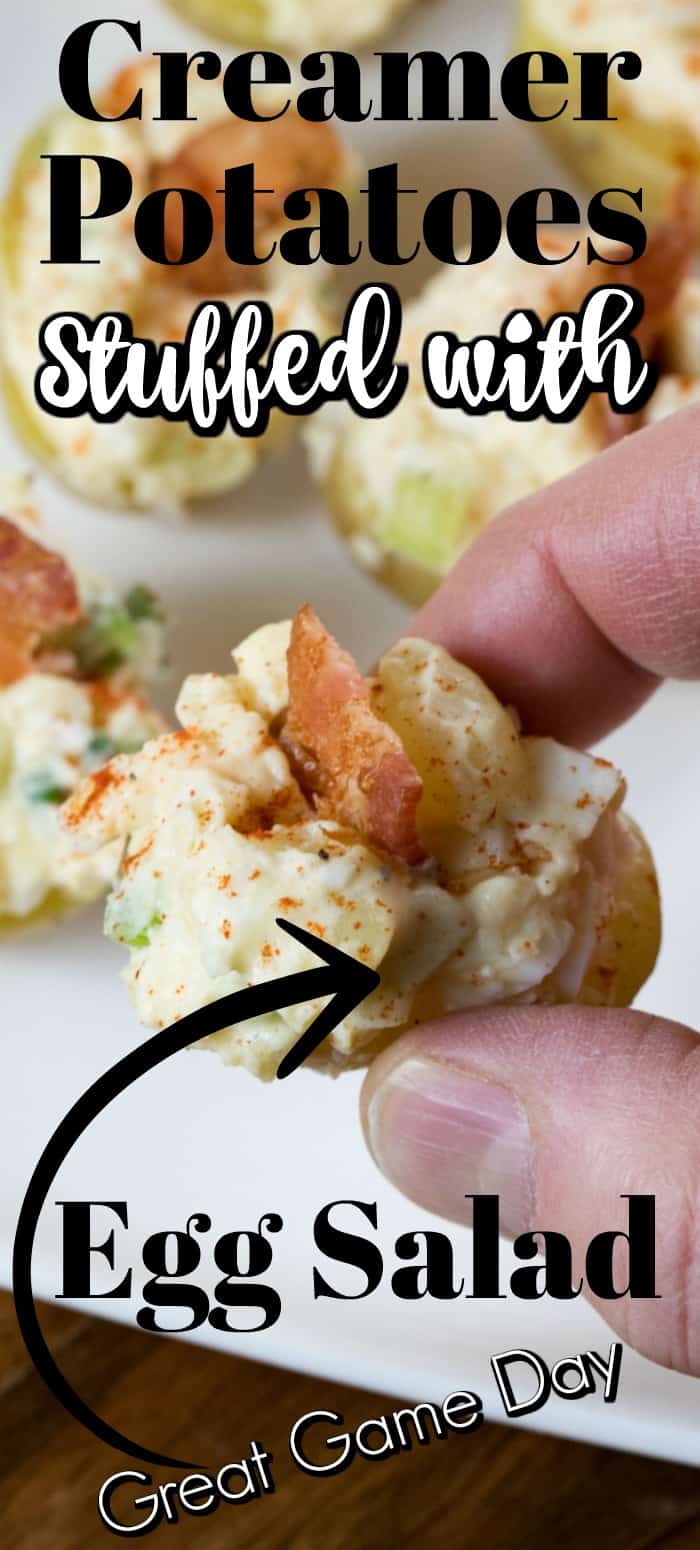 Pin it HERE!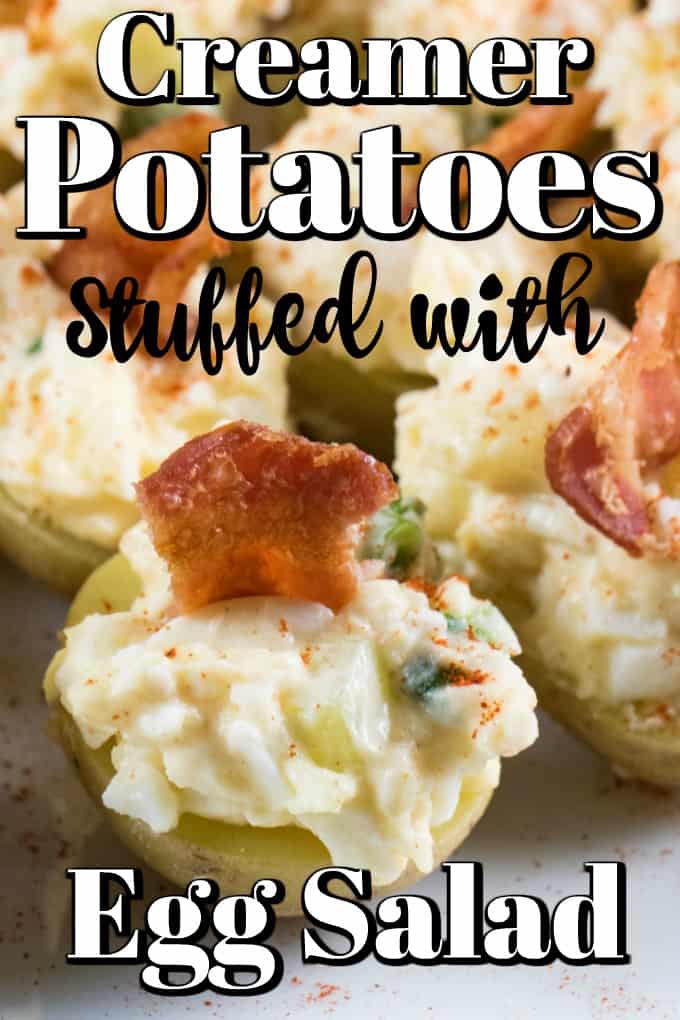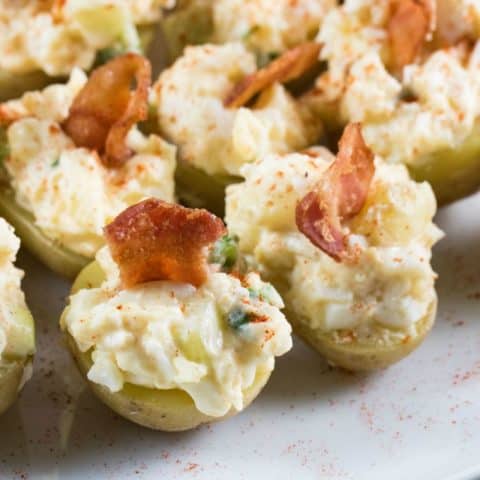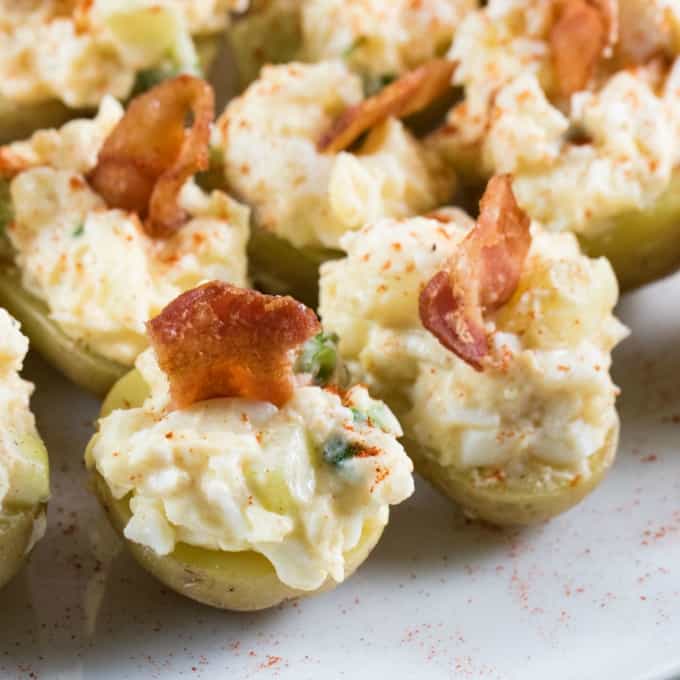 Creamer Potatoes Stuffed with Egg Salad
Yield: 40 appetizers
Prep Time: 30 minutes
Cook Time: 15 minutes
Total Time: 45 minutes
Creamer Potatoes Stuffed with Egg Salad is perfect for game day or any gathering. They are easy to make, plus make a fun presentation!! So many people love egg salad or potato salad they will always be a hit.
Ingredients
1.5 lbs. Creamer potatoes by The Little Potato Company (I used Boomer Gold)
5 hard-boiled eggs, chopped
1/4 cup finely chopped green onion, white and light greens only
1/4 cup finely chopped celery
1/2 cup light mayonnaise or to desired consistency
Salt and pepper to taste
Paprika
6 slices of bacon, crisped
Instructions
Bring a large pot of salted water to boil and add in the Creamer potatoes. Cook for 15 minutes until tender. Drain and let cool to the touch.
Meanwhile mix the chopped hard-boiled eggs, chopped green onion, and chopped celery together. Add in the mayonnaise, salt, and pepper and combine.
With a grapefruit spoon, a regular spoon or knife take out a small divot from each of the potatoes. Add the divots to the egg salad and stir to combine.
Place a large dollop of egg salad on each potato and place it on a serving platter. At this point, you can refrigerate. Before serving add a small piece of bacon to each potato and sprinkle the platter with paprika. Serve immediately.
Nutrition Information:
Yield: 40
Serving Size: 1
Amount Per Serving:
Calories: 50
Total Fat: 3g
Saturated Fat: 2g
Trans Fat: 0g
Unsaturated Fat: 1g
Cholesterol: 24mg
Sodium: 56mg
Carbohydrates: 5g
Fiber: 0g
Sugar: 0g
Protein: 1g
Recipe calculation was provided by Nutritionix and is an estimation only. If you need nutritional calculations for medical reasons, please use a source that you trust.