This classic Strawberry Banana Milkshake is a perfect treat for the summer months on a hot day. Only a few ingredients are needed to make this nostalgic drink! It will be a keeper to have again and again. You could have this at any time of the year too.
Want more decadent milkshakes? Watch your family's eyes light up when you say you are making milkshakes. Also, try our Blueberry Milkshake or our S'Mores Milkshake.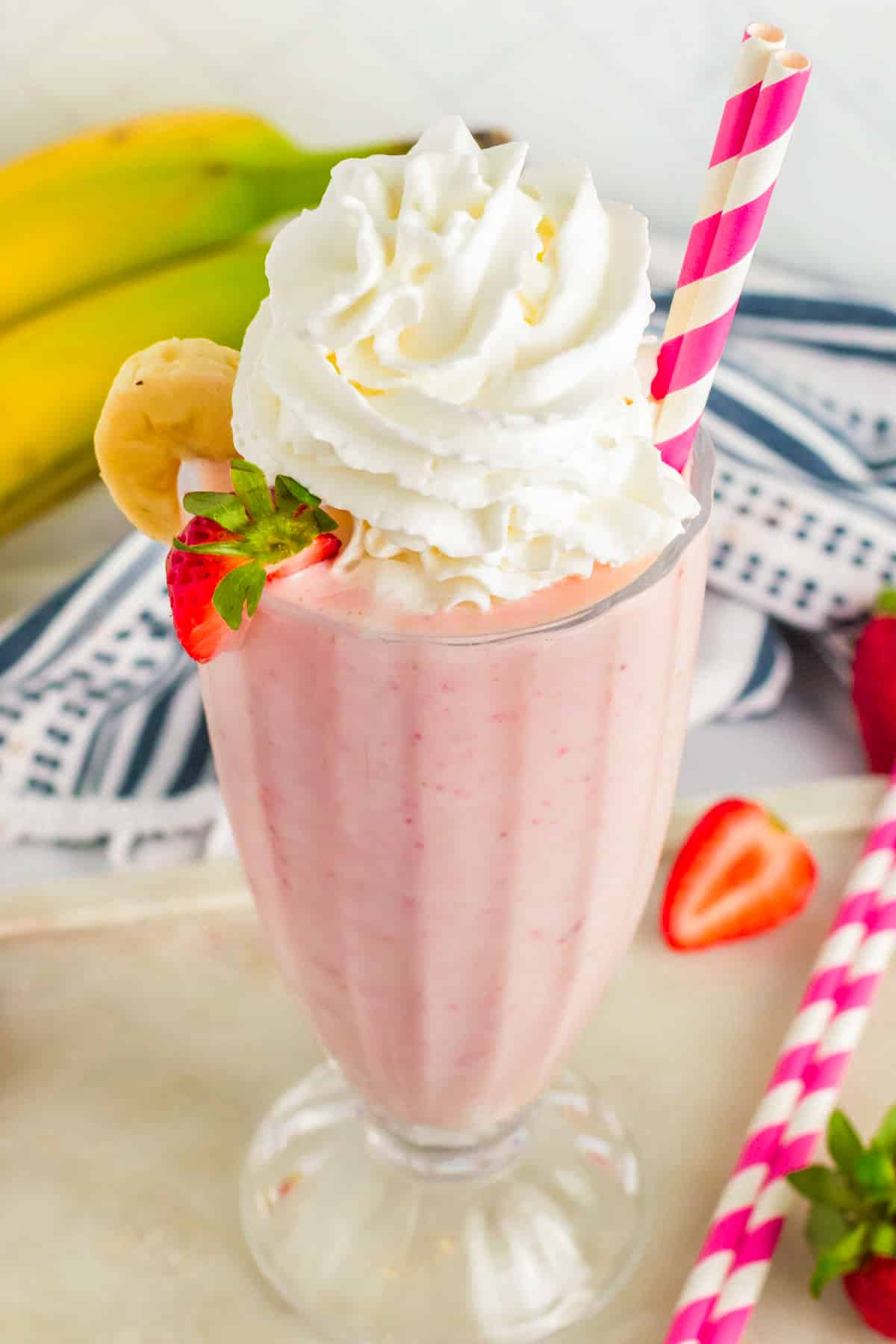 Are Strawberry Banana Milkshakes Good for You?
I would say hold the whipped cream, and yes, they are full of fruit with strawberries and bananas which are high in fiber, vitamins, and antioxidants, but I would still keep it as a treat because of the ice cream. It is a healthier choice than other desserts but still a treat.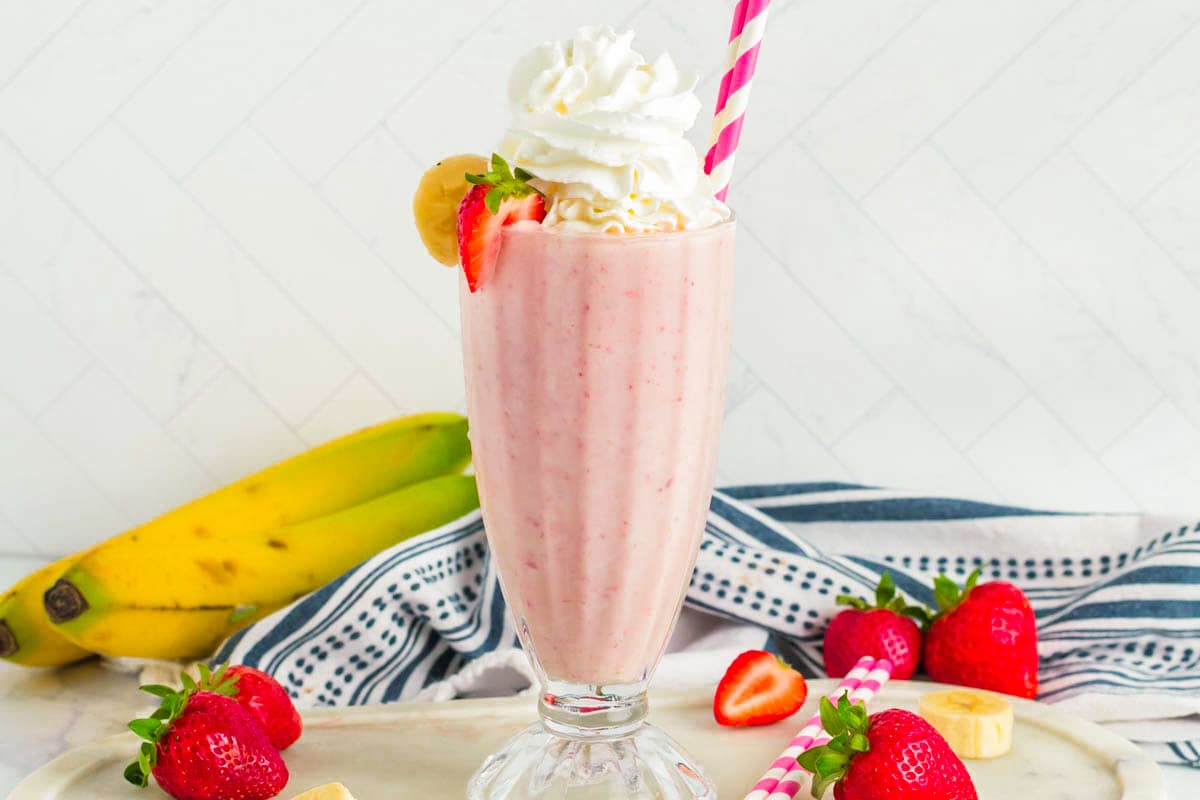 What Goes into a Strawberry Banana Milkshake?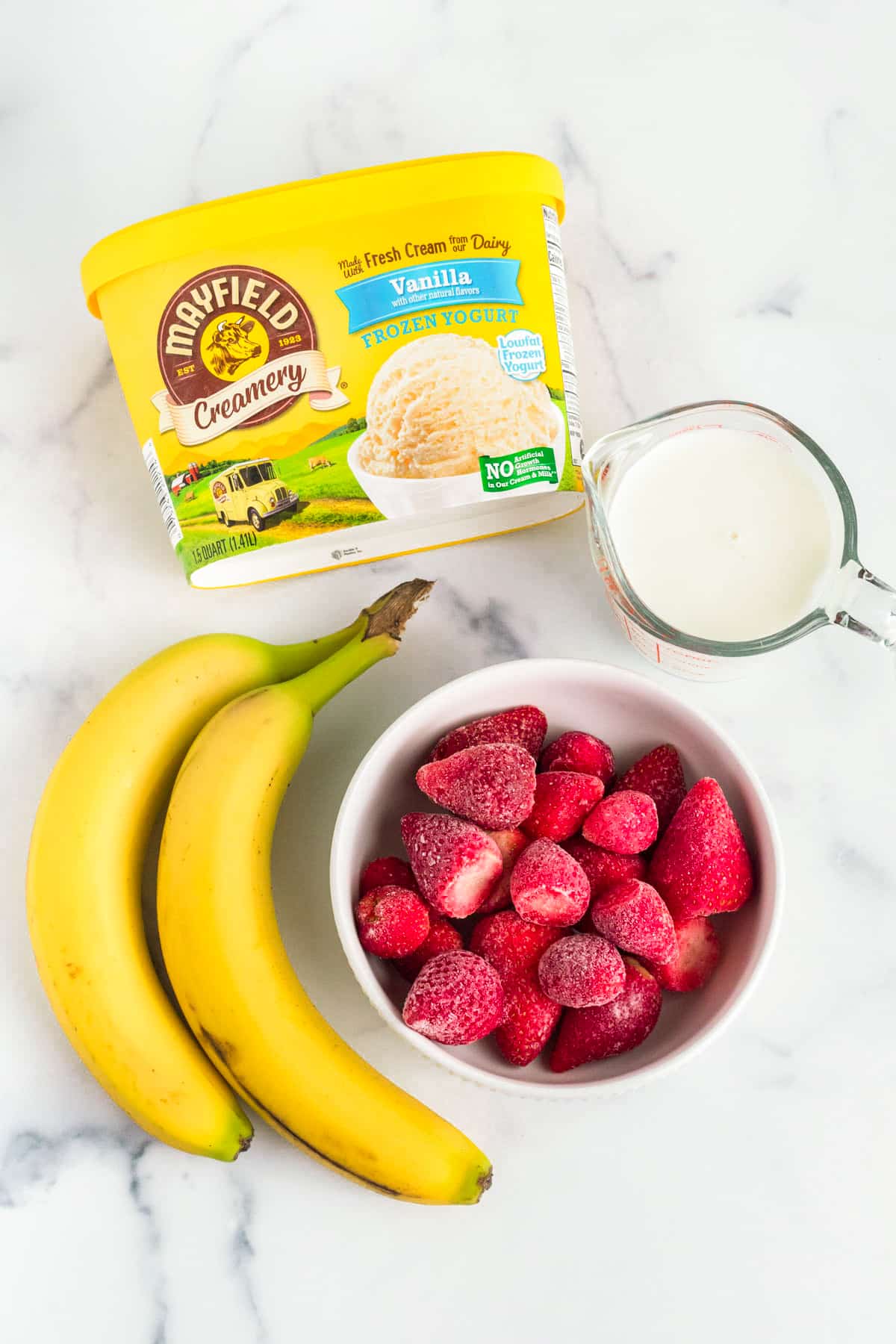 Here are the ingredients for this simple strawberry banana milkshake recipe. You can change things up with milk and ice cream to suit your needs.
Everyone loves a cooling delish shake to savor. It always brings back great memories for me.
Ingredients
Frozen strawberries – You can use fresh strawberries but frozen will give you a thicker shake.
Medium ripe bananas– cut in half – You can also use frozen bananas here too. I find that using frozen fruit is so much better and also a great way to use up the bananas in your freezer.
Milk – Any milk will do for a milkshake; because of the ice cream, I use skim milk. You can also use almond milk or any other milk of your choice.
Scoops of vanilla ice cream – Get good quality ice cream, read the label and make sure it is actually ice cream and not a frozen dessert; then, it is not real ice cream. Or, as we used in the picture, frozen yogurt works wonderfully too, but again get a good quality product and read the label. You can even use vegan ice cream, too, if you prefer.
You can up the strawberry flavor by using strawberry ice cream also.
Whipped cream for topping – This is optional but really makes a milkshake just that more decadent and a special treat.
How to Make a Strawberry Banana Milkshake
The flavor of banana and strawberry together can't be beaten. It is a marriage made in heaven.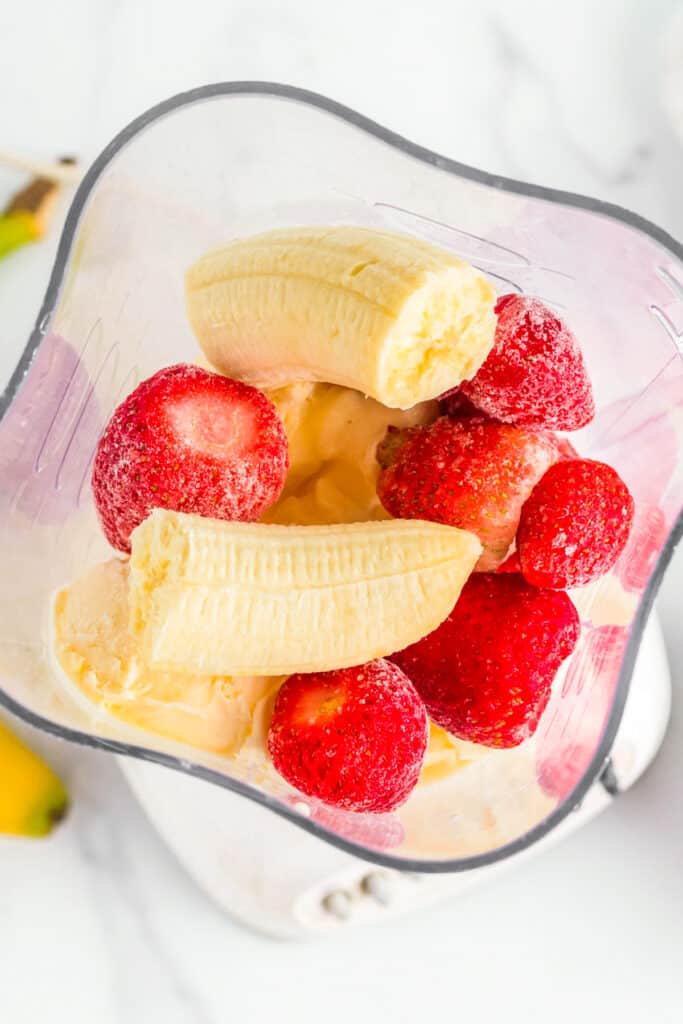 In a blender, add all the ingredients. (If you must add a little at a time, that is okay.)
Blend until fully smooth.
Pour the milkshake into two glasses and top with whipped cream. Garnish with extra fruit if desired.
Serve and enjoy!
Recipe Pro Tips!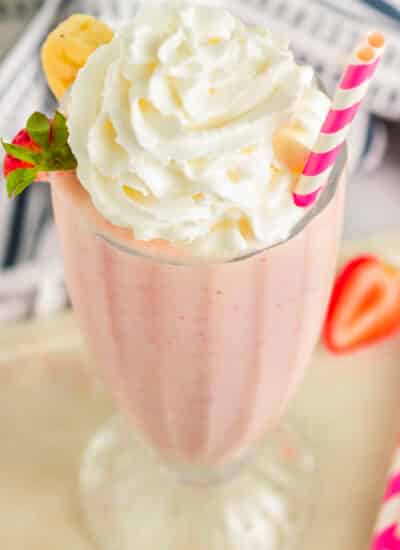 How do you make the perfect milkshake? Here are a few of our tips and tricks.
Fresh or frozen fruit works for this shake but in my opinion, frozen fruit works best for a frosty treat. Make sure all your ingredients are cold.
Take your time to blend, you can do that in stages, but also a good quality blender will give you the best smooth milkshake.
Lighten up your milkshake with skim milk and frozen yogurt; you really won't see that much of a difference if you use frozen bananas, as they will add a lot of creaminess to the shake.
Use a good ratio of ice cream to milk; you want the shake to be rich, thick, and delicious.
Add in a teaspoon of protein powder to give your shake even more of a boost of healthy benefits.
Only add in sugar if your strawberries are really tart. The ice cream and bananas add enough sweetness for me.
If you only have fresh fruit, add ice to the shake to get that extra cold thickness.
DO YOU WANT MORE FROZEN TREATS IDEAS?
We are all about keeping it cool in the summer, and a great way to do that is with a frozen treat in the afternoon or evening and a nice relaxing sit in the shade. Are you with me? Try some of our other amazing cooling delicacies here.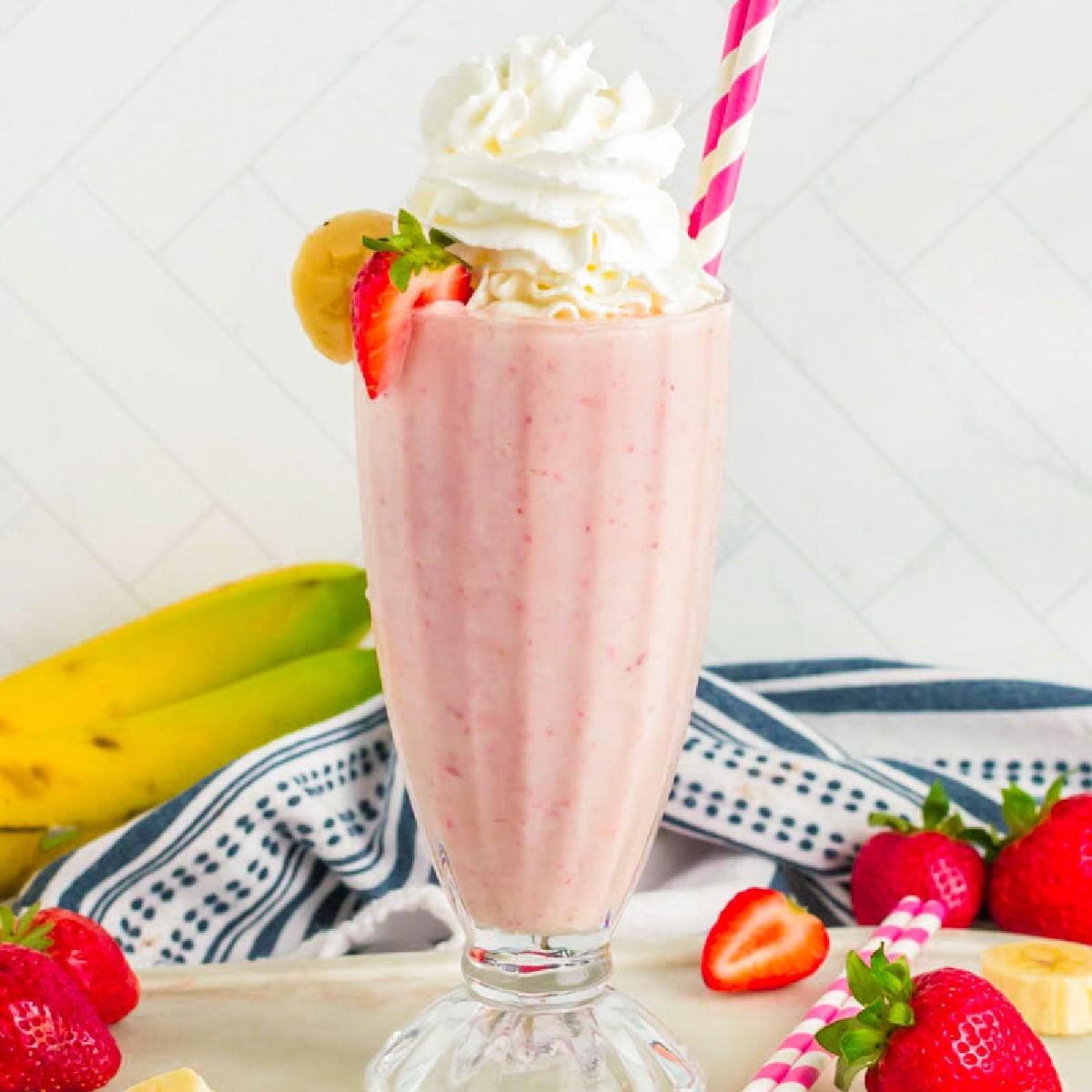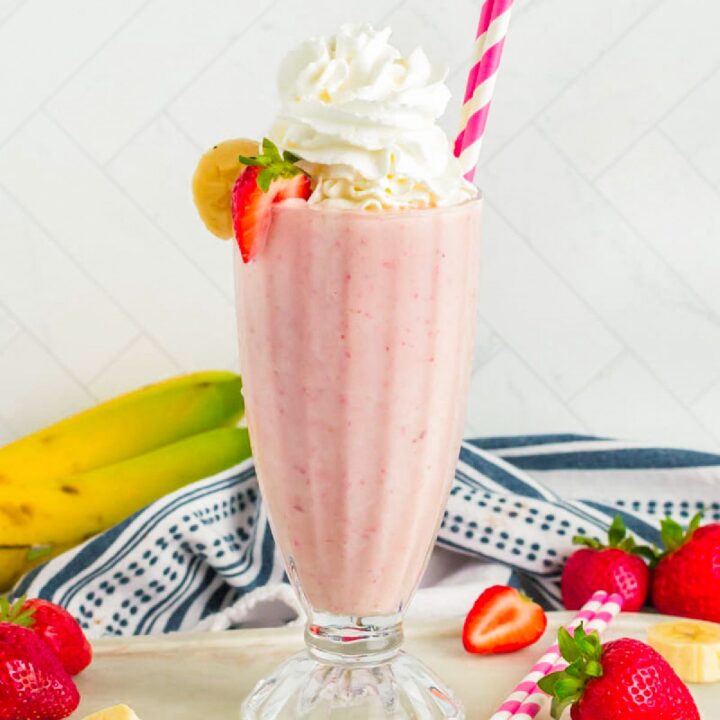 Strawberry Banana Milkshake
Yield: 2 servings
Prep Time: 5 minutes
Total Time: 5 minutes
A Strawberry Banana Milkshake will put the wow factor into your summer. Kids young and old love this as a treat in the afternoon or for dessert. Great any time of the year!!
Ingredients
1 1/2 cups Frozen strawberries
2 medium Bananas - cut in half
6 large scoops of vanilla ice cream
1 cup 2% Milk
Whipped Cream for garnish
Instructions
1. In a blender, add all the ingredients. (If you must add a little at a time, that is okay.)
2. Blend until fully smooth.
3. Pour the milkshake into two glasses and top with whipped cream. Garnish with extra fruit if desired.
4. Serve and enjoy!
Notes
See the post for great tips and tricks.
Recommended Products
As an Amazon Associate and member of other affiliate programs, I earn from qualifying purchases.
Reusable Silicone Drinking Straws, 12 Pcs Eco Friendly Silicone Straws 2 cleaning Brushes,for 30oz and 20oz Tumblers, Rtic,Yeti, Ozark, (Two-tone Dot, 10 inches)

Cedilis 6 Pack Milkshake Glass with 6 Long Metal Spoons,Old Fashioned Soda Glasses, Fountain Classic Glass for Ice Cream, Clear, 12oz
Nutrition Information:
Yield: 2
Serving Size: 1
Amount Per Serving:
Calories: 359
Total Fat: 11g
Saturated Fat: 7g
Trans Fat: 0g
Unsaturated Fat: 3g
Cholesterol: 41mg
Sodium: 114mg
Carbohydrates: 61g
Fiber: 6g
Sugar: 41g
Protein: 8g
Recipe calculation was provided by Nutritionix and is an estimation only. If you need nutritional calculations for medical reasons, please use a source that you trust.