Blueberry Pomegranate Smoothie
We all love smoothies here but Amber would be the number one fan!! She has them a lot and has enjoyed them also from McDonald's. This smoothie is a copycat of a McDonald's Blueberry Pomegranate Smoothie.
Another one she has loved is the Better Than McDonald's Pineapple Mango Smoothie. I love that she has that extra hit of wonderful fruit in such a delicious way. It makes for a great after school snack too. 
It is a fun color and has delicious flavors. Easy to make of course also. I hope you enjoy it. Save yourself a trip and the expense of going to McDonald's and have one at home. Plus you know exactly what's going into it. Enjoy!!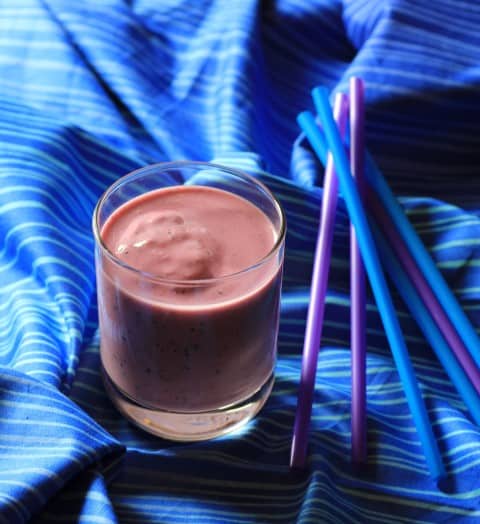 We love to make smoothies here and have all the gadgets to make them quickly. I think that is the key so that you aren't taking forever to whip up something easy.
Enjoy this smoothie and check out some others we have make also like the Blueberry Muffin Smoothie, Brain Power Smoothie, Pina Colada Smoothie and the Breakfast To Go Smoothie Bowl. 
Blueberry Pomegranate Smoothie
A delicious and quick smoothie!!
Ingredients
⅓ cup fresh blueberries
6 ice cubes made from pomegranate blueberry juice
⅓ cup plain 0% fat Greek yogurt
¼ cup berry flavored 1% milk
Instructions
Blend all ingredients together in a blender and enjoy!!