These super Easy Fast Rotisserie Chicken Tacos are the best quick weeknight dinner. You save tons of time with a supermarket rotisserie chicken and these delicious tacos can feed a crowd! Packed with mouthwatering flavor and all your favorite toppings, these simple tacos will be your most requested dinner recipe. You will love it!
It's a great recipe for entertaining because it's so quick and easy. It's also an excellent summer season recipe because you don't have to turn on the oven for long, a quick 5 minutes! Also, try our wonderful 30 Easy Rotisserie Chicken Recipes, BBQ Chicken Tostadas, Beef Taco Salad, Baked Chicken Flautas, or Easy Skillet Lasagna for a quick delicious meal too! In the mood for pizza? Then try our easy Bread Machine Pizza Dough, another great way to feed a crowd.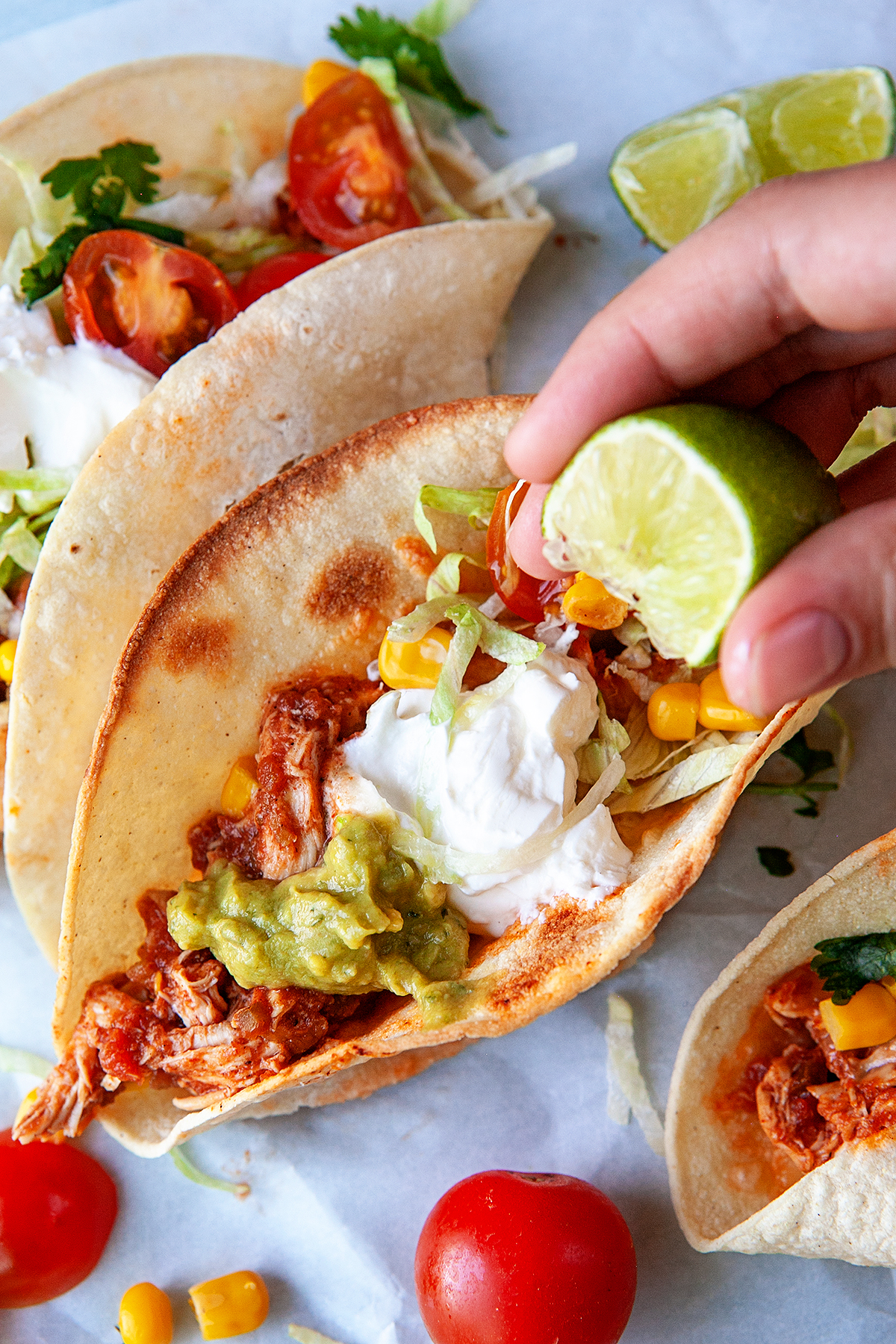 Subscribe To Our Weekly Newsletter
Helpful Items For This Recipe
This post contains affiliate links. As an Amazon Associate, I earn a small portion from qualifying purchases at no extra charge to you.
Ceramic Baking Dish Set, 3 Pieces, Red
How do you Shred a Rotisserie Chicken Quickly?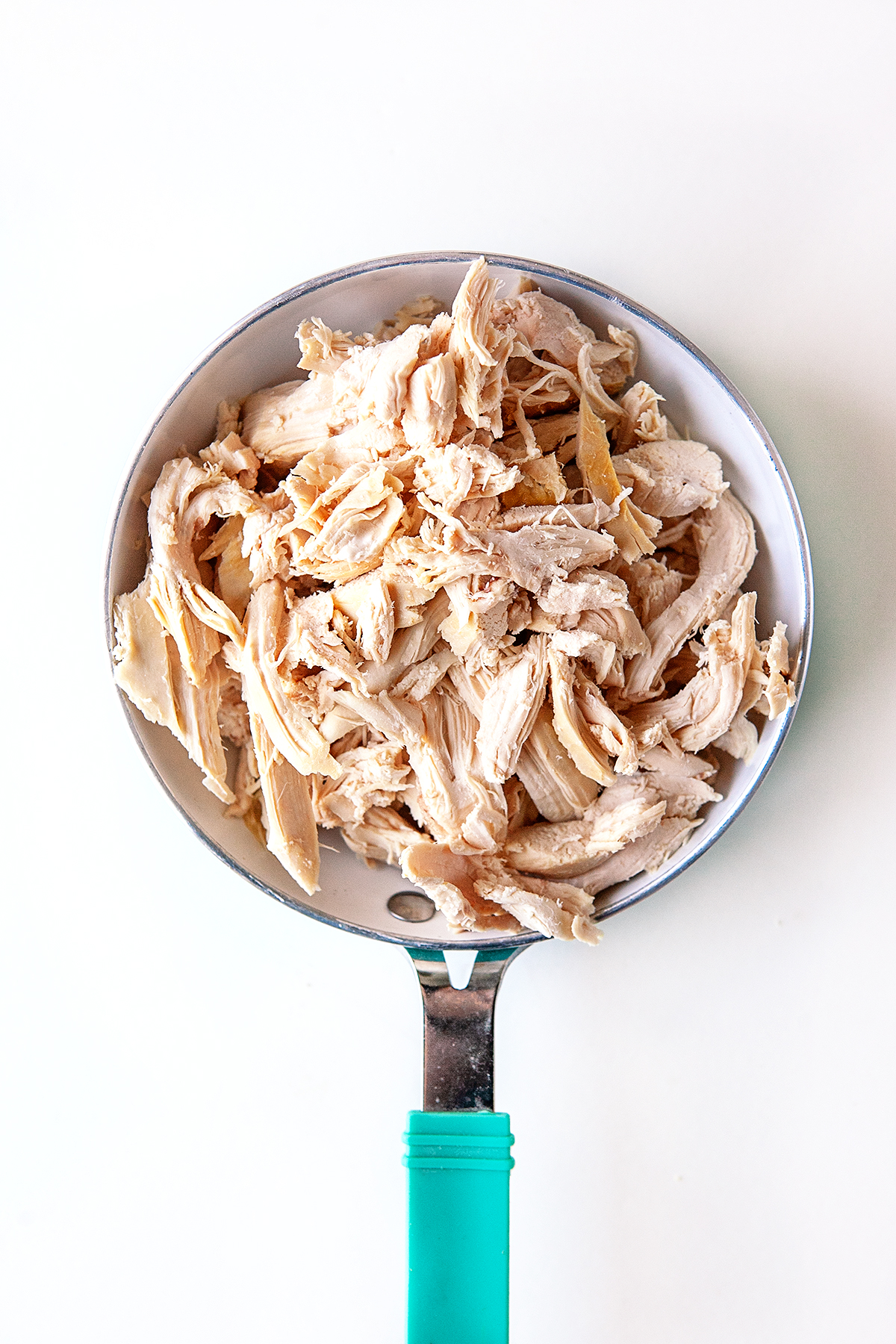 So, you've bought a rotisserie chicken at the supermarket and brought it home, now what? While it may be tempting to stick it in the fridge and deal with it later, it's actually easiest to get all the chicken off the bone while it's still warm.
First, while it's still warm, peel off the skin and scrape off any extra fat (you can set the skin and fat aside to make broth with the bones when you're done!). Then, break the chicken down into parts – you may need a knife for this, but often the joints are soft from cooking and can be easily pulled apart.
Run a knife down either side of the breast bone to separate the chicken breasts meat. Then, flip the chicken over and remove the meat from the back side. You can discard the bones, or save them for making a delicious broth or stock.
There are a couple ways to shred a rotisserie chicken, and both are pretty quick and easy. The first is pretty basic, just, use two forks and shred the meat. Alternatively, you can place the warm meat into a standing mixer and turn it on with the paddle attachment at a low speed for about a minute.
At this point, you can go ahead and make tacos with your shredded chicken, or stick it in the fridge or freezer for another day.
How to Season Rotisserie Chicken for Tacos?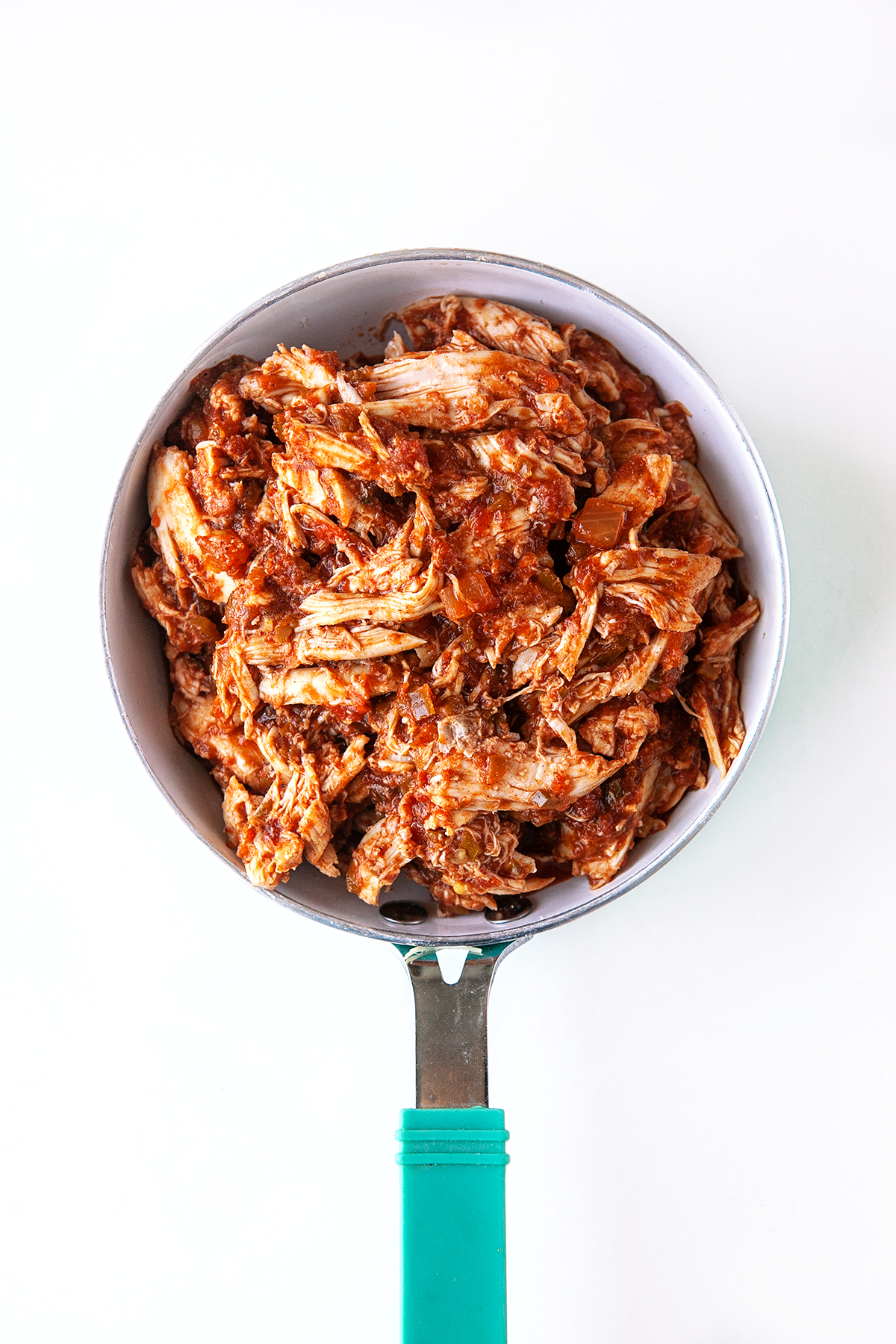 Now that you have your shredded rotisserie chicken, it's time to make it taste like a delicious taco. It's pretty easy to doctor up a rotisserie chicken!
For these super easy Rotisserie Chicken Tacos, we'll keep it really simple. Just add your favorite salsa to a skillet, along with a little bit of chicken broth, tomato paste, taco seasonings, salt and pepper, and green chile or jalapeno if you fancy them. Warm up this mixture, stirring to combine, and then toss it with the shredded chicken and heat it up until everything is warm.
It really is that simple and now you are all set for taco night. Get ready for the fun part!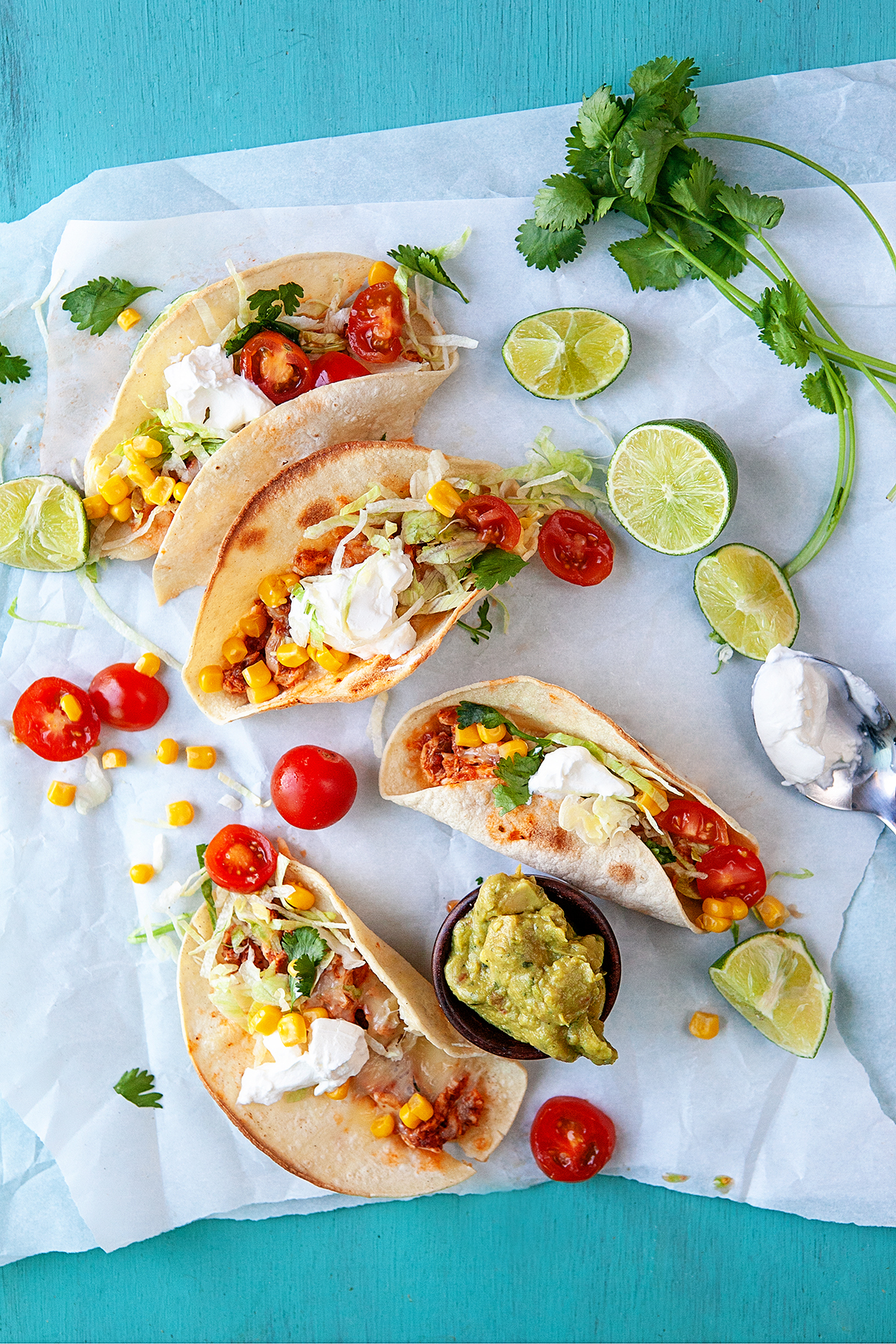 How to Make Chicken Tacos with Rotisserie Chicken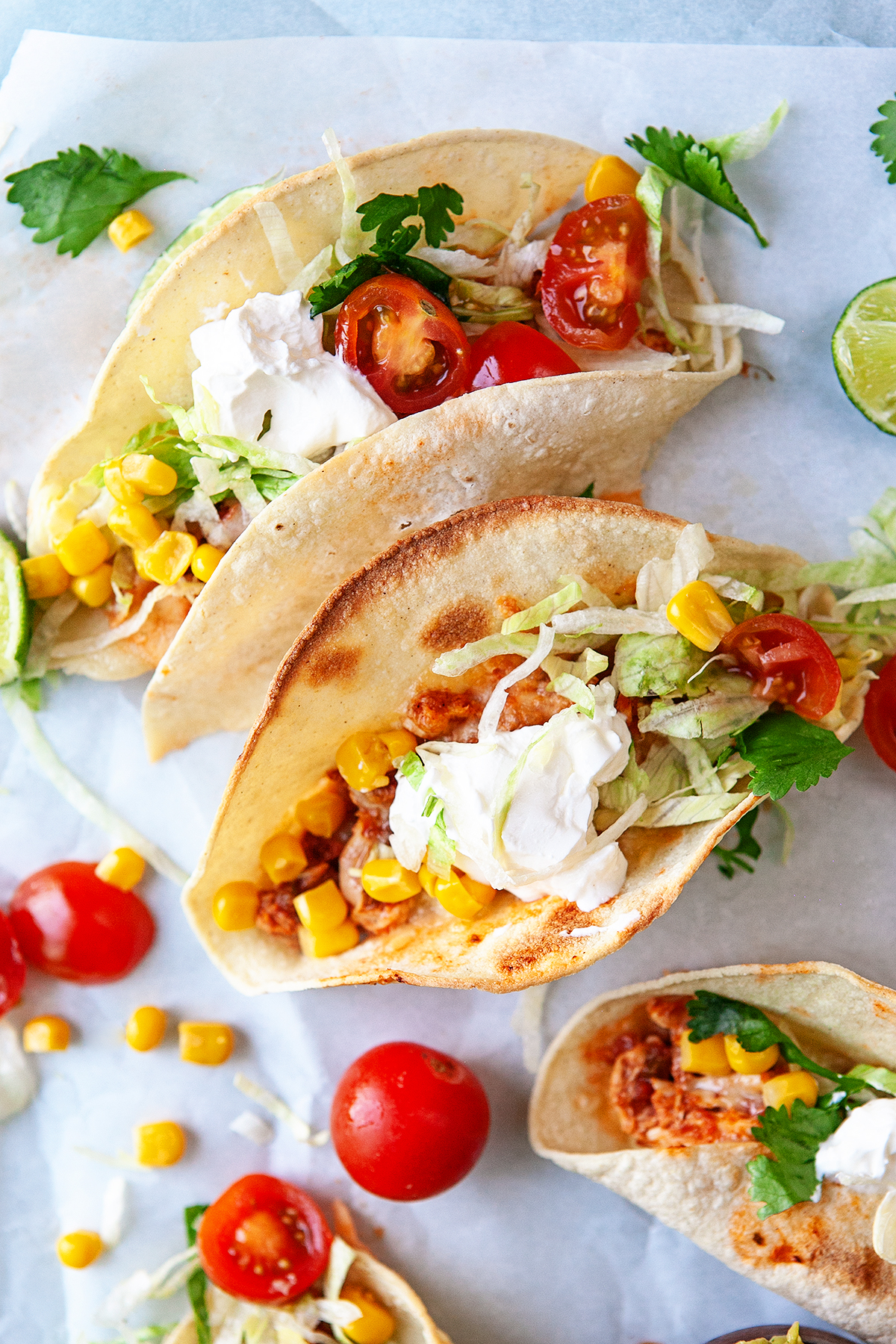 Now that you've shredded your rotisserie roasted chicken and given it a taco flavor makeover, you're ready to put the tacos together.
If you're really in a hurry and want to keep dinner extra simple, just use some store-bought hard taco shells. If you have a few extra minutes, you can use corn tortillas for some added flavor.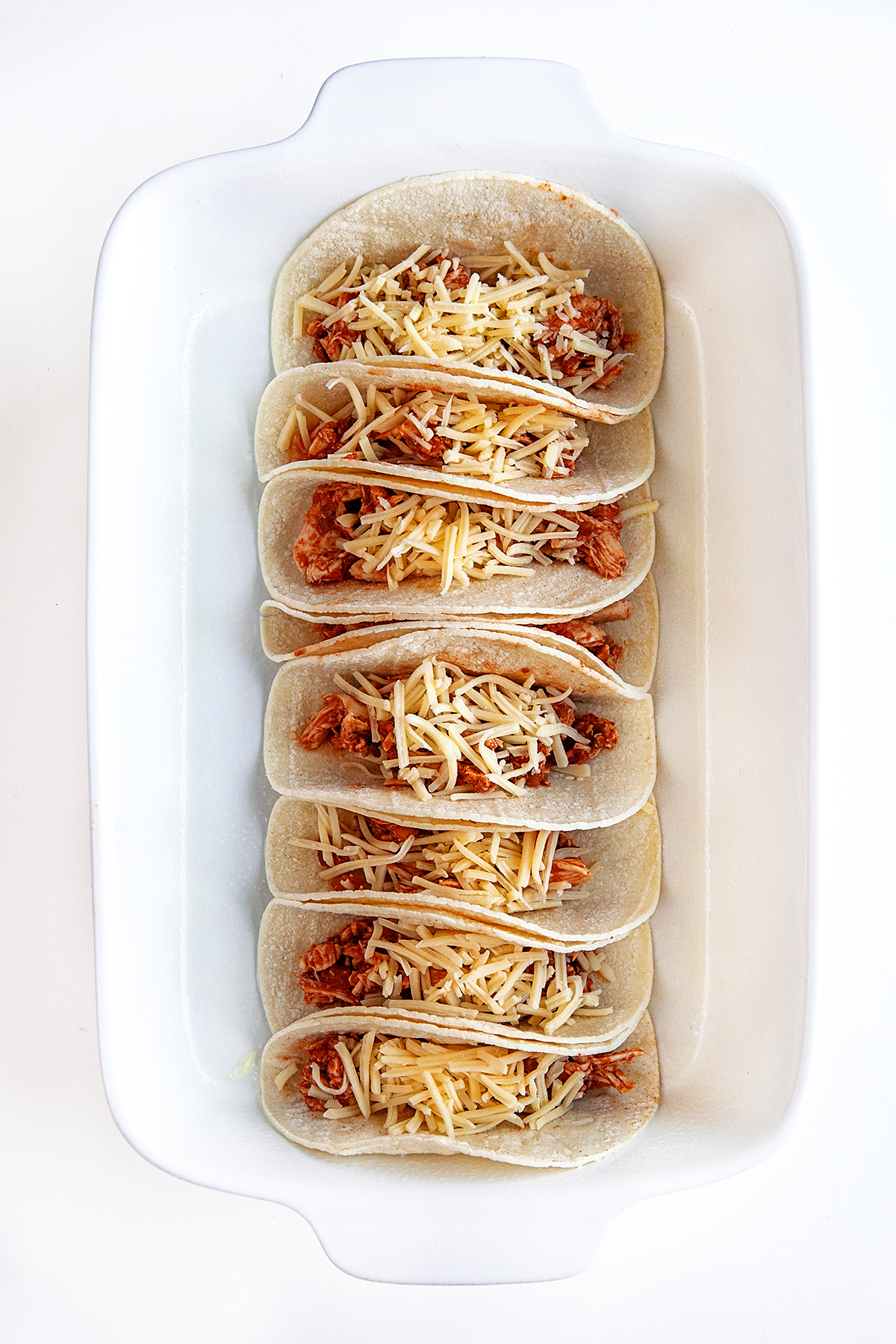 Now choose your taco shells, if you go the corn tortilla route, you'll start by brushing them with some olive oil. Then, layer them in two 9×13 baking dishes and spoon in the chicken filling. Top with shredded cheese (like Pepper Jack, or Monterey Jack), and then bake for 10 minutes, or until the cheese is melted and the edges of the warm tortillas are beginning to brown.
Likewise, if you use store-bought hard taco shells, skip the olive oil and only bake them for 5 minutes, or until the cheese is melted. Both ways taste great and both methods are easy.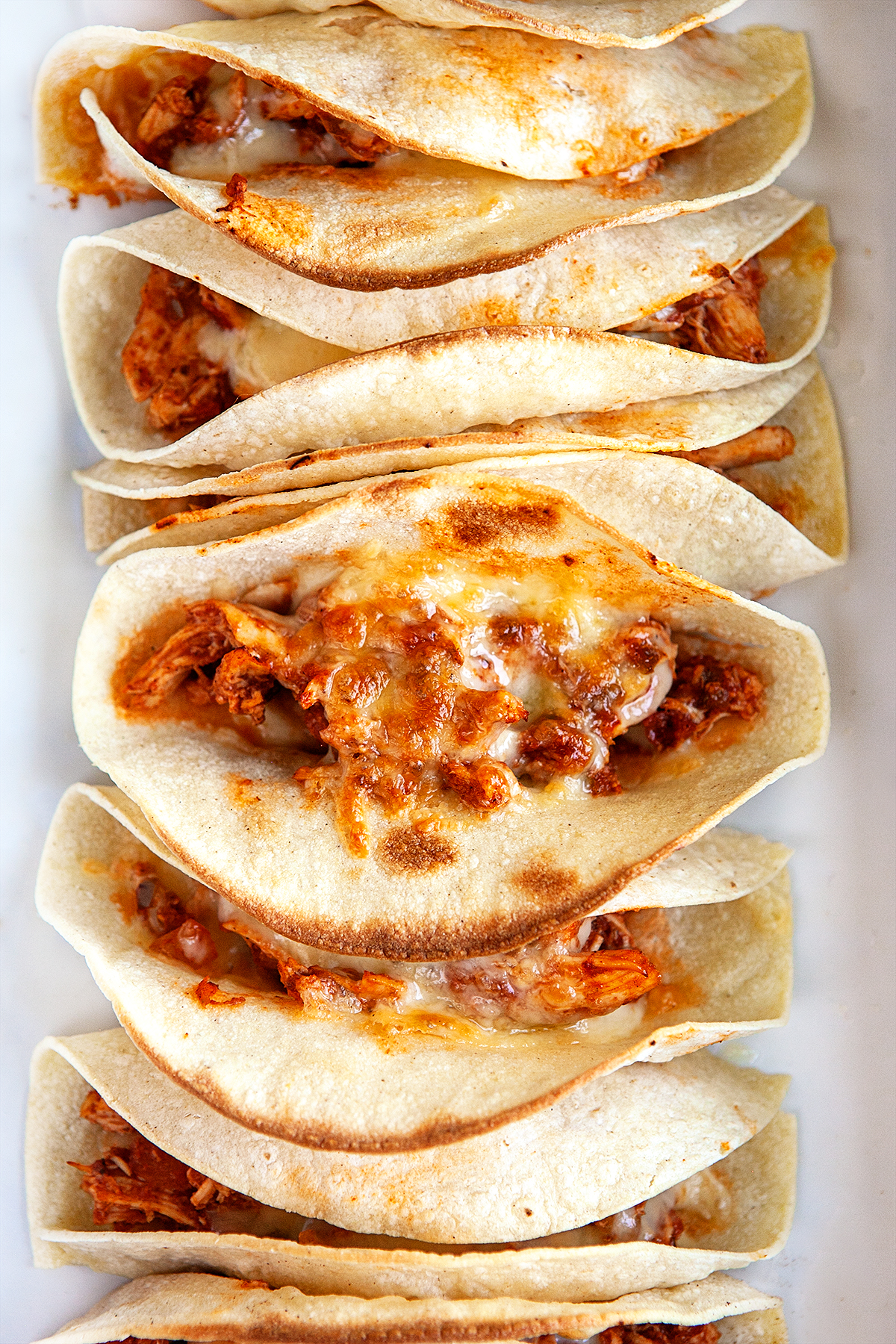 Once the tacos are out of the oven, they are ready to eat! Look at how amazing looking these are with so little effort on your behalf! Now the rest is up to everyone else to do! So simple and easy!
Tacos are best enjoyed right away, but, don't forget everyone's favorite toppings! Here are a few of the best taco toppings to pair with these Rotisserie Chicken Tacos:
Toppings
Sour Cream
Guacamole, homemade, or store-bought, we have a Touchdown Guacamole that has a lot of these topping ingredients already in it!
Shredded Lettuce
Corn, frozen corn that has been defrosted and warmed works great or you can grill some corn for more flavor
Cilantro, if you are a lover of cilantro then it is a must
Sliced or chopped tomatoes
Black Beans, just rinse and put them in a bowl
Refried Beans, so simple, open the can and serve
Fresh Lime Juice, just cut wedges for everyone to grab one if they like, really livens up a taco
Salsa, we love our Homemade Canned Tomato Salsa
Pico de Gallo, so fresh, store-bought or homemade
Sliced Jalapenos
Sliced Black Olives
Pickled Red Onions, these take minutes to make and are great on tacos, try our Quick Pickled Onions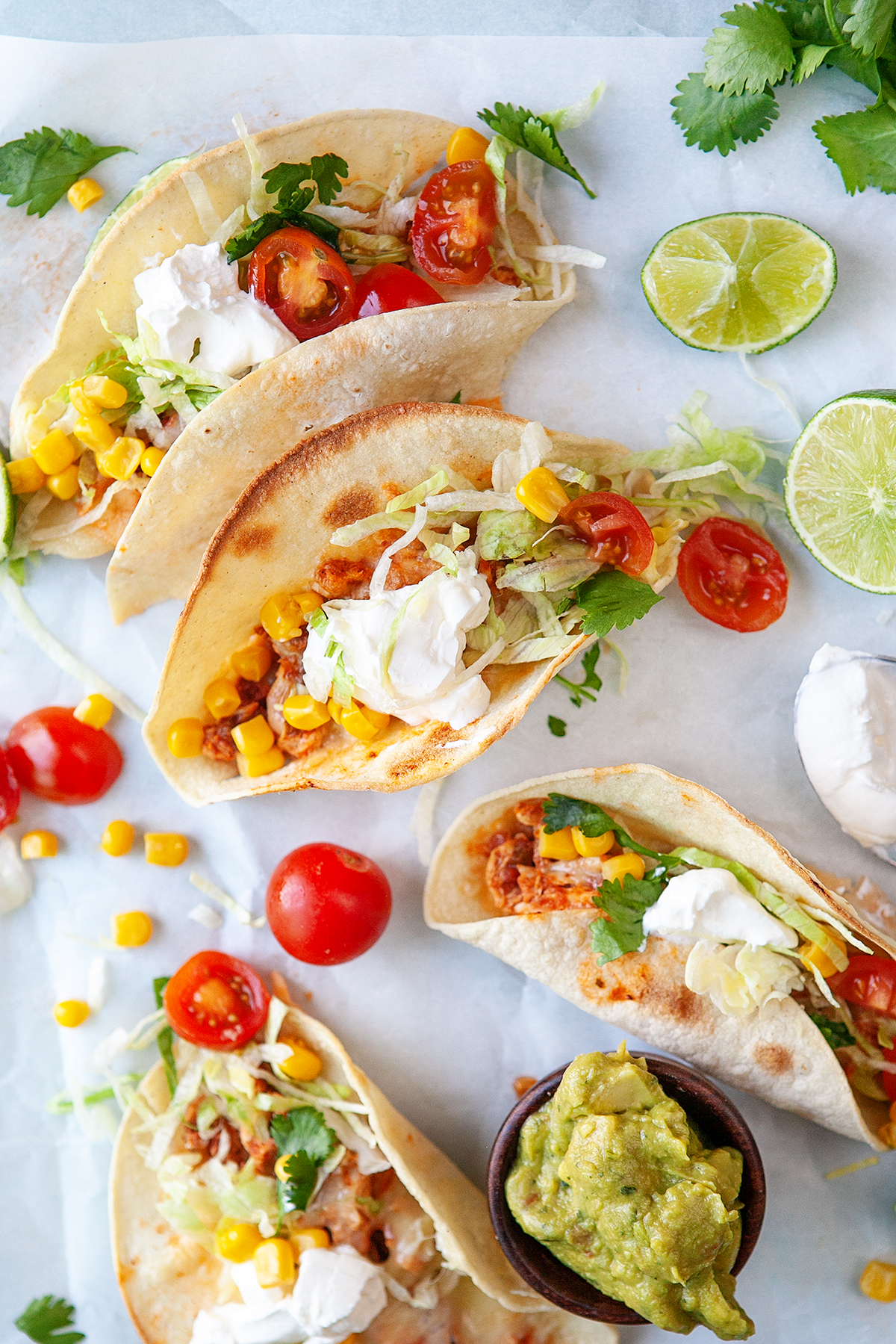 One of the best things about tacos is how easy they are to customize so that everyone can make their taco just how they like it! And with a rotisserie chicken as the base, you can whip these tacos up to enjoy in no time at all.
Hold off on the jalapenos if serving little ones and keep them to one of the easy toppings to add. I love how customizable these are when feeding a large crowd. They are perfect also for summer dining as they are light and easy to take outside to enjoy!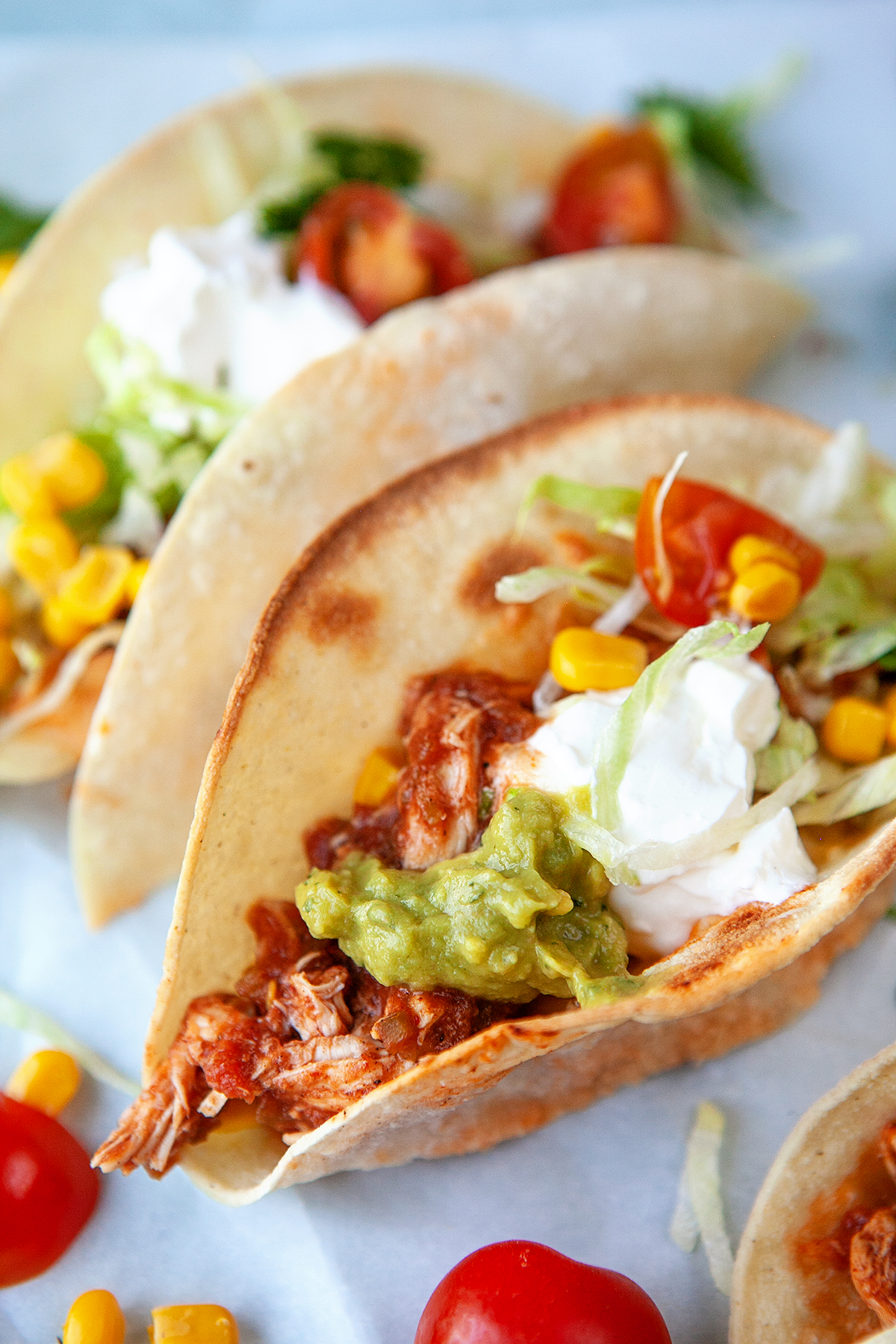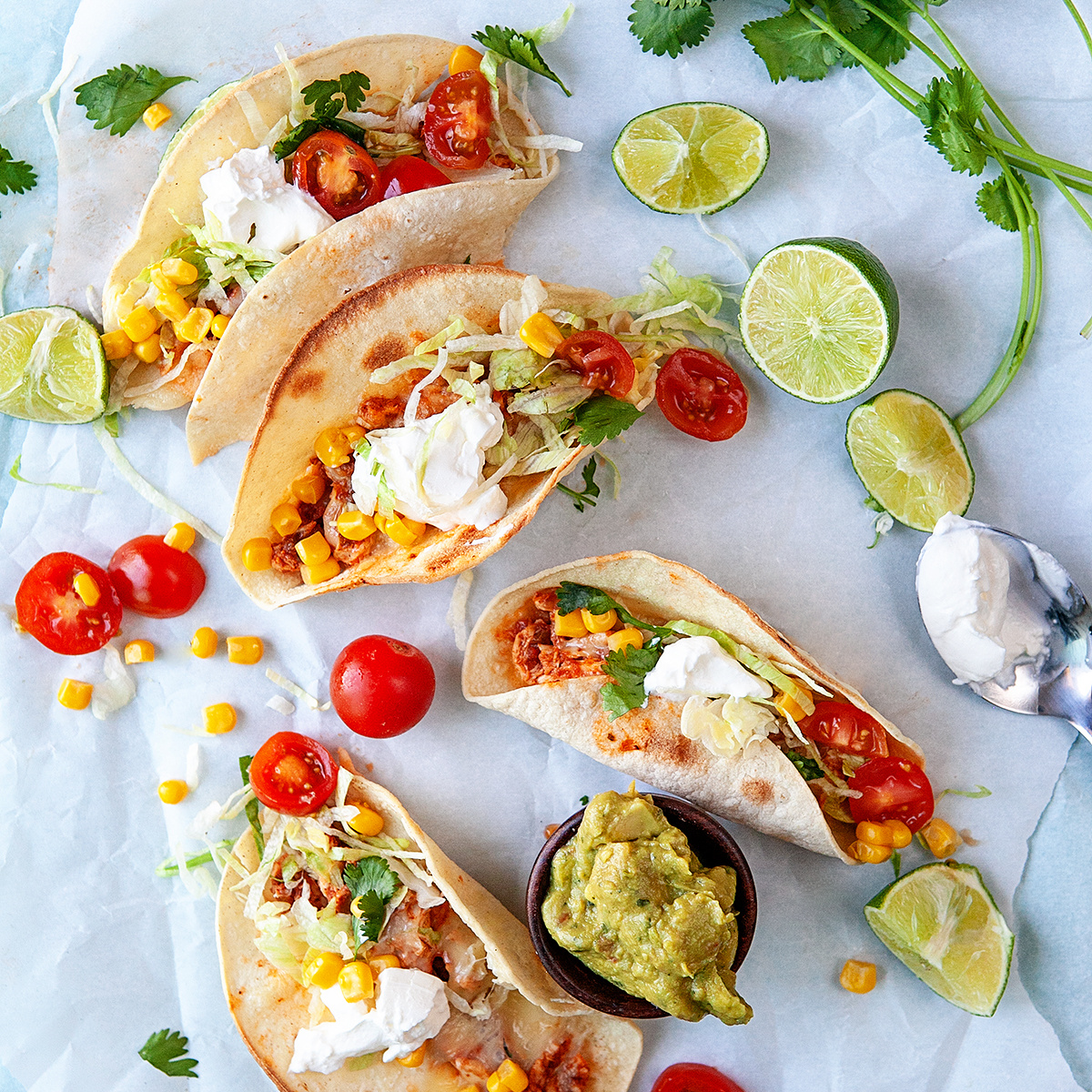 Pin it HERE!!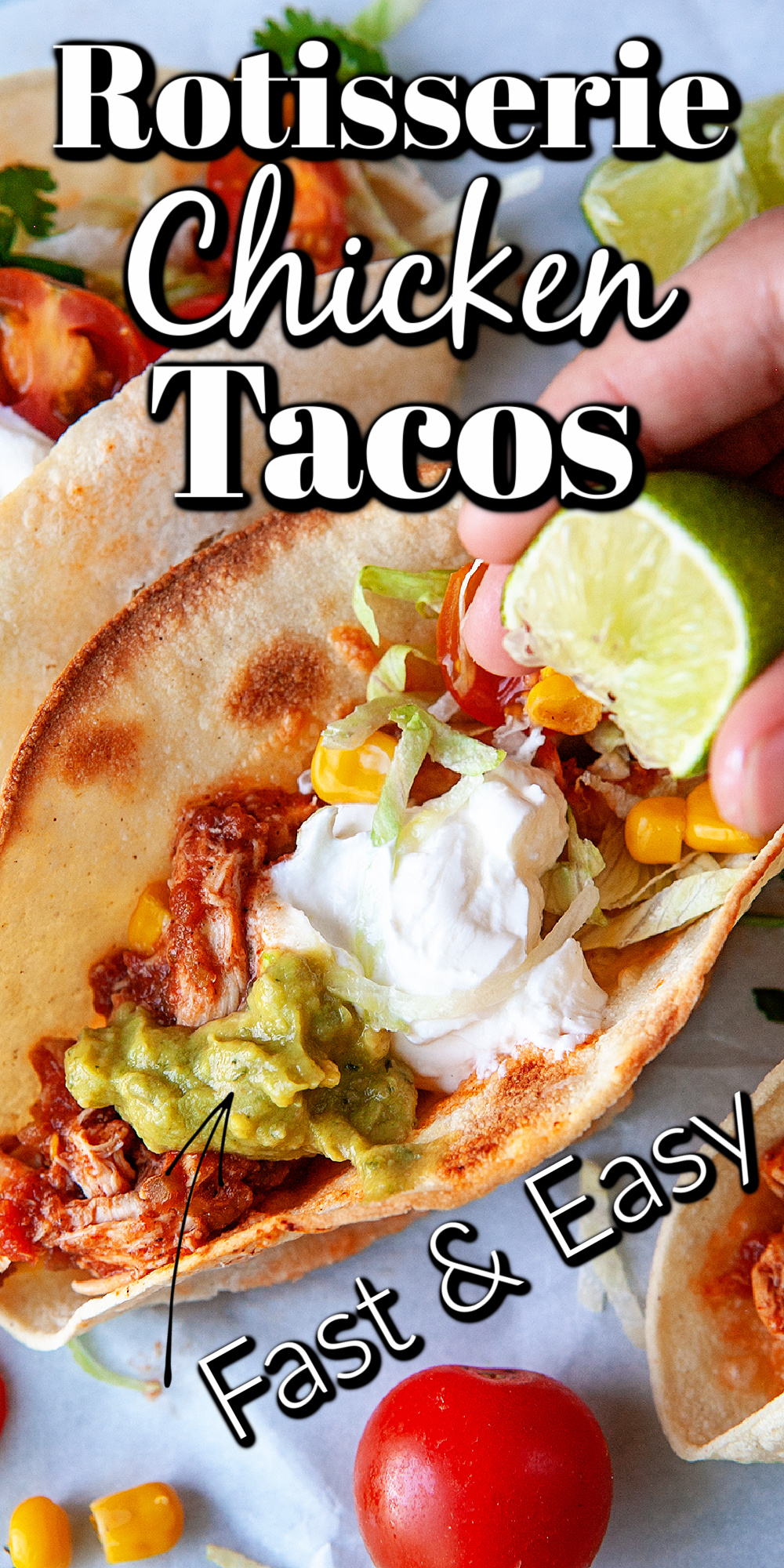 Pin it HERE!!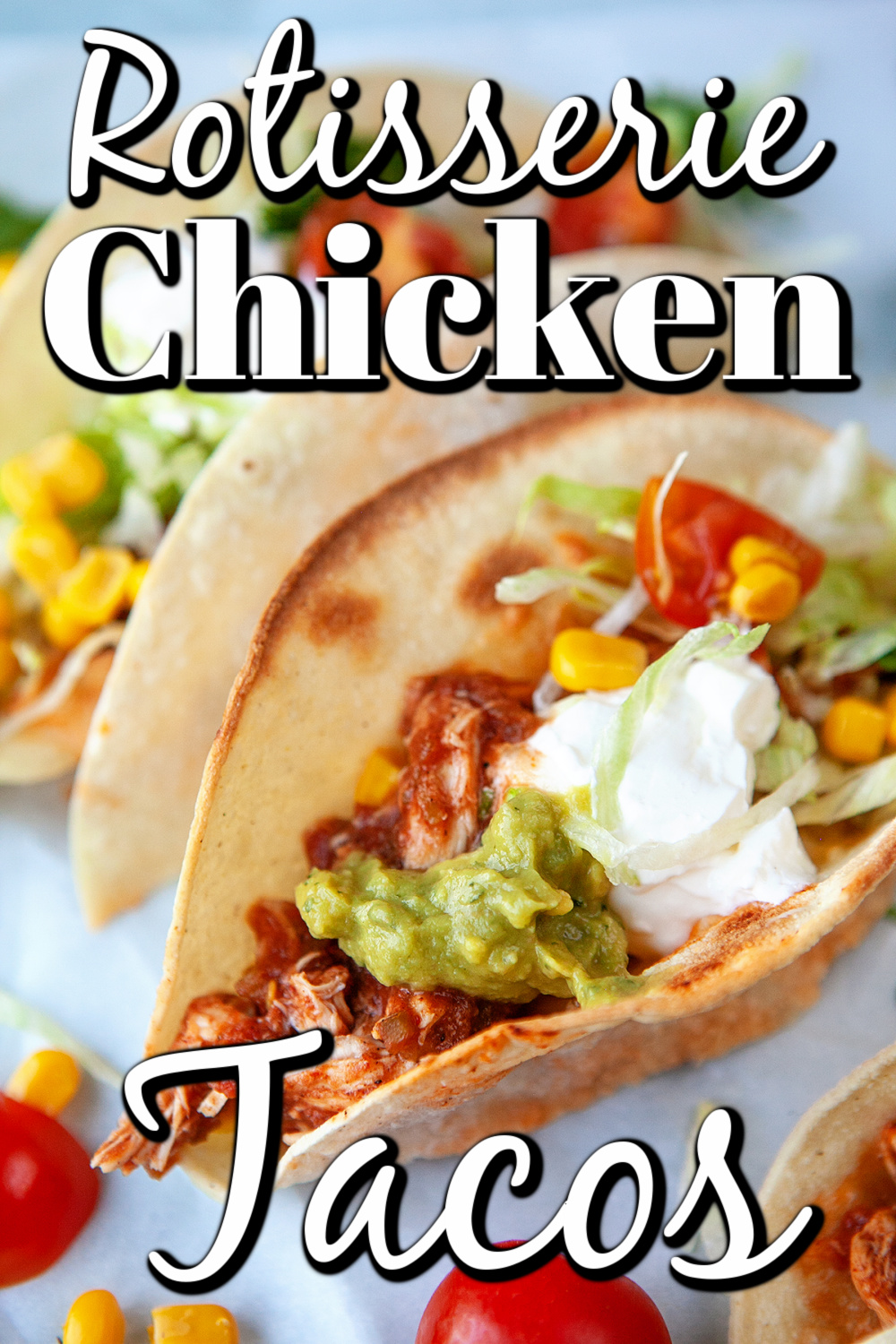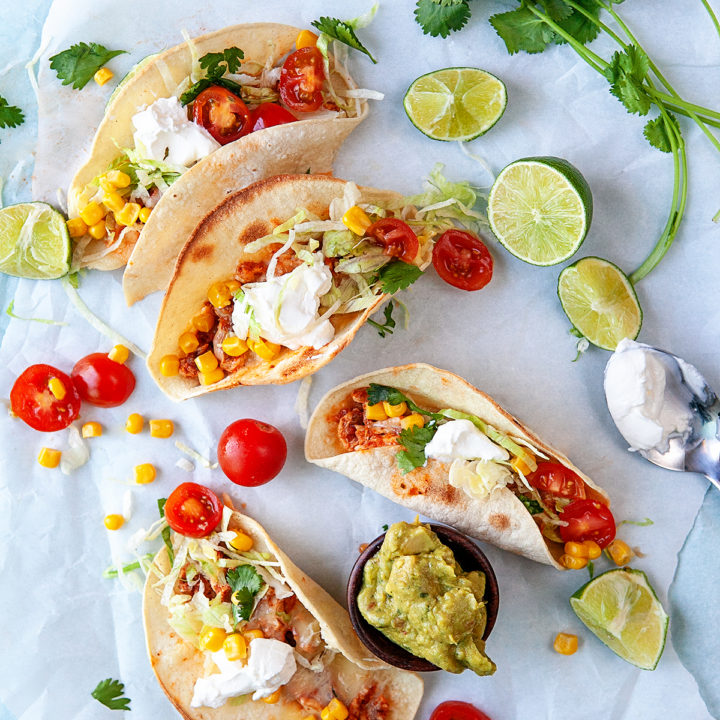 Easy Fast Rotisserie Chicken Tacos
Yield: 16 tacos
Prep Time: 10 minutes
Cook Time: 10 minutes
Total Time: 20 minutes
Quick and flavorful taco recipe with doctored up rotisserie chicken and all your favorite taco toppings! Makes a great weeknight meal and can feed a crowd.
Ingredients
3 cups shredded rotisserie chicken meat
1 cup of your favorite jarred salsa
1/4 cup chicken broth (or water)
1 1/2 teaspoons chili powder
1 1/2 teaspoons ground cumin
2 tablespoons tomato paste
Olive Oil
16 white or yellow 6 inch corn tortillas
16 oz. shredded pepper jack, or Monterey jack cheese
4 cups shredded lettuce
Other favorite taco toppings, like sour cream, limes, cilantro, guacamole, olives, corn, black beans
Instructions
Preheat oven to 450 degrees Fahrenheit.
In a large skillet, combine salsa, broth, spices, and tomato paste. Heat over medium heat, stirring to combine. When the mixture is warm, after about 5 minutes, stir in the shredded chicken. Cook for another 5 minutes, or until chicken is warmed through.
Brush 2 (9x13) baking dishes with olive oil. Lightly brush each tortilla with oil as you layer them in the baking dishes (see photos above), spooning the chicken mixture evenly between the 16 tortillas, 8 in each baking dish. Sprinkle evenly with cheese.
Bake for 10 minutes, or until cheese is melted and the edges of the tortillas are beginning to brown.
Serve immediately with all of your favorite taco toppings.
Notes
You can use store-bought hard taco shells instead of corn tortillas, just skip the olive oil and reduce the baking time to 5 to 8 minutes.
Nutrition Information:
Yield: 16
Serving Size: 2
Amount Per Serving:
Calories: 267
Total Fat: 16g
Saturated Fat: 8g
Trans Fat: 0g
Unsaturated Fat: 7g
Cholesterol: 76mg
Sodium: 519mg
Carbohydrates: 9g
Fiber: 2g
Sugar: 2g
Protein: 24g
Recipe calculation was provided by Nutritionix and is an estimation only. If you need nutritional calculations for medical reasons, please use a source that you trust.