Trick or Treating is lots of fun but why limit the Halloween fun to one day? Extend your fun by learning How to Throw a Halloween Party for your friends and neighbors!
I love Halloween and it's not just because of the candy (but candy and other Halloween treats certainly don't hurt).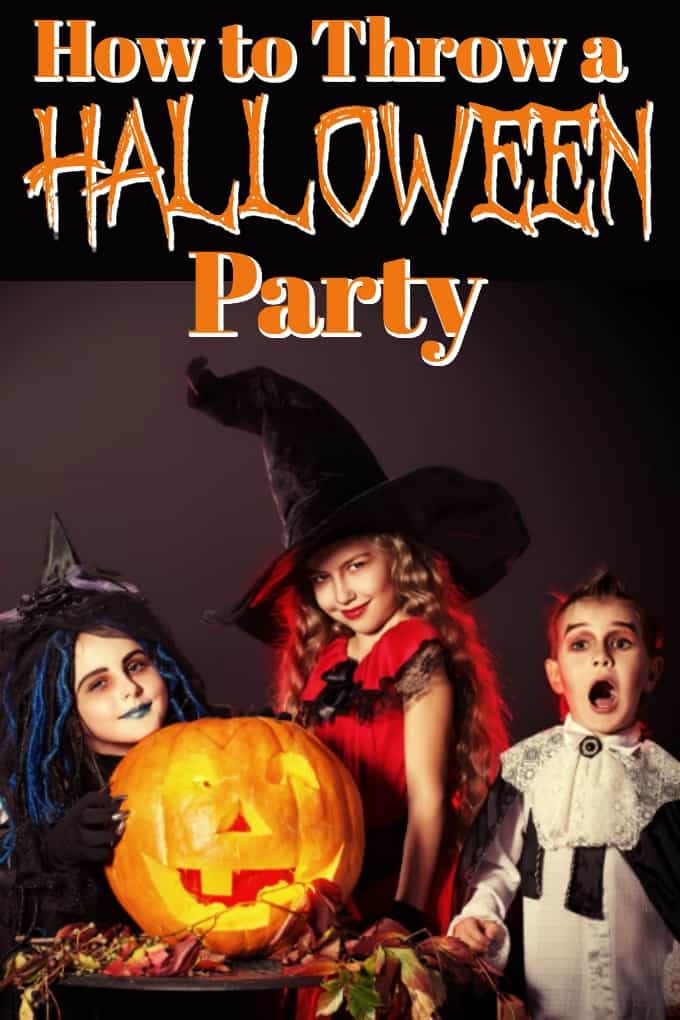 Decorating the house for Halloween with cobwebs/spider webs, masks, skeletons, and other scary items is tons of fun. Throwing the party the weekend after Halloween allows everyone to party without worrying that the costumes might get dirty.
Here's what you need to throw a great, family-friendly Halloween party with great Halloween party ideas.
How do You Make a Good Halloween Party?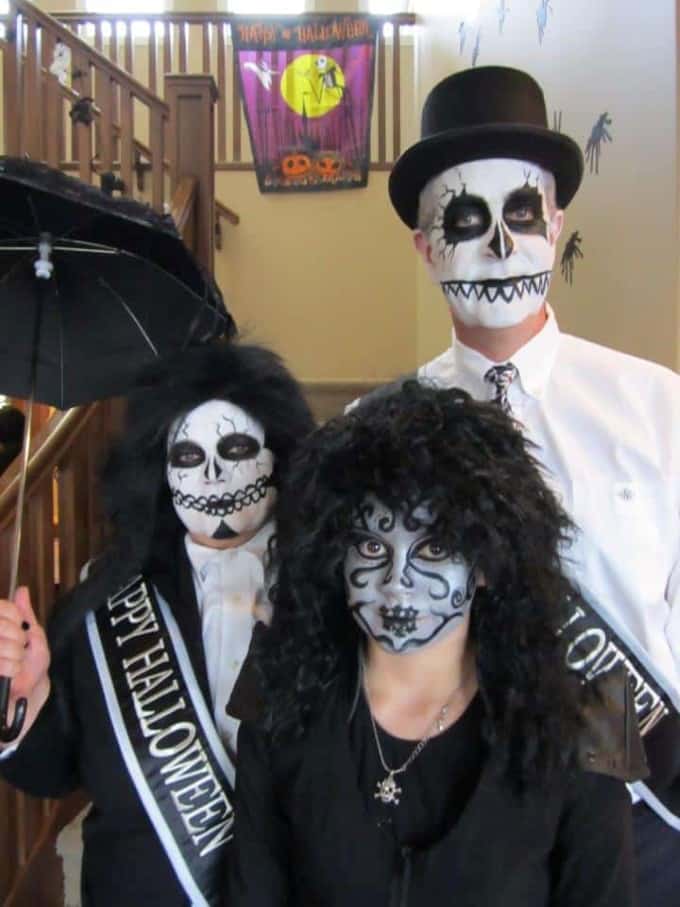 Here is the Noland family all dressed up and ready to go. Ken and I were funeral directors for our put the "fun" in funeral themed Halloween party. Amber was Bellatrix from Harry Potter. Much fun!!
Halloween Invitations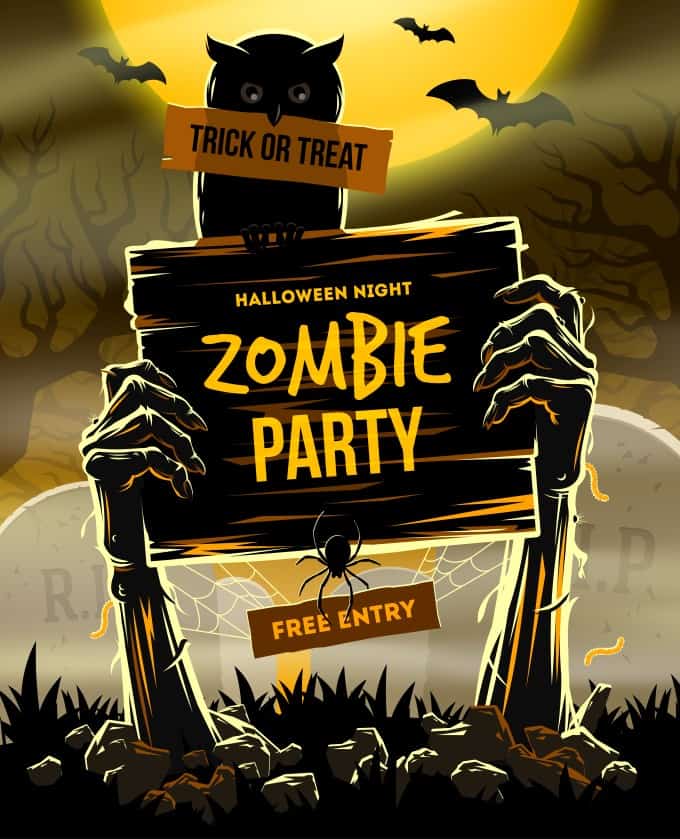 You can make a single invitation and then take a photo of it and share it on social media or via email if you don't want to create invitations for everyone. You can always also use a service like Evite but I liked to make my own scary invitations.
We would come up with a theme and the invitations were based on that theme. One year our theme was we put the "fun" in funeral and created a silly obituary as an invitation and mailed them out.
Other years we had little coffins that we painted and put a skeleton inside with the invitation. Another was tea stained invitations with burnt edges that had MacBeth's witches chant.
Get creative or keep them simple but have fun with them.
How to Decorate for a Halloween Party
The question of how to decorate for a Halloween party can be tricky. You don't want to scare the younger guests but the older ones might appreciate some spooky party decor.
One solution is to have 2 party spaces – the main party space that's full of Halloween fun and gore but nothing too scary, and then a second space that the kids hang out in that is more Halloween party fun.
You could have a mini graveyard for dolls in the backyard or just some creepier décor in another room of the house. We made some of our Halloween decor like this Spider Sac that will send chills down anyone's spine.
Paper lanterns are always fun and inexpensive plus some door decor gets people in the mood right off the start.
It's up to you, though every good Halloween party has at least one carved pumpkin.
Maybe you want to go all out and have a haunted house as the feature of the party. Our neighbors did this very successfully for years.
Halloween Music
There are so many great musical choices, but two must-have tracks are The Monster Mash and Thriller. Kids and adults alike love dancing to The Monster Mash – it really is a graveyard smash!
Make a playlist to play at your party. People will get a kick out of hearing some of the older songs. Don't forget theme songs from shows like The Munsters, Addams Family, etc. to get people enjoying themselves.
If you want to set the mood, you could have some Halloween sound effects playing as people walk up to the house.
Halloween Party Costumes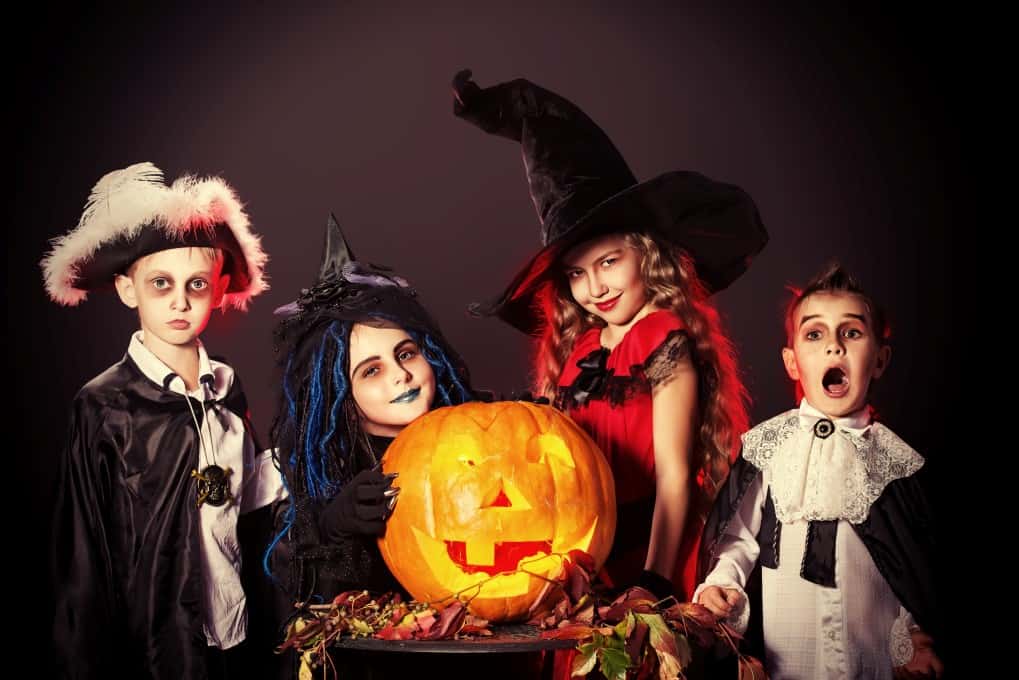 What's a Halloween party without a Halloween costume? You could have a costume parade where everyone walks around in their costumes or a costume contest.
Some fun categories for awards are: "least spooky", "most humorous", and "most likely to keep people up at night". Really the number of categories you could award prizes in is only limited by your imagination.
Make sure all your guests know to keep the costumes kid-friendly, and let them know if you're doing a contest – some people get very competitive.
You can print certificates for the winners, buy inexpensive trophies at the dollar store or Halloween candies as the prizes.
One year we did a photo booth for everyone to get a great picture of themselves, friends or family. That was a fun addition also and gave everyone an activity to do.
Halloween Food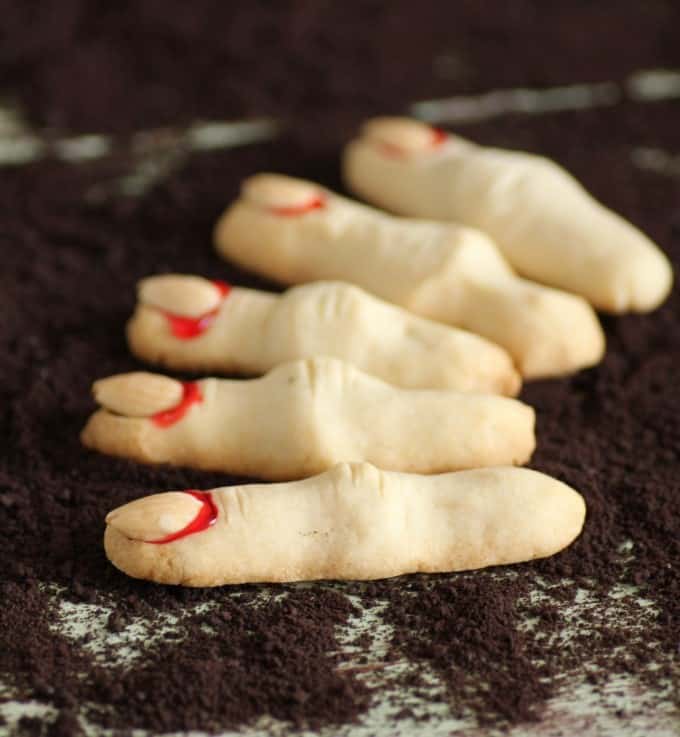 What's a party without food? If you want to stick to the Halloween theme, you can make things like Witch's Finger Cookies, Easy Bat Peanut Butter Cups, Halloween Bark, Halloween Tombstone Cookies, Headless Gingerbread Men, Spider Web Dip, and Eyeball Truffles.
We would do an entire table of just Halloween sweets with a themed cake and candy apples too.
Don't forget about a cocktail too! We would serve up an Embalming Fluid Cocktail that was a big hit in scary skeleton glasses. The rest was BYOB. If you set up a bar with glasses and essentials then people can help themselves.
For savory treats, you can just have a spooky name associated with things like meatballs and call them "Bat Balls" or cut large blocks of cheese into the letters "BOO". We would also do a Frankenstein Cheese Ball Head, Spider Guacamole Eggs, and Halloween Cheez-Its.
We would make Bacon Wrapped Dates and call them Bacon Wrapped Coachroaches. Similarly, we would also make Bacon Cheddar Roll-Ups but I forgot what we called those. Maybe you can come up with a name?
You can also create healthy candy corn by arranging yellow peppers, baby carrots, and cauliflower into the shape of a piece of candy corn on a platter. Another favorite is mummies in a blanket – wrap a hot dog in ready to bake pastry and cook in the oven. Clementine oranges look like tiny pumpkins that can be decorated with markers before being peeled and eaten.
We also have a roundup of 38 Frightfully Good Halloween Recipes with even more ideas for your party.
What to do at a Halloween Party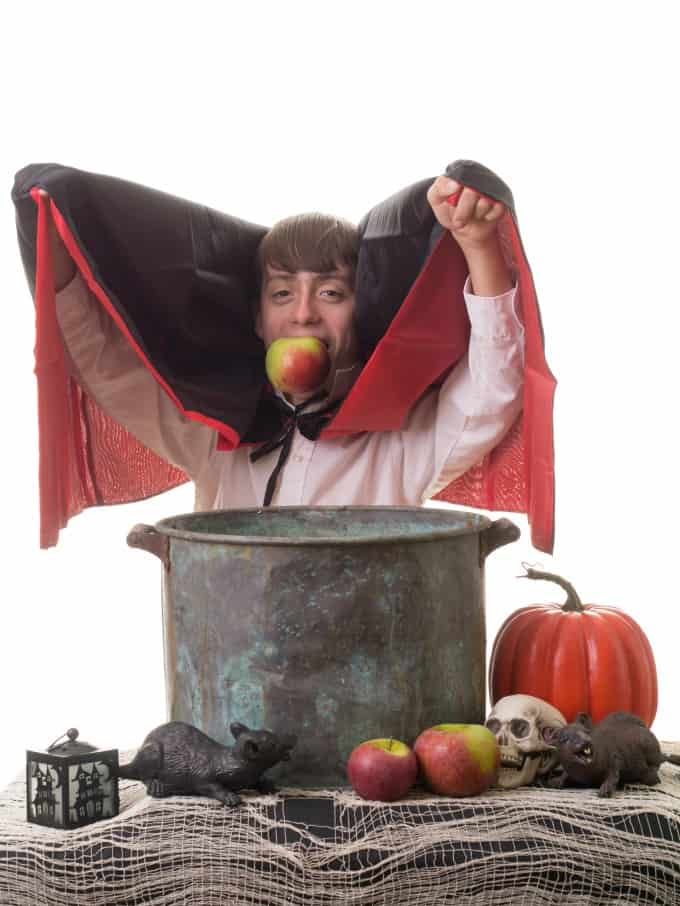 You'll want to set up some activities for the kids at the party and have some for everyone. Like I had mentioned you could make a haunted house for guests to walk through, have teams turn volunteers into mummies by wrapping them in toilet paper, and there's always bobbing for apples.
Some other fun activities for everyone to enjoy include: stick the smile on the jack-o-lantern, Halloween musical chairs, and a relay race with pieces of candy. You could even get guests to bring an old costume piece and have fun creating new costumes from the pile.
We would have a separate room, the garage as it was finished and a large space for kids and easy to clean so, therefore, they could make a mess in it and I didn't care. That was where the children could party freely and we would hire a magician, face painter, etc. They would also bring a candy floss machine and all sorts of fun things to amuse the kids.
Before the kid's party started though my husband would always do dangling donuts that you have to try to eat with your hands behind your back and bobbing for apples. They loved that and flocked to the garage to have fun.
One year we had a scientist party in the garage. It is nice for the parents to mingle and visit and know the kids are safe nearby and entertained.
Throwing a Halloween party is a great way to either get the Halloween spirit in gear leading up to Halloween or to keep it going afterward. Either way, you're in for a spooktacular time!