If you're looking for the Best Crispy Fried Pickles, you've found them! Deep-fried, golden brown pickle chips are perfected in just three easy steps and four ingredients! Served as a side dish or party appetizer, your guests will love these tangy, spicy pickle slices – best served with ranch!
For another great appetizer try our Bacon-Wrapped Chicken Bites but if you just love frying up veggies, be sure to also try our Fried Zucchini or Fried Green Tomatoes!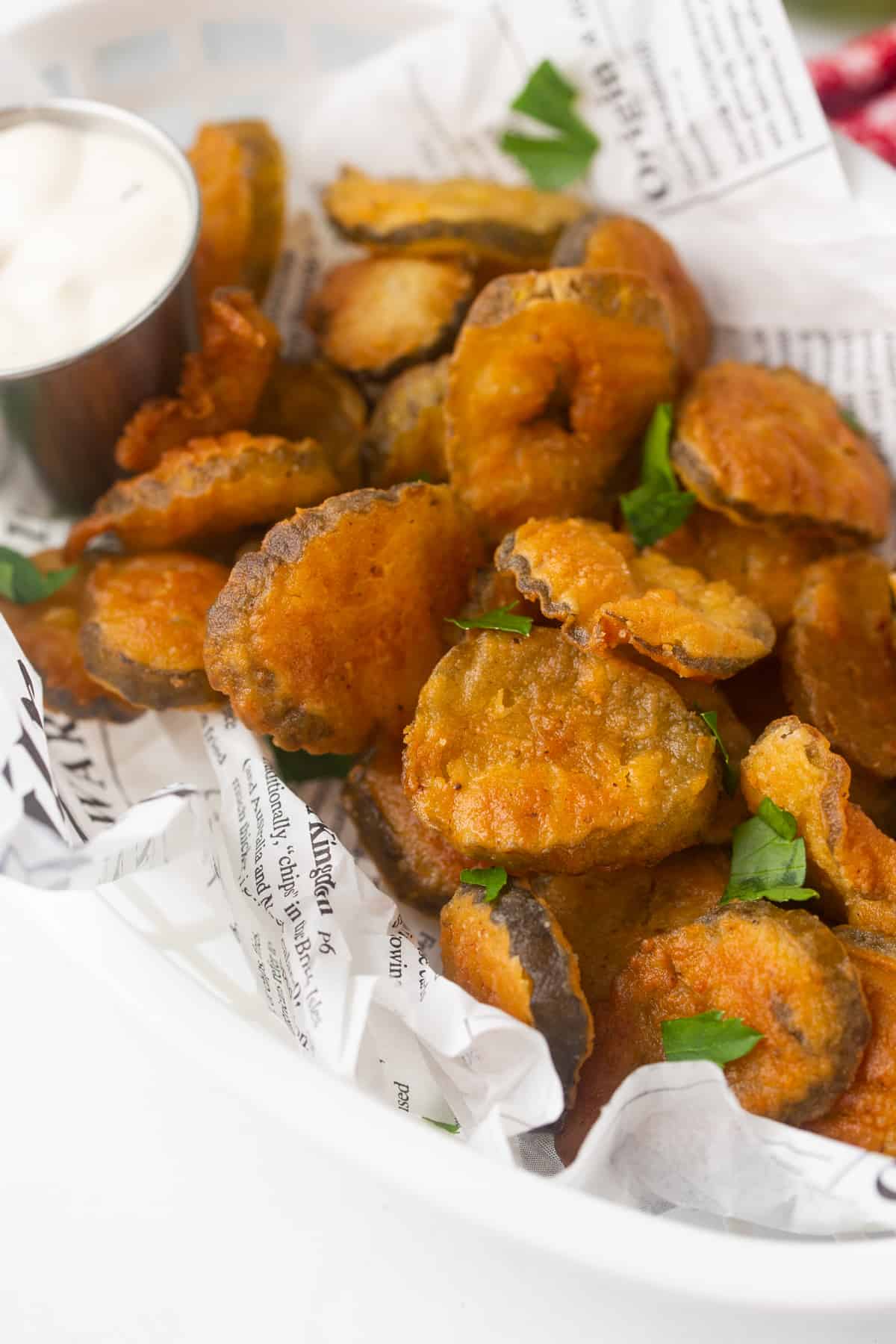 Subscribe To Our Weekly Newsletter
What are the ingredients for fried pickles?
These are the easiest deep-fried pickles out there! But don't be fooled by the ease; these little chips pack a punch! And that comes down to the selection of ingredients.
Bread and Butter Pickle Chips
All-Purpose Flour
Old Bay Seasoning
Oil for frying
How to Make Easy Fried Pickles
This recipe comes together quickly! So start with frying the oil. You can use vegetable oil, canola oil, or peanut oil. Heat the oil over medium heat in a 4-quart Dutch oven until the temperature of the oil reaches 350F. You'll need about 6 cups of oil.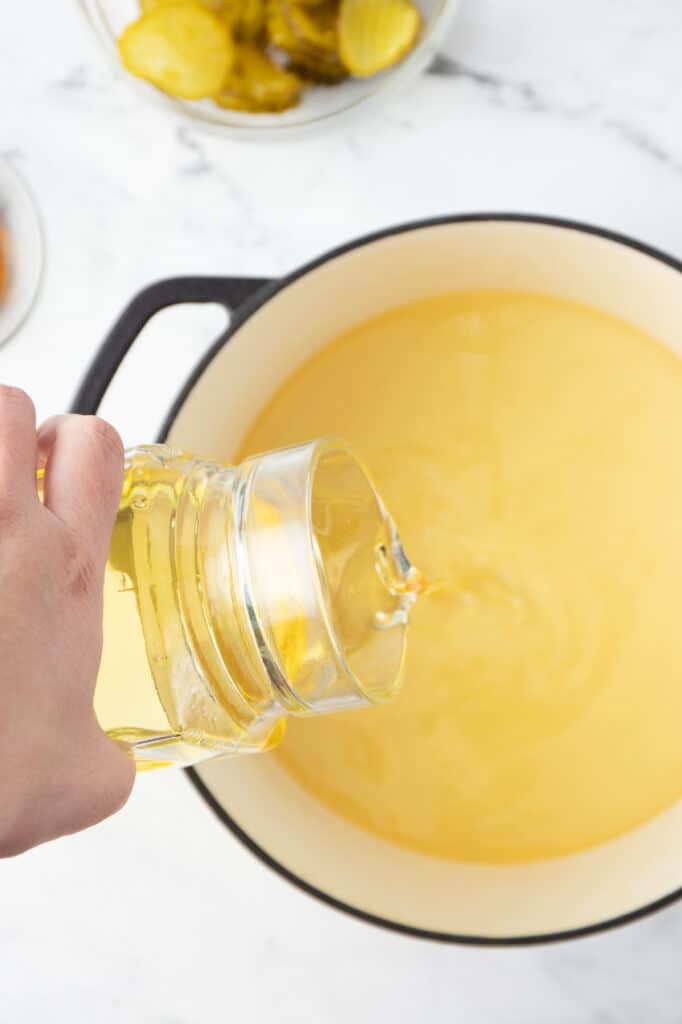 While the oil is heating, drain the pickles from the jar and place on a paper towel to reduce the excess moisture from the pickles. Combine the Old Bay Seasoning and flour together in a bowl. Dredge the pickle chips in the flour and gently shake them off, setting them aside. Give the pickles about 5 minutes to rest so the flour mixture can really adhere to the pickle slices.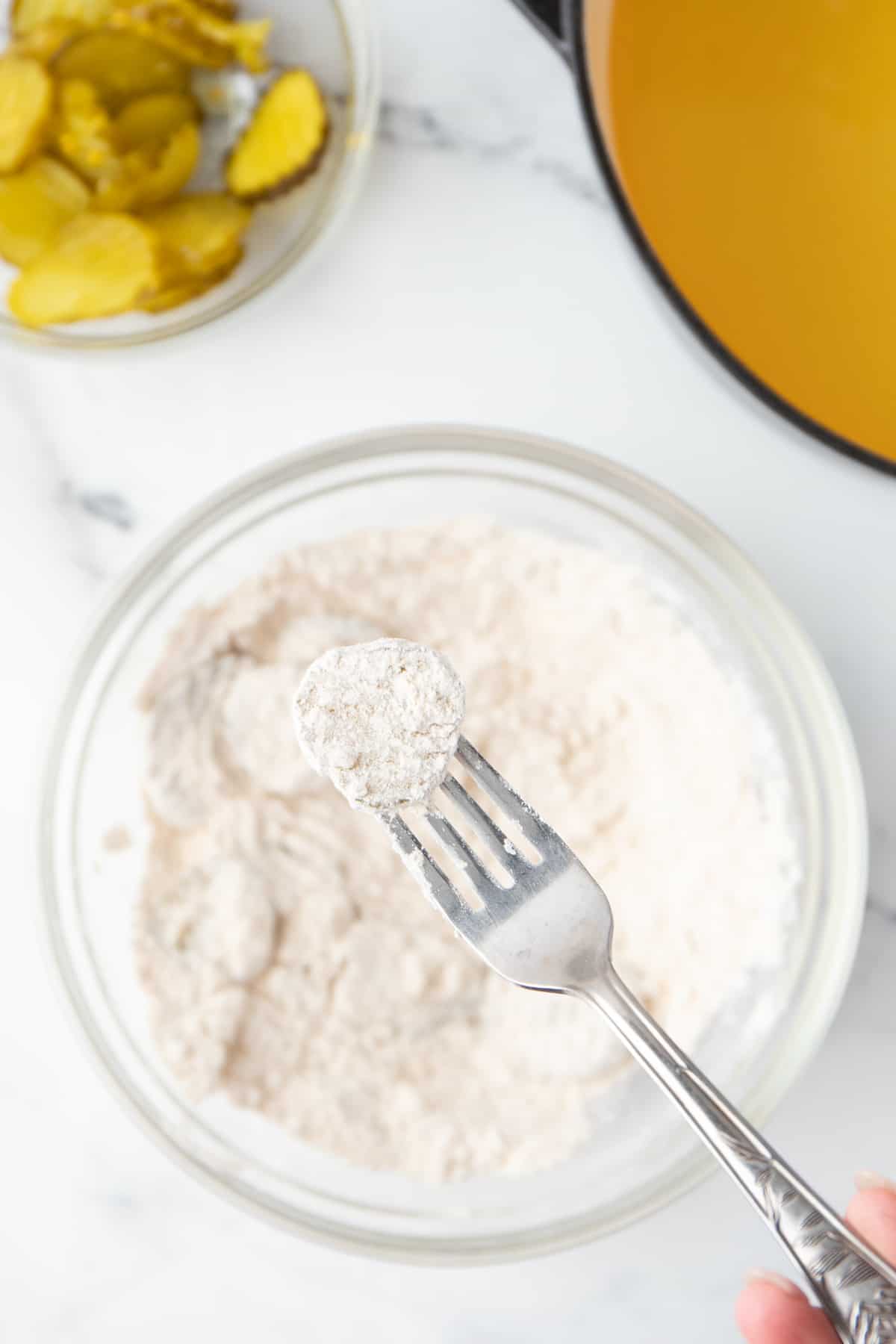 Once the oil has come to temperature, work in 2-3 batches. Drop one pickle slice in at a time so as not to cause clumping while frying. The pickles should start to dance and bubble rapidly. If there is little to no bubbling, the oil is not hot enough. Allow the pickles to deep fry for about 3 minutes.
They should flip themselves for the most part. However, you can use a spider strainer to flip them halfway through. Once the chips are golden brown, use the spider strainer or a slotted spoon to remove the pickles and set them onto a paper towel-lined plate. The excess oil will be removed, and once cooled enough to handle they are ready to serve!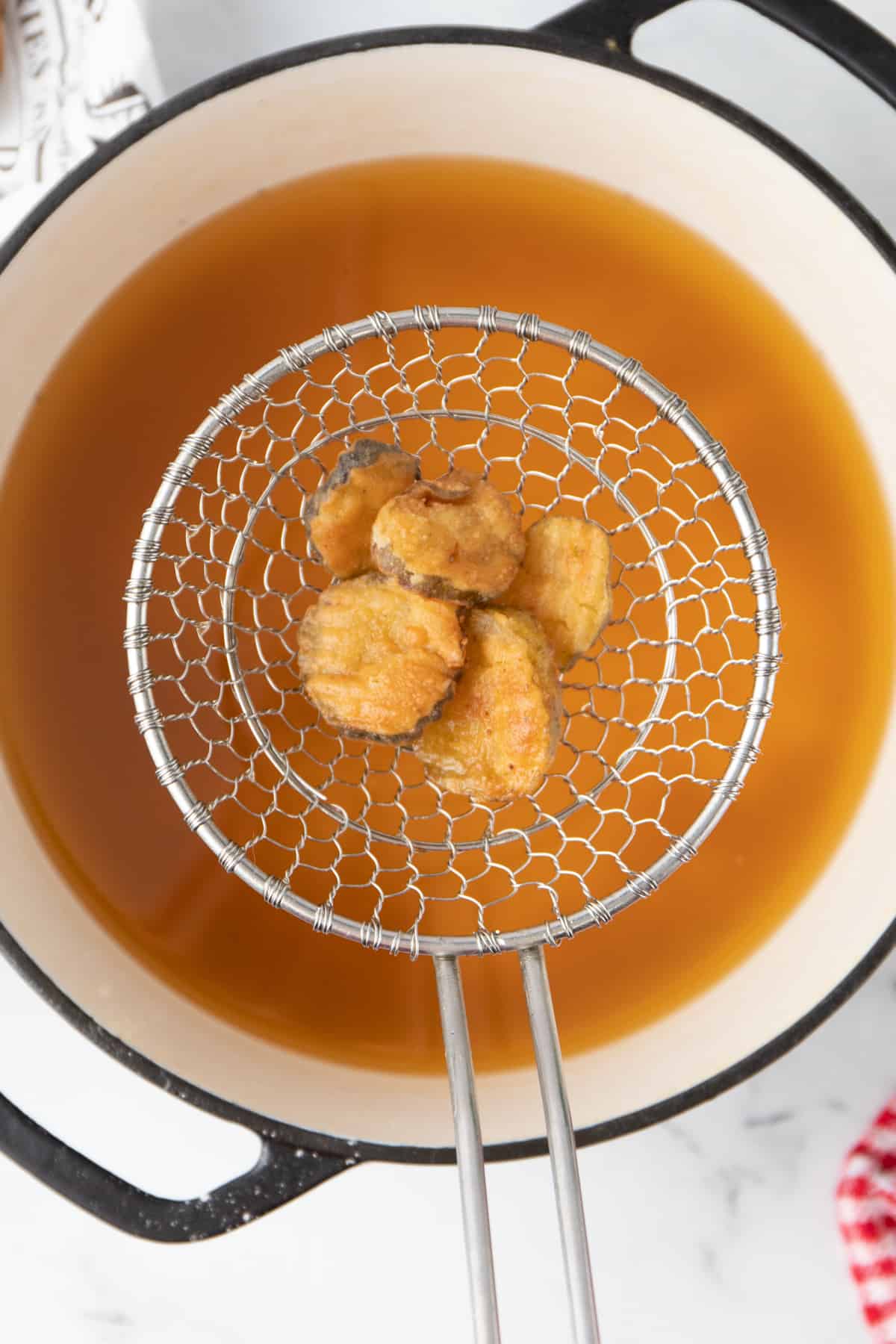 What seasonings can I use if I don't have Old Bay?
You can always create your own flavor combination. The pickles are still going to be the star of the dish and really shine flavor-wise. So pick seasonings that help to enhance that pickle flavor. Some options would be garlic powder, onion powder, cayenne, smoked paprika, dried dill, dried mustard, any cajun seasoning, and of course salt and pepper.
How to Make Fried Pickles in the Air Fryer
Don't have a Dutch oven or looking to cut back on the oil? No problem! Follow the steps above but add them to an air fryer instead! Once laid into a single layer in the air fryer basket, spray with a vegetable-based cooking spray. Air Fry at 400F for about 8 minutes, flipping halfway and spraying again. Voila! The best-fried pickles recipe may have just gotten – better!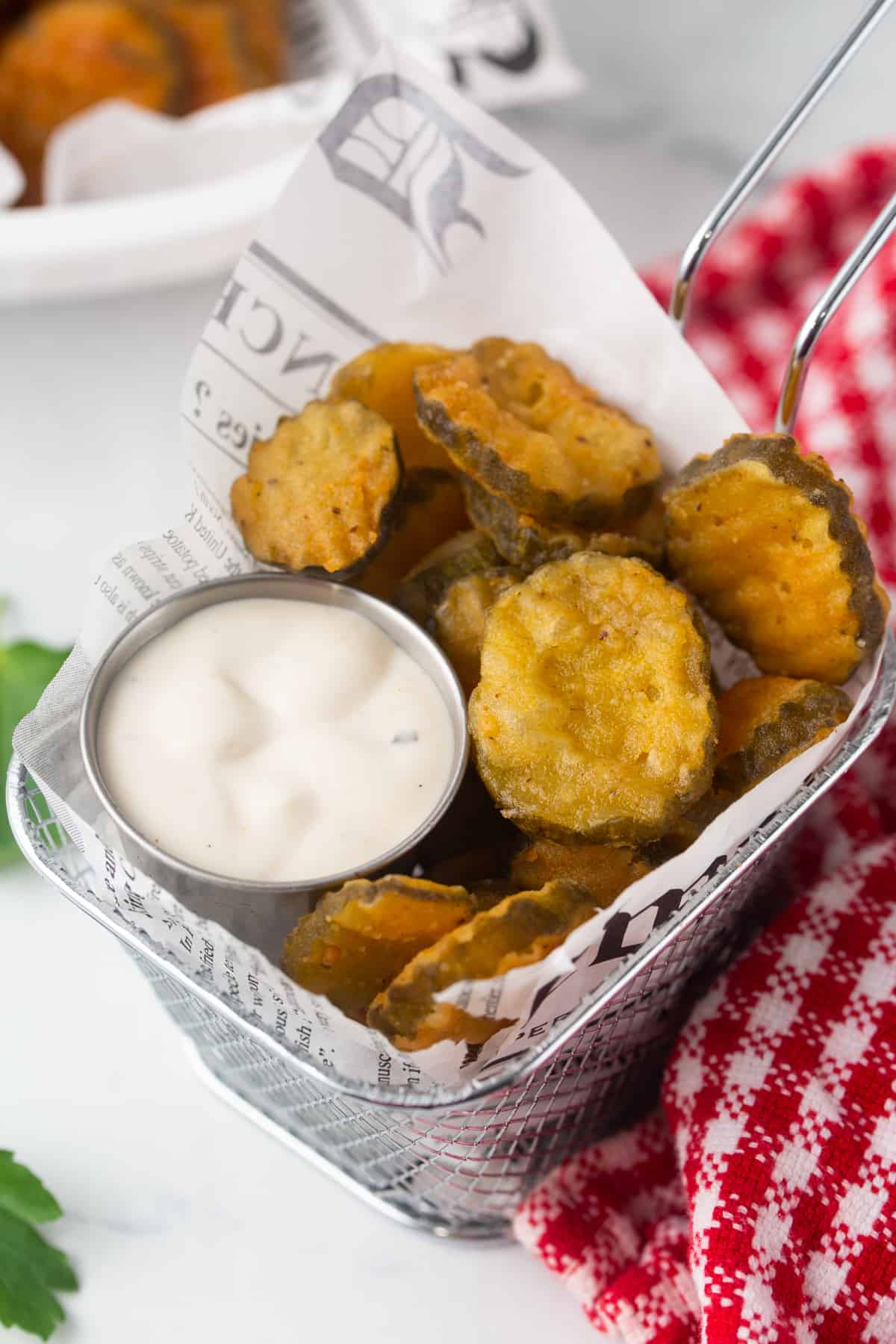 How do I make fried pickles crispy?
A great recipe for fried pickles results in a delicious way to enjoy crispy breading and a sweet, sour, juicy center! It's like a deep-fried pocket for your pickle! Too much excess moisture can cause soggy breading, and that's no fun. So here are a few tips to help you get the perfect crispy pickle every time.
Drain the pickle chips from the jar and give them up to 15 minutes to dry. Drain and place them on a paper towel-lined plate in one layer. Blot with a paper towel on the top and allow the excess juices to naturally be drawn out into the bottom paper towel producing dried pickles.
Let the breading adhere to the pickle. Breading and frying immediately will cause some of the breading to come off. The leftover moisture within the pickle needs some time to be drawn out into the flour mixture, acting a bit like glue to keep it attached to the pickle.
Make sure the oil is hot and at the right temperature. Too hot of oil will burn the breading. Too cold of oil and the breading will retain more oil than needed causing it to become mushy and greasy. Use a candy thermometer or an instant-read thermometer for best practices.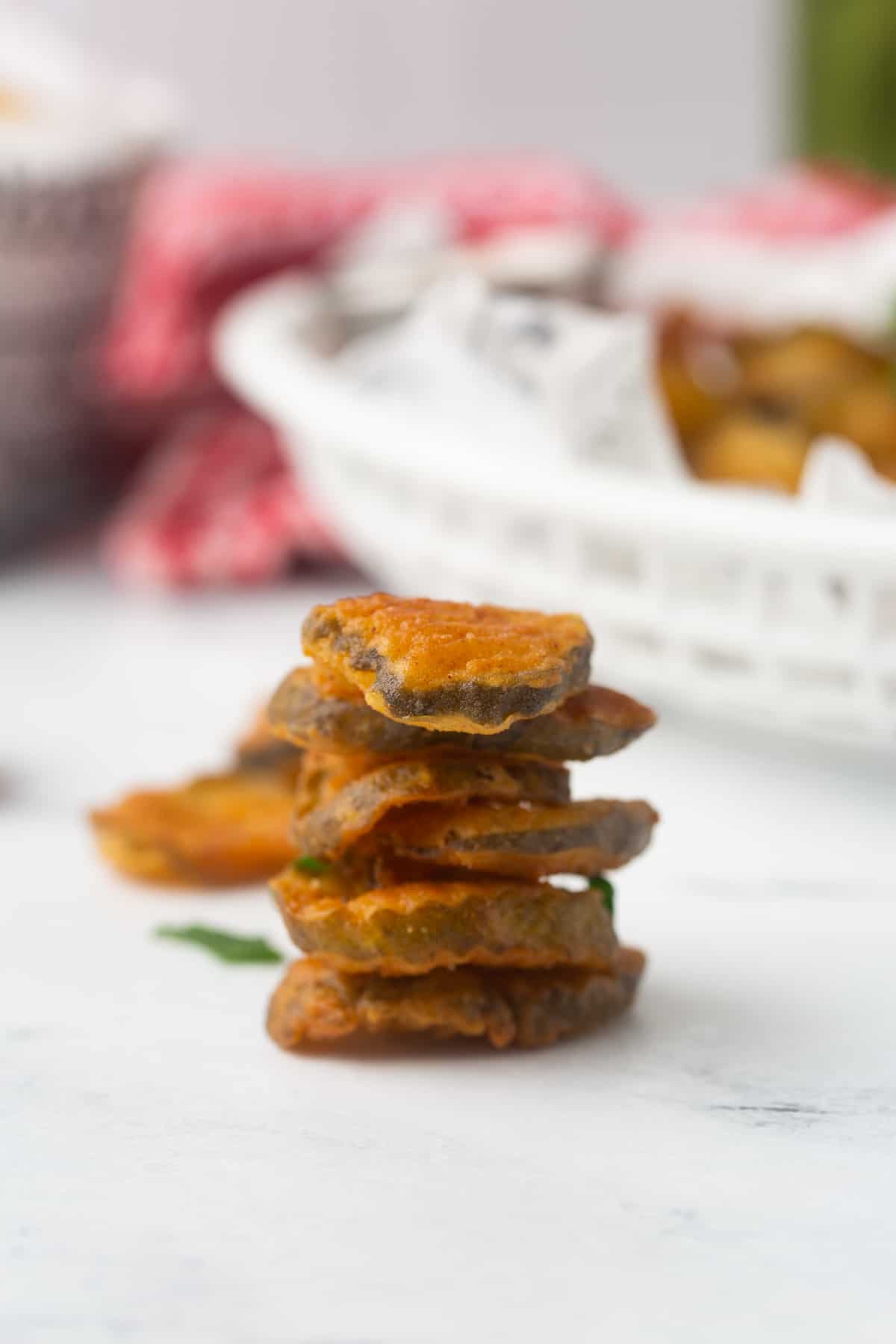 What do you call a fried pickle?
This may sound like the start to a funny joke by one of your kids, but there truly is a nickname for fried pickles – frickles! Whether you're talking chips, spears, or even whole pickles, you may see these listed as frickles on the side of food trucks or menus at the county fair.
Favorite dips for fried pickles?
Really anything you would dip a French fry in will taste amazing on a pickle! Better yet, anything you would put on a burger would be a great addition to this recipe! But here are a few of my favorites: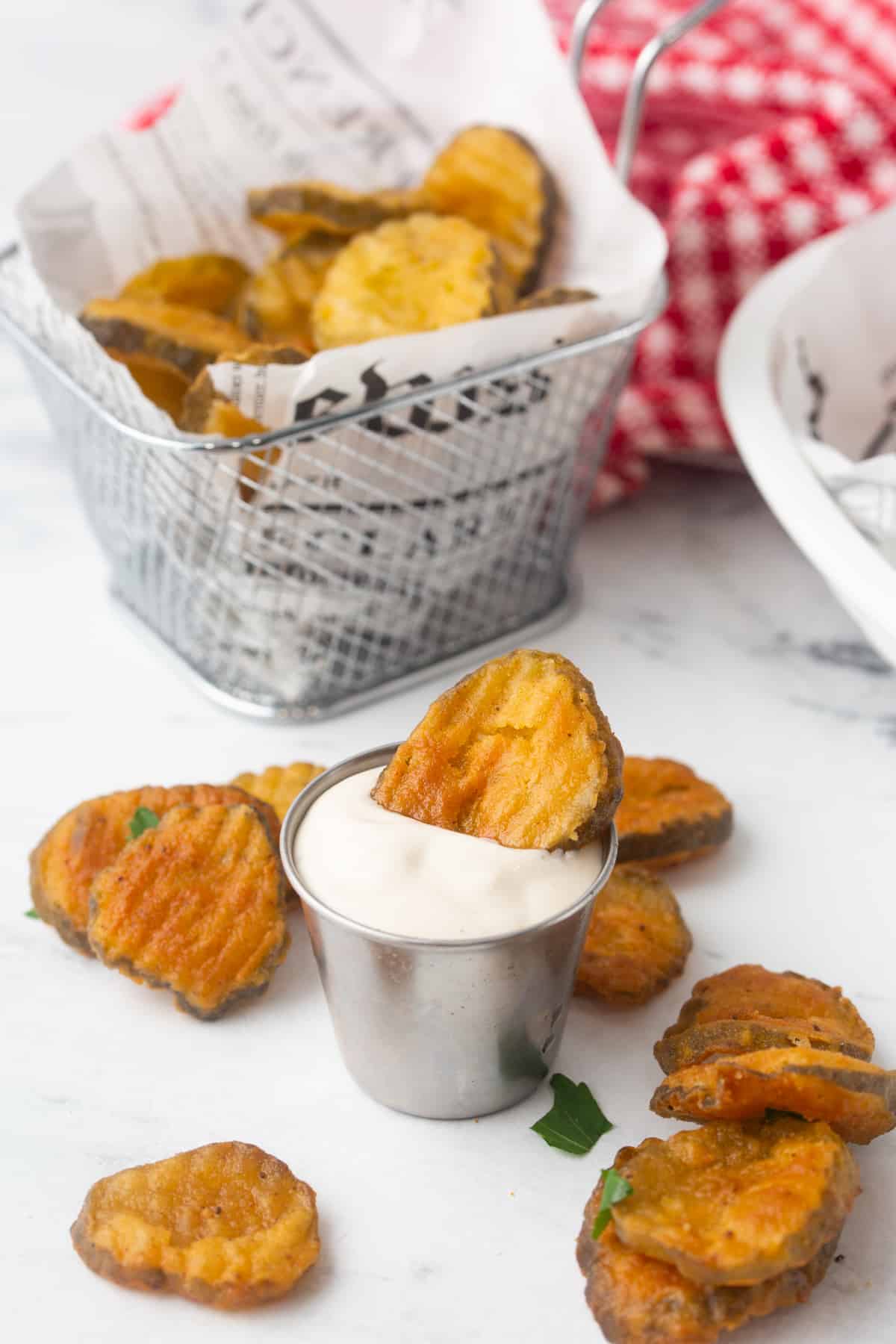 Homemade Thousand Island Dressing
Ketchup
Chick-fil-A Sauce
Cajun Mayo
Fancy Sauce (mayo and ketchup)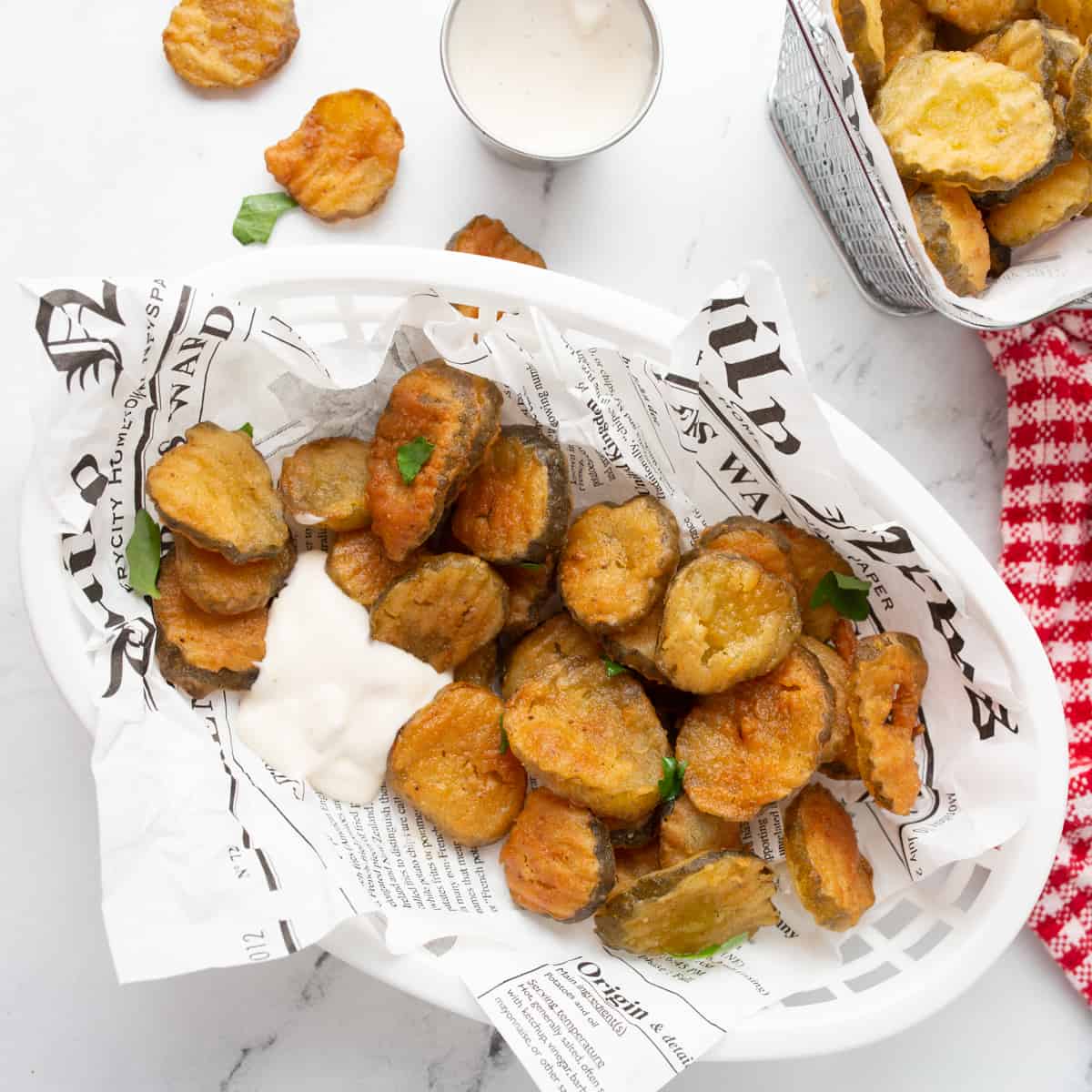 Pin it HERE!!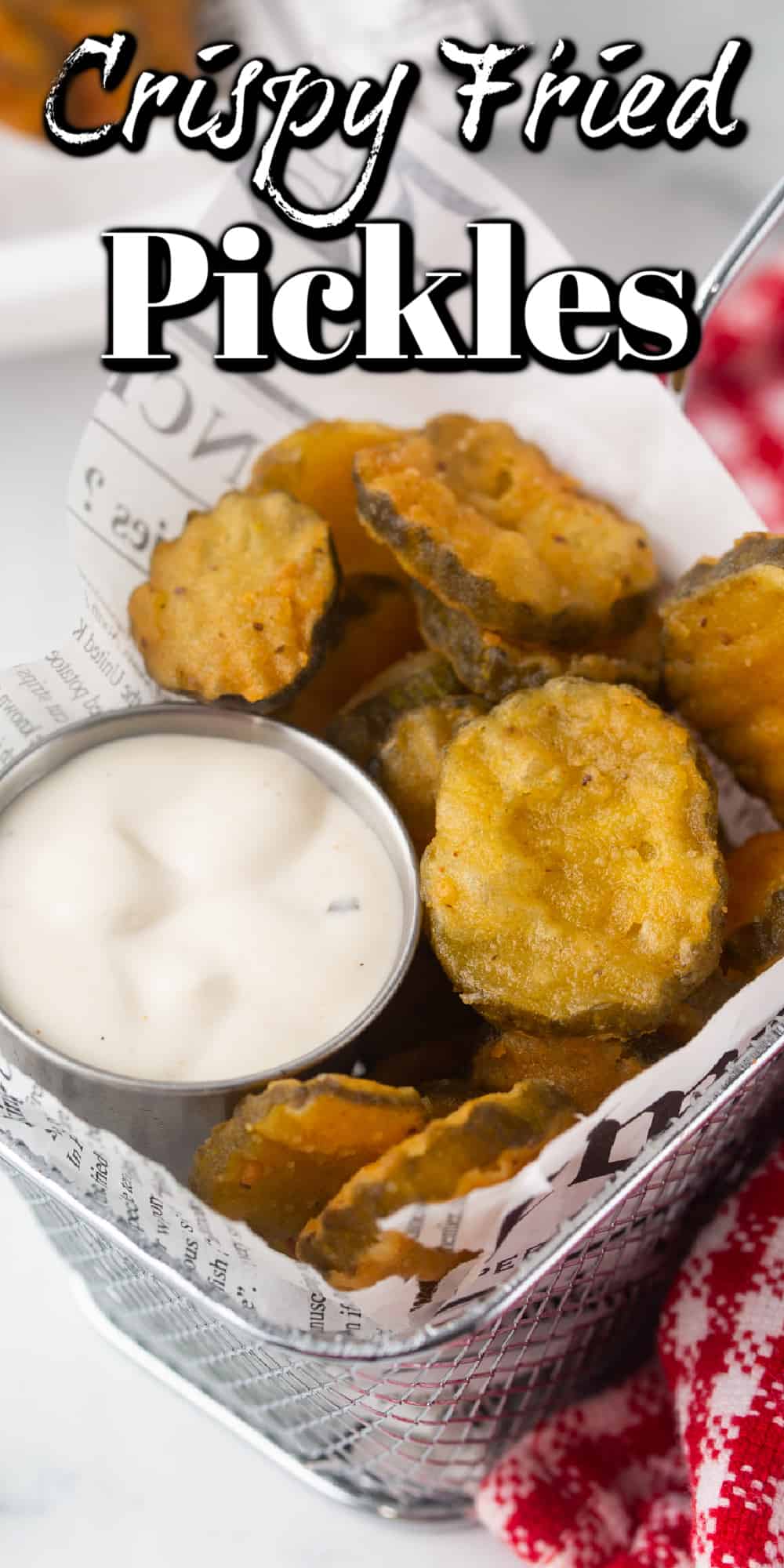 Pin it HERE!!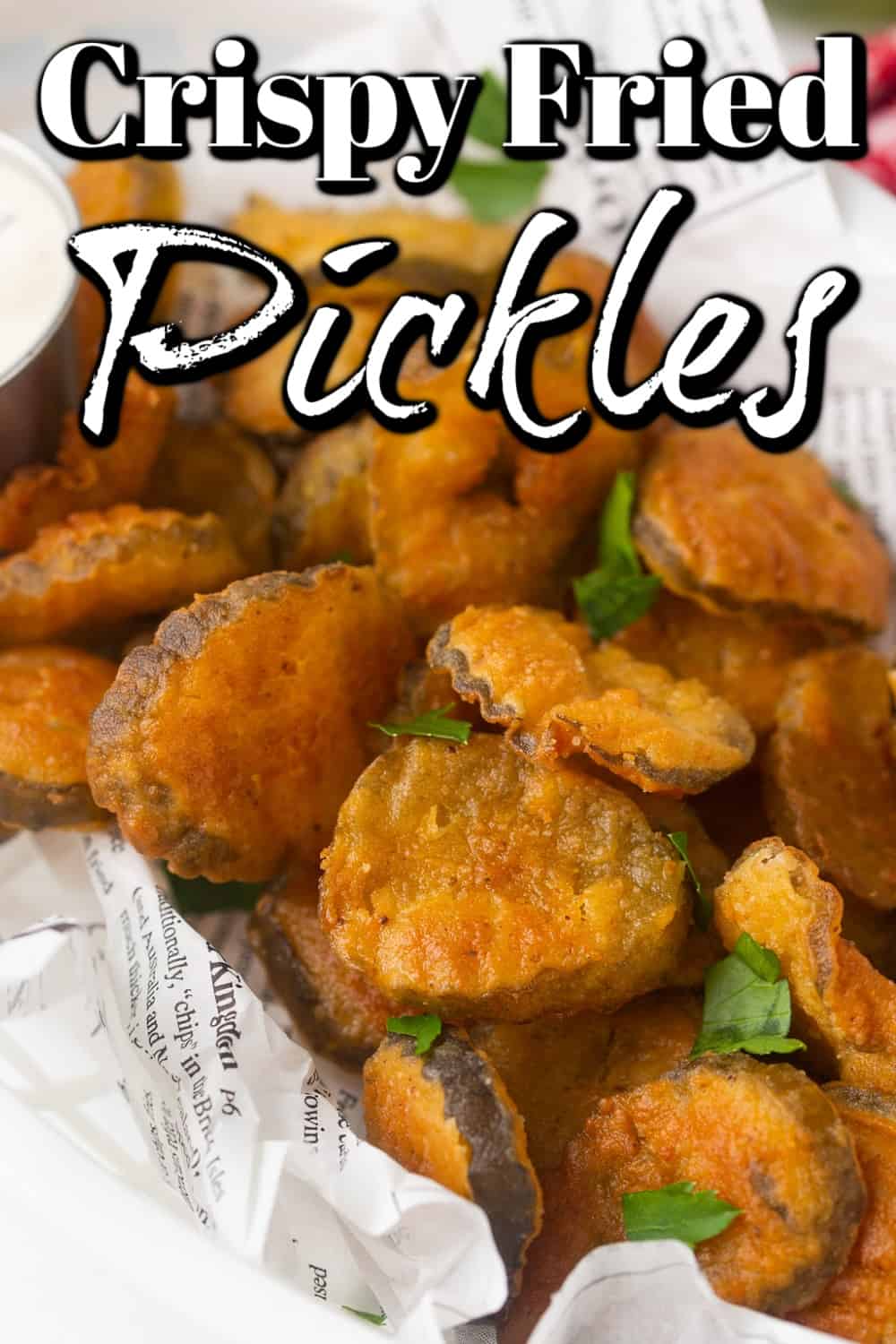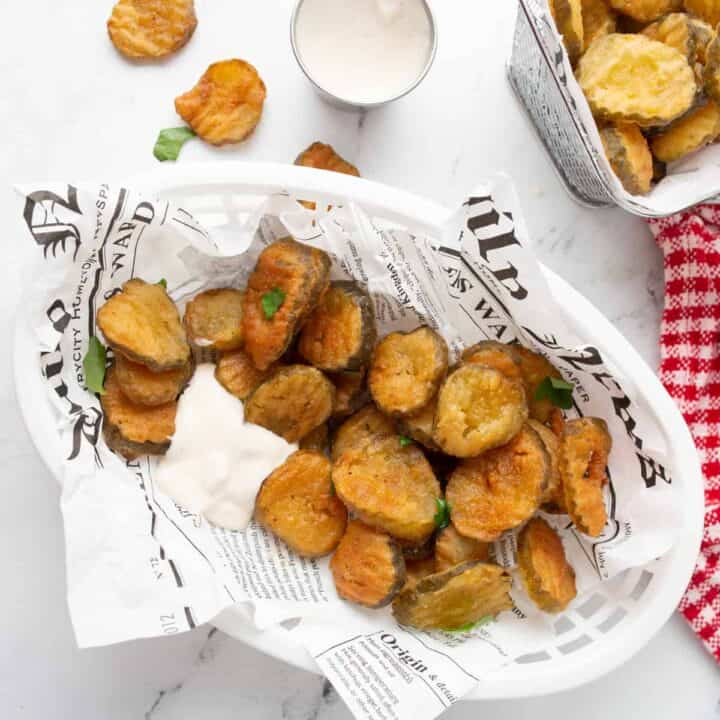 Best Crispy Fried Pickles
Yield: 8 servings
Prep Time: 15 minutes
Cook Time: 3 minutes
Total Time: 18 minutes
Quick, easy, and simply the best fried pickles in just three easy steps and four full-flavored ingredients! The most epic side dish or appetizer for your next party or cookout!
Ingredients
Vegetable oil (about 6 cups)
32 ounces Bread and Butter Pickle Chips
1 cup flour, all-purpose
1 Tablespoon Old Bay Seasoning
Instructions
To a 4 quart Dutch oven, over medium heat, bring the vegetable oil to 350F. While the oil is heating, drain the pickles from their juice and dry in a single layer with paper towels for 10 minutes.
To a large bowl whisk together the flour and Old Bay Seasoning. Dredge the pickle chips in the flour mixture. Lightly shake off chips and set aside for 5 minutes prior to frying.
Working in 2-3 batches, lay breaded pickle chips in one at a time to the hot oil so as not to clump. Fry for 3 minutes before removing from the hot oil with a spider strainer or slotted spoon.
Drain on a paper towel lined plate until cool enough to handle and serve with ranch dressing.
Nutrition Information:
Yield: 8
Serving Size: 1
Amount Per Serving:
Calories: 195
Total Fat: 4g
Saturated Fat: 0g
Trans Fat: 0g
Unsaturated Fat: 3g
Cholesterol: 0mg
Sodium: 767mg
Carbohydrates: 38g
Fiber: 2g
Sugar: 21g
Protein: 3g
Recipe calculation was provided by Nutritionix and is an estimation only. If you need nutritional calculations for medical reasons, please use a source that you trust.