An all-star Mediterranean Mezze Platter filled with all the best middle eastern small dishes, dips, or fixings. It is easy to put together and can be adapted endlessly with different dips, fresh vegetables, cheeses, and meats. This is the ultimate finger foods platter to create for your next gathering!
This board can be assembled in 30 minutes or less using store-bought items, and it is very popular in the Greek, Turkish and Lebanese cultures to offer a generous tray. It is filled with small dishes to enjoy while having a drink and long chats. You can think of it as the Middle Eastern charcuterie board!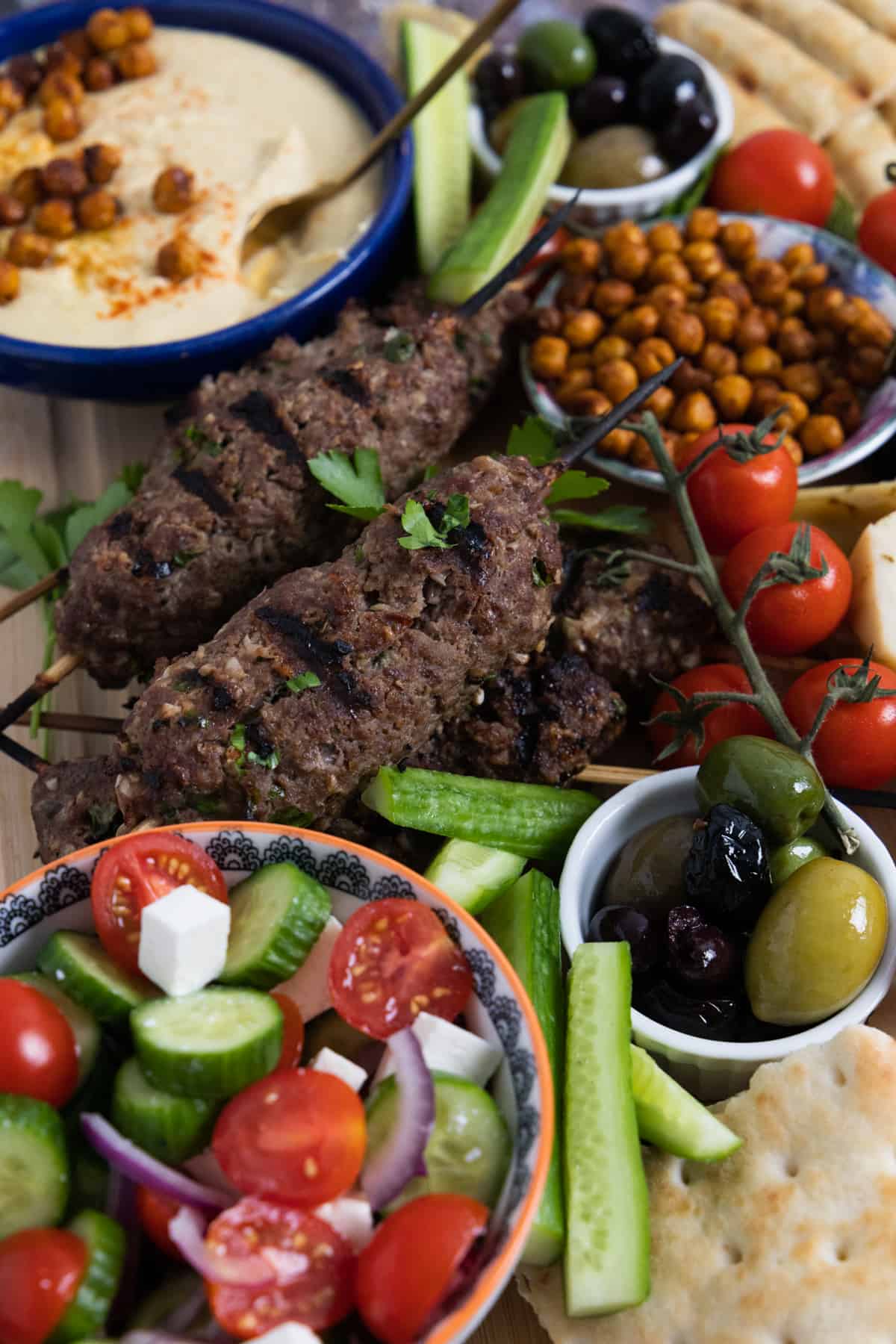 What is the meaning of Mezze Platter?
Although it is quite widely used in a few middle eastern countries, 'mezze' comes from the Turkish language and means appetizers. It can be found written 'meze' as well.
Now, everywhere, a Mezze platter is an assortment of small delicious dishes meant to be shared with friends and family. Typically, the platter is so plentiful that it can be a lunch or dinner by itself.
Mezze Platters are informal but also an intimate way to share a moment with loved ones.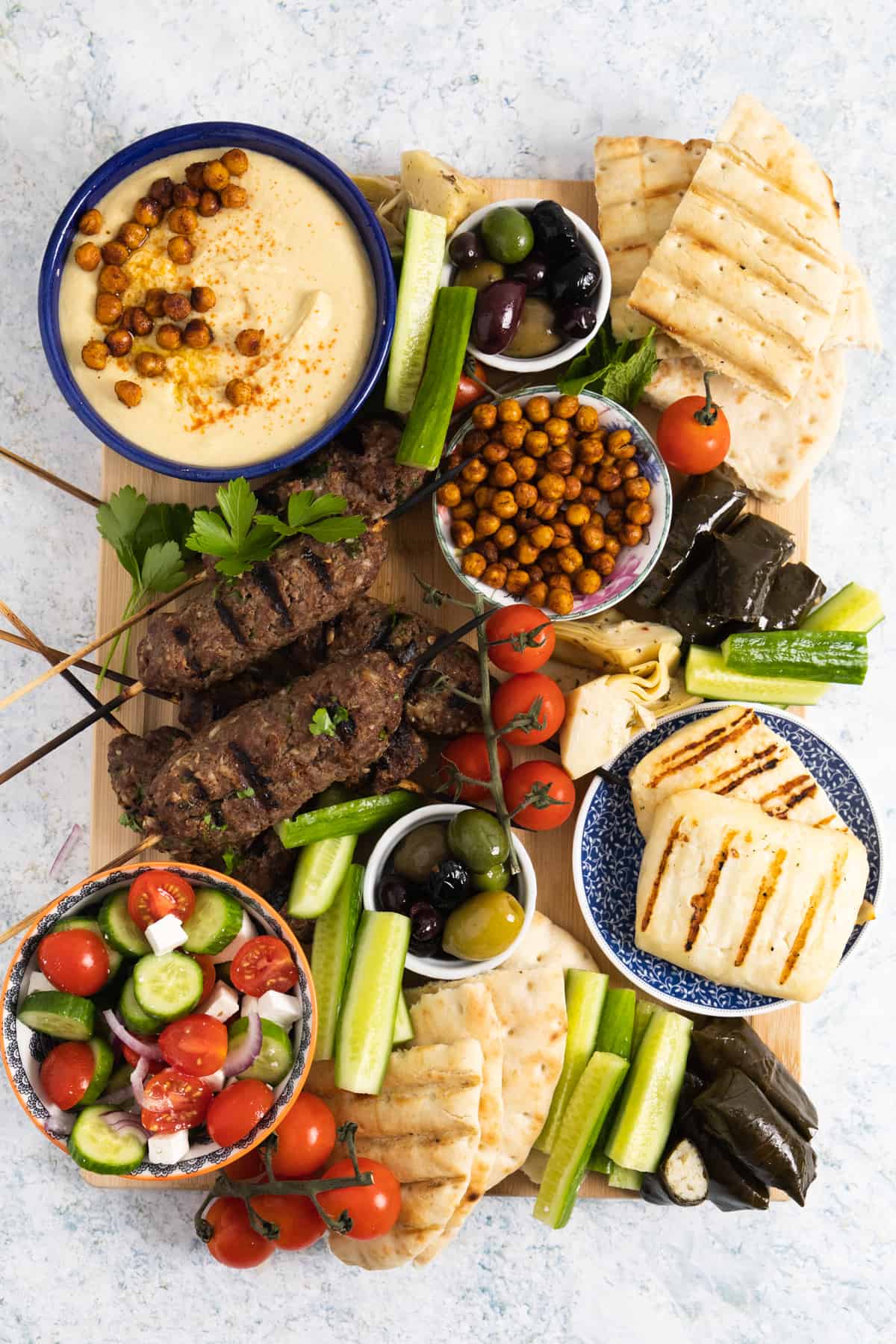 What should be on a Mezze Board?
It is really simple to pull together a Mezze platter; you can easily swap out some dishes depending on what you have on hand, in the pantry, or what is in season. There is no 'recipe' per se for this board but rather a little formula to guide you.
DIPS: Baba ganoush, feta dip, hummus, and tzatziki are a staple in the Mediterranean diet, and you can't go wrong by having small bowls of them on your tray.
VEGETABLES: Freshly cut veggies such as cucumbers, cherry tomatoes, radishes, or bell peppers are great to dip in the spread. Also, add a small bowl of Mediterranean tomato salad, Fattoush salad, or some leftover of that flavourful tabbouleh. I like to add pickled items as well if I have them on hand or a jar of delicious roasted red peppers with a drizzle of olive oil.
PROTEINS: You can satisfy the vegetarian crowd with some delicious dolmas or dolmades (can be found in the deli section or in cans) and falafels. Also, some lamb or beef koftas are a great addition.
CHEESES: Feta cheese and halloumi can steal the show in a blink of an eye. Halloumi is quick to grill and presents well!
EXTRAS: Once you have put your small dishes and dips, fill up your tray with mini ramekins of extra fixings or place them loosely on the board: marinated artichokes hearts, olives, dried fruits, pita bread, or roasted chickpeas.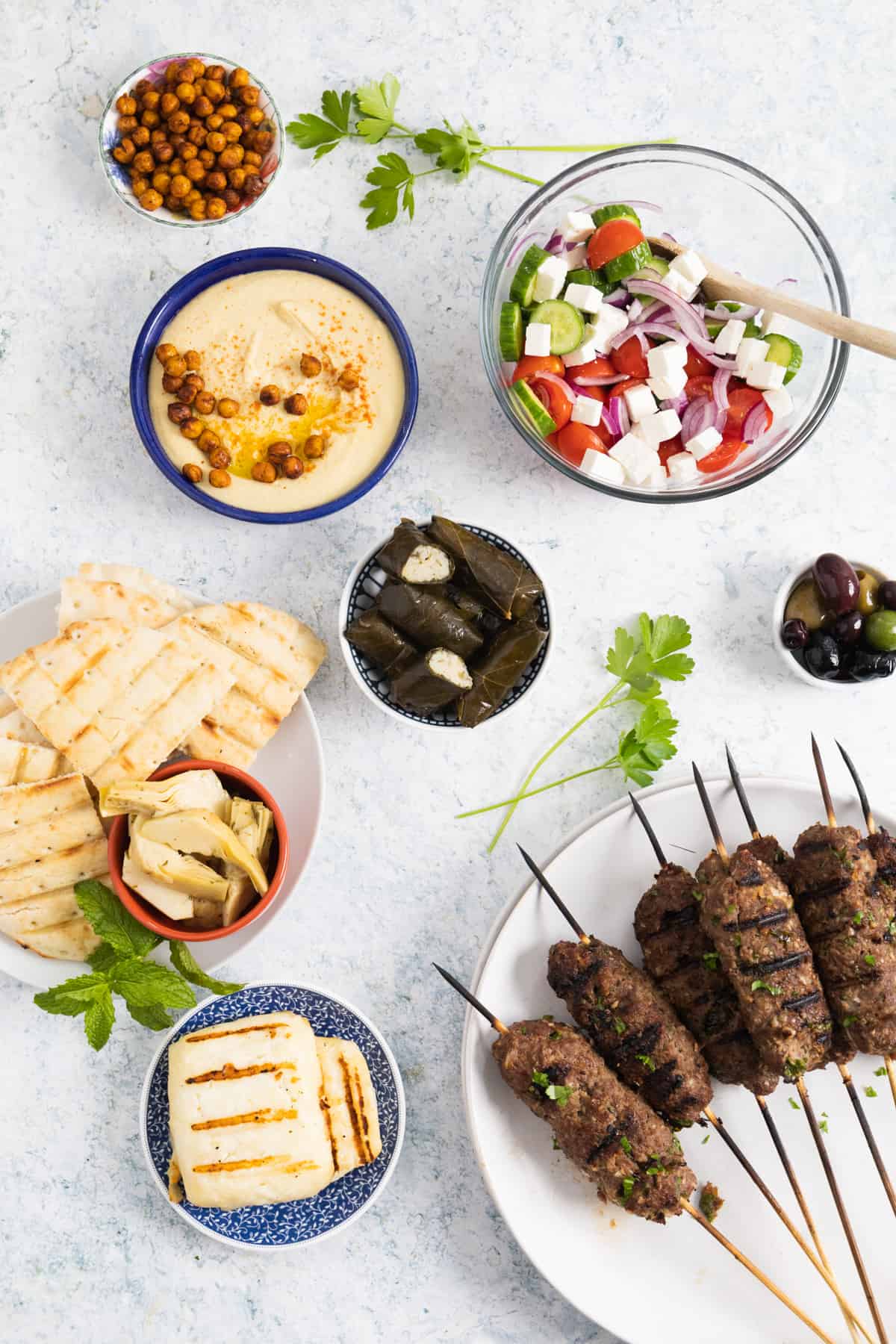 How to Make a Mezze platter
First, let's prepare the recipes we are cooking to add to the platter: the koftas, the Mediterranean tomato salad (I skipped the dressing and only used a drizzle of olive oil), and the creamy hummus (I swapped the tahini for Greek yogurt).
The kofta recipe is so flavourful and quick to prepare. You will need ground lamb, a finely chopped onion, a few garlic cloves, bread crumbs, parsley, and some spices. Combine all the ingredients in a bowl. Shape your kofta, and using a skewer, make a dent in your meat to insert it and shape back your kofta around the stick. Grill on a hot BBQ for 6 to 8 minutes.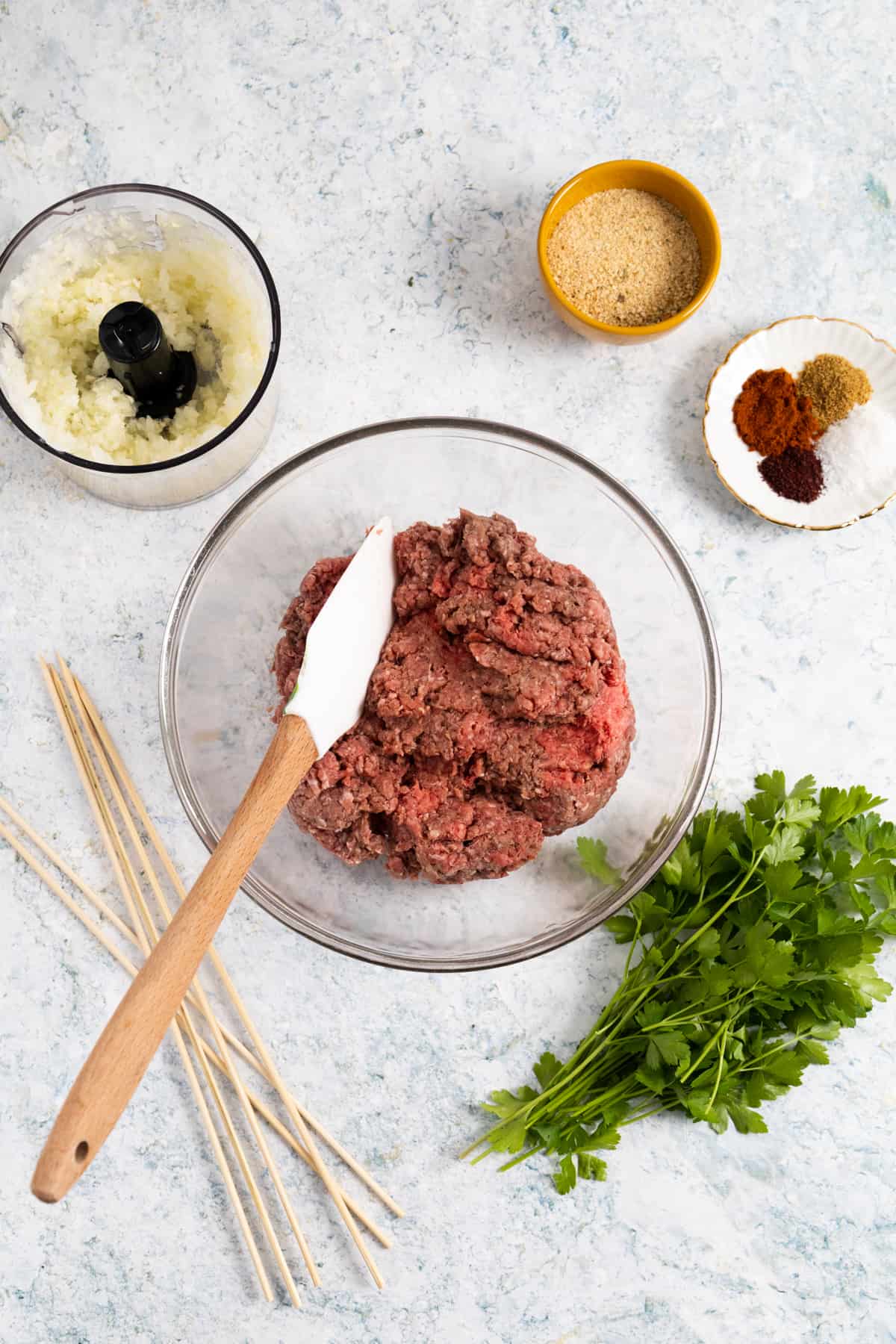 Now, let's assemble the Mezze platter.
Choose a large platter, a chopping board, or a large tray that will be able to hold all your dishes.
Grab some ramekins, small bowls, and dishes to fill with your spreads and salads.
Start with placing the bowls on the tray.
Then, add the bigger items such as the koftas, grilled halloumi, and pita bread.
Lastly, fill up with vegetables, nuts, and garnish.
Hostess Tip: Duplicate some ramekins so your guests don't have to reach over.
Always place it at the center of the table so it is reachable for everyone; add some small plates (dessert plates are a great option) and a generous stack of napkins as quite a few items are finger food.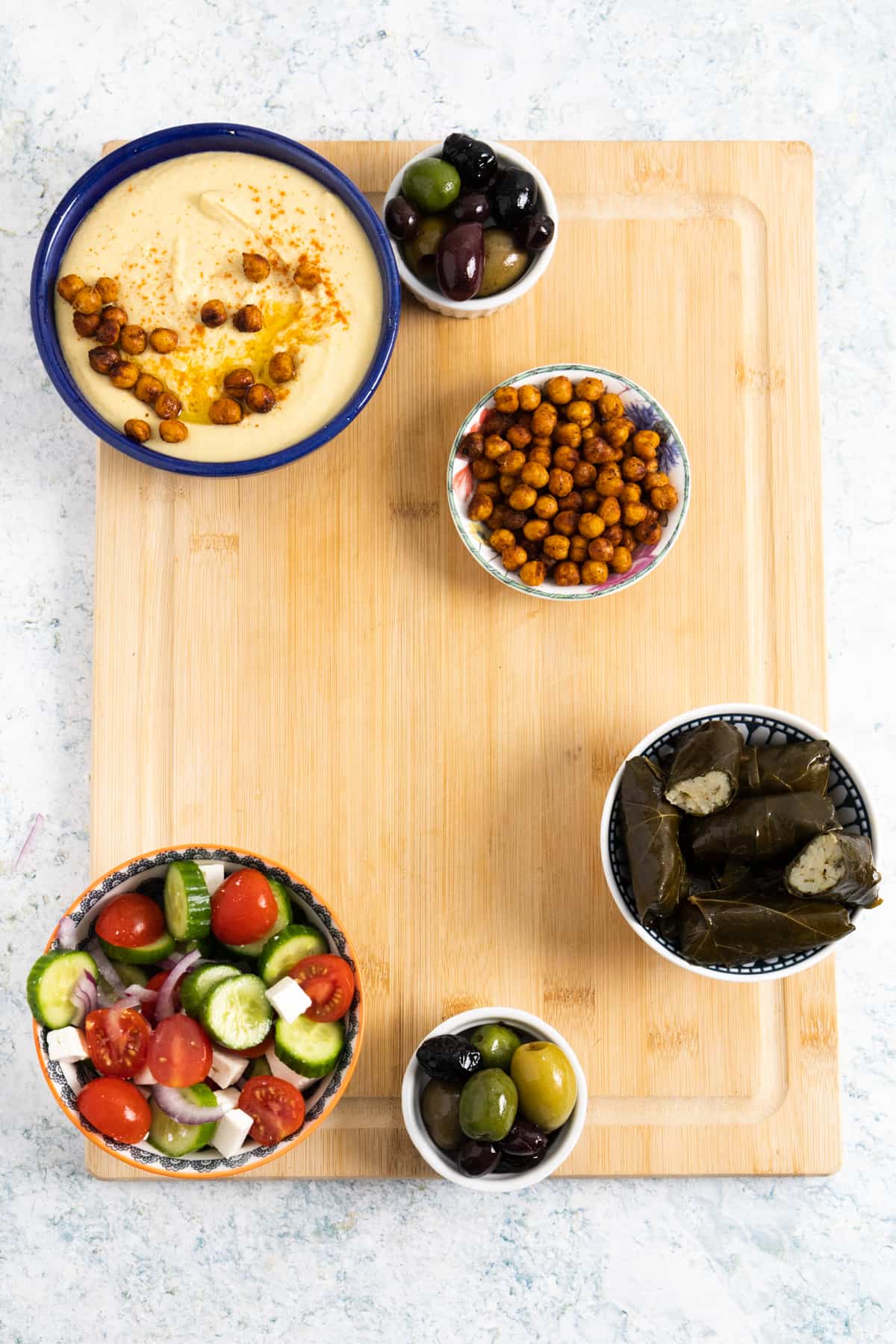 Suggestions & Variations
The beauty of the Mezze Platter is that you can adapt it and make it depending on what you have in the fridge.
Use up your leftovers such as tabbouleh, a salad, or potatoes. It is okay not to have a pick portion.
Make it vegetarian by skipping the meat and adding more cheese, maybe? Of course, kebobs and dolmas are a delicious option.
Spice it up: grab some marinated olives stuffed with garlic or sprinkle some red pepper flakes on the roasted peppers.
Dips: although tzatziki and hummus dips are delicious, you can also do whipped feta or lemon Greek yogurt spreads too.
Protein: These koftas are delicious, and you could also offer some small pieces of this Mediterranean meatloaf. Also, feel free to try these delicious shrimp kabobs!
Hostess Tip: Cut extra vegetables and bread so you can refill your tray without leaving a conversation for too long.
Last tip: Use a baking tray and add some parchemin paper as a base!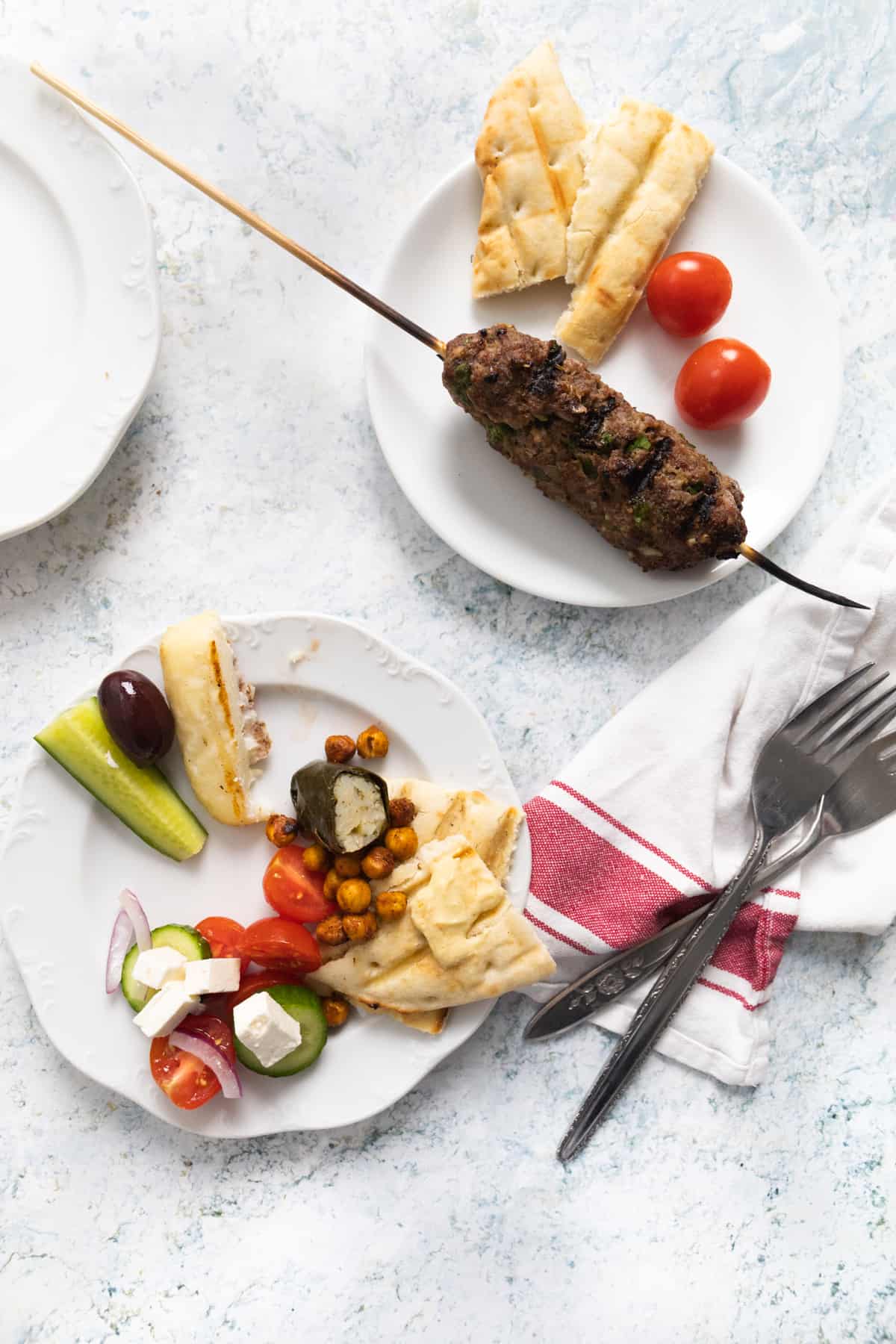 FAQs for the Mezze Platter
Can I prepare the platter ahead of time? Absolutely! The hummus and cucumber and tomato salad, for example, can be stored in the fridge until it is time to assemble to the platter. I would recommend leaving the cooking of the koftas and halloumi for the last minute as it is quick and better warm.
Do I have to cook everything myself? No! It is fine to use shortcuts and just enjoy company! Feel free to buy already made items at the deli of the grocery store, such as falafels, tabbouleh, dolmas or dolmades, and any dips! And when company arrives, just put everything on the chopping board! Think charcuterie and buy your items!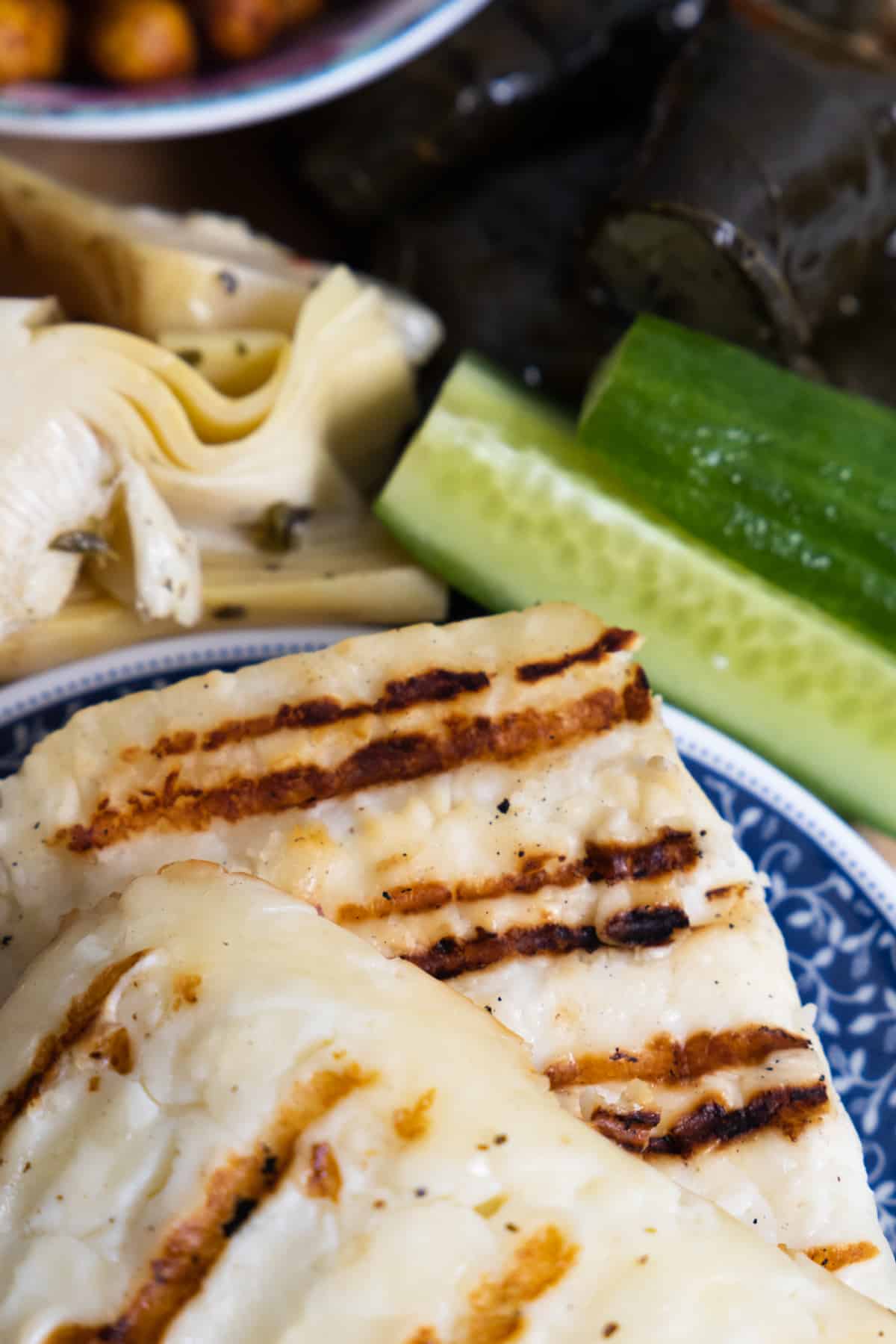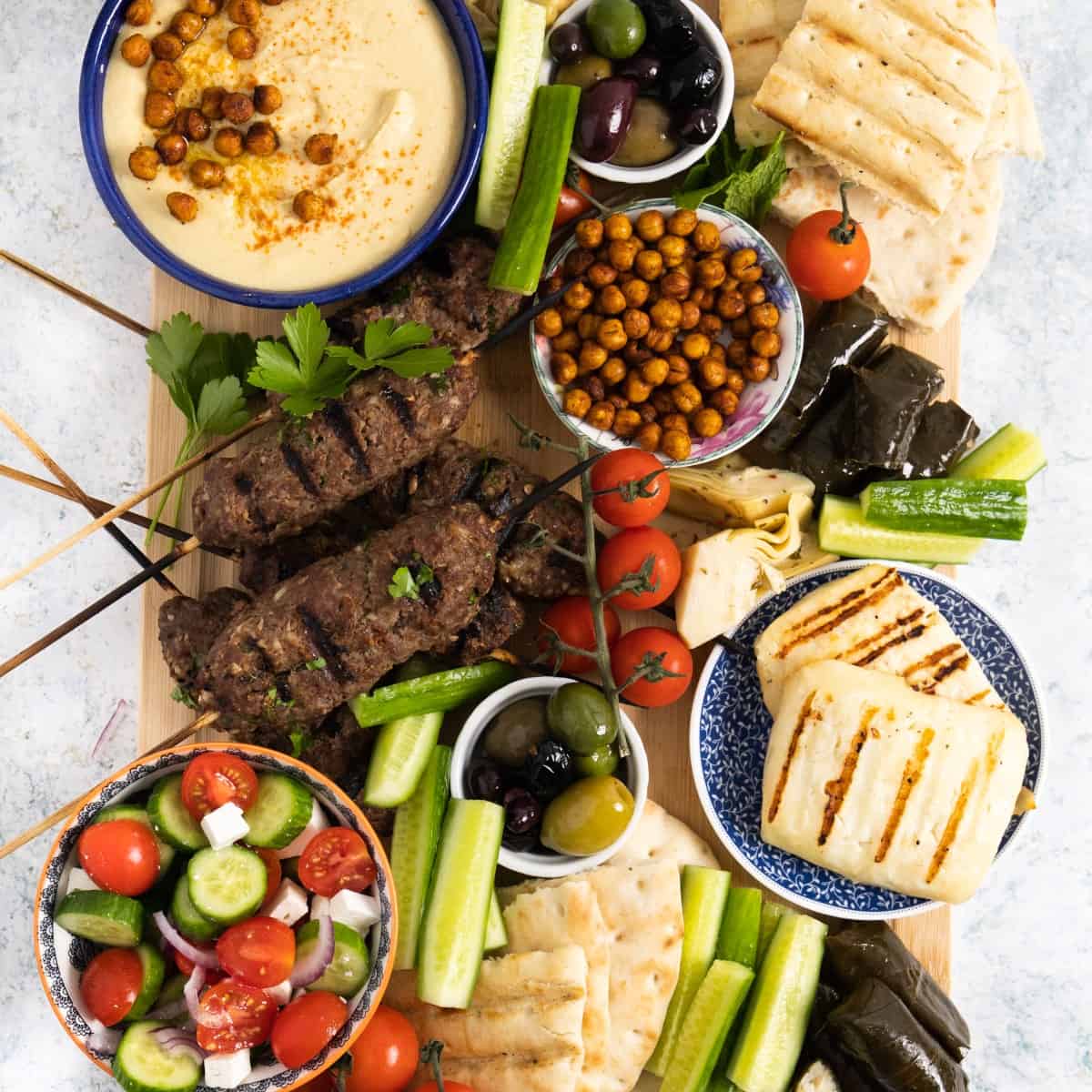 Pin it HERE!!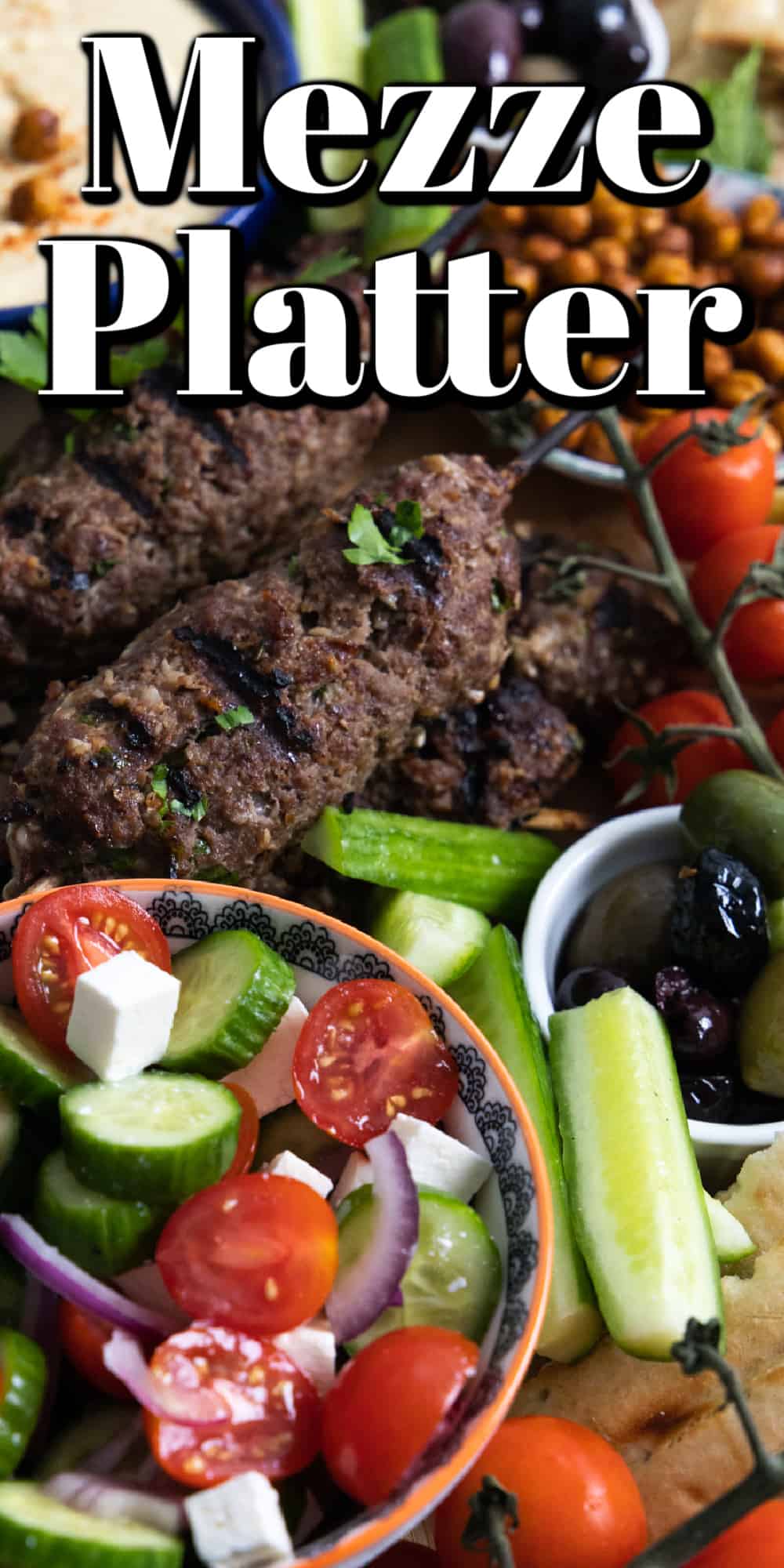 Pin it HERE!!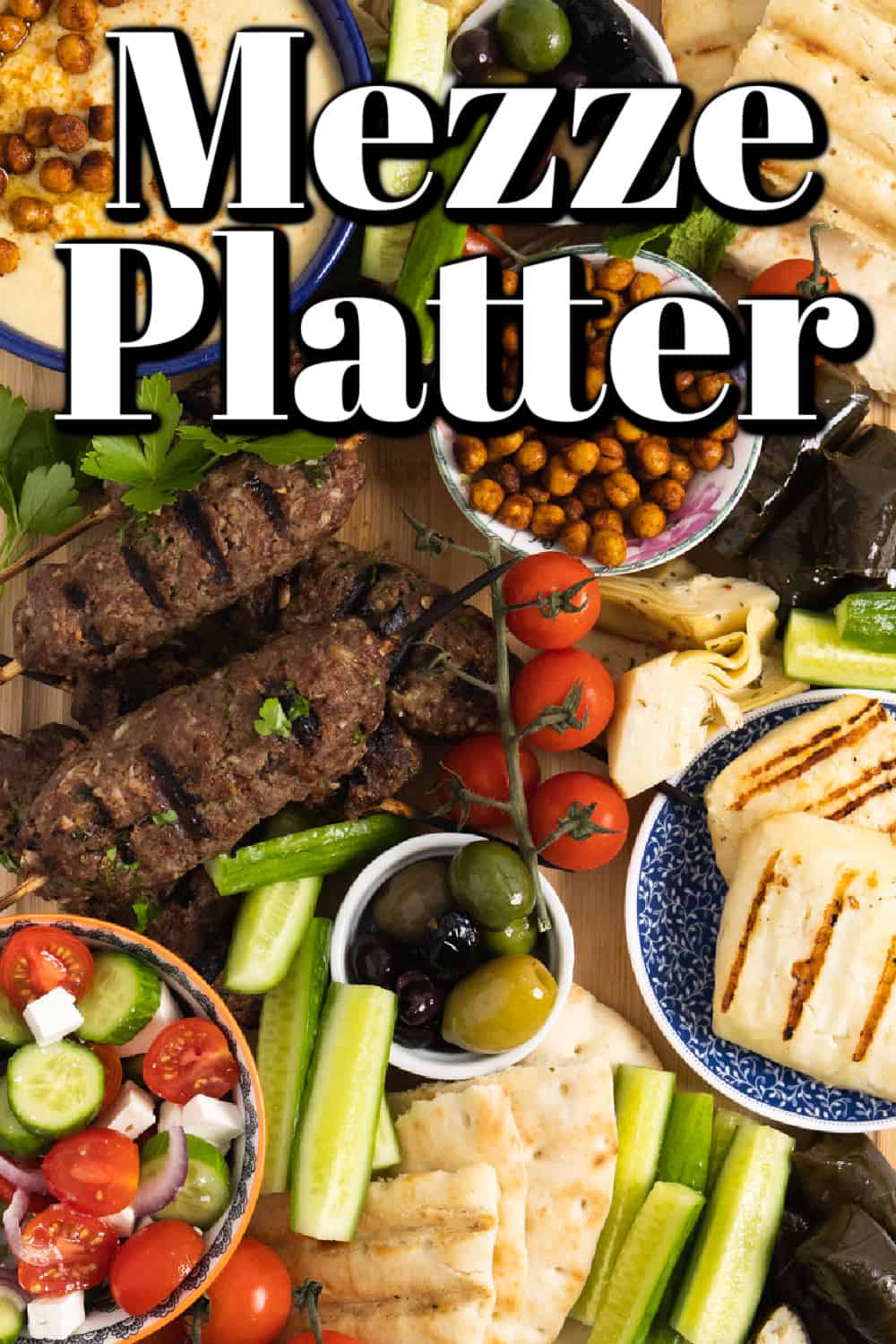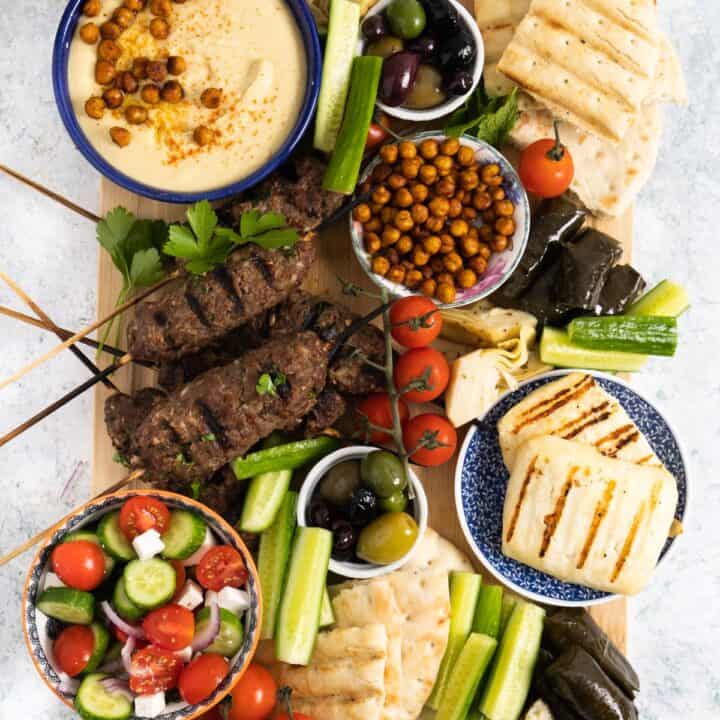 Mediterranean Mezze Platter
Yield: 6 servings
Prep Time: 20 minutes
Cook Time: 10 minutes
Total Time: 30 minutes
An all-star Mediterranean Mezze Platter filled with all the best middle eastern small dishes, dips or fixings. It is easy to pull together and can be adapted endlessly with different dips, fresh vegetables, cheeses, and meats.
Ingredients
Koftas
500g/1 pound ground lamb
1 onion
3 cloves of garlic
A handful of parsley
1/4 cup bread crumbs
1/2 teaspoon of paprika
1/2 teaspoon of cumin
1/4 teaspoon of sumac
1/2 teaspoon of salt
8 wood or stainless steel skewers
Mezze Platter
4 pita breads, quartered
12 dolmas or dolmades
Hummus
Roasted chickpeas
2 blocks halloumi cheese
1/2 cup of assorted olives
1/4 cup of marinated artichokes
Mediterranean cucumber and tomato salad
2 or 3 Persian cucumber cut in spears
Instructions
KOFTAS:
Turn on the BBQ to medium-high.
Either using a food processor or a knife, chop very finely the onion and garlic.
In a mixing bowl, mix ground lamb, onion, garlic, crumbs, and spices. Use your hands to mix and incorporate all the ingredients together.
Portion the meat into 8 balls and shape it into a 'sausage' on the skewers.
Cook the koftas on the BBQ for 6 to 8 minutes turning the koftas halfway.

HALLOUMI:
Cook the halloumi on the BBQ or a grilling pan for 3 minutes on each side on medium-high. Or try our Smoked Fried Halloumi Cheese.
ASSEMBLING:
Choose a large platter, chopping board or tray.
Make the Mediterranean Tomato Salad, Hummus, Chickpeas, or use store-bought products. Arrange all of the items on a platter. Put some of the dishes into ramekins or small bowls and fill up the platter with the rest of the items loosely on the board itself.
ENJOY! This is meant to be informal and an intimate shareable platter.
Notes
- Refer to the recipes linked in the card
- Remember to check the post for tips or suggestions!