BUN
This is one of our favorite meals. I think Ken and I could eat this at least once a week either homemade or from our favorite restaurant. It is Vietnamese and is pronounced boon, not bun. It is full of flavor on its own but with the addition of hoisin sauce and sriracha, it is a flavor explosion.
These two sauces are a staple in our refrigerator standing proudly beside the ketchup. I think Ken does a little overkill with the sriracha but he really likes it spicy. I first saw this recipe in Canadian Living and immediately had to try it.
We have made it many time since then and have also subbed the pork for shrimp. Any well-seasoned meat would go with this recipe. It is a great summer meal as you BBQ the meat and then have it with a nice cool salad. Enjoy!!
Recipe
Pork
1/2 cup chopped shallots
3 Tbsp. brown sugar
1/2 tsp. pepper
2 Tbsp. each lime juice and fish sauce
1 Tbsp. vegetable oil
1 pork tenderloin
Salad
3 Tbsp. lime juice
1 Tbsp. each sugar, boiling water and fish sauce
1 clove garlic, minced
4 oz. rice vermicelli
1/2 tsp. minced hot red pepper
1 cup shredded carrots
Handfull of chopped peanuts
1 1/2 cup thinly sliced iceberg lettuce
1/3 cup cilantro, chopped
Hoisin and Sriracha sauces
Mix the ingredients for the pork marinade and either in a bowl or Ziplock bag add the pork and marinate for 15min. Pour marinade into a small saucepan and set aside.
Place tenderloin on a medium grill and BBQ for 15-20 min. until just slightly pink inside and still nice and juicy. As the tenderloin is grilling heat the sauce until boiling and reduce to syrupy about 4-5 min. Let the tenderloin rest for 5 min. before slicing.
Mix the lime juice, sugar, boiling water, fish sauce, garlic, and red pepper together and set aside. Soak the vermicelli in boiling water for 5 min. Drain and rinse under cold water. Squeeze well to get out the water.
Toss with the dressing. Divide between three bowls. Split the carrots, lettuce, cilantro, and peanuts among the bowls leaving them in little mounds. Divide the sliced pork and top the pork with the reduced sauce. Top with hoisin and sriracha sauces.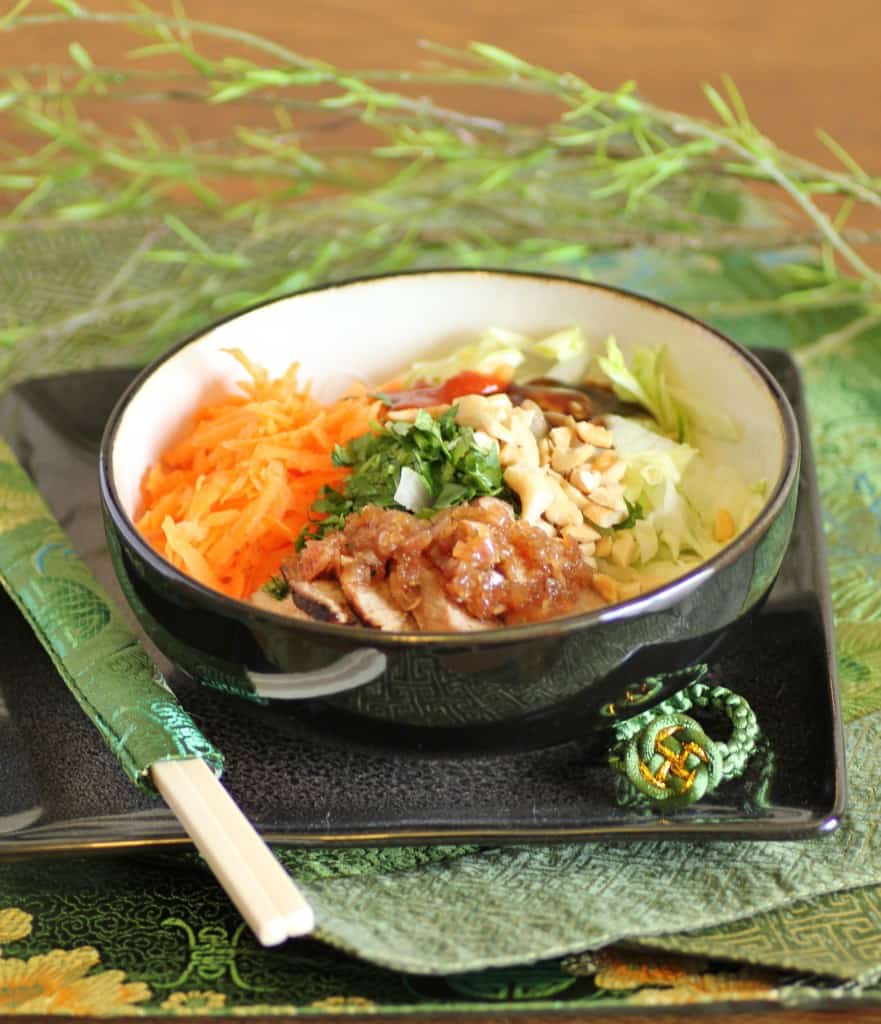 Adapted from a Canadian Living Magazine recipe.