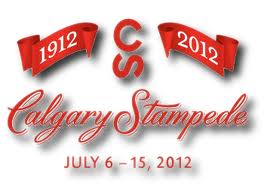 Grilled Corn/Calgary Stampede Celebrates 100 Years
Yahoo!!! It is the Greatest Outdoor Show on Earth and we are celebrating 100 years with Grilled Corn/Calgary Stampede Celebrates 100 Years!!!
I am not a huge fan I have to admit but I will partake somewhat. I am sure we will take in a few free pancake breakfasts and head on down to the grounds to see if there is anything new. If you haven't experienced this before it is quite the phenomenon.
Our entire city hospitals, stores, lawyer's offices, etc. etc. transform into western wear. The city gets decked out and everyone celebrates. The big parade was yesterday with about 400,000 people in attendance and the grounds which include everything cowboy plus tons of rides and games will be packed with people.
There are live bands, beer tents, the rodeo, the chuckwagon races, the list is endless. The bars around town are also overflowing with people and there are countless free pancake breakfasts everywhere. It is quite the party. Check out the website to find out more at www.calgarystampede.com So if you ever get a chance, come on down. Our town is very hospitable and we would love to see you here. For my part, I will run a bunch of "cowboy" recipes for you to enjoy. Saddle up and strap the feed bag on you are going to enjoy these.
Grilled Corn Recipe
Serves 4.
4 ears of corn
2 Tbsp. butter
1 tsp. lime zest
1/8 tsp. smoked paprika
1/8 tsp. crushed red pepper
Balsamic reduction
Parmesan cheese, finely grated
Parsley to garnish
Husk corn and set aside. Mix butter, lime zest, paprika, crushed red pepper. Grill corn on medium heat for 10-12 min. making sure it is done and the corn has nice grill marks. Spread butter on each cob, drizzle with balsamic vinegar and sprinkle with cheese and parsley. This is corn that is full of flavor!!